9 Best Kissable Lipsticks That Won't Come Off!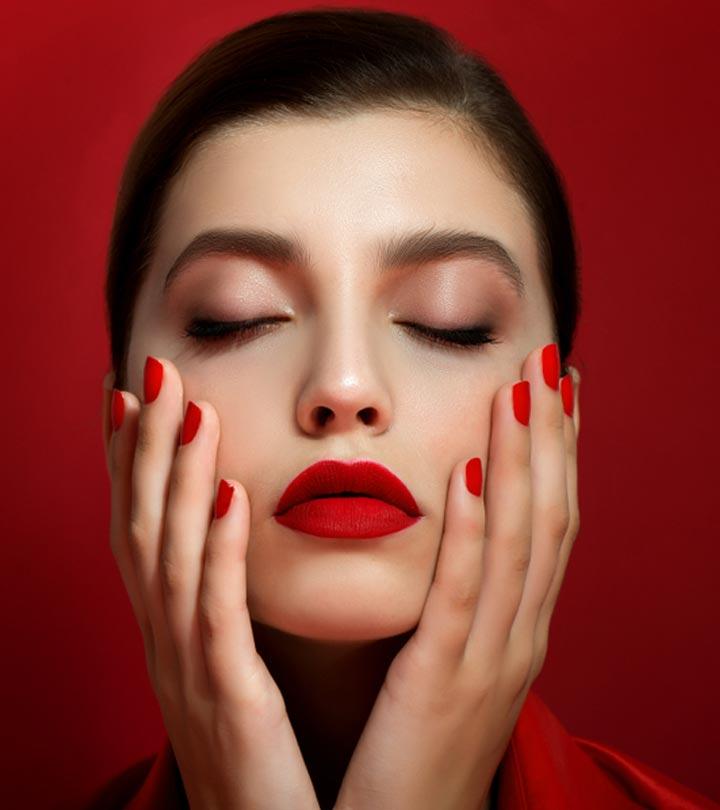 Nobody likes lipstick stains. Especially after a kiss or worse, on a glass at a business party! It's definitely not the first impression you'd want to make, right? Hence why having the best kiss-proof lipstick is IMP to make those special dates and parties about you and not your lipstick marks! From promising no-transfer to being absolutely kiss-proof, with these kissable lipsticks, you can enjoy your moments without reaching out for the tissue all the time. Plus, they are long-lasting and deliver a kissable matte finish too, which means you'll always be picture-ready for the gram! Now, who's ready to flaunt that pout with the best kiss-proof and long-lasting lipstick?
Though there are millions of options out there for you to try, we've narrowed down the best ones below. Check out our list of 9 best kissable lipsticks that won't come off, now!
Read on to know more!
9 Best Kiss-proof Lipsticks That Won't Come Off!
A sinful, breathtaking, and shine-free glide for your lips only! Make a statement wherever you go with this stunning red lipstick by Mynena. Promising a unique hydrating formula that ensures full coverage in one coat, it delivers a finishing so flawless that you can't help but feel glammed up. So, if you are looking for a bold and striking lip color, then this Liquid Matte Lipstick by Mynena would be an ideal pick for you!
Pros:
Suitable for all skin types
Made of premium-quality ingredients
Highly-pigmented and high color payoff
Lightweight, non-watery, and silky-smooth texture
Waterproof, transfer-resistant, and smudge-free
GMP-certified, paraben-free, and cruelty-free product.
Cons:
Want to keep your kiss a secret? Try Kuckian Cosmetics Liquid Velvet Supreme, for it ensures a non-transfer experience all day long! Enhancing your lips rather than forming a thick layer that may crack after a few hours, this liquid lipstick is stain-proof and highly-pigmented too. But the best takeaway has to be its formula that keeps the lips hydrated with vitamin E and other moisturizing natural oils! Would you still want to give this one a miss?
Pros:
100% kiss-proof and velvety smooth formula
Lasts up to 12 hours
Softens and moisturizes lips
Delivers high performance in a thin coat
Vegan and cruelty-free product
Easy to remove with waterproof makeup remover
Cons:
Expensive
It may require retouches after a few hours.
Are you a lipstick lover or wine lover, or both? For this set of 6 waterproof lipsticks is designed to tickle your fetish for lipstick and wine. Infused with gorgeous lip colors, they are high-performance, highly-pigmented, and deliver a stunning finish too. And the best part is, they also nourish lips with beeswax, vegetable oil, vitamin E, and other natural ingredients. Yep, a combination of "pamper and pretty" now in a wine bottle for you! Need we say more?
Pros:
Delivers a velvety matte finish
Non-sticky, non-transfer, and kiss-proof
Will not smudge
Long-lasting and easy-to-use
It glides on smoothly and moisturizes.
Cons:
It may not be easy to remove.
It may dry in cold weather.
Liberate your lips for up to 16 hours! Ensuring a double dose of flawlessness on your pout, this gorgeous lip color guarantees an incredible shine and no retouches whatsoever. An ideal option for workaholics or frequent travelers who like to keep their lipstick game strong all day long, Rimmel Provocalips will not disappoint. Easy to use and to remove, show off your chic and trendy side with this kiss-proof lipstick this season.
Pros:
Locks shine with a topcoat
Delivers intense, impactful, and high color payoff
Glides smoothly and is moisturizing
Transfer-proof and food-proof
Lightweight, non-drying, and no-tight feeling
Cons:
Sticky and may take longer to dry
Love being in the spotlight? Then we dare you to go metallic and shimmer with this liquid lipstick by FanMin. Adding an intense and sinful glow to your avatar, let your lips be your shining glory in all your special moments. As it is waterproof, it does not fade every time you drink, and it's non-transferable too, so you don't have to worry about leaving a mark! Just what you need to make a lasting impression, grab this stunning stick ASAP.
Pros:
Velvety matte texture
Hydrates and moisturizes lips
Delivers a soft and shiny finish
Highly-pigmented and dries quickly
Non-smudging and adds volume
It is easy-to-wear and smooth.
Cons:
Not recommended for chapped or dry lips
It may require retouches.
Not one or two, you get 6 adorable mini lipsticks to add in your daily collection! Shaped like a capsule, watch your squad go awe in cutesy every time you do your lips for the day. Easy to wear, kiss-proof, and long-lasting up to 12 hours, these miniature lipsticks promise a flaunt-worthy performance. Lightweight and perfectly-pigmented for office and casual wear, if you are looking for a collection that'll last all season, then this cute set is worth a try. Also, they'll make a great gift too!
Pros:
Velvety matte and smooth finish
Water-proof, fade-proof, and non-sticky
Highly-pigmented and lightly-fragranced
Portable, vegan, and cruelty-free product
It delivers full and intense coverage.
Cons:
It may slightly transfer on cups.
It may require retouches.
Are you dealing with dry or chapped lips? This matte lip gloss will hydrate your pout instantly! Gone are the days when matte was a no-no for dry lips. Stay Put Matte Lip Cream by Mommy Makeup is debunking the myth with its hypoallergenic and vitamin E-infused formula. Also, this one will last all day long and deliver a stunning finish too. So yes, you can say goodbye to that lip balm forever!
Pros:
Creamy and non-drying formula
Quick-dries on applying and stays all-day
Non-irritating and kiss-proof
Deliver full coverage
It is paraben-free and cruelty-free.
Cons:
The power of this magical lipstick is no joke. Believe it or not, but it will change its original color within 2 minutes to a shade that matches your mood! Don't believe us? Try it to experience its charm. And that's not all, Moodmatcher Lipstick by Fran Wilson also claims to be supremely hydrating with aloe vera and vitamin E. Want more? It has been a trusted brand amongst lipstick lovers for over 30 years, making this delightful stick a must-try!
Pros:
Premium moisturizing color-changing formula
Color responses to body chemistry
Long-lasting up to 12 hours
Fade-proof, smudge-proof, and waterproof
Mood-boosting with no touch-up required.
Cons:
It may have a strong odor.
Pout out confidently when you have these sexy lip colors to flaunt! A sinful addition to your makeup kit, spice up those date nights with this exquisite 5-in-one set by Aliver. Ideal for all your day and night looks, they are waterproof and long-lasting, so you don't have to worry about retouches at all. And after a long tiring day, they come off effortlessly with any lip cleanser! Effortless, convenient, and sexy — can there be a combo better than this?
Pros:
Long-lasting and hydrating up to 8 hours
Delivers full coverage with a satin finish
Creamy and smooth texture
Softens and nourishes the skin
Waterproof and non-transfer
Infused with 100% moisturizing natural ingredients
Cons:
There you go! Those are the 9 best kissable lipsticks that won't come off.
This means — no more lipsticks marks, just kissable lips forever! Pucker up like a stunner and go in for that champagne or that first kiss without worrying about transferring a stain. We hope this list of 9 best kissable lipsticks has the color you are looking for. So, wait no more! Color up that pout and get ready to stand out with those kissable (but kiss-proof) lips today!
Frequently Asked Questions
How Do I Keep Lipstick From Coming Off While Kissing?
Switch to a kiss-proof lipstick ASAP! There are plenty of brands in the market that offer non-transfer, stain-proof and kiss-proof lipsticks. Also, they don't stain glasses or food.
Is It Okay To Kiss With Lipstick?
Yes, if it is a kiss-proof or non-transfer lipstick! Otherwise, you'll end up leaving a lipstick mark.
Recommended Articles: