7 Best Face Mask Makers For Radiant Skin In 2022
Why buy your masks at the store when you can make them at home with your favorite ingredients.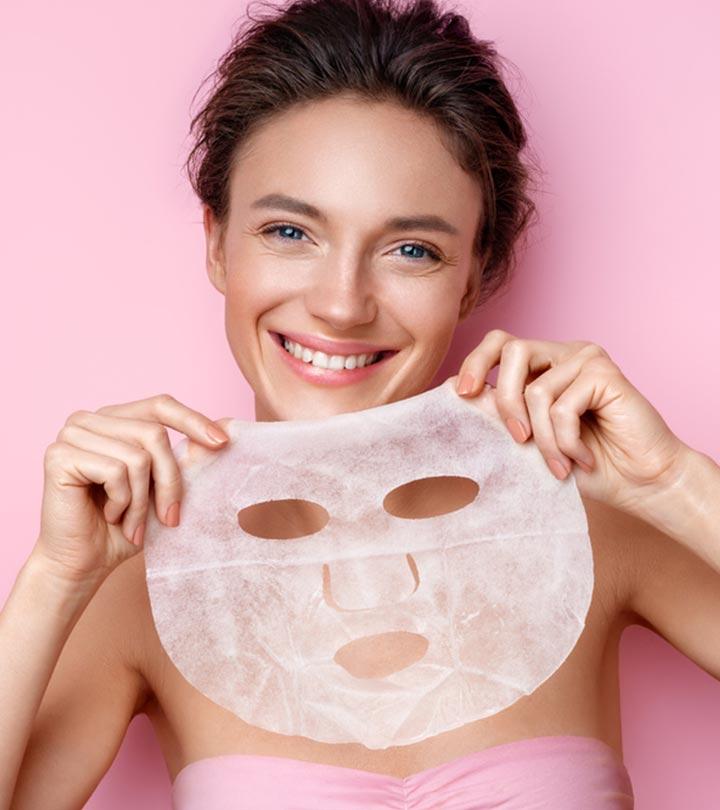 Many social media influencers and celebrities have shared how face masks can address multiple skin concerns. But did you know that you can try out a variety of them with the best face mask makers and get glowing skin from the comfort of your home? These mask makers are super easy to use, and you can make natural masks at home with the click of a button.
If you are a skincare junkie, you must already be aware of the importance of using sheet masks to get radiant and glowing skin. Homemade masks are packed with oh-so-good natural, kitchen ingredients which are a magical remedy for gorgeous and young skin. The best part about making an at-home face mask is that you get to choose the ingredients that suit your skin type requirements. The most skin-loving and nourishing ingredients can pamper your skin without harmful chemicals and preservatives. In addition, these natural, homemade masks are easy to use, feel light on your skin, and are an economical alternative to your expensive and frequent salon visits. This article lists the best face mask makers for radiant skin. Keep scrolling to take your best pick now!
7 Best Face Mask Makers For All Your Skin Care Needs In 2022
If you're looking to get more fruits and vegetables into your skincare routine, you're going to love this face mask machine which is a one-stop solution to clear, radiant skin. This machine comes with simple instructions that allow you to make organic personal masks, help keep your skin tight and firm, open up pores, and ensure better absorption of nutrients. This incredible mask-making machine comes with collagen pills, which are the perfect ingredient to add to your face mask to improve skin elasticity, prevent cell oxidation, and slow down aging.
Pros
Easy and convenient design
Make organic masks
Easy to clean and maintain
Comes with 32 collagen pills
Cons
A bit thin and delicate.
Doesn't have a juice squeezing feature
Skip the expensive salon appointment and get creative with DIY masks using your favorite natural ingredients with this fantastic custom mask maker, which adds an element of fun to your weekly skin maintenance regime. To use, add some water and your natural nutrient juice to the custom facemask maker, and with the click of a button, you'll have a decadent face mask ready to give you refreshed, rejuvenated skin in a matter of minutes. Easy to use and a breeze to clean, this face mask maker is an absolute must-have for the skincare enthusiast.
Pros
Sturdy stainless steel and ABS build
UV disinfection and automatic cleaning mode
Economical and convenient
Easy to use and clean
Cons
Some might find this mask maker a bit noisy when used.
Get creative with your skincare routine and make masks for every season with this cool accessory, giving your bathroom counter a much-needed upgrade. This face mask maker machine allows you to make skin-loving masks in a matter of minutes, and the quiet, lightweight design makes it a real pleasure to work with. So what are you waiting for? Raid your kitchen fridge and make delicious face masks infused with fresh fruits, antioxidant-rich vegetables, honey, tea, or red wine. The list is indeed endless!
Pros
Lightweight and versatile design
One-button intelligent operation
Maintains fruit and vegetable nutrition
Quiet and easy to operate
Cons
Some might find that the face masks tend to be a bit slippery.
Get your hands on this amazing facial mask maker and take control of what you put on your skin! Bid goodbye to preservatives and potentially harmful toxins found in commercially-made face masks, and say hello to high-quality, natural ingredients that your skin will thank you for. Energy-saving and easy to use, this mask maker takes only a few minutes to churn out a gorgeous, nourishing mask that pours directly onto a mask plate. Let it cool for a few minutes, and apply it on your face for skin that is soft, supple, and oh-so-radiant.
Pros
Convenient and lightweight design
Automatic operation
Requires no preservatives
Energy-saving and easy to clean
Cons
Some might find this mask maker a bit difficult to clean.
Whether you're looking for a nourishing mask for dry skin, a whitening mask to get rid of that unwanted tan, or a green mask to restore skin elasticity, this facial mask machine is the answer! Let your creative juices flow and start experimenting with commonly found kitchen staples to make an appropriate sheet mask for your unique skin requirements. 1-button control and the automatic cleaning function make this multi-purpose machine super-easy to operate, while the intelligent voice prompt guides you to make the perfect mask every time.
Pros
Easy-to-use 1-button control
Automatic cleaning function
Intelligent voice prompt
Noise-reduction design
Cons
Some might find the face masks a bit inflexible.
Now it's easier than ever to achieve beautiful, radiant skin without breaking the bank! This unique sheet mask maker is the most convenient and economical way to give your delicate skin the tender loving care it deserves. In as little as 5 minutes, you can create custom-made masks with goodies found easily in your home, be it milk, honey, eggs, or even red wine! And there's more, and this multi-purpose mask maker makes the perfect gift for the DIY princess in your life!
Pros
Economical and convenient
Low noise and automatic design
Easy to operate and clean
Ideal for gifting
Cons
Some might find the face masks a bit thick.
Here's an all-in-1 solution for all your beauty and skincare needs! This multi-purpose mask maker allows you to design personalized natural and organic face masks using skin-loving fruits and vegetables. Free of preservatives and potentially toxic ingredients, this facial machine creates masks that allow nutrients to be absorbed quickly by the skin. This product also comes with 32 collagen pills and a jade face roller, which is an absolute must-have for lymphatic drainage and to reduce puffiness on the face.
Pros
Easy to operate and clean
Lightweight and compact design
Intelligent voice broadcast function
Comes with 32 collagen pills and a jade face roller
Cons
Some might find the jade face roller a bit difficult to use.
Now that we've had a look at our pick of the 7 best face mask makers for radiant skin in 2022, let us look at some things to consider when picking the perfect machine for your unique requirements.
Features To Consider When Buying A Face Mask Maker
When it comes to a face mask maker, the easier to use, the better. After all, the whole point is to improve the quality of your skincare regime at home. It is always best to pick a face mask maker with easy-to-follow instructions and preferably a 1-button operation. Additional features like voice instructions and automatic cleaning are a bonus worth considering.
Whether you're hosting a DIY mask-making party for your girlfriends or just getting creative with your skincare routine, a face mask maker is an economical and convenient alternative to store-bought masks. Plus, it allows you to skip out on the potentially harmful and toxic ingredients that might be found in commercially made face masks. Pick a multi-purpose face mask maker that allows you to use various nourishing ingredients to give your skin the maximum benefit possible.
A face mask maker that offers versatility in ingredients can be a wise investment for a beauty lover. Whether it is moisturizing honey, cleansing milk, antioxidant-rich fruits, vegetables, or skin-plumping collagen, all of them deserve a place in your rejuvenating face mask. Pick a face mask maker which allows you to make both hot compress and cold compress masks with ease so that you can enjoy the unique benefits of both.
How To Use A Face Mask Maker
Step 1 – Make a juice of all the ingredients you want to put in your face mask. Fruits, vegetables, eggs, honey, and milk are all great options.
Step 2 – Place your face mask maker on a flat surface and plug in the power.
Step 3 – Pour some water and your prepared juice into the mask maker and switch on the mask-making mode.
Step 4 – Wait for 5-7 minutes and then pour out the mask liquid into the face mask mold.
Step 5 – Wait for a few minutes for the mask to cool and condense.
Step 6 – Gently lift the mask out of the mold and apply on your skin.
And voila! Just like that, in a few minutes, you have the gift of soft, radiant skin at your convenience!
Why Trust StyleCraze?
Kirtana Divakar, the author of this post, is a skincare enthusiast who loves reviewing beauty products. She has scoured countless user reviews on different e-commerce sites to curate this list of the best face mask makers for radiant skin. The products on the list are easy to use, convenient to clean, and economical. Besides, they allow you to make customized face masks that leave your skin feeling fresh and rejuvenated. Kirtana has provided a brief description of these products with their pros and cons to help you decide.
Frequently Asked Questions
Are face mask makers worth it?
Absolutely! Face mask makers are an economical and convenient alternative to expensive salon visits and store-bought face masks. They're especially beneficial for those who are conscious of the ingredients they put on their skin and want to make natural and organic face masks that are free of preservatives and potentially harmful ingredients.
What can you put in a face mask maker?
The possibilities are endless! Lemon juice, egg yolks, milk, yogurt, and green juice are some common ingredients that make face masks nourishing and moisturizing. Collagen and peptide pills can also be put in face mask makers to help improve skin elasticity and promote skin cell regeneration.
How long does it take for a face mask maker to work?
This depends on the model you're using, but generally, a face mask maker is able to churn out a skin-loving face mask in 5-7 minutes. Time-saving and energy-saving, they're a must-have for the beauty junkie who loves to take charge of her skin care regime.
Recommended Articles: