15 Best Japanese Soaps
Tackle skin care woes and keep your skin moisturized with soaps made in Japan.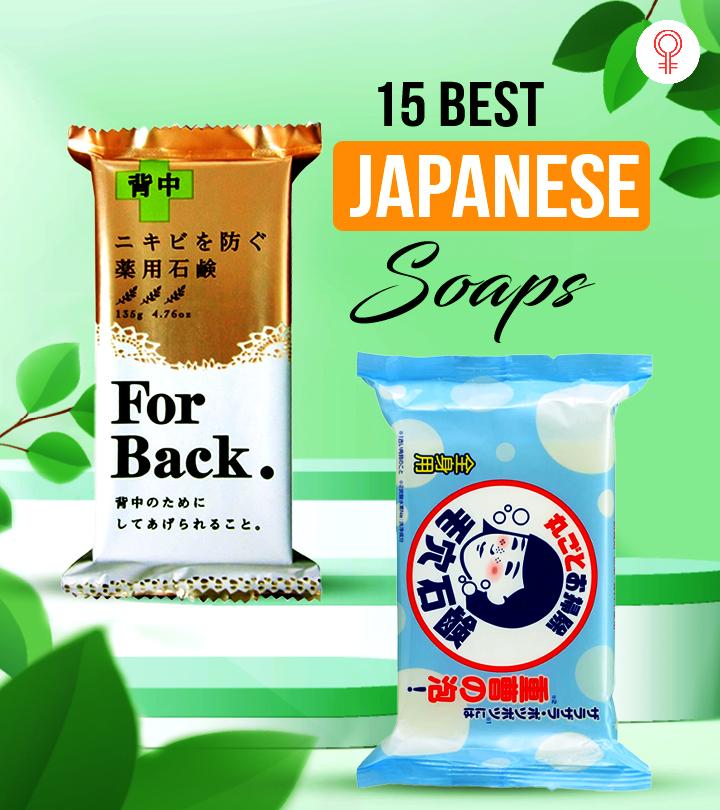 J-beauty has slowly emerged as a sensation among skin care enthusiasts and is taking the beauty industry by storm. The best Japanese soaps are in high demand, creating hype worldwide. They are made with natural ingredients like charcoal, milk, persimmon, baking soda, and horse oil, which have moisturizing properties to foam and lather your skin. Their hydrating properties help nourish your skin, and the plant extracts ensure your skin gets the pampering it deserves. Here are the 15 handpicked soaps to cleanse your skin while making it soft and supple.
Types Of Japanese Soaps– Liquid vs. Bars
Japanese soaps are known for their unique compositions and century-old soap-making procedures. They are also suitable for sensitive skin and loved by people of all skin types. Bar soaps are common in most Japanese households, even though there is a common trend towards liquid soaps these days. Bar soaps area great choice to go eco-friendly. You can find liquid sops in local hot springs (onsen) or bathhouses (sento), but the locals and visitors most likely bring their own bar soaps instead.
Take a look at the next segment to pick your favorite from the 15 best Japanese soaps listed below!
15 Best Japanese Soaps
This Peach Hip Care Soap is a cute heart-shaped bar with a lovely scent of freshly picked peach. It gets rid of dead skin cells, dirt, and body odor to leave your skin smooth and clean. The soap contains konjac root, a natural and gentle exfoliant that unclogs the pores, promotes hydration, improves skin elasticity, and maintains your skin's pH levels. The peach extracts fight free radical damage, have anti-aging properties, and soothe irritations. They also eliminate dark spots, bumps, and wrinkles in your hips and buttocks.
Pros
Smells good
Soothing
Value for money
Cons
The Settuken Charcoal Bar Soap by SUMI HAIGOU is ideal for oily and acne-prone skin. The goodness of charcoal and bamboo vinegar leaves your skin visibly smooth. Bamboo vinegar has antifungal properties that heal and soothe skin ailments like dermatitis, itching, and eczema. Charcoal, known for its detoxing properties, gently exfoliates the dead skin, dirt, excess sebum, and impurities to help you achieve clearer skin. This moisturizing Japanese soap bar has a rejuvenating cypress scent to make your bath time therapeutic.
Pros
Gentle
Mild scent
Reduces acne
Long-lasting
Cons
The Muse medicated soap is one of the most loved soaps in Japan due to its skin-friendly and antibacterial properties. It eliminates germs and cleans the skin surface thoroughly. This soap can be used for washing your hands or the body. The formula soothes irritation and itching in your skin while eliminating body odor. It is very gentle on the skin and can be used by adults and kids alike.
Pros
Gentle
Smells good
Suitable for adults and kids
Value for money
Cons
The Japanese Persimmon Deodorizing Soap Bar by Mirai Clinical leaves your skin super-clean and fresh all day. The persimmon extracts naturally purify your skin and eliminate odor. The anti-aging properties of green tea extracts reduce the appearance of wrinkles, blemishes, fine lines, and scars while soothing and protecting your skin from sun damage. Olive oil and glycerin deeply condition your skin and make it smooth. This all-natural soap does not strip your skin of its natural oils and leaves it feeling soft, smooth, and silky.
Pros
Handmade
Smells good
All-natural
PEG-free
Preservative-free
Synthetic fragrance-free
Cons
The For Back Acne Prevention Medicated soap by Pelican is ideal for bumps and irritation. It contains detoxifying charcoal that gently exfoliates the dead skin, dirt, excess sebum, and impurities from the skin surface. Papain and kaolin clay unclog pores and remove damaged keratin from your skin to reduce acne, scars, and buildup. Glycerin forms a barrier over your skin and locks in hydration. Regular use of this Japanese soap makes your back clear and flawless.
Pros
Gentle
Mild scent
Reduces body acne
Cons
Very drying
May cause redness and itching.
The Baking Soda Soap by NADESHIKO is 100% vegetable oil-based, rich in moisture, and can be used on the face and the body. Baking soda has anti-inflammatory and antiseptic properties, making it ideal for soothing skin irritation, rashes, itching, and redness. It loosens and gently exfoliates the dead skin cells, lifts dirt deep inside pores, and unclogs excess sebum to give you smoother and clearer-looking skin.
Pros
Anti-odor
Reduces acne
Value for money
Cons
The Family Persimmon Soap by Pelican has been one of Japan's most loved soaps for over half a decade. Persimmon extracts naturally purify your skin and eliminate odor. The green tea extracts have anti-aging properties that reduce wrinkles, blemishes, fine lines, and scars. It soothes your skin and fights sun and free radical damage. The rosemary extracts reduce puffiness and soothe irritation like dryness, eczema, itching, psoriasis, etc. This creamy and rich lathering soap refreshes your body with a sweet and citrusy scent.
Pros
Smells good
Non-drying
Foams well
Cruelty-free
Value for money
Cons
None
Eliminate body odor with this beautiful transparent bar of BoxCave KakiChatannian Soap. This soap is formulated with green tea extract and persimmon juice that keeps you all-day fresh. The soap claims to effectively eliminate 97% of 2-nonenal, a chemical associated with body odor due to hormonal changes, aging, and menopause. Moreover, the handmade soap keeps your skin moisturized with hyaluronic acid and coconut oil. It is ideal for sensitive and dry skin.
Pros
 Mild scent
 Lathers well
 Refreshing scent
Cons
None
This Cleansing Soap by Hinoki Deitanseki is infused with natural ingredients and is ideal for easily irritated or sensitive skin. The detoxifying ultra-fine charcoal particles gently cleanse and absorb impurities for a clearer complexion. Papain, an enzyme from papaya, removes dead cells, while white clay softens and nourishes the skin with minerals. Bentonite clay unclog pores to revitalize your skin. Hinoki oil has a subtle, relaxing aroma that leaves you feeling refreshed and clean.
Pros
Gentle
Non-drying
Foams well
Smells good
Cruelty-free
Value for money
Cons
None
The Cow Brand Beauty Soap is fortified with milk and milk fats. The lactic acid in milk removes dead skin cells, brightens the skin, and promotes new cell growth. The soap also contains squalene that moisturizes your skin and locks in hydration. It is gentle and safe to use for both kids and adults alike. The enchanting rose scent eliminates body odor and leaves your senses rejuvenated. Regular use of this Japanese soap decreases pores and reduces acne.
Pros
Smells good
Gentle
Can be used by kids and adults
Value for money
Cons
The Kao White Soap has a mild floral scent and is extremely gentle on the skin. It is formulated with the goodness of natural palm milk, which deeply moisturizes your skin and leaves it soft and supple. It also restores your skin's natural oils while soothing itchiness and irritation. The creamy soap improves your skin's texture, tone, and overall health.
Pros
Gentle
Smells good
Foams well
Non-drying
Creamy texture
Cons
None
This cleansing soap from DHC is made using traditional methods. It contains natural plant-derived ingredients that give effective results. The antioxidant-rich olive fruit oil fights aging signs, aloe vera soothes and hydrates your skin, while the nourishing fatty acids soften the skin without clogging the pores. This soap also controls sebum, dissolves impurities, and leaves oily and blemish-prone skin healthy and moisturized.
Pros
Gentle
Lathers well
Non-drying
Fragrance-free
Colorant-free
Cons
None
The Pure Horse Oil Soap by Pelican is one of Japan's most popular soaps. Horse oil is said to have anti-aging properties that reverse wrinkles, dark spots, fine lines, hyperpigmentation, and blemishes. It also improves your skin's elasticity while fighting acne and sun damage. This soap deeply moisturizes your skin and balances your skin tone.
Pros
Foams well
Smells good
Reduces acne
Tones the skin
Cons
None
The Tokyo Love Soap is an intimate feminine wash ideal for sensitive skin. It is made with all-natural ingredients and is free of any toxic chemicals. This soap contains glycerin that forms a barrier over your skin and locks in hydration. Aloe vera soothes acne, irritation, and redness. Jamu herbs fight dullness, and persimmon offers deodorizing properties. These potent ingredients boost cell regeneration and improve collagen production.
Pros
Gentle
All-natural ingredients
Paraben-free
Synthetic dye-free
Mineral oil-free
Artificial fragrance-free
Petroleum-free
Sulfate-free
Value for money
Cons
This Pomegranate Welcome Soap by TAMANOHADA is one of the oldest soaps in Japan. It is made in the shape of wagashi– are the fish-shaped bar. It has a sweet pomegranate scent that washes away body odors. This soap is made from natural plant oil, which gently cleanses and nourishes the skin and leaves it moisturized.
Pros
Smells good
Lathers well
Long-lasting
Value for money
Cons
None
Why Trust Stylecraze
Shiboli Chakraborti conducts thorough research and breaks down complex jargon before curating lists about skincare products. She did the same with this article written on the best Japanese soaps that nourish your skin, leaving it hydrated and moisturized. To help you choose a suitable product, she shared their features, ingredients, pros and cons, making your shopping decision effortless.
Frequently Asked Questions
What does persimmon soap do?
Persimmon soap gently removes unpleasant body odor caused due to menopause, aging, and hormonal imbalance. It also helps remove the foot, underarm, and vaginal odors.
Why is Japanese skin so good?
Japanese skin care products hydrate the face and provide moisture. In addition, some formulas contain anti-aging compounds like collagen to offer you younger-looking skin. Additionally, they eat a lot of fish and vegetables and very little meat or sugary food, contributing to their flawless skin.
What Japanese soap do dermatologists recommend?
Doctors recommend Japanese soaps with hydrating properties that nourish and moisturize your skin and keep it free of sensitivity.
Which Japanese soap is not harmful to the skin?
The Hinoki Deitanseki's cleansing soap is safe for the skin because the white clay softens and provides the skin with minerals, while papain dissolves dead skin cells. In addition, bentonite clay clears clogged pores to rejuvenate the skin, and hinoki oil makes you feel clean and renewed.
Recommended Articles