15 Best Tea Tree Oil Soap Bars To Protect Your Skin In 2023
Natural disinfectants that can protect your skin from acne and inflammations.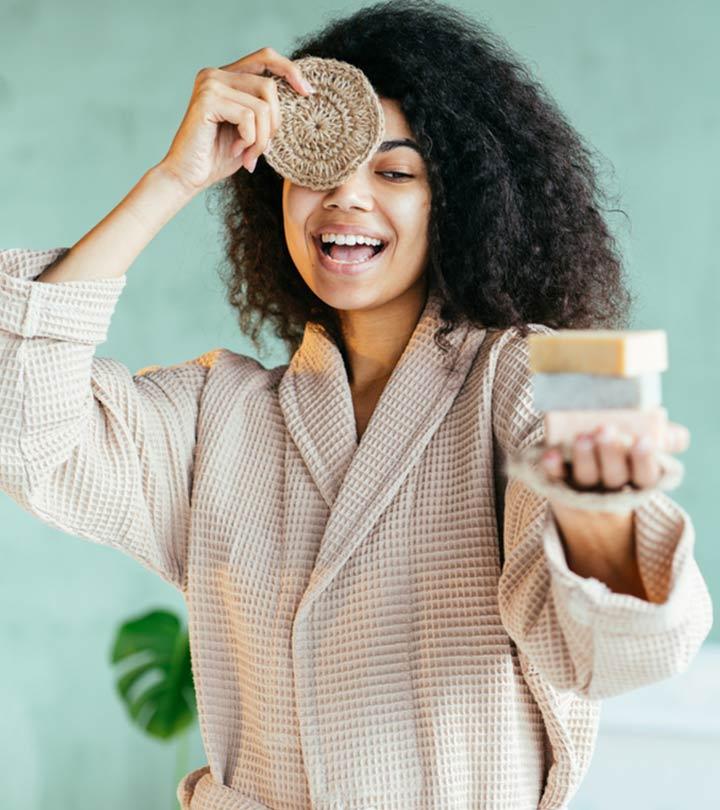 If you are looking for the best tea tree oil soap available for purchase in the market, then you are in the right place. Tea tree oil is undoubtedly one of the most desired skincare ingredients and definitely for all the right reasons. It is a natural disinfectant, which calms down the skin and prevents it from annoying inflammation. It works wonders for treating body acne as well. So, if you want clean and healthy skin (of course you do), you must look into the list of the best ones from popular and trusted brands we have provided below in this article. You will find the best options that are worth trying. Since the market is crowded with endless options, this article shall help you find your right fit without much hassle.
2022's Top 15 Tea Tree Oil Soap Bars For Healthy And Clean Skin
On the top of our list, ranks this intensely moisturizing charcoal and tea tree oil soap bar that creates a rich hydrating lather for all your baths. Here, the tea tree oil is infused with natural activated charcoal and shea butter to ensure deep cleansing without stripping the moisture off of your skin. Unlike other cleansing bars, this tea tree soap bar is performance-driven and acts as an effective acne treatment. It keeps your skin recharged, fresh, and at its peak. To make things even better, this soap is hypoallergenic, non-irritating, and dermatologist-tested. It is made without sulfates, parabens, alcohol, PEG, or dioxane. The product is not tested on animals.
Pros
Affordable
Climate pledge friendly
Rich lather that rinses off easily
Available in different packaging
Ensures long-lasting freshness
Free of sulfates, parabens, and phthalates
Specially formulated for sports-driven individuals
Cons
Price at the time of publication: $9.99
This unique soap bar is enriched with parsley flakes that gently exfoliates the skin whereas the tea tree oil uses its antiseptic and healing properties to perfectly clean your skin. It is also infused with fresh extracts of lavender and peppermint to keep you refreshed through the day. The rich lather antibacterial soap bar is not only a cleanser but also an ideal shaving companion! Allow it to lather up before you run your razor through on skin and all you have to do is watch the incredible results. Squeaky clean and hairless skin is all this product is about. The soap has received numerous reviews from its users who claim that it improves skin texture and delivers visible results with continued use. If you are still unsure about this tea tree body bar, you can check this personal review video to learn about the reviewer's experience with it.
Pros
Vegan
Cruelty-free
Ideal for shaving
Free from paraben and gluten
Leaves the skin with a tingling feeling
Cons
Slightly expensive
Peppermint may cause drying of the skin
Price at the time of publication: $11.5
This tea tree soap bar provides a spectrum of benefits like antifungal properties and anti-inflammatory effects that make all your skin goals come true. The soap bar provides a smooth, rich lather that helps in removing dirt, grime, and sweat that rinses clean without any added effort. It is infused with eucalyptus oils that help in fighting bacteria, fungus, and any other skin infection-causing agents. Ideal for all sporty folks out there who need an extra-strong cleanser to avoid sweat and oil build-up. This bar not only washes away all the oil but also controls the production of sebum! It is hypoallergenic, natural, and free of fragrances, dyes, and any other harsh chemicals.
Pros
Natural soap
Compact design
Climate pledge friendly
Available in multiple scents
Has antibacterial properties
Free of parabens, sulfates, SLS, triclosan, dyes, and fragrances
Cons
Slightly expensive
Not ideal for overcoming serious medical skin conditions
Price at the time of publication: $29.99
If you have been on the lookout for an all-natural soap bar with tea tree oil made from organic ingredients, this is it! This Remedy Soap product has no preservatives, silicone, synthetic fragrance, and dyes. It is super clean and super refreshing. This soothing formula calms down dry, itching, cracked, and irritated skin. Its deodorizing properties make it your next ideal gym partner. It is great for active people! It is strong enough for the gym and gentle enough to use every day. Dermatologically tested and hypoallergenic- this bar of soap cleanses your skin without dehydrating it. 
Pros
Long-lasting
Compact by design
100% natural formula
Contains no toxic chemicals
Gluten, cruelty, and paraben-free
Cons
Price at the time of publication: $43.99
For all our fungal or bacterial skin infection suffers out there- this tea tree oil soap is infused with lemongrass to fight away all your problems. It protects from common causes of itching, jock's itch, athlete's foot, ringworm, psoriasis and much more! Blended with five essential oils- tea tree, eucalyptus, orange, and lime, this soap gives you a broad range of benefits such as a refreshing fragrance while cleaning you up. It is not only ideal for fighting body but also facial acne. It is free from parabens, detergents, dyes, and fragrances. The product is not tested on animals.
Pros
Reduces acne
Compact design
Available in multiple packaging
Fights fungal and bacterial skin infections
Super fat bar that ensures moisture retention in the skin
Cons
May not last long if stored incorrectly
Price at the time of publication: $14.99
With a guaranteed use of pure tea tree oil- this bar soap is exceptionally good at dealing and managing acne and dandruff. The soap promotes a clear complexion by providing blemish control and reducing the appearance of acne scars. Used making certified trade ingredients and organic hemp oil to soften your skin with use. The rich lather cleans the skin quickly without drying out the skin. This tea tree soap bar is vegan, biodegradable and so versatile! You can use it on your body, face, and hair! Imagine- one product does it all! Say bye-bye to bathroom clutter and hello to more counter space. To make sure you have a guilt-free experience – this product has never been tested on animals, vegan, biodegradable, and all-natural. According to various reviews that the product has received, it delivers visible results with regular use. You can check this elaborate review to know more about the reviewer's experience and for more information on this soap bar.
Pros
Vegan
Cruelty-free
Moisturizing
Biodegradable
Made from all-natural ingredients
Can be used on body, face, and hair
Free from synthetics, preservatives, and detergents
Cons
Medicinal scent
Slightly expensive
Price at the time of publication: $5.49
Here's a tea tree soap bar that does it all without creating a big deal out of it. It is not only ideal for bathing but works great if you use it for shaving and even shampooing. This soap work product is an all vegetable soap bar made from the famous Australian tea tree oil. Just sniff it and you'll know that there is no fluff here. In addition to a lot of tea tree oil, it contains mild astringent that helps in keeping fungal and bacterial skin infections at bay. It provides gentle cleansing and has excellent moisturizing properties. Despite being a great cleaner and an antiseptic, this soap bar is not irritating and works towards keeping your skin and scalp healthy. It is not tested on animals and is also vegan.
Pros
No added fragrance
Farmer co-op made
Washes away without residue
Concentrated with tea tree oil
Available in multiple packaging
Maintains shape despite excess exposure to water
Cons
Slightly expensive
No long-lasting scent
Price at the time of publication: $6.39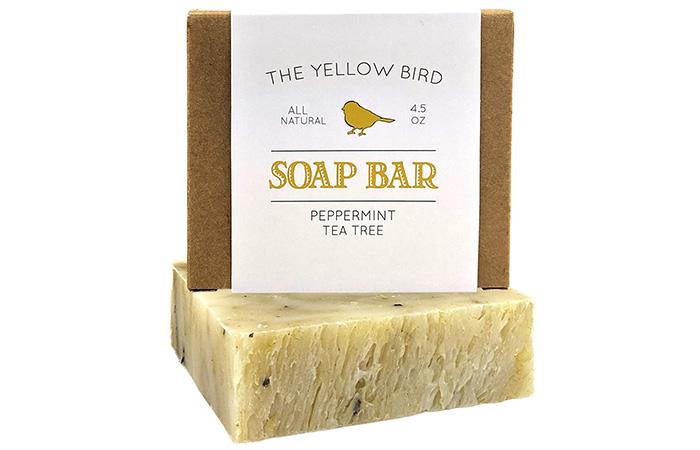 If you are a sucker for beautiful packaging and aesthetically pleasing soaps, this is what you have been looking for. This Yellow Bird product is an all-natural peppermint and tea tree oil soap bar that comes in the most beautiful packaging. Draw one glimpse at the bar and you can see the ombre of colors created by its ingredients. Looks aside, this soap bar creates the right lather to keep you energized and refreshed. It is great for all skin types and can be used on the face! This antiseptic formula keeps skin infections and rashes away without drying or irritating the skin. It contains nourishing ingredients that offer good exfoliating properties. It is a gentle yet result-driven formula that never fails to satisfy. The formula is also not tested on animals, making it an ideal cruelty-free option.
Pros
Artisan made
Handmade soap
Organic ingredients
Compact by design
Cold processed soap
Chemical, sulfates, paraben, alcohol, artificial dyes, and synthetic fragrance-free.
Cons
Price at the time of publication: $16.99
Here's a unique result-driven product that is hard to not be impressed by. This Songeable product, as the name suggests, is actually a facial sponge with a tea tree oil soap infused into it. This soap bar is dual-textured- that is one side of this soap is textured with the sponge to help in exfoliating whereas the other side is smooth to soften, cleanse, and moisturize the skin. It is an automatic soap that rejuvenates this skin- just like a spa! All you need to do is throw a few drops of water and squeeze the sponge to release the cleanser. If stored properly, this product will easily last you for more than 20 washed.
Pros
Easy to use
Unique concept
Cruelty-free and vegan
Ethical skin care product
Recommended for acne-prone skin
Free from parabens, gluten, silicons, phthalates, and polyunsaturated fats
Cons
Melts easily
Requires careful exfoliation
Price at the time of publication: $7.77
Vanessa Huerta, a Licensed Esthetician, mentions, "Tea tree oil is helpful when treating acne but is more of a topical treatment for bacteria and inflammation. It is best paired with an acid, such as salicylic, to kill the P. acnes bacteria that lives deep in the pores and is one of the causes of acne."
Made from everything vegetable- this product contains no animal-derived products in it, Perfect for all our vegan readers who not only eat vegan but also live a vegan life. This tea tree oil soap bar has two percent of the oil- making it a promising germicide and antiseptic soap! To make things even better, this vegan soap bar includes a natural moisturizer that allows the soap to gently slide and apply all over your skin. This product contains a whole lot of good ingredients, including crushed eucalyptus leaves, lavender oil, and tea tree oil.
Pros
Vegan
Moisturizing
Ideal for sensitive skin
Antiseptic and germicide
Contains crushed leaf fragments to help in exfoliation
Cons
Price at the time of publication: $20.19
This product is as effective as it is aesthetically pleasing. It is ideal for every skin and scalp issue you can possibly face- including acne, dryness, lice, breakouts, rashes, dandruff, bacterial skin infection jock itch ringworm, body odor, psoriasis, and much more. It is 100% pure and oh-so-natural! Made with organic spirulina, the most nutrient-dense algae found on earth. Spirulina contains several vitamins such as vitamin A, vitamin B12, vitamin E. It also contains calcium, iron, and phosphorus- all vital if not essential for your skin's health. The coconut oil formulation in this product leaves your skin super-duper soft after every use, whereas the tea tree oil fights skin infections. This plastic-free formula is also not tested on animals. Try it out and watch your skin transform!
Pros
Vegan
Cruelty-free
Lathers well
Leaves no residue
Compact by design
Contains no artificial color
Free of alcohol, parabens, sulfates, soy GMO, gluten, and fragrance.
Cons
Price at the time of publication: $8.99
This tea tree soap bar is loaded with powerful and responsibly sourced botanicals such as sustainable palm oil, jojoba oil, aloe vera. Combined with tea tree oil, Desert Essence gives you this lusciously hydrating and cleansing bar that never fails to impress. It cleanses, soothes, and softens the face and body without any irritation! It is ideal for sensitive skin and to meet all your other skincare requirements such as shaving! To make things even better, this product is vegan, environmentally friendly, and sourced to protect the land, wildlife, and local communities.
Pros
Vegan
Eliminates odor
Responsibly made
Compact by design
Responsibly sourced
Free of artificial dyes, fragrance, SLS, or sulfates
Wrapped in paper made from 100% recycled material
Cons
Contains mild fragrance
May cause minimal tingling
Price at the time of publication: $10.78
Here's a unique formulation that contains tea tree oil, lemongrass, and orange peel. Together, they make the product anti-inflammatory, brightening, and uplifting. The shea butter in this formula helps tackle skin irritation, whereas the orange peel refreshes the skin to ensure skin's freshness and smoothness. Together, these topical healing products form an exotic aromatherapeutic experience that is difficult to not enjoy.
Pros
Ideal for oily skin
Can be used for exfoliation
Naturally scented with lemongrass
Fights fungal and bacterial skin infections
Cons
Slightly expensive
Scent may cause mild irritation in the eyes
Price at the time of publication: $17.04
Specially formulated for oily skin and acne-prone skin- this tea tree oil soap bar is made to reduce redness and inflammation. This bar creates a rich lather, allowing you to use less soap to reach better results. It contains coconut, avocado, olive oil, shea butter, and beeswax that moisturize, soothe and calm the skin while the tea tree oil works its magic. To make things even better, this product is paraben, SLS, GMO, gluten, alcohol, and PEG-free. It has never been tested on animals and is beekeeper make and approved.
Pros
Handmade soap
Compact by design
Moisturizing and healing
Beekeepers made and approved
Cruelty, paraben, gluten, and alcohol-free
Cons
Price at the time of publication: $7.49
This luxurious Thai herbal soap is great for acne-prone skin and for you! Achieve skin detoxification with the extremely porous bamboo charcoal by allowing it to absorb and draw out dirt, toxins, and dead skin cells to give you clean and smooth skin. The tea tree oil, shea butter, and coconut oil in the soap balance out the dryness of the skin. It contains no toxins, parabens, and SLS. It is a handmade soap that does not undergo any animal testing, is completely vegan, and all-natural!
Pros
Vegan
All-natural
Handmade soap
Toxin, paraben, and SLS free
Moisturizing and smoothing
Cons
Slightly expensive
Coconut oil may cause pore-clogging
Now, that brings us to the end of our 15 best tea tree oil soap bars that will protect your skin in 2023. To make things easier for you, we've compiled this buying guide to make your choice.
Buying Guide
Choosing the best tea tree oil soap bar isn't the easiest task, especially when we've thrown 15 of the best products out there at you! To help you make your pick, we recommend keeping the
following in mind:
Usage Of Tea Tree Oil Soap

Tea tree oil uses have been noted for centuries. It is widely and historically been used to treat all sorts of skin issues- such as skin infections, cystic acne, hormonal pimples, ringworms, and so much more! To use tea tree oil to counter any of such skin issues we suggest you look into the following things before you make the purchase:
Is extremely important to recognize your skin type and the nature of skin issues you are facing.
If you have sensitive skin, it is always better to go for a product that has fewer chemicals and other strong elements. If you have acne-prone skin, choose a product that fights bacterial and fungal skin infections. If you have dry skin, we recommend purchasing a product that has moisturizing elements in it.
In addition to this, you may also check the reviews of the products you intend to buy. This will give you an insight into the users' experiences with the product and help you make an informed decision.
Benefits Of Tea Tree Oil Soap

Like we mentioned before, tea tree oil has many benefits. Apart from fighting acne, tea tree oil soap fights bacteria, skin infection-causing agents. It is the ideal partner in overcoming body odor without leaving an overpowering scent. It keeps your body fresh and lovely! To choose, decide the tea tree oil benefits you seek- it could be for your body, face, or scalp.
Why Trust StyleCraze?
Krati Darak is a skin and hair care enthusiast. After carefully studying the user feedback of several top products, she has compiled this list of the best tea tree oil soap bars. These soap bars will help soothe your skin and keep skin problems at bay. Additionally, Sneha discusses the benefits of each product and includes a buying guide to help you pick the right product.
Frequently Asked Questions
Are tea tree soaps good for acne?
Yes, tea tree oil has anti-inflammatory properties that prevent your pores from clogging and therefore reduces the chances of causing acne.
Do tea tree soaps dry out skin?
Due to its strong anti-inflammatory nature, tea tree oil on its own can cause drying out of the skin in rare cases. However, most soaps are combined with moisturizing agents to counter such drying.
Do tea tree soaps help with rosacea?
There are no studies that suggest that tea tree oil can help overcome Rosacea. However, there is enough evidence concluding that tea tree oil helps to overcome symptoms, outcomes, and even similar health conditions as rosacea. Since most tea tree oil soap bars are infused with carrier oils, it is more than likely for the soap to assist in overcoming the symptoms or outcomes of rosacea.
Do tea tree soaps kill bacteria?
Tea tree oil can easily be seen as nature's hand sanitizer. It not only kills bacteria, but keeps several varieties of infections at bay- including stubborn fungal infections.
Does adding tea tree oil to soap make it antibacterial?
Honestly, it depends. Generally speaking – tea tree oil is antibacterial and will make your soap antibacterial. However, if you are making soap at home and end up adding just one single drop to a gallon of glycerin- then it is diluted to such an extent that it doesn't remain anti-bacterial anymore. The formulation is key when it comes to soaps and that is why we leave it to the experts who know how to add tea tree oil to soap to make it antibacterial.
Recommended Articles: