The 14 Best Serums For Acne Scars For You To Try Out In 2022
Products that help you take your first step towards leading an acne scare-free life.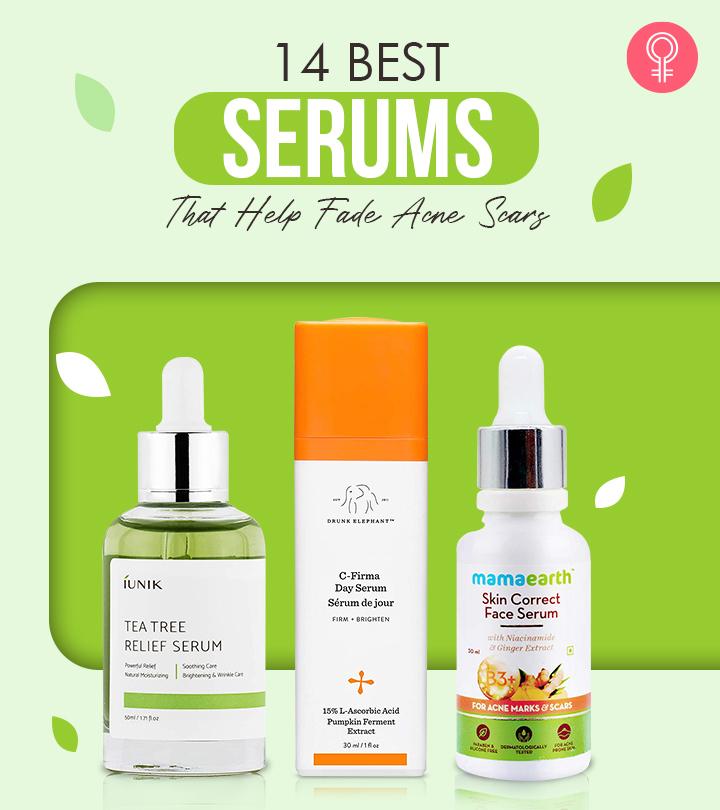 While most of you are familiar with the pain and discomfort of acne and breakout, acne scars are another story altogether! That's when the best serum for acne scar can come to your rescue! With their active ingredients like salicylic acid, niacinamide, and retinol, these serums accelerate the process of scar healing and fading. They also treat skin discoloration and prevent future breakouts! If you are keen to try one for yourself, have a look at the 14 best acne scar fading serum enlisted below to get rid of those blemishes as fast as they appear!
14 Best Serums That Help Fade Acne Scars
Say goodbye to acne scars with this richly concentrated and potent serum from Glam Up. It is formulated with hemp seed oil that helps treat and fade acne on your face. It also regulates and balances oil production.
The serum also contains niacinamide and hyaluronic acid. While niacinamide treats blemishes, hyperpigmentation, and dark spots, hyaluronic acid hydrates and brightens the skin. The lightweight, fast-absorbing, and non-sticky formula helps calm and soothe irritation, tighten pores, and strengthen the skin barrier to prevent any future breakouts. Check out this review for a detailed understanding about the product.
Key Ingredients: Hemp seed oil, Niacinamide, and Hyaluronic acid
Pros
Lightweight
Fast-absorbing
Non-sticky
Brightens the skin
Cons
None
This face serum from Shills helps with acne treatment by regulating oil production. It also reduces acne scars, dark spots, and blackheads. The mandelic acid in the serum stimulates collagen production to minimize fine lines and wrinkles. The acid also helps treat discoloration, including that caused by melasma. The non-drying and gentle formula helps you achieve a younger and healthy-looking complexion.
Key Ingredients: Mandelic acid (AHA derived from bitter almonds)
Pros
Lightweight
Non-drying
Formulated with natural ingredients
Vegan
Cruelty-free
Alcohol-free
Paraben-free
Silicone-free
Cons
This serum from iUNIK is formulated with a unique blend of natural ingredients like tea tree leaf water and centella asiatica leaf water that soothe, heal, and nourish your skin. Tea tree leaf water helps soothe irritation caused by environmental stressors, while centella water helps lighten blemishes and acne scars. The serum also has niacinamide and adenosine that provide anti-aging benefits to your skin. The alcohol-free and moisturizing formula provides all-day-long hydration and is suitable for all skin types. It does not clog your pores or make your skin feel greasy or sticky.
Key Ingredients: Tea tree leaf water, Centella Asiatica leaf water, Niacinamide, and Adenosine
Pros
Lightweight
Non-comedogenic
Non-greasy
Safe for all skin types
Alcohol-free
Paraben-free
Sulfate-free
Cons
None
The Cutis Sanus Acne Prone Serum is rich in acne-clearing ingredients like tea tree oil, helichrysum, and cypress that reduce acne breakouts and heal acne scars. It is formulated with a multi-source blend of nine oils containing antioxidants and vitamins and reduces blackheads, fine lines, and wrinkles. The serum deeply penetrates the skin and nourishes it with organic and natural ingredients. The essential fatty acids in the formula increase the skin's collagen production and regulate its natural pH levels. Just a few drops of the product will plump up and hydrate your skin while treating stubborn acne scars.
Key Ingredients: Tea tree essential oil, Helichrysum, and Cypress
Pros
100% organic
Natural ingredients
No fillers
Cruelty-free
Paraben-free
Alcohol-free
Emulsifier-free
Cons
None
The Skinkissed Face Serum is a powerful mixture of natural ingredients that helps you achieve natural and healthy skin. It contains hyaluronic acid that plumps up and hydrates your skin while fading acne scars from your face. The serum penetrates the skin cortex and softens the scar tissue. This encourages natural healing and renewal of the skin tissues, which, in turn, leads to fading of acne scars. It also contains vitamin C to fade fine lines and wrinkles. With its highly potent concentration of ingredients the serum firms, hydrates, and rejuvenates your skin. It is suitable for all skin types and has an oil-free formula that will not clog your pores.
Key Ingredients: Vitamin C and Hyaluronic acid
Pros
Non-comedogenic
Suitable for all skin types
Oil-free
Vegan
Cruelty-free
Cons
None
The Paula's Choice Discoloration Repair Serum uses 3% tranexamic acid with 0.5% bakuchiol and 5% niacinamide to target and steadily improve the appearance of dark spots, discoloration, and post-acne marks. The non-irritating treatment promotes an even skin tone and fights the signs of aging. It works well for all skin types and skin tones, including skin prone to melasma and hyperpigmentation.
Key Ingredients: 3% tranexamic acid, 0.5% bakuchiol, and 5% niacinamide
Pros
Lightweight
Non-irritating
Suitable for all skin types and tones
Fragrance-free
Paraben-free
Cruelty-free
Cons
None
With niacinamide as an active ingredient, the Mamaearth Skin Correct Face Serum reduces acne marks and the appearance of skin blemishes. It also reduces the pore size, increases the skin's elasticity, and minimizes the appearance of wrinkles and fine lines. The serum also contains zinc PCA that helps limit the overproduction of sebum and control acne. The ginger extract in the formula calms and soothes acne and evens out the skin tone. It is dermatologist-tested and suitable for all skin types.
Key Ingredients: Niacinamide, Zinc PCA, and Ginger extract
Pros
Contains natural ingredients
Dermatologist-tested
Sulfate-free
Paraben-free
Petroleum-free
Artificial color-free
Suitable for all skin types
Cons
None
The serum and synergyzer duo from Neutralyze is a multi-patented acne treatment system that works best for moderate to severe acne-prone skin types. The treatment is powered by the Nitrogen Boost Technology that releases nitric oxide, which promotes skin healing and reduces acne scars. It also helps lighten blemishes and remove whiteheads and blackheads.
The formula contains 2% salicylic acid and 1% mandelic acid that gently exfoliate your skin and prevent future breakouts. These ingredients reduce the appearance of fine lines and wrinkles, fade dark spots, and correct uneven skin tone. This serum is effective for both adults and teenagers. It is non-comedogenic, dermatologist-recommended, and works for all skin types.
Key Ingredients: Nitric oxide, Salicylic acid, and Mandelic acid
Pros
Non-comedogenic
Dermatologist recommended
Safe for teenagers and adults
For all skin types
Fragrance-free
Cruelty-free
Cons
Might irritate very sensitive skin
The Georganic Propolis Acne Care Serum is formulated with natural ingredients that work wonders for acne-prone skin. It is enriched with propolis and centella asiatica extract that are known for their anti-inflammatory properties. These ingredients help reduce skin inflammation and soothe irritated skin.
The salicylic acid in the formula prevents blackheads and whiteheads by minimizing sebum production, while niacinamide lightens dark spots and blemishes. Niacinamide, along with 10% propolis (a mixture of bee enzyme and plant resin from bees), glycerin, and aloe barbadensis leaf water, fades scars and boosts skin moisturization. The serum uses all organic ingredients, which makes it safe for sensitive skin.
Key Ingredients: Centella asiatica extract, Propolis extract, Glycerin, Aloe barbadensis leaf water, Niacinamide, and Salicylic acid
Pros
LightweightSafe for sensitive skin
Contains natural and organic ingredients
Cruelty-free
Silicone-free
Artificial color-free
Artificial fragrance-free
Chemical preservative-free
Cons
None
The Rococo Revitalize Serum is made with vitamin C, retinol, and vitamin B3 that reduce hyperpigmentation and fade acne scars. Vitamin C improves skin texture by enhancing collagen production and reducing skin discoloration. Vitamin B3 increases the level of fatty acids in the skin, which prevents your skin from losing moisture. The serum has a fast-absorbing, non-oil, and non-sticky formula.
Key Ingredients: Vitamin C, Vitamin B3, Retinol.
Pros
Fast-absorbing
Non-sticky
Non-oily
Paraben-free
Cons
This antioxidant-rich serum from Eve blurs acne scars, reduces the appearance of fine lines and wrinkles, improves skin texture, and helps combat free radicals. It is enriched with vitamin C, hyaluronic acid, vitamin E, and botanical extracts to give your skin all the hydration and nourishment it needs.
The vitamin C present in the serum helps rejuvenate and brighten your skin while providing anti-aging benefits. The hyaluronic acid in the formula locks in moisture and makes the skin smooth and plump. This serum is also infused with vitamin E that deeply moisturizes and protects the skin and aloe vera hydrates the skin and soothes irritation and inflammation.
Key Ingredients: Vitamin C, Hyaluronic acid, Vitamin E, and Aloe vera
Pros
Smells good
Vegan
Sulfate-free
Paraben-free
Phthalate-free
Cruelty-free
Cons
None
The Majestic Pure EGF Scar Serum reduces acne scars, wrinkles, and dark spots. Regular use of the serum revitalizes, hydrates, and brightens the skin. It is formulated with EGF (Epidermal Growth Factor), witch hazel, lavender oil, and frankincense oil that deeply nourish your skin and give it a youthful appearance.
The EGF in the formula stimulates collagen production and improves skin texture and elasticity. While sandalwood oil moisturizes the skin and keeps it healthy and smooth, lavender oil promotes blood circulation and rejuvenates the skin. The cruelty-free serum works great for all skin types.
Key Ingredients: EGF, Witch hazel, Lavender oil, and Frankincense oil
Pros
Lightweight
Fast-absorbing
Mild fragrance
Non-sticky
For all skin types
Cruelty-free
Cons
None
The CeraVe Resurfacing Retinol Serum contains encapsulated retinol that improves the texture of your skin and reduces the appearance of post-acne scars. It also contains licorice root extract, ceramides, and niacinamide that refine your skin and make it healthy. The licorice root extract helps brighten the appearance of the skin, while the ceramides help restore and maintain the skin's natural barrier. The niacinamide in the serum helps in calming the skin and hydrating it. It is formulated by dermatologists and is non-comedogenic.
Key Ingredients: Retinol, Licorice root extract, Ceramides, and Niacinamide
Pros
Gentle
Non-comedogenic
Non-greasy
Formulated by dermatologists
Paraben-free
Fragrance-free
Cons
The Drunk Elephant C-Firma Day Serum is a long-lasting product that stays active on your skin for 72 hours. It is packed with powerful antioxidant complexes like pumpkin ferment extract, pomegranate enzyme, l-ascorbic acid, ferulic acid, and vitamins C and E. These ingredients reduce acne scars and make the skin firm and smooth while fighting the signs of aging.
Key Ingredients: L-ascorbic acid, Ferulic acid, Vitamin C, and Vitamin E
Pros
Lightweight
Silicone-free
Essential oil-free
Alcohol-free
SLS-free
Cons
None
Note: As these serums contain active ingredients, do a patch test before using them on your face.
Not all ingredients work well to reduce acne scars from your face. Scroll down to the next section to find out which ingredients effectively reduce acne scars.
Ingredients To Look For In Acne Scar Serums
Vitamin C: Vitamin C is an antioxidant that helps neutralize free radicals and reduce redness and swelling. It also has healing properties that accelerate the production of collagen to fade acne scars.
AHAs: The AHAs (alpha hydroxy acids) remove dead skin cells by mildly exfoliating the outer layer of your skin. They also help improve the skin texture and treat discoloration.
Niacinamide: Niacinamide is a form of vitamin B3 that has anti-inflammatory properties. It helps reduce skin damage and repair the outer layer of the skin. It also reduces hyperpigmentation when applied topically.
Other than the ingredients, you should keep a few other points in mind while purchasing a serum to fade acne scars.
Things To Consider While Buying A Serum To Fade Acne Scars
Fragrance: Some serums have a strong artificial fragrance. If you are sensitive to such scents, opt for a fragrance-free serum. Sometimes, serums with a strong scent may not suit the sensitive skin and cause allergic reactions. Hence, a fragrance-free serum is ideal.
Formula: If you have oily skin, choose an acne scar serum with a water-based formula that is free of oils and does not clog your pores. For normal or dry skin, go for oil-based formulas that moisturize your skin.
Note: Many of these products contain active ingredients, the use of which may cause skin purging. Purging is when your skin reacts to an ingredient by breaking out. So, be patient while using these products, and don't get demotivated if you get acne. This just means that the serum is working well, and your skin is getting used to it.
Why Trust StyleCraze?
Oyendrila Kanjilal, the author of this article, is a certified skin care coach and loves writing comprehensive beauty content for her readers. She believes that serums help to diminish the appearance of unwanted marks and scars on the skin. So, she checked user feedback and researched deeply to provide you with the best serum for acne scars. These serums tighten the pores, smooth your skin, prevent acne breakouts, and minimize the appearance of fine lines and wrinkles.
Frequently Asked Questions
How long does it take to see results from an acne scar serum?
The result may vary depending on the serum that you are using. Some serums may show visible results within a week, while some may take up to 12 weeks to show any result.
How often should I use an acne scar serum?
Since acne serums are formulated with active ingredients, using them twice or thrice a week will be safe for your skin.
How long does it take for acne scars to fade?
Some stubborn acne scars take six to twelve months to fade, while others take only three months.
How can I remove scars from my face permanently?
Remove scars from your face permanently with laser treatments, dermabrasion, skin needling, or chemical peeling. You can also rely on efficient skin care products, but the process might take longer.
How do I know if my acne scar is healing?
Consult a dermatologist to know if the treatments and the correct use of skin care products are healing your scars. You can also check whether the scars have stopped itching and are slowly fading away.
Recommended Articles