6 Best Coconut Oils For Hair And Skin That Fit In Travel Bags
Carry the richness of this nourishing hair potion in compact, travel-friendly packaging.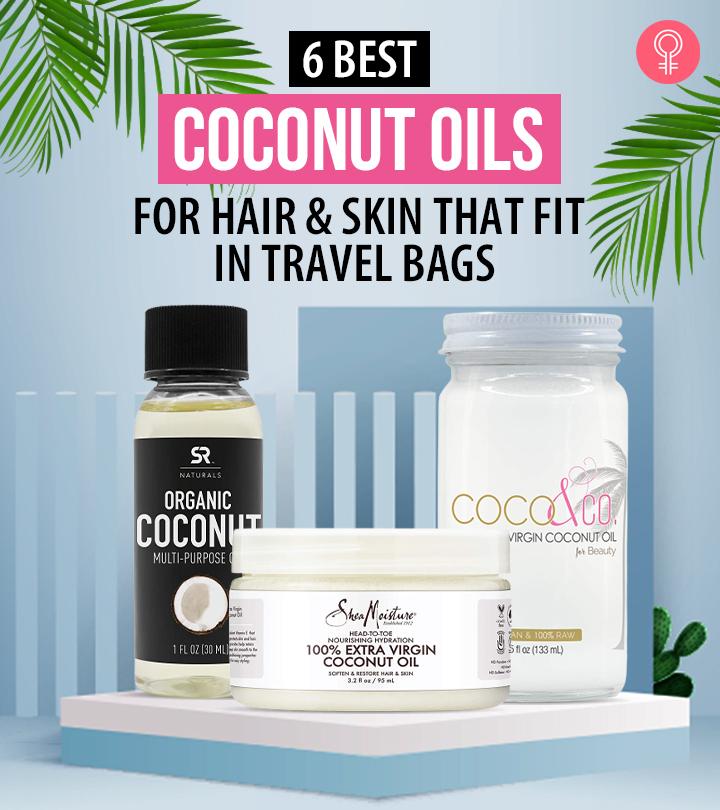 If you have a naturally dry scalp, you will know the value of owning the best travel-size coconut oil. While we don't usually oil our hair while on trips, for those who have dehydrated scalp, you must have missed on your hair oil when your hair felt dry on a trip. With these tiny coconut oil bottles, you can ensure your hair is hydrated and nourished no matter where you go. Here are the top 6 bands that make travel-friendly oil bottles for your trips.
6 Best Coconut Oils For Your Hair And Skin
Coco&Co's Virgin Coconut Oil is extracted by the purest method without using any chemicals and preservatives. This ensures the oil retains all the natural nutrients that are beneficial to your hair and skin. The gentle formula unclogs pores and improves skin elasticity. It contains fatty acids and vitamin E that help clear blemishes and reduce the appearance of fine lines to promote younger-looking skin. The essential proteins in this formula deeply penetrate your scalp and nourish your hair from within.
Pros
Organic
Non-greasy
Odorless
Sulfate-free
Paraben-free
Phthalate-free
Gluten-free
Vegan
Cons
Expensive
May cause allergies in sensitive skin
Price at the time of publication: $16.5
The SR Naturals Organic Coconut Multipurpose Oil is all-natural, unrefined, and can be used on skin and hair. The gentle formula is crafted to impart therapeutic benefits to your skin. This cold-pressed oil is designed to retain all the natural benefits of the oil, which are beneficial for your skin and hair. This certified organic product can be safely used from head to toe.
Pros
USDA organic
Non-GMO
Vegan
Cruelty-free
Cons
Price at the time of publication: $6.79
The extra virgin coconut oil from SheaMoisture is designed to nourish your skin and hair. It is rich in fatty acids, minerals, and vital vitamins that help moisturize your skin and hair. The triglycerides in the oil help to lock in moisture and keep the hydration level intact. The oil's deep conditioning properties nourish your scalp to promote long and healthy hair. This multipurpose oil can also be used as a makeup remover. The vitamin E in the formula helps unclog the pores and improves skin elasticity. You can check out this YouTuber's review of the product if you require more convincing.
Pros
Paraben-free
Phthalate-free
Sulfate-free
Mineral oil-free
Petroleum-free
Cruelty-free
Cons
Price at the time of publication: $6.85
Traders Joe's Organic Virgin Coconut Oil is a perfect on-the-go pack of 14 packets. The cold-pressed oil retains the natural nutrients in their purest form. It helps unclog pores and improve the elasticity of your skin to promote a youthful look. These oil sachets serve the dual purpose of both lotion and conditioner for your skin and hair. If you want to find out more about this product and its usage, make sure to check out this review on YouTube.
Pros
Lightweight
Certified organic
Harmful chemical-free
Edible
Pack of 14 sachets
Cons
Price at the time of publication: $24.99
This travel size oil from Conscious Coconut is crafted to moisturize your body from head to toe. The cold-pressed formula contains powerful antioxidants and gives your skin a healthy glow. It is formulated with vital vitamins and minerals that promote the overall health of your body. The deep conditioning properties nourish your scalp to give you long and shiny hair.  This multipurpose oil has anti-inflammatory properties that help heal your skin.
Pros
Certified organic
No toxic chemicals
Smells good
Value for money
Cons
May solidify at room temperature
Price at the time of publication: $18
Cocoa Luxe Extra Virgin Coconut Oil comes in an easy-to-use squeezable tube with a flip-top cap. This lightweight oil is prepared by the cold-pressed method without using any harmful chemicals. The nourishing formula hydrates your skin and promotes healthy hair. Its healing properties help soothe diaper rash in babies and treat cuts and burns. The anti-aging formula prevents wrinkles and fine lines and gives you younger-looking skin. This multipurpose oil is edible and helps you reduce body weight while increasing your overall energy.
Pros
Cold-pressed
Unrefined
Artificial scent-free
Hydrogenation-free
2-year shelf-life
Easy to use
Cons
Price at the time of publication: $11.94
Read on to find out the factors to consider before buying a travel size coconut oil.
Things To Consider Before Buying A Travel-Size Coconut Oil
1. Check The Labels: Always buy coconut oil that is labeled unrefined, virgin, or cold-pressed. This will ensure that you are using oil that has not gone through much processing and retains all its beneficial nutrients.
2. Check The Packaging: It is important that the bottle or sachet should be properly sealed so that it does not spill in your bag and create a mess.
3. Check The Reviews: Go through the reviews online before you choose the best travel size coconut oil. This will help you decide between options and choose reliable, tried, and tested products.
Why Trust Stylecraze
Shiboli Chakraborti, the author, has a keen interest in hair care. She loves to explore various products used in hair care and curates a list only after thorough research. This list of best travel size coconut oils is compiled after checking customer feedback on trusted forums and extensive research. These coconut oils are the best way to keep dry hair at bay while you travel.
Frequently Asked Questions
How long is coconut oil good for once opened?
Processed or refined coconut oil stays fresh for up to 2 years if stored properly.
Does coconut oil need to be stored in a dark container?
To maintain their quality, it is recommended to keep coconut oil in cold and dark places, but the container can be of any color.
How do you pack coconut oil for travel?
To avoid oil spilling inside your bags, seal them in an airtight container and cover them in a plastic bag for better protection.
Is there a difference between virgin coconut oil and coconut oil?
Virgin coconut is made from fresh coconut and regular coconut oil is made from dried coconut.
Does coconut oil need to be refrigerated?
No, storing coconut oil will not elongate its shelf life. It will only solidify it.
What is the difference between refined and unrefined coconut oil?
Refined oil goes through a couple of extra processes more than unrefined coconut oil and loses some of its nutritional value.
Recommended Articles