5 Best Makeup Artist-Approved MLBB Lipsticks Of 2023 – Buying Guide
Keep up with makeup trends with just one swipe of these natural-looking lip shades!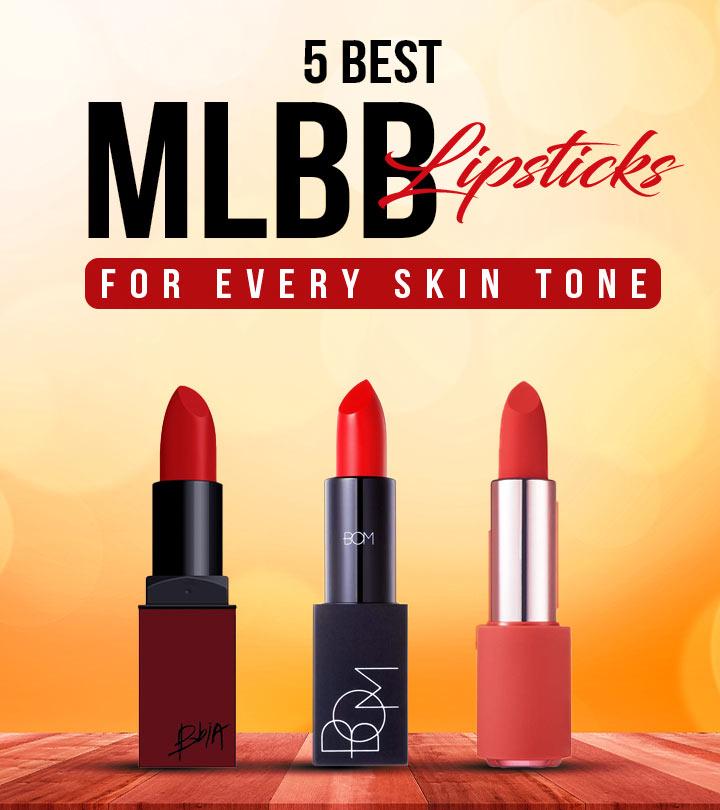 Wearing the best MLBB lipsticks can give you the confidence you always wanted. Even if you own just one shade, it has to be MLBB, and we have reasons why you should do that. My Lips But Better or MLBB is the new trend that focuses on natural lip colors giving it an effortless and chic look. It is ideal for your no-makeup look while having the perfect gloss and radiance on your lips. It was first started by K-pop stars, but now it is something the whole world is going nuts. If you feel you should try, we will help you select the perfect shade. Here are the 5 highest-rated lipsticks that are taking the internet by storm. Pick the one that speaks the most to you!
5 Best MLBB Lipsticks Of 2023 – Reviews And Buying Guide
The Rimmel Moisture Renew Lipstick has a creamy texture that glides seamlessly on your lips. It is infused with vitamins A, C, and E that help in hydrating your lips and make them appear plump. This lightweight formula adorns your lips with an amazing mauve color. The tried-and-tested formula feels comfortable on the lips and delivers an intense color payoff. This lip color is an extremely versatile shade and looks flattering on all skin tones.
Skin Type: AllColor: Tower of Mauve | Product Dimensions: 0.9 x 0.9 x 2.9 inches | Weight: 0.14 Ounces
Pros
Highly pigmented
Lightweight
Long-wearing
Easy to apply
Cons
None
The Peach C 4 Season MLBB Korean Lipstick contains high-quality ingredients and offers an intensely vibrant shade. This trendy lipstick has a semi-matte finish with a lightweight and rich texture that feels softer on your lips. The shade April Shower has a beautiful coral hue that adds a refreshing touch to your lips while evoking timeless beauty. This peachy-pink hue has orange undertones and suits all skin tones. The lipstick covers the lip creases, making your pout appear plump and firm. This video based on the reviewer's experience can help you know more about the product.
Skin Type: AllColor: April Shower
Pros
Lightweight
Semi-matte
Highly pigmented
Cons
None

Pro Tip
To achieve the quintessential Korean ombre lips, after exfoliating and priming, apply an even coat of nude lipstick. Follow with this MLBB shade on the inner seams of your lips. Blend both shades till you achieve the perfect ombre.
The Bom My Rose Lipstick has a non-sticky matte finish and is richly formulated with oils like rosehip, apricot, avocado, Macadamia oils, and vitamin E. The expertly crafted formula is highly pigmented and prevents dryness to keep your lips smooth and soft. The shade Cherry Red is a bright and intense red hue with cool undertones and looks great on people with cool undertones. Check out this video to know more about this bold color and a tester's experience of using the formula.
Skin Type: DryColor: Rose | Product Dimensions: 0.94 x 0.94 x 2.95 inches | Weight: 1.28 Ounces
Pros
Non-sticky
Highly pigmented
Non-drying
Cons
None
The Dear Dahlia Lip Paradise Intense Satin Lipstick has a creamy, rich formula and is enriched with dahlia flower extracts, rice bran wax, sweet almond oil, argan oil, shea butter, and cacao seed butter to nourish your lips and give intense hydration. The highly pigmented formula provides a lasting and rich color payoff for enhanced beauty. The shade 008 Meghan is a cool peachy-coral shade and suits people with pink undertones. It's perfect for making a statement without being overpowering. Before buying, have a look at this video for more details on a tester's experience of using the product.
Skin Type: All
Pros
Long-lasting
Highly pigmented
Paraben-free
SLS free
Phthalates-free
Metalloestrogens-free
Oxybenzone-free
Formaldehyde-free
Cons
None


Pro Tip
To make this shade pop out, go for a primer plus concealer base. A primer will even out the lips for smooth and precise application and let the lipstick hold. The concealer will offer an even skin tone to bring out a uniform vibrancy of the lipstick shade.
The NARS Lipstick comes in sheer, satin, and matte finishes. It is infused with moringa seed oil, passion fruit seed oil, and omega 6 and 9 that moisturize and soften your lips. The lightweight formula glides smoothly and disperses even color to your lips. This product also stays on your lips for a long time without bleeding or feathering.
Skin Type: All
Pros
Suitable for all skin tones
Suitable for daily wear
Lightweight
Good coverage
Easy to apply
Long-wearing
Non-feathering
Cons
*The prices provided in this article are based on the latest available information. However, they may vary due to changes in pricing by the seller and/or promotional offers.
Once you find your perfect MLBB shade, it becomes as valuable as your favorite pair of fashionable jeans. It feels comfortable, easy to wear, and goes with just about everything. But how do you get your perfect MLBB shade? Here are three hacks that you should keep in mind.
How To Choose The Best MLBB Lipstick
Find Your Skin Undertone: Determine if your skin undertone is cool, warm, or neutral before picking the right shade. If your skin has a reddish or pinkish hue, you are cool-toned, and shades with cool (blue or purple) undertones will suit you. If your skin has a yellowish tinge, you are warm-toned. Red hues with orange or brown undertone will suit you. If your veins are bluish-green, you have a neutral undertone, meaning any shade will look pretty on you.
Match It With Your Lip Pigmentation: Choose a shade close to your natural lip color or the shade of your inner lips for exceptional results. A lighter shade may look washed out, while a much deeper shade will look intense.
Match With Your Cheeks: If you are still unsure, match the shade with your cheeks. Dab a bit of the tint onto the apples of your cheeks – the area where you get the flushed effect. If it matches the color that matches close to the flushed skin (which you get after exercise or intense physical activity), then that's your MLBB shade.
The Bottom Line
My Lips But Better, a.k.a MLBB, is exactly what it sounds like! A new trend focuses on creating natural lip colors that give you a simple yet chic look. These expertly crafted lipsticks enhance your natural lip color by closely matching it and giving it a lovely, polished look without appearing extra vibrant. These lip colors are an absolute must-have for every girl. The Rimmel Moisture Renew Lipstick – Tower Of Mauve is a hydrating and universally flattering mauve shade perfect for all occasions, while the Dear Dahlia Lip Paradise Intense Satin Lipstick – 808 Megan gives a long-lasting and vibrant satin-like sheen ideal for a glamorous look. Consider your skin tone and match it with the natural color of your lips before getting your hands on the best MLBB lipstick. We recommend you always check the MLBB shade on your natural skin without makeup.
Why Trust StyleCraze?
Baishali Bhattacharya, the author of this article, is certified in makeup artistry. She knows her war around lipsticks and believes MLBB lipsticks are one of the best ones for the no-makeup look. She has conducted a detailed study and reviewed several user feedback to prepare this list of the best MLBB lipsticks suitable for every skin tone. These products are long-lasting and lightweight.
Frequently Asked Questions
How long do MLBB lipsticks last?
The shelf life of MLBB lipsticks is usually two to three years.
Is MLBB lipstick good for older women?
Yes. MLBB lipstick looks flattering on older women as the pigments do not settle between the fine lines.
Can I use MLBB lipstick every day?
Yes. Wear MLBB lipstick every day without worrying about lip skin damage. Try to opt for nude shades that are ideal for daily wear.
What blush goes with MLBB lipstick?
Choose a blush shade that compliments the lipstick color. For example, opt for dusty pink blushes if you are wearing red MLBB lipstick.
What are MLBB shades?
MLBB offers nude lipstick shades that enhance your natural lip color. Light pink, peach, nude tones, and subtle mauve are the standard shades of MLBB lipsticks.
Is MLBB lipstick good for work?
Yes. MLBB nude lipsticks like the 'Etude House Muhly Romance Better Lips – BR408 Sunset Picnic' and 'Peach C 4 Season MLBB Korean Lipstick – April Shower' are ideal for daily office wear.
How to remove MLBB lipstick?
•  Add a few drops of micellar water or cleansing oil to a clean cotton pad.
•  Press the pad on the lips.
•  Move the pad in circular motions on the lips and remove the lipstick.
•  Apply lip balm to the lips.
Recommended Articles
The following two tabs change content below.