11 Best Face Stickers – 2022 Update
Elevate your face makeup to the next level with rhinestones, tattoos, and more.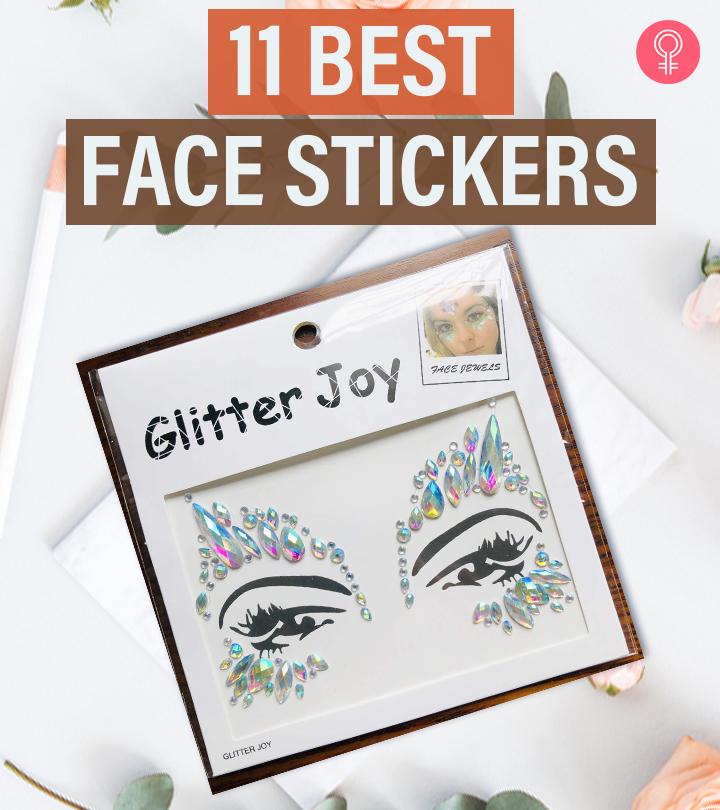 Face stickers are more than Halloween makeup props; they bedazzle your makeup and make you look absolutely gorgeous. If you are a person with a knack for trying out different looks, these stickers are going to be your favorite addition to the makeup box. They are sparkly jewels of various shapes and sizes to stick to your face and create a pattern. You can find them as embossed tattoos, rhinestone crystals, or sparkly colorful stones. They can be used to highlight your facial features and upgrade your photographs at parties and clubs. Here are the highest-rated 11 face stickers to get.
11 Best Face Stickers Available In 2022
This set of face jewels by YRYM HT helps adorn your eyebrows, cheeks, forehead, around your eyes, and body. Each stick-on jewels come on individual sheets to make it easier to use them according to the designs. These face jewels are reusable and made of 100% safe and healthy acrylic diamond and rhinestone material.
Pros
 Easy to use
 Painless removal
 Sweat-resistant
 Strong adhesive
 Affordable
 Reusable
Cons
None
The LEOARS Rhinestone Face Gems Jewels offer a gorgeous glimmering look. They are connected with a sticky pad made of gelatine that sticks to the skin without any irritation. These gems come in a long-lasting, shimmery iridescent finish.
Pros
 Easy to use
 Reusable
 Long-lasting
 Shimmery finish
Cons
None
This set of face tattoos by Zomme offers a metallic finish. The glamorous embellishments in golden and silver can be personalized as per your desired style. They are printed with high-quality vegetable-based ink that is non-toxic and safe on your skin. This face sticker set is perfect for bachelorette parties, music festivals, birthdays, and weddings.
Pros
 Shiny finish
 Sticks well
 Gentle on the skin
 Non-toxic
 Comes off effortlessly
 Waterproof
Cons
 Not suitable for sensitive skin
These face gems by ZLXIN are made of 100% safe and toxic-free acrylic and rhinestone. They are attached with self-adhesive, which are easy to peel off and stick on your skin. The noctilucent jewels cast a bright light in a dark environment. They can also be used with lash glue or body glue.
Pros
 Non-toxic
 Reusable
 Waterproof
 Sweat-proof
 Easy to apply
 Non-irritating
 Stays all day
Cons
None
This pack of six face gems by OASMU includes resin crystals, rhinestones, and glitters. It can be peeled off easily and does not cause any skin irritations. These temporary tattoos can be stuck on your forehead, eyebrows, around the eyes, stomach, body, and head. They are non-toxic, repositionable, and reusable. These stickers cast a bright light even in darkness when illuminated under the light before usage.
Pros
 Non-slip material
 Long-lasting
 Value for money
 Easy to apply and remove
Cons
None
Brighten your face with these glow-in-the-dark face jewels by Meredmore. They are made with non-toxic and 100% safe materials. These rhinestones and acrylic stones stick easily on your skin and stay put for a long time. They come in different patterns, which you can personalize according to your design. These noctilucent face jewels are water and sweat-proof.
Pros
 Sweat-proof
 Waterproof
 Glows in the dark
 Easy to apply
 Sticks well
 Long-lasting
Cons
Get creative and glitz up your look with these rhinestone stickers by Hicarer. This set of 15 sheets come in distinctive patterns and designs. It is made of skin-friendly acrylic diamonds and rhinestones. These rhinestones and face gems can be reused several times with body or eyelash glue. They are suitable for decorating nail art, shoes, phones, and other DIY projects.
Pros
 Available in various sizes
 Easy to use
 Reusable
 Value for money
Cons
None
These 3D holographic rhinestone stickers by iMethod highlight your face and makes you stand out from the crowd. They are perfect for rave parties, music festivals, and costume parties. These face jewels are 100% safe and do not irritate your skin. They are comfortable enough to for eight hours wear. These face gems are sweat- and water-resistant. They can also be reused with body glue or eyelash glue.
Pros
 Long-lasting
 Provides iridescent effect
 Waterproof
 Sweat-proof
 Non-irritating
 Safe for sensitive skin
 Easy to apply
Cons
None
This face sticker offers you a dramatic, professional-quality look in seconds. It is reusable and long-wearing. This face sticker is intricately designed with a shimmery black finish for a sleek look. It is vegan, cruelty-free, and easy to apply and remove.
Pros
 Longwearing
 Easy to use
 Reusable
 Vegan
 Cruelty-free
Cons
None
This pack of six rhinestone face stickers by DIVAWOO has a unique holographic color pattern, which glam up your look instantly. It can be used on your face, body, hair, or even worn like a bindi. These face jewels are easy to apply and peel off. They stay put for a long time and do not require any extra glue. These stickers are made of 100% safe and non-toxic resin material.
Pros
 Strong adhesion
 Easy to apply
 Reusable
 Sweat-proof
 Budget-friendly
Cons
None
These luminescent face gems by Le Fu Li come with a self-adhesive, which is easy to peel off and stick. They are noctilucent and shine brightly even in a dark environment. These face stickers are made of 100% non-toxic and safe acrylic diamond and rhinestones.
Pros
 Easy to apply
 Sweat-proof
 Waterproof
 Painless removal
Cons
None
That was our list of the 11 best-rated face stickers available on the market. Let's find how to use them to achieve the desired look. Here is a step-by-step procedure on how to apply face stickers perfectly.
How To Use Face Stickers
Step 1: Cleanse your face thoroughly to get rid of oil and dirt.
Step 2: Pat dry your face and make sure there is no moisture left.
Step 3: Gently peel the top part of your sticker and align it to your face. Stick it over your face, rub the surface gently, and slowly peel it off from one end.
Note: Regular stickers like rhinestones or embellishments can be stuck directly on your face over the eyebrows or on your eyelids. Also, do not wear face stickers for more than 12 hours. Remove them immediately if you notice any itchiness or redness on your face.
Let's move onto the next section and understand how to choose the best facial stickers.
How To Select The Best Face Stickers
 Size: Face stickers and embellishments come in a wide range of sizes and colors. Choose one that compliments your facial outline, personality, outfit, and appearance. You can also select a product based on the occasion, such as weddings, parties, night outs, or clubbing.
 Type: Various face stickers are available online – sparkle embellishments, sequin stickers, stud designs, stars, glitter, metallic, and rhinestones. Choose the right type for the adornment you have in mind.
 Adhesiveness: If you are going to a concert or party, you do not want your embellishments to fall off. So make sure that your face sticker has a super-strong adhesive for long-lasting wear.
 Skin Type: The adhesive in your face sticker must be skin-friendly, non-toxic, and hypoallergenic. Harsh glue can cause irritation and breakouts, especially if you have sensitive skin.
Why Trust StyleCraze?
Baishali Bhattacharya, the author of this article, is certified in makeup artistry. She loves to keep up with the latest trends in the beauty industry and review makeup products. She has prepared this list of the best face stickers after checking many reviews online. These stickers are sparkly jewels that help you highlight your facial features. They are easy to use, skin-friendly, and reusable.
Frequently Asked Questions
Is it safe to put stickers on your face?
Yes. Nowadays, brands offer cosmetic-grade stickers safe for the facial skin.
Do face stickers help with wrinkles?
Yes, when applied the right way, face stickers help reduce the appearance of wrinkles and fine lines.
How do you make face stickers stay on?
Use skin-friendly glue to make face stickers stay on for longer hours.
What can I use to stick gems on my face?
Yes. Use skin-friendly glue or eyelash glue to stick gems on the face.
Can you put face jewels over makeup?
Yes, you can put face jewels over makeup to enhance your look.
Where do you wear face gems?
You may wear it on the cheekbones, the inner corners of the eye, the lips, or above your brows.
Recommended Articles