7 Bestselling Vitamin C Face Washes – 2022 Update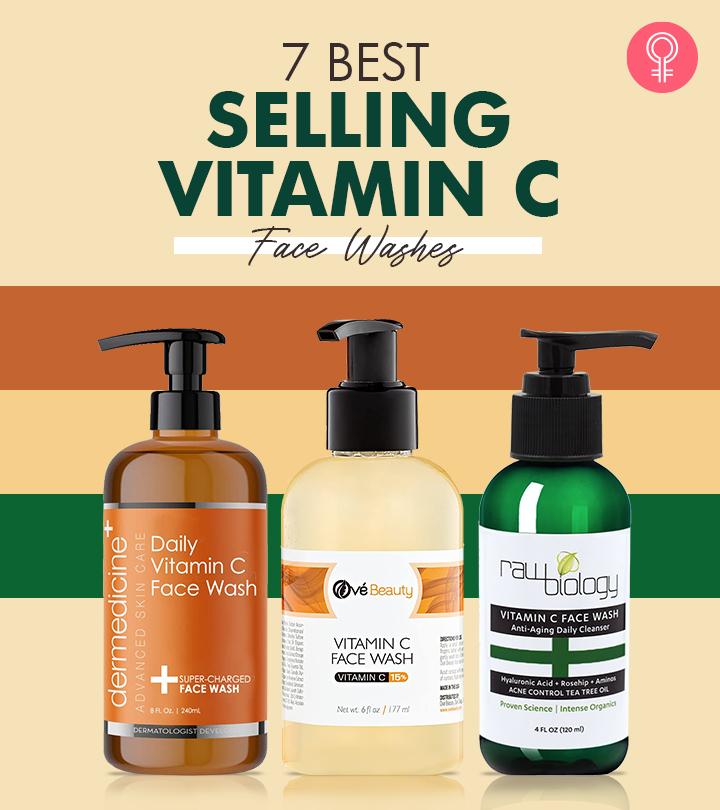 Your face gets affected due to constant exposure to UV rays, dust, and pollution. These external aggressors may lead to breakouts, blemishes, premature aging, hyperpigmentation, and skin cell damage. So, you need the best vitamin C face wash for women to relieve your skin from all these conditions.
A vitamin C face wash improves the overall health of your skin and its complexion and increases the natural radiance and glow of your skin. Cleansing is the first and most important step of a good skin care routine. Vitamin C face washes help rejuvenate your skin, boost collagen production, and repair damaged skin. In this article, we have rounded up the 7 best vitamin C face washes that will give you glowing skin. Scroll down to take a look at the list and take your pick!
7 Best Selling Vitamin C Face Washes – 2022 Update
The Wow Skin Science Vitamin C Foaming Face Wash is a dual-action cleanser that foams and exfoliates the skin to leave it with a smooth and radiant finish. This vitamin C face wash comes with a built-in brush with silicone bristles that removes excess oil, dirt, and impurities from the skin pores. The formula is enriched with vitamin C, mulberry extract, and liquorice extracts, along with lemon and orange essential oils.
The vitamin C promotes collagen production to reduce fine lines, boost suppleness, and provides the skin a younger-looking glow. The mulberry and liquorice extracts defend your skin against free radicals, slow down excess melanin production, and help fight pigmentation. The lemon and orange essential oils detoxify the skin, reduce excess sebum production, and give a refined skin texture.
Pros
Dermatologist-tested
Non-comedogenic
Anti-aging benefits
Paraben-free
Sulfate-free
Silicone-free
Artificial color-free
Cons
Bristles may irritate acne-affected skin
The Ove Beauty Vitamin C Face Wash deeply cleans and exfoliates the skin without drying or stripping its natural moisture. This vitamin C face wash penetrates your skin and hydrates it to improve its elasticity and suppleness. It is formulated with 15% vitamin C, vitamin E, tea tree essential oil, aloe, rosehip oil, orange peel, and gotu kola. This potent blend rejuvenates the skin and gives it a naturally radiant finish. It smoothens fine lines, tightens pores, refines skin texture, and even outs discoloration and pigmentation.
Pros
Organic ingredients
Anti-aging benefits
Protects from sun damage
Cruelty-free
Suits all skin types
Cons
The Dermedicine Advanced Skin Care Daily Vitamin C Face Wash is loaded with antioxidant properties that nourish and hydrate your skin. The vitamin C in this face wash is highly effective in preventing signs of premature aging.
The face also reduces the appearance of hyperpigmentation, blemishes, and skin discoloration and leaves the skin feeling radiant and refreshed. The formula is gentle on the skin, eliminates all the dirt and build-up, and balances even the most sensitive skin. This vitamin C face wash is ideal for everyday use as it moisturizes the skin and leaves it feeling clean.
Pros
Non-toxic
Cruelty-free
Paraben-free
Sulfate-free
Petrochemical-free
Synthetic fragrance-free
Artificial dye-free
Artificial color-free
Cons
The Garnier Green Labs Pinea-C Brightening Gel Wash is a lightweight and mild formula that smoothens your skin and adds a dewy glow to it. This face wash is formulated with pineapple and vitamin C, which helps improve the skin's texture, diminish dullness, and brighten up the skin by toning it evenly. The gel formula cleanses the impurities, dirt, and excess sebum and leaves your skin feeling squeaky clean.
Pros
Lightweight
Vegan
Hypoallergenic
Dermatologist-tested
Suits sensitive skin
Cruelty-free
Paraben-free
Sulfate-free
Artificial dye-free
Microbead-free
Mineral oil-free
Cons
The Face Soap And Clarity Vitamin C Face Wash has deep cleansing and antioxidant properties that polish and give your skin a refined feel. This vitamin C face wash has a 3-in-1 formula that cleans, exfoliates, and purifies the skin. Apart from vitamin C, this face wash also contains yuzu fruit and biodegradable wax scrub beads for mild exfoliation.
The blend energizes and brightens the skin, while the biodegradable wax scrub beads lightly exfoliate and polish your skin. This face wash is lightweight, easy to rinse, non-drying, and is ideal for oily and combination skin types. It gently and effectively removes makeup and is perfect for everyday use.
Pros
Dermatologist-tested
Pleasant fragrance
Soap-free
Cons
May dry the skin out
May cause breakouts
Try out the Mamaearth Vitamin C Face Wash to get rejuvenated and radiant skin each time you wash your face. This face wash is formulated with vitamin C and turmeric that help reverse the skin damage caused by UVA and UVB rays. It even tones the skin, reduces blemishes, boosts collagen production, and brightens the skin.
The vitamin C face wash helps fight free radical damage on your skin and makes it healthy from within and radiant on the outside. It smoothens the skin and diminishes wrinkles and fine lines to give your skin a younger-looking finish.
Pros
Dermatologist-tested
Sulfate-free
Paraben-free
SLS-free
Mineral oil-free
Cons
• Not suitable for acne-prone skin
• May cause breakouts
The RawBiology Vitamin C Face Wash is an organic aloe vera and sugar-based cleanser. It tackles skin concerns like adult acne breakouts and premature aging. The powerful formula is enriched with hyaluronic acid, rosehip oil, tea tree oil, and amino acids that draw out impurities from the skin without drying or causing irritation.
This potent blend provides eight-fold antioxidant protection, which reduces wrinkle formation, minimizes existing wrinkles, refines skin texture, and shrinks pore size. It also reduces uneven skin tone, hyperpigmentation, and discoloration, and cuts down the formation of free radicals by 96%. This lightweight formula is powerful enough to deeply cleanse and even remove the most stubborn makeup while maintaining skin moisture.
Pros
Lightweight
pH-balancing formula
Sulfate-free
Cruelty-free
Artificial preservative-free
Synthetic color-free
Artificial fragrance-free
Cons
The benefits of vitamin C for the skin are numerous, and the easiest way to incorporate it into your skin care regimen is in the form of a face wash! Vitamin C works as a powerful antioxidant to protect your skin from environmental aggressors and free radical damage. A vitamin C face wash makes your dull skin radiant and younger-looking. Pick any of these 7 best vitamin C face washes from the list above and add them to your skin care regimen – use them regularly and you will see the difference!
Why Trust StyleCraze?
Shiboli Chakraborti is a certified skin care coach who swears by vitamin C-infused face washes. According to her, a vitamin C face wash improves your skin's overall health and appearance. She has gone through thousands of reviews before picking some of the best products for the readers.
Frequently Asked Questions
Is a vitamin C face wash effective?
Yes, a vitamin C face wash is highly effective! Thanks to its antioxidant properties, it is compatible with most skin types and helps enhance skin complexion, refine skin texture, and fight premature aging.
Is a vitamin C face wash good for acne?
Vitamin C has powerful antioxidants and amazing cleansing benefits. They help fight free radical damage and enable deep cleansing. The nutrient also may kill acne-causing bacteria, thus preventing acne breakouts and acne-induced inflammation. However, certain vitamin C face washes may cause acne breakouts in susceptible individuals due to the presence of a potentially allergic ingredient. Read the ingredients label carefully before picking your product.
Recommended Articles
Best Vitamin C Cleansers For Glowing And Radiant Skin
Best Recommended Daily Facial Cleansers
Best Face Washes For Sensitive Skin
Best Natural Face Washes For Skin That Is Healthy And Radiant
Best Facial Cleansers
The following two tabs change content below.