10 Best Face Oils For Combination Skin (2023) With Reviews
For a healthy glow and improved complexion that keeps you Gram-ready all day.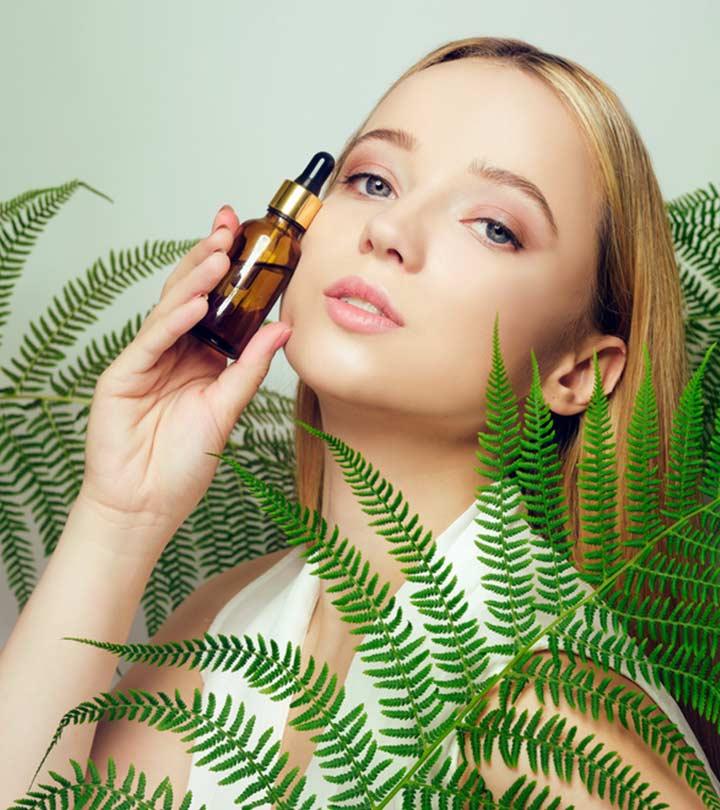 Face oil can boost your skin's radiance and can be a useful companion to your skincare routine. However, finding the best face oil with a positive tester's experience for combination skin can be difficult with so many products on the market. You can usually see many products that target oily or dry skin only. That is not the case with face oils; you have many options for combination skin types. A natural face oil designed for combination skin should provide you with a luminous and healthy glow with a smooth texture. You deserve to pamper your skin with a powerful formula to keep it hydrated and radiant.
Dr. Priya Gill, a Malaysian dermatologist, says, "Combination skin is when there is oily skin in some areas of your face and dry skin in other areas. Typically, the t-zone (forehead, nose, and chin) are more prone to oiliness and the dry areas usually persist around the cheeks, jaw area, and along the hairline. Using the appropriate products will help achieve that vibrant glow with t-zone oil control!"
Vitamins and antioxidants found in these face oils offer a wealth of benefits to your skin, keeping it safe from acne and fine lines and keeping it healthy in general. Oils rich in antibacterial properties, such as those found in jojoba, pomegranate, argan, rosehip, and grapeseed, are commonly used for face oil for combination skin. Here are the top 10 best face oils for combination skin. Check them out! to know if you want to test them yourself!
Top 10 Best Face Oils For Combination Skin in 2023
The invigorating scent of the analytically tested Now Solutions Certified Organic Jojoba Oil is an additional benefit of the 100% pure and multipurpose organic oil. Derived from the seed of the jojoba shrub, organic jojoba oil is one of the most popular cosmetic oils available today. Infused with nutritional compounds including long-chain essential fatty acids, this expeller-pressed oil offers moisturizing benefits. Suitable for your skin, hair, and body, this oil has cosmetic versatility and is ideal for all skin and hair types, including sensitive combination skin. The oil boasts of numerous positive reviewers' experiences. Add this oil to your personal care products for visibly healthier-looking, softer, and smoother skin.
Pros
Expeller-pressed
Paraben-free
Hexane-free
Vegan
Promotes skin rejuvenation
Suitable for all skin type
Cons
Some may find the consistency slightly thin
Price at the time of publication: $9.95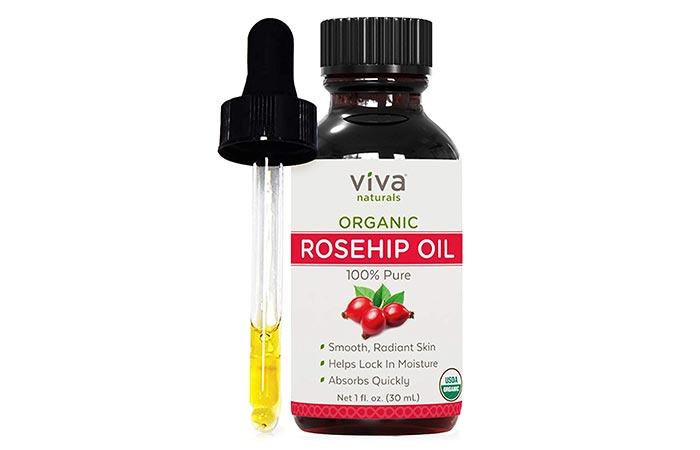 The Viva Naturals Organic Rosehip Oil is a steller choice for those looking to achieve smooth and radiant skin. The natural, cold-pressed oil retains its natural goodness and contains organic rosa canina oil that improves overall skin texture and is suitable for all skin types including oily, dry, and acne-prone skin, along with combination, sensitive, and mature skin. It has shown proven track records in clinical settings. The perfect addition to homemade moisturizing face scrubs, this oil will keep your skin looking radiant and dewy. It contains a high concentration of fatty acids that deliver moisture to your skin's barrier.
Pros
Absorbs quickly
Non-greasy formula
Improves sebum regulation
100% pure
Naturally reduces the appearance of scars and photo-aging
Comes with a no-drip bulb dropper for spill-free usage
Cons
Some may find the scent to be slightly overpowering
Price at the time of publication: $9.49
This liquid bio-oil that comes in the form of Admire My Skin Citrus Glow Drops are 100% natural and non-comedogenic with clinically-proven ingredients. This beauty oil harnesses a powerful blend of antioxidants that deliver a heavy dose of glow-inducing nutrients to your skin. The product has proven to deliver visible results. This 70% organic formula contains vitamins C and E, argan oil, rosehip oil, and sea buckthorn oil that are combined for effectively brighter, healthier, smoother, and youthful-looking skin. An impressive and effective formula, it does not clog your pores or cause breakouts and can be used on bare skin or applied under makeup for a glow that seems to radiate from within.
Pros
Non-comedogenic
Imparts brightening effects
Does not clog pores
Contains antioxidants and organic nutrients
Suitable for combination skin
Cons
Price at the time of publication: $22.0
The Shea Moisture Daily Hydration Overnight Face Oil contains 100% virgin coconut oil and fair trade shea butter that deeply moisturizes the skin with its blend of vitamins and essential fatty acids. If you're looking for smooth and soft skin, this hydrating face oil for combination skin works overnight and contains Acacia senegal for moisture with a blend of coconut oil and coconut milk that have essential conditioning properties that keep the moisture sealed in. This effective nourishing formula is perfect for an extra boost of hydration for dry and combination skin types to get visibly healthy and moisturized skin.
Pros
Contains vitamins and essential fatty acids
No parabens or sulfates
Contains calming properties
Free from phthalates and mineral oils
Cruelty-free
For dry and combination skin types
Cons
This oil may have a slightly watery consistency.
Price at the time of publication: $9.97
The therapeutic-grade Honey Dew 100% Pure Grape Seed Oil is a refined carrier oil ideal for hair, skin, nails, and body. Enriched with powerful anti-aging moisturizing vitamins like vitamins A, E, and K that will leave your skin feeling soft and smooth, this pure grapeseed oil is suitable for normal and combination skin. Hydrate your skin with this emollient moisturizer oil that is non-greasy and offers natural skincare benefits that helps reduce fine lines. The oil retains moisture without leaving a sticky or greasy feeling on your skin.
Pros
No fillers
Reduces pigmentation
Safe for sensitive skin and can be applied directly
Natural ingredients
Cruelty-free
Vegan
Affordable
Cons
This oil is not cold-pressed and undergoes a refining process.
Price at the time of publication: $9.95
If you're looking for clear and balanced skin, The Yellow Bird Blue Tansy Face Oil acts as the perfect nourishment formula for combination, oily, normal, sensitive, and blemish-prone skin. Enriched with ingredients like blue tansy, squalene, milk thistle, camellia, and jojoba oils, your skin can get the perfect nourishment and reduced appearance of wrinkles while giving it a youthful elasticity. With this facial oil, your skin is delivered concentrated amounts of moisture, vitamins, fatty acids, and antioxidants that naturally clear acne, reduce redness, and prevent future breakouts.
Pros
Helps cellular regulation
Soothing properties
Enhances skin elasticity
No added dyes, fragrances, fillers, or soothing preservatives
Suitable for combination and sensitive skin
Natural and organic ingredients
Lightweight texture
Contains anti-inflammatory and antimicrobial essential oils
Vegan
Cruelty-free
Cons
May take a long time for the skin to absorb the oil.
Price at the time of publication: $21.99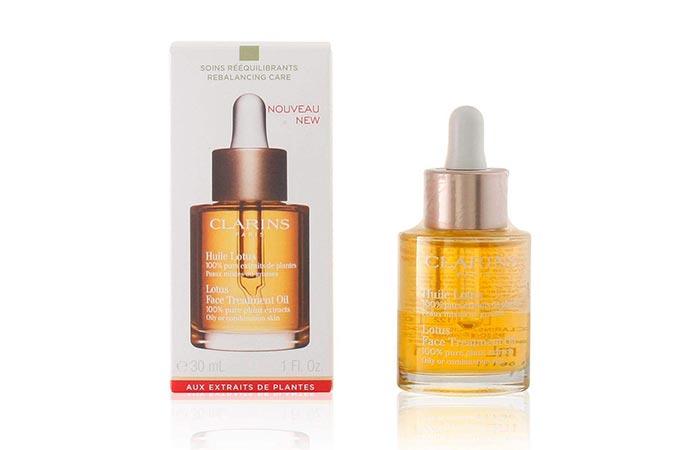 With 100% pure plant extracts and essential oils, the Clarins Paris Lotus Face Treatment Oil is a hydrating treatment that restores vitality and radiance to dehydrated skin. Ideal for oily or combination skin types, this face treatment oil extracts, tonesm and revitalizes moisture-depleted skin with its blend of rosemary, geranium, and lotus extracts. Recommended for daily wear, this oil also contains hazelnut oil that balances and purifies your skin from within and has a natural aromatic scent. Additionally, this formula rebalances and tightens pores, protects against dehydration, and leaves your skin feeling soft and supple.
Pros
Suitable for refining skin texture
Improves skin barrier protection
Prevents fine lines and moisture-loss
100% pure plant extracts
For face and visage
Contains hazelnut and sacred lotus
Cons
Price at the time of publication: $62.0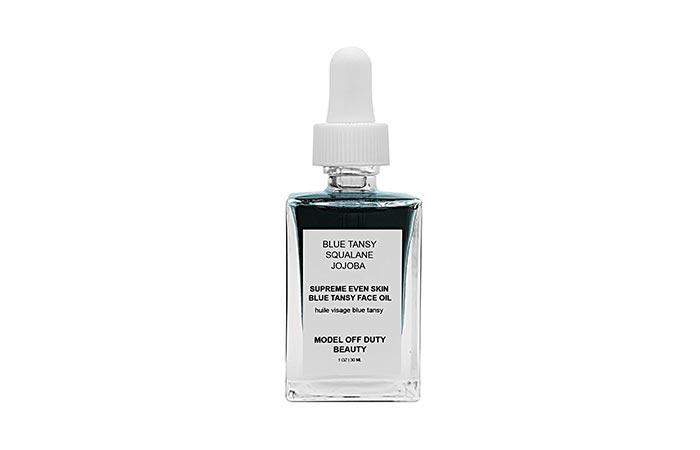 The Model Off Duty Beauty Supreme Even Skin Blue Tansy Face Oil with natural ingredients that have anti-inflammatory properties will give your skin the glow that it needs. Enriched with blue tansy, squalane, camellia, jojoba, jasmine, coconut oil, collagen, and vitamin E, this oil helps to calm irritated skin, reduce heat, and relieve delicate or troubled skin, making it a great addition to your skin regime if you have skin concerns caused by acne, eczema, or rosacea. This oil serum also helps you fight signs of aging and provide antioxidant protection.
Pros
Contains nature-derived ingredients
Non-GMO ingredients
Gluten-free
Paraben-free
Phthalate-free
Vegan
Cruelty-free
Fragrance-free
Cons
Price at the time of publication: $44.0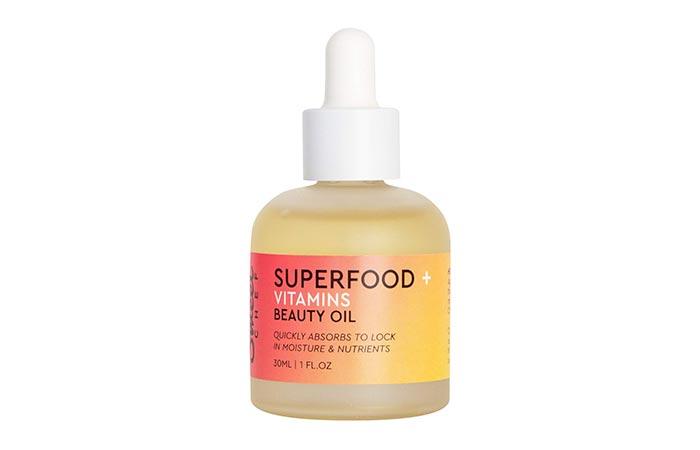 The Sweet Chef Superfood + Vitamins Beauty Oil with moisturizing beet and vitamin A contain a variety of potent antioxidants that leave your skin visibly softer and smoother. While vitamin A gently smooths rough skin texture and minimizes the appearance of pores, kale and vitamin B hydrate and calm your skin while attracting and sealing in moisture. Vitamin C and ginger neutralize environmental aggressors and also help revive dull skin, giving you a radiant complexion. This moisture-boosting oil is suitable for combination, dry, and oily skin.
Pros
Fast-absorbing
Free from petrolatum, mineral oil, silicone, and drying alcohol
Gluten-free
Paraben, sulfate, and phthalate-free
Vegan and sustainable product
Cruelty-free
No artificial fragrances
Cons
This product may leave a thin oily layer on your skin.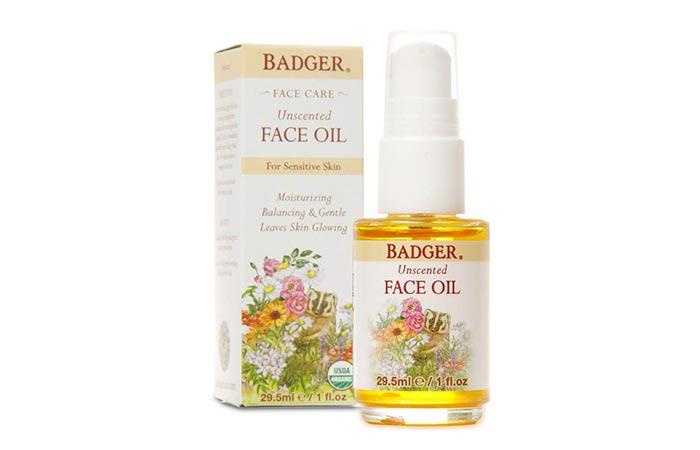 For moisturized and balanced skin, the Badger Argan Face Oil is a vitamin-rich, certified blend of plant oils that are formulated to restore all skin types. Enriched with organic jojoba oil, baobab oil, argan oil, pomegranate oil, orange oil, bergamot oil, sandalwood oil, sunflower, vitamin E, and ylang-ylang flower oil, this formula has a light floral and citrus aroma with cooling mint that uplifts your senses. With this face oil, you can give your skin antioxidant protection that is rich in natural vitamins and fatty acids for balanced and hydrated skin.
Pros
Suitable for all skin types
No artificial ingredients
Does not contain GMOs, petrolatum, harsh synthetic chemicals, fragrances, or dyes
Paraben-free and gluten-free
Contains botanical ingredients
Clinically tested non-comedogenic
Cruelty-free
Vegan product
Cons
It may take some time for your skin to completely absorb the formula.
Price at the time of publication: $14.99
Now that you have a general idea of the products available in the market, you can choose from this list to avail the best face oils. We understand that you might still have a few questions regarding which one to pick and our buying guide will help you clear your mind of any doubts.
How To Choose The Best Face Oil For Combination Skin
Contrary to the common belief, face oils don't add extra moisture to your skin but are helpful to retain its natural moisture levels. When it comes to choosing an ideal drugstore face oil for combination skin, you may come across a variety of products  and that may seem daunting. Include a good combination oil to your skincare routine that can contribute to healthier looking skin. Ideally, a lightweight oil with hyaluronic acid should leave your skin feeling nourished and glowing. Often you may find a good face oil for dry sensitivity and skin, but may face a challenge when it comes to combination skin. With accurate information, you can buy the right face oil for yourself without having to look at this process as difficult.
How To Use A Face Oil
Once you have made an informed buying choice, you can incorporate face oils into your daily skin routine.
Start by gently exfoliating and cleansing your face.
Add a few drops of facial oil to your moisturizer and apply it to your skin, without rubbing it in. Your skin cells will naturally absorb the nourishment.
Massage your face gently using your fingers in a sweeping upward motion for optimum coverage.
Ideally, you could do this as part of your nighttime skin regime or under your SPF during the day.
How To Get The Most Out Of Face Oils
Use face oils after you use a moisturizer and this way your skin will benefit greatly from the goodness that the oil has to offer. You can even mix the oil with the moisturizer for a more potent formula.
Avoid rubbing the oil in and instead gently press the oil onto your skin's surface.
Apply a tiny amount of oil to your skin because that is all it takes to work its magic.
You could also use face oils in delicate areas of your face, like around the eyes, as they are completely harmless and do the same job.
Why Trust StyleCraze?
The author, Krati Darak, is a skin care aficionado and understands the needs of combination skin. She has compiled the above list of the best face oils for combination skin, considering their wide range of benefits, including prevention of acne breakouts and appearance of fine lines. These products are backed by research and endorsed by users through their reviews on trusted online platforms.
Frequently Asked Questions
Is a facial oil good for combination skin?
Yes, a facial oil can help hydrate and maintain skin balance.
Does a facial oil clog pores?
No, it does not.
Can I use face oil every day?
Yes, you can. Depending on the type of oil, you can apply a tiny amount twice a day.
Does putting oil on your face cause pimples?
No, face oils hydrate and moisturize your skin from within without causing breakouts.
Is rosehip oil good for combination skin?
Yes.
Is it good to apply oil on the face at night?
Yes, applying face oils at night helps your skin rejuvenate and absorb all the goodness.
Is argan oil good for combination skin?
Yes. Argan oil is suitable for combination skin. It nourishes and softens dry patches while balancing sebum production of the skin and reducing acne.