8 Best Foundations For Summer That Are Long-Lasting And Sweatproof
Create an evenly toned and smooth base to get your makeup right on point.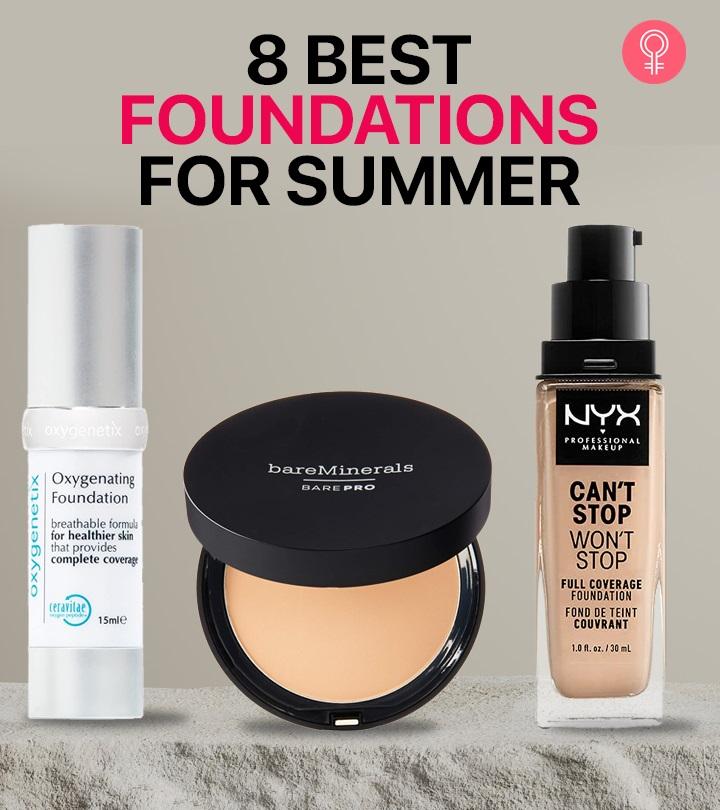 If you have been on the hunt for the best foundation for summer, you are in the right place. Summers and makeup don't go too well. It's all fun and games till you have to step out, and the foundation trickles down your cheeks! Well, that is a nightmare, to begin with. While your regular foundation helped you through the mild temperatures, you need something more for withstanding the summers. Here is a list of specially curated lightweight foundations to have your back while you enjoy the summer sun outdoors. They give you coverage and stay intact till you scrub it away. So, who is ready to enjoy summers without melting foundation away!
8 Best Foundations For Summer – 2022 Update (Reviews And Buying Guide)
If your skin tends to sweat or get oily often, this powder foundation by BareMinerals is the ideal choice for you! The revolutionary formula is clinically proven to control shine and reduce pore size. In addition, it is available in a wide range of shades, ranging from a light warm natural to a dark truffle color. The foundation also comes along with a built-in mirror, making it perfect for on-the-go applications. To make an informed decision before buying, you can check out this video.
Suitable For: Oily, Normal, and Dry skin types
Pros
Super-smooth texture
Long-lasting
Lightweight
Smear-proof
Sweat-proof
Cruelty-free
Cons
None
Price at the time of publication: $54.99
 This creamy foundation by Nyx Professional Makeup is a must-have in your vanity! The superior full coverage formula glides on smoothly and delivers a flawless finish. It is super long-lasting and stays put for up to 24 hours. This foundation is ideal for oily skin as it creates a matte effect and controls shine. It is also transfer-proof and waterproof and provides full coverage, thus reducing the appearance of spots, pigmentation, or pores. Click here to check out this YouTuber's unbiased review.
Suitable For:  Oily and Normal skin types
Pros
Vegan
No transfer
Shine-control
Lightweight
Long-lasting
Cruelty-free
Oil-free
Cons
Price at the time of publication: $11.65
This lightweight foundation by Oxygenetix gives you a flawless full-coverage finish. It is infused with 2% salicylic acid that defines your complexion and prevents acne flare-ups. The aloe vera gel in this formula soothes redness and irritation and gives a refreshing feeling. It is also formulated with broad-spectrum SPF 25 that protects your skin from the sun's harsh UVA and UVB rays. This foundation is gentle on your skin and does not irritate. It is perfect for acne, rosacea, and sensitive and psoriasis-prone skin. Here's a personal review video to help you get a better understanding of the product.
Suitable For:  Sensitive skin
Pros
Breathable formula
Vegan
Hypoallergenic
Non-comedogenic
Non-irritating
Lightweight
Cruelty-free
Paraben-free
Oil-free
Preservative-free
Artificial fragrance-free
Artificial color-free
Cons
Price at the time of publication: $66
This award-winning liquid foundation by Estee Lauder is super lightweight and feels comfortable on your skin. It stays put all day long and does not need any additional touch-ups. It provides medium to full coverage and effectively covers imperfections like fine lines, wrinkles, and dark spots. The double wear formula is transfer-resistant, waterproof, and oil-controlling, and is perfect for hot and humid weather. It does not look gray on deeper tones like regular foundations. The foundation melts flawlessly onto your skin and dries to a natural-looking matte finish.
Suitable For:  Oily, Normal, and Dry skin types
Pros
Non-acnegenic
Dermatologist-tested
Ophthalmologist-tested
Lightweight
Transfer-resistant
Oil-free
Fragrance-free
Cons
None
Price at the time of publication: $33.75
This revolutionary stick formula by Hourglass has a high concentration of pigments and offers maximum coverage. The two-in-one concealer and foundation come in a wide range of 32 different shades that can be used to contour and highlight. It is waterproof and gives you 12 hours of long-lasting stay. Its unique formula adjusts to your body temperature and seamlessly blends into your skin.
Suitable For:  Oily, Normal, and Dry skin types
Pros
Lightweight
Vegan
Non-irritating
Paraben-free
Sulfate-free
Synthetic dye-free
Artificial fragrance-free
Nano particle-free
Cruelty-free
Cons
None
Price at the time of publication: $44.5
This oil-free foundation by Too Faced melts onto your skin and offers a natural-looking flawless finish. It is infused with natural extracts like coconut water that replenishes the lost moisture in your skin. The Alpine rose extract strengthens and tightens your skin while nourishing it, and the hyaluronic acid seals hydration for a smooth and youthful appearance.
Suitable For:  Normal skin type
Pros
Lightweight
Pleasant fragrance
Long-lasting
Blends easily
Non-greasy
Doesn't look cakey
Cons
Contains sulfates
Leaves orange undertones
Price at the time of publication: $5889
If you're a fan of that glistening and dewy look, then this liquid foundation by Koh Gen Do should be your holy grail. It is infused with light-diffusing minerals that leave your skin looking bright and radiant. The formula blurs imperfections and helps minimize your pores for a flawless-looking finish. It also contains glass film powder that absorbs excess oil and sweat to give you non-greasy wear.
Suitable For:  Oily, Normal, and Dry skin types
Pros
Lightweight
Long-lasting
Clump-free
Cons
None
Price at the time of publication: $76.8
This premium foundation by Chantecaille has a super lightweight texture that leaves your skin refreshed and breathable. It is infused with 60% charged water and seaweed that help nourish and rejuvenate your skin. The formula is also equipped with SPF 10 sun protection that leaves your skin less prone to thermal damage. It provides you an adjustable coverage and dries to a matte finish. The light reflective pigments in the foundation blur any flaws and give you a natural-looking makeup look.
Suitable For:  Oily and Normal
Pros
Oil-free
Lightweight
Long-lasting
Cons
Price at the time of publication: $12321
The foundations mentioned in our list ensures a flawless look without getting cakey even on a hot summer day. But if you are still wondering which product will suit you the best, then read our buying guide in the following section.
Choosing The Best Foundation For Summer – A Buying Guide
Selecting a shade that matches your skin tone is the most important factor to be considered while buying a foundation. In case you choose a foundation that is a few shades lighter than your complexion, your face might turn ashy or grayish after some time. If you do not know your shade, go through the guides online that give you a wide description of the shades in different brands for every skin tone.
Knowing the skin tone alone is not enough to get that perfectly matching shade you are looking for.
If you have a lighter skin tone, choose a foundation with a pink undertone.
If you have a deeper skin tone, choose a foundation with orange or yellow undertones.
The next aspect to keep in mind is choosing a foundation that suits your skin type. Here is how you can find the right foundation for the following skin types:
Oily Skin: Look for a matte foundation if you have oily skin. It controls the excess oil on your face. Also, avoid foundations with shiny or shimmery features as they may make your face seem greasy. It is best to go for a waterproof and sweat-proof foundation.
Dry Skin: Don't choose a matte finish foundation as it will make your skin look cracked and dry. Opt for a translucent foundation to ensure a non-flaky and healthy look. Also, look for a foundation with a dewy finish, as it can add a charming glow to your skin.
Sensitive Skin: Choose mineral-based foundations for sensitive skin. These foundations do not have waxes, emollient oils, fragrances, or preservatives found in regular powders. Also, look for non-comedogenic and hypoallergenic products for better results.
The hot and humid summer weather can melt your foundation and damage your whole look. Hence, it is best to invest in a foundation that is waterproof, sweat-proof, and smear-proof to ensure a lasting wear.
In case you have fewer fine lines, dark spots, hyperpigmentation, or blemishes, choose a powder foundation with minimal coverage. But if you have scars or blemishes in your face that are visible, choose a foundation with higher coverage. However, a sheer foundation will give you a more natural look.
Some brands offer foundations that are equipped with SPF sun protection. This protects your skin against the harsh UV rays of the sun and ensures your makeup stays intact.
Your foundation should have conditioning agents and humectants like glycerine and hyaluronic acid. These ingredients help moisturize and treat your dry and mature skin.
Hydration-Locking Ingredients
Humectants will not give you optimal results without an emollient to seal it in. Thus, look for ingredients like beeswax, ceramides, shea butter, jojoba oil, and coconut oil to help seal the moisture in your skin.
Matte finish makeup products have an oil-absorbing formula that is perfect for oily skin but can strip moisture on dry skin. If your skin is on the drier side, look for a dewy and watery formula that will hydrate it and give it a sheer natural finish.
Now that you know how to select a suitable foundation for your skin, let's take a look at how to apply it perfectly. The following steps will ensure that your foundation is not ruined by the humid weather.
How To Apply Foundation In The Summer?
Step 1: It is always best to start your makeup with a good moisturizer to ensure a flawless finish. You can also use some face oil if you want to add a dewy glow to your skin.
Step 2: The hot scorching sun can damage your skin and darken your complexion. Hence, never forget to put on a lightweight and oil-free sunscreen.
Step 3: Once your sunscreen is fully absorbed into your skin, apply a good primer. A primer helps blur the lines, so you would not need to use a lot of foundation. This ensures a non-cakey and natural-looking makeup finish.
Step 4: Take the required amount of foundation on the top of your hands or a foundation palette. Wet your makeup sponge and gently dab a little foundation (using a makeup sponge instead of your fingers will ensure a natural and even looking finish).
Step 5: Apply the foundation all over your face evenly while dabbing it gently and blending it out.
Step 6: In case you have oily skin, use a pressed powder compact over your foundation.
Step 7: Follow up with a concealer to hide the fine lines and wrinkles.
Step 8: Finish off with a highlighter and blush to accentuate your facial features!
Why Trust StyleCraze?
The author of this article, Baishali Bhattacharya, is certified in makeup artistry. Her passion lies in creating comprehensive content on makeup that helps her readers find suitable products. She has curated a list of the best foundations for summer after carefully browsing online reviews on several e-commerce websites. This list features long-lasting foundations that are sweat-proof and easily blendable. These oil-free foundations provide a smooth finish and cover your imperfections flawlessly.
Frequently Asked Questions
Can we use foundation in summer?
Yes, you can. Make sure to use a foundation that can withstand the humid and scorching summers.
Do I need a darker foundation for summer?
Yes. In the winter, your skin shade is lighter. But you might spend a lot of time at the beach or on the rooftop during the summer, which can cause your complexion to darken. Hence, you need to invest in a darker shade for a flawless finish.
What kind of foundation is the best for summer?
A matte, full-coverage foundation with a long-lasting formula is ideal for summer. If you have oily skin, it is better to choose an oil-free foundation so that it does not make you sweat.
How long do foundations last in summer?
If your foundation is sweat-proof, waterproof, and has a long-lasting finish, it can last you up to 8 hours in summer.
Can we use liquid foundation in summer?
Yes, you can use a liquid foundation in the summer. Liquid foundations have a better-staying power than other formulations. They often reduce sweat.
Should I use matte foundation in summer?
Yes, use a matte foundation in summer. A matte finish keeps the oiliness at bay, so you do not look like a grease ball.
Recommended Articles