13 Best Protein Shampoos For Quick Hair Growth – 2023
Nourish your tresses from the inside out with the most coveted ingredient – protein!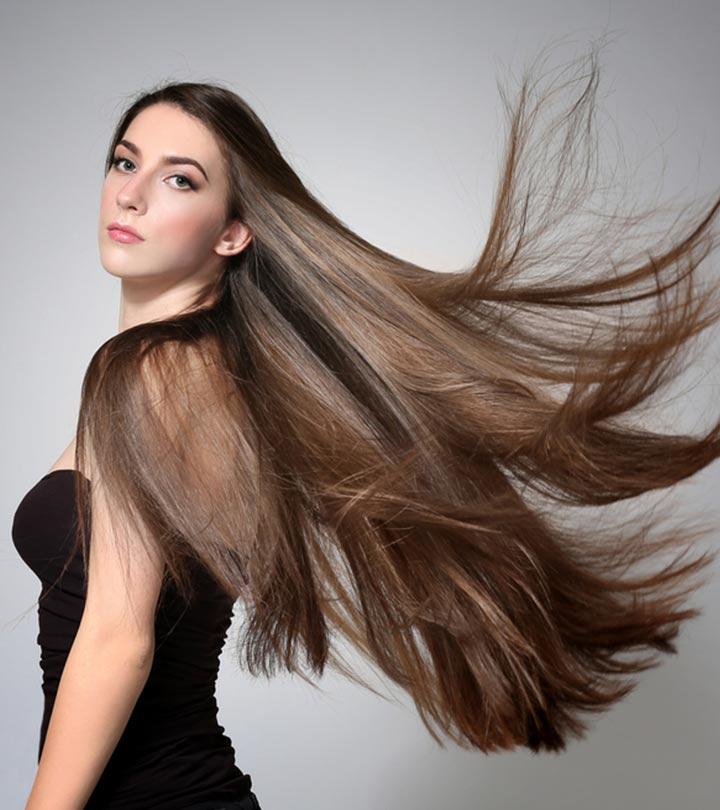 Hair protein, more specifically keratin, is the key to having fast-growing and super healthy hair. If you have been dealing with lifeless and limp hair or really want to get long tresses, you need the best protein shampoo you can get your hands on. Keratin is responsible for supple, strong, and flexible hair. It also works to stimulate hair growth. While your body naturally produces keratin, several factors including environmental stressors, heat damage, and excessive hair treatments or styling can deplete this component and even hinder its production. That's where a keratin protein shampoo comes into the picture.
So, if you are looking for a way to inject life into your hair, check out our list of the best protein shampoos in the market.
Though there are umpteen options to choose from, we took the liberty to filter the top ones for you. Check out our list of 13 best protein shampoos for hair growth:
Read on to know more!
Help Your Hair Grow With 13 Best Protein Shampoos of 2023
Pros
Can provide thermal protection
Can strengthen and revive hair fiber
Detangles knots and can prevent breakage
Ideal for damaged hair
Cons
Intense scent
Thick consistency
Price at the time of publication: $6.58
Pros
Restores optimal strength
Repairs hair fiber inside out
Clinically-proven and silicone-free
Suitable for severely damaged and all hair types
Cons
Price at the time of publication: $18.97
Pros
Maintains optimal strength
Improves manageability
Ensures healthier hair ends
Leaves hair silky-soft and shiny
Restores protein balance of your hair
Cons
Expensive
Slightly greasy if not rinsed out thoroughly
Price at the time of publication: $7
While other shampoos in the market may provide cleansing and nourishing benefits, Design Essentials goes a step ahead to intensely clean impurities and nourish your hair with oat protein and henna! And the good part is, it cleanses without stripping the natural oils! Smoothing out the hair shaft and strengthening it too, this nourishing hair wash is formulated to leave your hair thicker, shinier, and healthier in a wash. Try it to witness the difference! Here's a video featuring a detailed review of the product.
Pros
Improves manageability
Detangles knots easily
Stimulates hair growth
Leaves hair bouncy and light
Adds volume and eliminates buildups
Silicone-free, sulfate-free, and cruelty-free
Suitable for fine and weak hair
Cons
Slightly drying for dry hair
Price at the time of publication: $11.94
Pros
Ayurvedic cleanser
Reduces hair fall
Boosts volume and shine
Suitable for oily and fine hair
Cons
Price at the time of publication: $103.0
Flip your hair with confidence when you have this volumizer in your kitty! A great option for those with thin or fragile hair, this ultra-mild cleanser will boost the volume and make your hair appear healthier instantly. Infused with soy protein and cranberry that ensure intense nourishing even during cleansing, this easy-lather formula will not weigh down your hair or leave any residue behind as well. Do you still want to stick to your old shampoo? This video will help you understand the product better.
Pros
Gentle and lightweight
Leaves hair soft and shiny
Ideal for sensitive scalp
Hypoallergenic and EWG-verified
Ecologo-certified, vegan, and cruelty-free
Cons
Overwhelming scent
Not recommended for dry hair
Price at the time of publication: $10.99
Pros
Hydrating and strengthening
Gentle and clarifying formula
Moisture retaining
Mineral oil-free
Formaldehyde-free
Suitable for color hair
Suitable for chemically treated hair
Cruelty-free
Vegan
 PETA approved
Paraben-free
 Sulfate-free
Cons
 May not give your hair shine
Price at the time of publication: $21.99
More like superfood for your hair! Aubrey GPB Balancing Protein Shampoo is packed with 75% organic ingredients such as jojoba oil, shea butter, aloe vera, and more to nourish your hair and scalp as it cleanses. Also, is your hair damaged? No problem. This blend contains not one but two proteins— milk protein and glycoprotein that fortify the strands to soak in the nutrients for healing. Repairing damaged areas, strengthening and reviving weak hair as well, there's no reason why you should give this protein cleanser a miss.
Pros
Gentle and cruelty-free
Improves manageability
Leaves hair soft and moisturized
Provides light hydration to hair and scalp
Eliminates split ends and tames the frizz
Free from phthalates, paraben, sulfates, and gluten
Suitable for chemically-treated, brittle, and frizzy hair
Cons
Thin consistency
Not recommended if you prefer a rich lather
Price at the time of publication: $8.63
Don't give up on your damaged hair yet, when Aveda has a Damage Remedy Shampoo for you! Given how chemical treatments, everyday stress, and thermal styling can damage your hair's optimal strength, this remedy is blended to restore your hair to its healthy state. How? All thanks to its quinoa protein and babassu oil surfactants that rinse out the damage-causing impurities and fortify strands to heal and repair intensely. So, if you want to see your hair healthy, soft, and shiny again, you might as well give Aveda Damage Remedy Shampoo a try.
Pros
Reconstructing formula
Gentle and improves manageability
Strengthens and smoothens hair shaft
Suitable for all hair types
Cons
Price at the time of publication: $86.9
Is lack of moisture turning your hair into a frizz show? Or wondering how to hydrate your thirsty tresses? You need this moisture-packed shampoo for starters! Formulated to restore your scalp and hair to its optimal moisture state, it leaves no reason for your tresses to look dull, dehydrated, or frizz again. Also, it improves elasticity with the infused wheat protein and hydrolyzed keratin and strengthens hair as well. Still, want to miss it?
Pros
Gentle and ultra-moisturizing
Leaves hair smooth, soft, and shiny
Provides intense hydration and conditioning
Improves manageability and prevents breakage
Protects from heat damage and detangles knots
Safe for damaged and dry hair
Suitable for all hair types
Cons
Greasy if not rinsed out thoroughly
Price at the time of publication: $16.99
Are you dealing with an itchy scalp or dandruff? Go organic with this protein shampoo that is antiseptic and dermatologist-tested. Packed with all-natural ingredients, it contains tea tree oil, plant extracts, vitamins, and aloe vera. With tea tree oil hydrating, soothing, and cleaning the scalp, the aloe vera, on the other hand, conditions and nourishes the tresses back to its shining glory. Chemical-free and a great option to cleanse out the impurities, bacteria, and fungus build-up, do not skip this one!
Pros
Relieves itchiness
Locks in natural oils
Eliminates excess oil and dirt
Reduces breakage and improves elasticity
Leaves hair soft, revitalized, and flake-free
Color-safe, sulfate-free, SLS-free, and cruelty-free
Cons
Price at the time of publication: $19.99
Making all your happy hair dreams come true is this gentle cleanser infused with pro-vitamin B5! Reviving weak follicles and fortifying strands to bask in the protein blend, it's a must-try for those dealing with stressed, damaged, or dull hair due to environmental issues. Also, it leaves your hair soft, shiny, and so smooth that you can't help but flaunt them!
Pros
Reduces breakages
Leaves hair clean, light, and fresh
Adds a healthy volume and shine
Improves elasticity and manageability
Cons
Price at the time of publication: $22
Here's one from the Asians! Considering how gorgeous and stunning their tresses are, La'dor Keratin LPP Shampoo could be the secret. Also, it's protein-packed! Infused with hydrolyzed keratin, hydrolyzed wheat protein, and hydrolyzed silk, it strengthens, protects, and repairs damages all in one wash. Besides this, it shields from thermal styling, sun damages, and lockouts humidity too. Want more? It also protects the natural keratin protein of your hair. Yep, give it a try if you haven't already!
Pros
Gentle cleanser
Ensures intense hydration
Leaves hair soft, shiny, and smooth
Reduces breakage and improves elasticity
Prevents future damages and protects hair color
Silicone-free, paraben-free, and tar color-free
Suitable for damaged, dry, chemically-treated, and heat-exposed hair
Cons
Price at the time of publication: $24.99
Bask in the power of protein for gorgeous hair this season! There you go, those were the 13 best protein shampoos for hair growth. To know more about protein shampoos or how to choose the right one, we've revealed it all in our buying guide below.
Buying Guide:
Simple! Follow our guide, and we bet you'll end up with the right one for your hair:
Hair type: Rather than choosing any protein shampoo, check if it is suitable for your hair type and texture. Protein shampoos are available for dry, normal, oily, curly, and wavy hair. Also, they are formulated for color-treated, damaged, stressed, and chemically-treated hair too. So, choose according to your hair type.
Strengthening formula: To help your hair grow quicker and healthy, you need to replenish the weak strands. Hence, protein may not be enough, so look out for other active ingredients as well that can create an ideal environment for your hair to grow.
Intense cleansing: Cleansing is as essential as nourishing. If your hair and scalp are not free of impurities, excess oils, and sweat, it will block out the nutrients, thus resulting in weak and breakage-prone hair. So, pick a shampoo that not only nourishes with protein but provides intense cleansing too.
Flexible strands: Choose a protein shampoo that ensures supple and flexible strands. This will reduce the chances of breakage and also help your hair grow stronger and quicker.
Chemical-free: Lastly, the shampoo should be free of harsh chemicals that can reverse the effects of protein and end up stripping the natural oils! So, check if the shampoo is free of parabens, sulfates, phthalates, and more.
How Often Should You Use A Protein Shampoo?
Alternate days at least if you are dealing with very dry, damaged, or fine hair. However, using it daily is not advised because an overdose of protein can lead to greasiness or buildup, which can further cause hair problems.
Benefits Of Protein Shampoo
There are many! Especially if you are dealing with breakage-prone, weak, or lifeless hair, then a protein shampoo is a must-have.
Here are some of its benefits:
Strengthens hair inside out
Smoothes out split ends, tames frizz, and reduces breakage
Provides intense hydration, nourishment, and conditioning
Improves elasticity, manageability, and adds a healthy volume
Leaves hair looking thicker, shinier, smooth, and soft
Restores the optimal moisture and protein levels to stimulate hair growth
The secret to long, healthy, and flaunt-worthy hair is now yours! Adding a healthy volume and stunning shine, there is no better way to bring back your natural and gorgeous hair than with a protein boost! Just what your tresses need to recharge and revive, we hope our list of 13 best protein shampoos has the one for you. Now, what are you waiting for? Go pick your shampoo and let the "hair goals" selfies begin!
Why Trust StyleCraze?
Vaishnavi Kothuri, the author of this article, is a haircare aficionado. According to her, if you struggle with lifeless and weak hair and desire long tresses, you need the best protein shampoo. Thus, she has conducted comprehensive research and analyzed numerous reviews to list the top 13 protein shampoos to make your job easier. These products provide intense hydration, improve elasticity, and leave your hair thicker and smoother.
Frequently Asked Questions
Is Protein Shampoo Good For Your Hair?
Protein shampoos are highly recommended for dry, damaged, and chemically-treated hair. The infused keratin protein not only works at strengthening weak follicles but creates an ideal environment for your hair to grow healthy as well.
Does Protein Shampoo Help Hair Grow?
Yes, protein shampoos help revive dull and thin hair by restoring the lost keratin protein, which is required to stimulate healthy hair growth.
Is Protein Shampoo Good For Curly Hair?
Absolutely! Given how curly or textured hair is prone to frizz or split ends, a protein shampoo can help tame the frizz and smoothen out the cuticles to give you healthy, bouncy, and defined curls.
Can A Protein Shampoo Cause Hair Loss?
Overdose of protein can lead to brittleness and hair loss too. Hence, using a protein shampoo daily or frequently is not recommended.
Can A Protein Shampoo Cause Dandruff?
It depends on how often you wash your hair or how thoroughly you rinse out the shampoo residue. Sometimes, too much protein can make your hair greasier, thus leading to build up and dandruff. Also, the lack of keratin protein can result in dryness, which in turn increases flakiness.
How Do You Know If Your Hair Needs Protein?
Loss of keratin protein can make your hair look dull, dehydrated, brittle, and in worse cases, lead to slower hair growth, hair loss, and breakage too. So, if you are suffering from damaged hair, then lack of protein could be the reason.
How often should I use a protein shampoo?
This depends on the condition of your hair – for normal hair once a month is enough, but if your hair requires more care, use protein shampoo twice a month.
Recommended Articles: