14 Best Gold Eyeliners Of 2023 For Sparkly, Gilded Eyes
Let your gold-studded eyes do all the talking with these precise, easy-to-use eyeliners.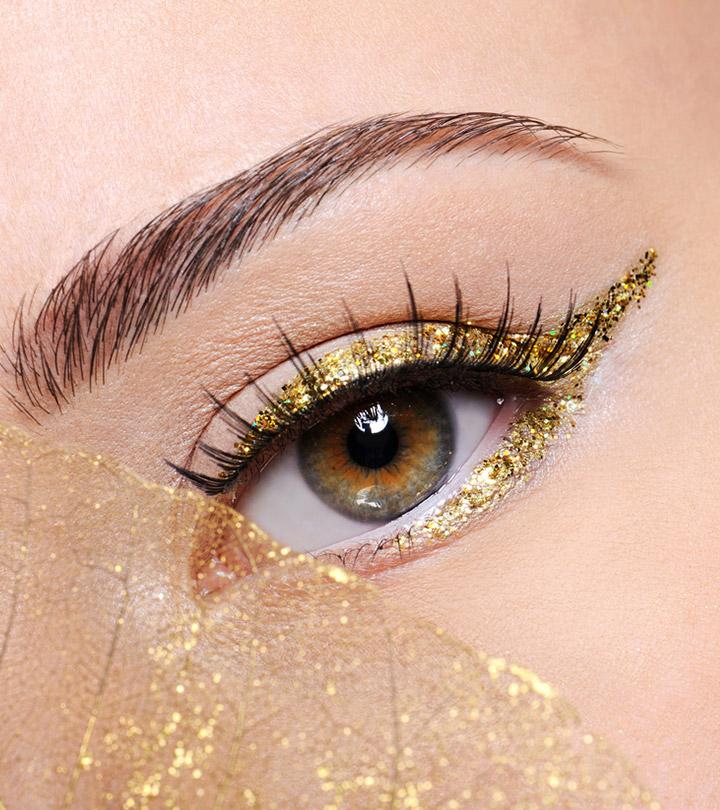 The fashion world is forever surprising us with the boldest trends. Gold makeup, for instance. The best gold eyeliners are the fashion favorites right now. Golden wings and strokes are loved by models, influencers, and women in general. Well, the trend is not for the shy!
Eyeliners are extremely handy when it comes to creating beautiful eye makeup looks. But golden eyeliners are even spunkier and add a bit of fire to your ensemble. Golden streaks make you stand out from the crowd and let you do the talking. We have enlisted the 14 best golden eyeliners of this season that you should check out if you are looking to jazz up your next party look. Continue reading.
Top 14 Best Gold Eyeliners Of 2023
Pros
Long-lasting
Blendable
Multi-purpose
Cruelty-free
No pulling, tugging, or fading
Shades available from metallic to matte finishes
Cons
Might smear in hot climatic conditions
Price at the time of publication: $5.1
Pros
24-hour wear
Waterproof
Transfer-proof
Highly pigmented
Metallic, glitter finish
Certified cruelty-free
Cons
Might have to sharpen carefully to avoid flakes
Price at the time of publication: $13.97
Pros
Cruelty-free
Hypoallergenic
Fragrance-free
Waterproof
Long-lasting
Smudge-proof
Cons
None
Price at the time of publication: $8.98
Pros
Paraben-free
Silicone-free
PEG-free
Vegan
Cruelty-free
Transfer-resistant
Cons
None
Price at the time of publication: $11.99
Pros
Waterproof
Long-lasting
Highly pigmented
Cruelty-free
Paraben-free
Contains enough formula for up to 20 twists
Cons
Price at the time of publication: $16.0
Pros
Waterproof
Creamy texture
SLS-free
Paraben-free
Cruelty-free
Ophthalmologist-tested
Available in 13 shades
Extra-finely milled pigments
Cons
Price at the time of publication: $12.0
Pros
Glides smoothly
Long-lasting
Metallic finish
Transfer-proof
Tip is retractable
Comes in 6 shades
Cons
May not be pigmented enough
Price at the time of publication: $6.98
Pros
Waterproof
Smudge-proof
Long-lasting
Cruelty-free
Contains vitamin E, jojoba oil, and cottonseed oil
Cons
Price at the time of publication: $22.0
Pros
Waterproof
Opthamologist-tested
Mechanical eyeliner
24-hour wear
Fade-resistant
Comes in 6 dramatic shades
Suitable for sensitive eyes
Cons
Might not work well for waterline makeup
May not be suitable for contact lens wearers
Price at the time of publication: $7.25
Pros
Gluten-free
Allergen-free
Cruelty-free
Nut oil-free
Paraben-free
Vegan
Waterproof
Long-wearing
Highly-pigmented formula
Cons
Price at the time of publication: $14.99
Pros
Water-proof
Smudge-proof
Long-lasting
Highly-pigmented formula
Retractable tip
Cons
Price at the time of publication: $13.99
Pros
Waterproof
Transfer-proof
Long-wearing
Soft and shimmery finish
Highly pigmented
Cons
None
Price at the time of publication: $4.49
Pros
Cruelty-free
Vegan
Paraben-free
Long-lasting
Highly-pigmented
Smudge-proof
Cons
None
Price at the time of publication: $4.99
Pros
Glides smoothly
Long-lasting
Waterproof
Smudge-proof
Flake-proof
Tear-proof
PETA certified cruelty-free
Suitable for sensitive eyes
Cons
May not be pigmented enough
Price at the time of publication: $5.59
When it comes to makeup, there are few colors as classic and timeless as gold. So whether you're looking to add a touch of glamor to your everyday look or create a smoldering smokey eye for a night out, gold eyeliner is the perfect way to achieve both.
But with so many different shades and formulas on the market, it can be hard to know where to start when shopping for gold eyeliner. That's why we've put together this comprehensive guide to help you find the best gold eyeliner for sparkly eyes.
Things To Look For In A Gold Eyeliner
Decide on the type of gold eyeliner you want. There are pencil liners and liquid liners. Each has advantages and disadvantages, so choose the one that best suits your needs. Pencil liners are convenient and easy to use, but it can be challenging to get a precise line.
On the other hand, liquid liners give a more polished look but can be tricky to apply evenly. Which type of eyeliner you choose will ultimately come down to personal preference. A pencil liner may be the best option if you're just starting out with makeup. On the other hand, a liquid liner may be the way to go if you're looking for a more dramatic look.
While gold eyeliner can create a stunning look, it's essential to be aware that some of the ingredients used in these products can irritate your eyes or skin. Some gold eyeliners contain chemical dyes, glitter, or metallic salts that could irritate if they come into contact with your eyes. It's important to read the labels carefully and test the product on a small skin area before using it on your eyes. If you experience any redness, swelling, or other discomforts, discontinue use immediately.
There are many different brands of gold eyeliner on the market, so research to find one with a good reputation for quality products.
You want to make sure that the eyeliner is a true gold color. You don't wish to have eyeliner with any other colors in it, as this can ruin the look you are going for.
Find an eyeliner that is easy to apply. For instance, pencil eyeliner has better control over strokes and is best for free-hand usage. They are great for beginners as well as pros at makeup.
Lastly, you want to find eyeliner that will last all day long. You don't want your gold eyeliner to fade or smudge throughout the day. Mostly a liquid eyeliner is long-wearing.
The gold color is quite bold spirited, some would say. You might have doubts about how to pull off a gold eyeliner without looking gaudy. Here are some tips for you. 
How to Wear A Gold Eyeliner
Gold eyeliners may look like they are a little too much at the start, but once you get the hang of it, it becomes impossible to stop using them. It adds life to the plain brown and the boring black. You meet somewhere in the middle, where matte dances with metallic, to a place where there is never enough sparkle. How to wear a gold eyeliner depends on multiple factors, like:
Skin tone: You have to select a gold eyeliner that goes with your complexion. Do you have pale skin, or you lean more towards the wheatish side? Do you have a chocolate brown skin tone? You can try different types of finishes for a subtle or a flashy look. Don't shy away from experimenting with colors.
Eye shape: One of the major factors is the shape of the eye. The thickness and shape of the lash line changes according to the eye shape. For example, if you have monolids, you will probably draw the thinnest line possible with a thick wing coming out of the corner. If you have almond-shaped eyes, a cat-eye look with smokey eyeshadow will look appealing.
Pattern: Are you going to try full-chrome makeup or planning to keep it minimal? You can try shiny strokes in different patterns like a double wing, eye-corner stars, stripes, half-almond designs, etc., for a full gold makeup. If you are only painting for an everyday, shimmery eye makeup, try a simple lash line with a wing.
Style: Creativity can be yours. Eyes are the limit, but imagination is limitless. Some adaptive techniques are:
Only applying on the bottom lid
Mixing it up with your eyeshadow
Skinny gold lines on a dark base
Dark gold lines on a nude base
Blending two gold eyeliners of different finishes
Adding a little bit of rose or copper to your gold
Complementing arches on the upper lash and cut-crease lines
If you continue to use gold eyeliner, eventually, you will ease into making a strong statement with your eyes. The key is never to stop experimenting and embracing new styles.
What to Wear With Gold Eyeliners
You can pair gold eyeliners with many things. Your costume, makeup, jewelry — everything can aid in helping your eyes pop.
Everyday work: Wear a subtle metallic gold eyeliner on the lash line with a wing. Your lipstick can be bold, something that matches your clothes. You can wear it with your formal dress and add a sling purse with a golden belt. Some people also like to wear gold ear hoops and a casual watch for a classy touch.
Lunch date: The date is in the day time. The sunlight might reflect on your face because of the glitter. To create a look that is not flashy, simply add a dark mascara to enhance your eyelashes. Your gold eyeliner will make for a good background for your eyelashes. A slight rose blush or a contouring golden bronzer will also look great on your face. Your lipstick can be bare matte or even glossy.
Party: Wear a complementing dress — it can be shimmery red or even a classic matte black. If you are wearing a denim jacket with white sneakers, you can go crazy with the pattern makeup on your face using golden eyeliner. You can also try a dark smokey eye look with a golden finish. Select your jewelry according to the event. Overall, anything flashy or bohemian goes with a golden eyeliner, once arranged in a fitting style.
Why Trust StyleCraze?
Srijani Roy Chowdhury, the author of this article, is a makeup aficionado and loves experimenting with different makeup products. Intending to help her readers find the best gold eyeliners, she compiled a list of the most amazing ones. The author has tried a few of them, checked online reviews to understand the quality, consistency, and other aspects of the products before shortlisting the best ones for the list.
Frequently Asked Questions
What does a gold eyeliner do?
Gold eyeliners instantly brighten your eyes and make them ready for party occasions. They single-handedly define your eyes and make them pop amidst the crowd.
Is gold eyeliner good for brown eyes?
Yes, gold eyeliners with a slight hint of green look flattering on brown eyes.
Does gold eyeliner make eyes look bigger?
No. Gold eyeliners do not make your eyes look bigger. But, your eyes may appear more prominent if you apply a little brown eyeshadow to the outer corners of your lower lash line before applying the gold eyeliner.
How do you wear gold eyeliner?
• Apply primer to your eyelids.
• Hold the gold eyeliner firmly.
• Start from the inner corner of your eyes and draw a fine line following the eye shape on the upper lash line till the end of the outer corner.
• Draw a slight flick at the end of the eyes.
Do you put eyeliner or eyeshadow on first?
Apply eyeliner after wearing eyeshadow to make it look prominent and visible.
Does eyeliner go above or below eyelashes?
Apply the eyeliner above the lash line of the top lid.
Recommended Articles: