10 Best Dr Dennis Gross Products You Must Own
Tackle stubborn skin issues with products from this dermatologist-certified brand.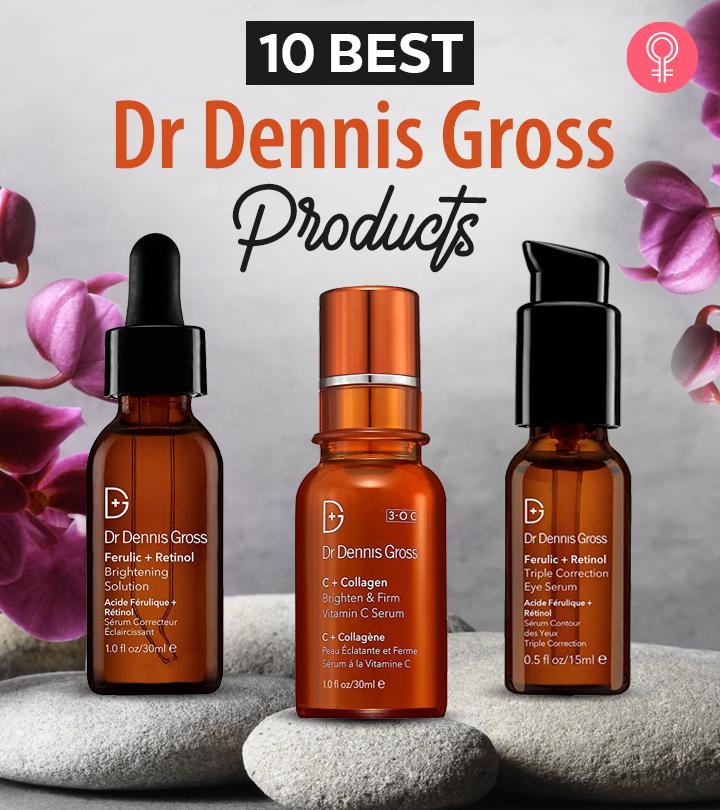 If you want to achieve the kind of skin you dream of, Dr. Dennis Gross Skincare might be your answer. Some of the best Dr. Dennis Gross products are tailored to treat signs of aging like large pores, dullness, dryness, uneven skin tone, and acne. The brand is founded by Dr. Dennis Gross, MD, who has 25 long years of experience in treating skin cancer and board certification. The mantra for his brand is "clean skincare without compromise". And it uses active pharma-grade ingredients for assuring the best skincare service. The brand prepares dermatologically tested, cruelty-free, vegan products free from parabens, sulfates, and phthalates. If this has aroused your curiosity, then look at the top 10 Dr. Dennis Gross products that you should have.
Top 10 Dr Dennis Gross Products
The Dr Dennis Gross Alpha Beta Extra Strength Daily Peel is a patented two-step formula that resurrects radiance and refines pores without any recovery time. It has 7 alpha-beta, which helps remove the dead skin cells and tones and smoothens the skin. The retinol hydrates the skin and smoothens fine lines and wrinkles and enhances its elasticity.
Green tea extract is a natural antioxidant that safeguards the skin from oxidative damage caused due to environmental toxins and free radicals. This high-strength peel with anti-inflammatory properties neutralizes and soothes the skin. It enables the fast penetration of other skincare products and gives you ageless-looking skin. You can use it as a long-lasting makeup base. In this YouTube video, you will find a detailed review of this product.
Pros   
Smoothens the skin
Adds radiance
Hydrates the skin
Lightweight
Removes dead skin cells
Suitable for combination, normal, and oily skin types
Cons
None
Price at the time of publication: $88.0
The Dr Dennis Gross Ferulic + Retinol Brightening Solution treats aging signs, such as rough texture, dull skin, fine lines, and uneven skin tone. It retexturizes your skin, reduces fine lines, and gives you even, smooth, and lit-from-within radiance instantly. This brightening solution contains retinol and ferulic acid that help recapture youthful texture and flawless complexion. It addresses sun damage, wrinkles, and surface imperfections effectively.
It helps minimize and fade dark spots caused due to hyperpigmentation, photoaging, blemishes, and hormonal changes. This quick-absorbing product controls oil secretion and prevents the buildup of whiteheads and blackheads. It is enriched with bearberry extract that increases cell turnover. This serum is vegan and suitable for all skin types.
Pros
Hydrates the skin
Minimizes skin pores
Smoothens the skin
Controls acne
Suitable for all skin types
Brightens the skin
Lightens dark spots
Absorbed quickly
Cons
None
Price at the time of publication: $79.96
The Dr Dennis Gross Ferulic + Retinol Triple Correction Eye Serum treats wrinkles, rough texture, puffiness, dark circles, and loss of elasticity around the eyes. It is made from transformative and powerful antioxidants, retinol, and ferulic acid that minimize the appearance of wrinkles. The licorice root extract lightens dark circles and puffiness under the eyes, while caffeine offers a quick firming effect.
This weightless formula is designed for upper eyelids, and it refreshes and energizes your eyes.
It is based on the breakthrough retinol technology that reduces blemishes, elevens, and creases on the skin.
This 360° eye serum treats crow's feet and uneven skin texture and smoothens the eyelids. You can also use it as an eye makeup primer. Check out this video on YouTube for a detailed understanding of the product.
Pros
Oil-free
Gentle formula
Lightweight
Cons
Price at the time of publication: $62.98
The Dr Dennis Gross DRx All-in-One Cleanser With Toner is a multi-tasker lotion that removes makeup and tones the skin. It is non-stripping and eliminates impurities, giving you balanced and clean skin. This gentle formula cleans accumulated pollutants, oil, and dirt from the pores. It contains potent antioxidants, soothing botanicals, and plumping hydrators that soften and rejuvenate your skin.
Pros
Non-stripping
Suitable for all skin types
Sulfate-free
Cons
Price at the time of publication: $62.0
The Dr Dennis Gross C + Collagen Brighten & Firm Vitamin C Serum helps create and maintain the most natural-looking skin. It treats dull complexion, uneven skin texture and tone, and wrinkles. The product contains vitamin C (3-O C technology), energy complex, and collagen amino acids.
Vitamin C brightens and firms the skin, combating the signs of aging. This weightless gel-serum fuels the cells for improved collagen production and speeds up the natural skin repair process. It is absorbed easily and diminishes dark spots and expression lines. This energy-generating serum also revitalizes tired and aging skin.
Pros
Lightweight
Revitalizes the skin
Diminishes dark spots
Cons
Price at the time of publication: $78.0
The Dr Dennis Ferulic + Retinol Wrinkle Recovery Serum targets fine lines, uneven skin texture, and wrinkles. It reduces imperfections and evens out the skin tone caused due to environmental and aging factors. This potent anti-aging serum delivers a time-released amount of retinol to assist the natural repair action of the skin. It removes blemishes effectively and adds a natural glow to the skin. This overnight serum contains trifecta of retinol, niacinamide, and ferulic acid, combined with adenosine, that offers improved results.
Pros
Moisturizes the skin
Adds glow
Smoothens wrinkles
Lightens blemishes
Suitable for combination, normal, and oily skin
Cons
None
Price at the time of publication: $75.37
The Dr Dennis Gross Alpha Beta Glow Pad Self-Tanner For Face offers remarkable exfoliating and anti-aging action. It provides a soft, buildable, and natural tan that takes three to four hours to show results. The summer-looking tan stays for a long time. This glow pad removes blackheads and reduces the appearance of sunspots. It brightens the skin, imparts an even, sun-kissed tan, and makes your skin healthy.
Pros
Odorless
Streak-free
Long-lasting
Suitable for all skin types
Cons
Price at the time of publication: $38.0
The Dr Dennis Gross Clinical Grade IPL Dark Spot Correcting Serum helps fade discoloration and stubborn dark spots in eight weeks. It gives an even, flawless, and radiant complexion in a week. This 3-way targeting formula illuminates the skin, removes over pigmented cells, and fights against environmental attackers. The serum contains 10% L-ascorbic acid, kojic acid, lactic acid, and arbutin. The trio helps diminish dark patches, sun spots, age spots, and signs of aging.
Pros
Gentle formula
Chemical-free
Adds radiance
Reduces sun and dark spots
Fights signs of aging
SLS-fee
SLES-free
Formaldehyde-free
Phthalate-free
Mineral oil-free
Retinyl palmitate-free
Oxybenzone-free
Coal tar-free
Hydroquinone-free
Triclosan-free
Triclocarban-free
Gluten-free
Cons
None
Price at the time of publication: $92.0
The Dr Dennis Gross C + Collagen Eye Cream helps eliminate crow's feet, puffiness, and dark circles naturally. It makes your eyes healthy, energized, and young-looking. This eye cream is infused with a vitamin C complex that enhances the look of tired and aging eyes. It also contains unique energy complex and collagen amino acids that revitalize the skin and target the thinnest skin on your face. The ceramides strengthen the skin barrier, peptides trigger collagen production, and light reflectors blur imperfections.
Pros
Non-greasy
Non-irritating
Unisex
Cons
None
Price at the time of publication: $65.0
The Dr Dennis Gross C + Collagen Perfect Skin Set & Refresh Mist infuses life in dull, tired, and stressed skin. It enhances the natural radiance of your face and makes your skin healthy. This invigorating mist hydrates and revitalizes the skin, improving its tone and texture. The micellar technology penetrates makeup to reach your skin and delivers a dose of antioxidants that shields the skin from environmental damage.
The product contains 3-O ethyl ascorbic acid, collagen amino acids, and a proprietary energy complex that protect and repair cellular functions.
Pros
Rejuvenates the skin
Hydrates the skin
Adds natural radiance
Cons
Price at the time of publication: $30.0
The above-mentioned products offer the best level of skin care to people all ages. Order your favorite Dr Dennis Gross products from our list and feel the difference in your skin!
Why Trust StyleCraze?
The author, Shiboli Chakraborti, is a certified skin care coach and believes Dr. Dennis Gross Skincare's products have made waves in the beauty industry for good reasons. These products were created to preserve and reinforce your skin's natural integrity. She meticulously researched the product reviews and formulations before creating her list of the best Dr. Dennis Gross skincare products. There is something for every skin type in this skin care product line to keep your skin looking and feeling great.
Frequently Asked Questions
Is Dr Dennis Gross medical grade?
Yes. All Dr Dennis Gross skin care products are made from the recent state-of-the-art dermatologic technology. The ingredients are gentle, highly effective, and chosen carefully. Dr Dennis Gross products are medical grade formulas based on dermatological science that does not cause any skin woes.
How often should you use Dr Dennis Gross Alpha Beta Peel?
It is safe and approved to use Dr Dennis Gross Alpha Beta Peel on alternate days until your skin gets acclimatized to it. Then, you can use this product regularly.
Is Dr Dennis Gross vegan?
Yes. Dr Dennis Gross skin care products are vegan (PETA recognized), cruelty-free, and do not contain parabens.
Can I use Dr. Dennis Gross Alpha Beta with retinol?
No, you can't use these two peelings simultaneously as they can irritate your skin and cause discomfort.
Can I use Alpha And Beta Hydroxy Acids every day?
No, do not use the hydroxy acids daily to cure sun-damaged skin and acne problems, as they are strong exfoliants. They can worsen your skin irritation.
Are Dr. Dennis Gross products safe for use during Pregnancy?
Yes, Dr. Dennis Gross's products are safe to use during pregnancy and nursing. The brand uses natural ingredients to produce its products, making them healthy.
How long do Dr. Dennis Gross's products last?
On average, Dr. Dennis Gross's products have a shelf life of 12-24 months.
Recommended Articles