6 Best Milani Blushes For A Radiant Glow
Long-lasting, lightweight pigments that give your cheeks a healthy glow all day long.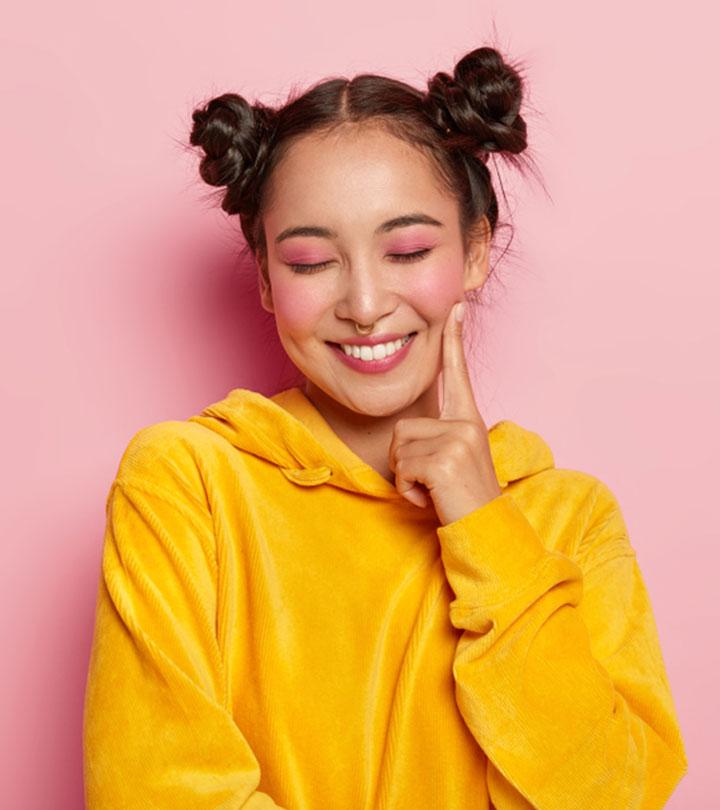 A blush can do a lot to your makeup, like it can give you that radiant and flushed rosy look that everyone wants on their face. But for achieving the perfect finesse, you need the perfect blush, and what could be better than the best of the best Milani blushes? Milani blushes' pigments are long-lasting, so they can add a pinch of healthy radiance to your face that lasts all day. The best part is its long-lasting formula. Take a look at some of the best Milani blush collections to choose the perfect one for yourself.
6 Best Milani Blushes You Should Get Your Hands On!
The Milani blush in Luminoso offers a luminous sheen with a pearly finish. This beautiful blush brings out a cheeky pop of color on every complexion with its rich pigmentation, and its buildable formula makes it an ideal blush for everyday wear. It comes in a collection of 12 rosy hues that add natural luster and a beautiful matte finish to your skin tone. Each blush is sunbaked on Italian Terracotta tiles, lending a warm finish and adding radiance to your skin. It is an all-in-one miracle and can be used for shaping, contouring, and highlighting your best facial features. You may check this video for a better understanding of this product.
Pros
Available in 12 popular shades
Cruelty-free
Vegan
No parabens
Ultra-pigmented
Cons
It may not provide long-lasting wear.
Price at the time of publication: $6.5
Looking for a Milani matte blush? You need not look further than this. Milani's Rose Powder Blush ensures that your cheeks are kissed with vivid shades that offer a flawless glow. It has a soft yet natural finish and comes in an assortment of 6 different shades in matte and shimmer finishes. Get an added natural or rosy look by applying this Milani flower blush with the mini brush. Start from the top of your cheeks, gently swiping up and away. This video review will help you learn more about the product.
Pros
Comes in matte and shimmery blush shades
Compliments every skin tone
No paraben preservatives
Lasts all day
Cons
It may not be highly pigmented.
Price at the time of publication: $16.66
The Milani Illuminating Face Powder is a multifunctional product that can be used as a blush, bronzer, and highlighter. It creates a captivating combination of various colors with its color palette, giving the skin a radiant yet not over-the-top glow. The face powder provides a superior and beautiful blend, but to further enhance your looks, set the application with a finishing spray. It will give you a soft iridescent glow all day long. This video will help you make an informed decision about your purchase.
Pros
Multifunctional beauty product
Gives the skin a radiant glow
Has superior blending properties
Flatters all skin types
Blush, bronzer, and highlighter combo
Cons
Price at the time of publication: $8.99
Mix and match to your heart's content with the Milani Color Harmony Blush Palette to suit your complexion. You can create your preferred shade from a single palette to sculpt, highlight, and contour your facial features. This palette further enables you to create a natural-looking cheek color without having to use an additional highlighter. With this palette, a single sweep goes a long way in providing long-lasting and buildable coverage. It is ultra-pigmented and blends like a dream.
Pros
4 shades in 1 palette
Buildable coverage
Rich pigmentation
Cruelty-free
Vegan
Cons
Some may find it a little too sheer.
Price at the time of publication: $18.43
Milani's Cheek Kiss has an ultra-blendable and buildable formula that gives you just the right amount of flush and glow that looks sun-kissed. This application is lightweight and creamy and consists of skin-enhancing ingredients like rose extract, watermelon, and pomegranate. You can find this Berry Smooch blush for lips and cheeks in 6 essential shades. It comprises an easy-to-wear formula that gels in perfect harmony with your skin, encouraging a healthy and lustrous glow. With all of these qualities, it's sure to become your all-time favorite blush.
Pros
Ultra-blendable and buildable formula
Lightweight and creamy
Consists of skin-friendly ingredients
Easy-to-wear formula
Encourages healthy and radiant glow
Suitable for lips and cheeks
Cons
It may not flatter deeper skin tones.
Price at the time of publication: $15
If you're looking for a luminous glow that one can spot from a mile away without looking overdone, this miracle product won't disappoint you. An irresistible confluence of blush, bronzer, and highlighter, this gem from Milani makes strobing and highlighting a piece of cake. It comes with light-reflecting pearls that make you shine bright like a diamond. The peachy undertones with a hint of rose gold in the Moon Glow shade make it the ideal blush for all skin tones. A single swipe of this rose gold blush on the high points of your face, and your cheeks can go a long way in providing all-day wear.
Pros
Rich pigmentation
Available in 7 shades
Cruelty-free
Vegan
No parabens
Oil-free
Cons
Some may find it too shimmery.
Price at the time of publication: $11.99
Finding a blush that complements your complexion can be tricky. With the following tips, you can further bring out the best in you with a handy blush by your side.
How To Find The Best Blush For Your Skin Tone – A Helpful Buying Guide
How To Apply Milani Baked Blushes?
These simple hacks can help you get a pretty, long-lasting glow with your Milani blush.
Step 1: Identify your face shape
Different face shapes flaunt their unique qualities. The first step should be to understand your face shape to highlight your facial features.
Step 2: Prep your skin
Always start by washing and moisturizing your face. It helps your blush blend into your skin and provides longevity. To ensure the blush stays put, apply a makeup primer.
Step 3: Select your blush
Depending on your skin tone and the finish you prefer, use a Milani blush swatches that blends well with your complexion for a natural and radiant finish.
How To Apply Blush On Different Face Shapes?
Based on your face structure, apply the blush to highlight your prominent features.
Locate your cheekbones with your fingers and sweep the blush over them. Apply the blush above the bone, trying to avoid the hollow beneath. Doing so elevates the height of your cheekbone.
Soften the edges of your face to make it appear more oval. Start by applying blush to the outer rim of the cheekbone. Sweep the application from your ears and end it below the outer corner of the eye. Also, apply color towards the center of the forehead to balance the width of your forehead with the chin.
Define your cheekbones by applying the blush slightly below them. Apply gentle strokes in the hairline to soften the edges of your face.
Gently apply the blush starting from your ear, down to the cheekbone towards the mouth. Adding a little touch of color to the chin can make your face appear longer.
Be very cautious while applying blush on an oblong face. Start by applying the blush on your cheekbones, and gently sweep below the outer corner of the eyes. Blend well. Never extend the blush lower than the tip of your nose.
Apply blush in a sideways V-motion on the cheekbone. Start by blending from your cheekbone. Then, bring it to your temple and extend it over your brows. Doing so helps to balance the width of your forehead with the rest of your face.
Why Trust Stylecraze
Chaitra Krishnan, the author of this article, has a keen interest in makeup and fashion and dedicates her time to review the best beauty products for her readers. She does the same with this article on the top-rated Milani blushes that will help you ace your makeup game. The long-lasting and pigmented shades seal the spot for every product on this list. She has also included a buying guide to help make your shopping experience seamless.
Frequently Asked Questions
Is Milani blush safe?
Milani blushes are free of allergy-causing parabens and related esters like benzocaine, PPD, and others.
Are Milani blushes vegan?
Milani has a collection of vegan applications, but not all its products are vegan. Some may contain beeswax, carmine, lanolin, or other animal-derived ingredients.
Does Milani test on animals?
Milani does not test its ingredients, formulations, or finished products on animals.
Is Milani Baked Blush non-comedogenic?
Milani does not advertise all its products to be non-comedogenic.
Is Milani blush gluten-free?
No, Milani blushes are not gluten-free.
Is Milani a good brand?
Although Milani is a high-end drugstore cosmetic brand, the quality makes it seem quite reasonable.
Is Milani paraben-free?
Milani does not contain allergy-causing paraben.
Is Milani makeup toxic?
Like most products, Milani could cause irritation, rashes, or even prove to be toxic when applied on sensitive skin.
Recommended Articles