10 Best Prickly Pear Oils For Gorgeous Skin – 2023
Rejuvenate your skin and protect it against acne, dryness, and more with this potent ingredient.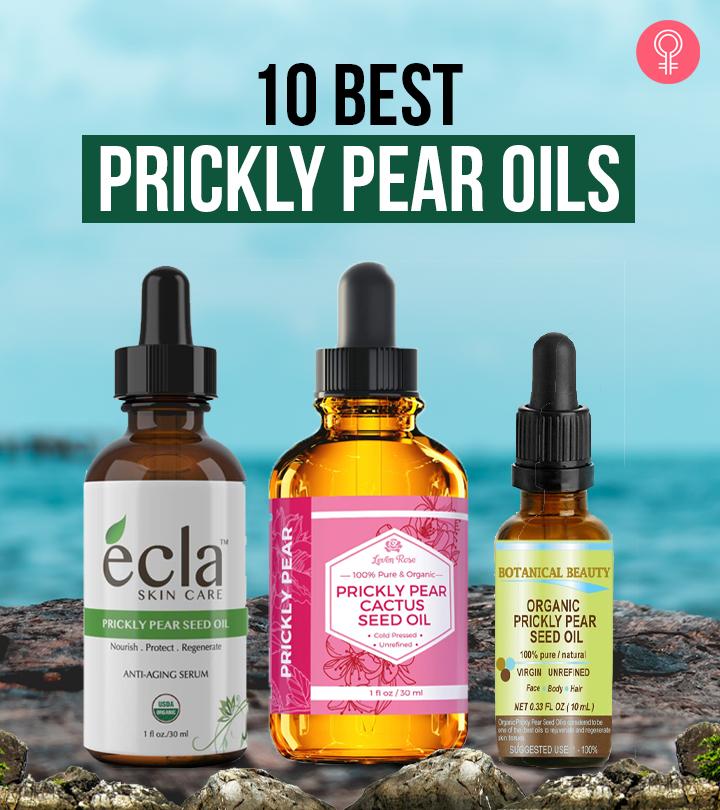 If you haven't heard of the illustrious prickly pear seed oil, you have been missing out! Like a youthful elixir, this oil rejuvenates and protects the skin. We have curated a list of the best prickly pear oils on the market. The oil is extracted from the yellow and pink fruit seeds of the prickly pear cactus Opuntia. It is lightweight and can be used in its undiluted form as well. It has antibacterial benefits and is enriched with antioxidants (1). It protects the skin from acne breakouts, dehydration, and photodamage. In addition, it contains linoleic acid, which improves skin hydration. Scroll down to check out 10 of the best prickly pear oils you can find on the internet.
Top 10 Prickly Pear Oils of 2023
Note: These pure, cold-pressed oils are suitable for all skin types. However, a patch test is recommended to avoid allergic reactions.

Pros
Lightweight
USDA and ECOCERT certified organic
Hygienic packaging
Non-GMO
Unrefined
Gets absorbed fast
Two caps (roll-on, pipette)
Ethically sourced oil
Cons
Price at the time of publication: $29.99
Pros
USDA certified organic
GMO-free
Lightweight
Gets absorbed fast
Unscented
Cruelty-free
Vegan
Chemical-free
Cons
Price at the time of publication: $24.99
Pros
Great for chemically treated hair
Non-irritating
Heals flaky skin
Soy-free
Unrefined
Cons
Price at the time of publication: $29.97
Pros
Money-back guarantee
No chemical additives
Fragrance-free
No synthetic colorants
Repairs cuticles and split ends
Certified vegan
Cons
Price at the time of publication: $39.99
Pros
Prevents redness and sunburns
Suitable for dry/sensitive and mature skin
Can double as a makeup remover
Hydrating
Paraben-free
Sulfate-free
No synthetic perfumes
Cruelty-free
Cons
Price at the time of publication: $27.95
The Dr Adorable Prickly Pear Seed Oil is a 100% first cold-pressed oil of prickly pear seeds. It is pure and slightly viscous and has a mild oily scent and greenish yellow-hue. This oil is loaded with tocopherol (vitamin E), amino acids, and unsaturated fatty acids that nourish your skin, prevent dryness, premature aging, and spots, and keep it soft, supple, and plump. This lightweight oil gets absorbed quickly. You can also use it on your nails and hair to maintain their health. This oil has a shelf-life of two years.
Note: First cold-pressed oil has a different texture, color, aroma, and consistency than cold-pressed oils.
Pros
Can be used on the skin, hair, and nails
100% organic
First cold-pressed
No residue
GMO-free
Cons
None
Price at the time of publication: $16.99
The Botanical Beauty Prickly Pear Seed Oil is 100% pure, virgin, and unrefined. It is loaded with vitamins B, C, E, and K, fatty acids like omega 3,6, and 9, along with other natural antioxidants. This oil is excellent for mature, dry, and damaged skin.
This oil helps improve skin elasticity, reduce itchiness and flakiness, moisturize the skin, and retain hydration for longer. It also helps relieve skin irritation and itching and can be used as a massage oil for weak nails and frizzy hair. This oil is gentle on the skin and helps to soothe skin issues like psoriasis, eczema, stretch marks, cuts, and scars.
Pros
Lightweight
Gets absorbed fast
Long shelf life
Non-greasy
Unrefined
100% organic
Cons
Expensive for the quantity
Price at the time of publication: $19.95
Pros
Tightens the skin
Evens out the skin tone
Suitable for all skin types
Promotes hair growth
100% organic
Cons
None
Price at the time of publication: $28.99
The Vitae Organics Prickly Pear Seed Oil is a certified organic, 100% pure prickly pear seed oil with therapeutic benefits. This oil contains unsaturated fatty acid (oleic acid), polyunsaturated fatty acid (linoleic acid), and vitamins A, D, and E. All these essential nutrients promote the cell renewal process and prevent free radical damage to improve signs of aging.
This prickly pear seed oil helps soothe sunburn, itchy, and scaly skin, promotes healing, and improves skin texture. It also claims to prevent keloids and stretch marks and tone the skin. This oil acts as a tensor to revitalize and firm the fat cell deposits under the skin, minimize skin pores, and add shine to the skin.
Pros
Mild herbal aroma
Non-comedogenic
Tones the skin
Therapeutic
Unrefined oil
Certified organic
Lightweight
Cons
None
Price at the time of publication: $73.99
Evanhealy Blue Cactus Beauty Elixir formula boosts hydration and nourishes the skin. This oil works well for dry, devitalized, sensitive skin. The oil is infused with vitamin E, which helps minimize wrinkles, fine lines, and hyperpigmentation. The Haiiwian sandalwood present in the oil nourishes and protects from dryness. Also, Also, the oil reduces redness, flakiness, dry patches and illuminates the skin.
Pros
Travel-friendly
User-friendly
Certified organic
Gluten-free
Non-GMO
Cruelty-free
Cons
Price at the time of publication: $46.95
These are the top 10 prickly pear oils available. If you are wondering what are the benefits of prickly pear seed oil, here is your answer.
How Does Prickly Pear Benefit Skin?
There is not enough scientific proof regarding the benefits of prickly pear oil. However, a few studies have found some skin-health boosting properties of this oil.
It Has Antibacterial Properties: Prickly pear oil contains high levels of antioxidants and also has antibacterial properties (1). It is assumed that these properties may help maintain skin health and prevent any damage. The antibacterial properties may also help in preventing acne issues.
It Is A Potent Carrier Oil: A carrier oil is used for mixing essential oils or other ingredients to help deliver the ingredient to the skin. Prickly pear oil is a highly effective carrier oil. A study done on rats found that this oil could deliver vitamin A topically and is suitable for cosmeceutical applications (2).
It May Improve Skin Hydration: Prickly pear oil contains high levels of linoleic acid. This polyunsaturated fatty acid helps the skin retain water, thus improving its hydration levels.
As per anecdotal evidence, prickly pear oil also helps improve skin texture by enhancing the skin renewal rate. Here is how you can use it.
How To Use Prickly Pear Seed Oil
Undiluted: Rub a few drops of the oil between your palms and apply to your face or body.
As A Carrier Oil: Mix 1-2 drops of any essential oil with a teaspoon of prickly pear seed oil (1% and 2% dilution, respectively). Apply the mixture to your face or body.
Prickly pear seed oil is considered safe for the skin. However, there are a few reasons for avoiding it altogether. Find out who should avoid using the oil and why.
Side Effects Of Prickly Pear Seed Oil
Avoid prickly pear oil if you are allergic to the fruit or similar fruits (like dragon fruit). Otherwise, you may experience side effects like:
Bloating
Redness
Rashes
Itching
Sneezing or wheezing
Why Trust Stylecraze?
Shiboli Chakraborti, the author of this article, is a certified skin care coach. She compiled a list of the best prickly pear oils after checking several product reviews and customer feedback on trusted online forums and brand websites. The products in our article can help prevent acne breakouts, photodamage, dryness, and dullness.
Frequently Asked Questions
Why is prickly pear seed oil so costly?
It is expensive due to the method of its extraction. It takes a lot of fruits to produce a small bottle of oil. Therefore, it tends to be costly.
What does prickly pear seed oil smell like?
It depends on the season and location. Oil collected from seeds harvested in winter has a strong sweet smell, while oil from the seeds harvested in summer has an odor similar to olives.
Does prickly pear seed oil clog pores?
No, prickly pear seed oil is non-comedogenic.
Can we use prickly pear seed oil for hair?
Yes, it can be used for hair and scalp massage.
How do you make prickly pear seed oil?
Pluck the fruits, extract the seeds, and dry them. Use an oil press machine to extract the oil and then filter it.
Does prickly pear oil grow hair?
Yes, prickly pear oil contains betalains and phenolic compounds which can stimulate hair growth.
Does prickly pear even tone the skin?
Yes, prickly pear oil contains nourishing fatty acids that can help fade hyper-pigmentation and dark spots while also preventing acne and skin inflammation.
Is prickly pear oil good for scars?
Prickly pear oil contains healthy fatty acids, zinc, and Vitamin K that can repair skin discoloration or scarring. It also helps to prevent redness and remove acne-causing bacteria from the skin.