10 Best Prickly Pear Oils For Gorgeous Skin – 2020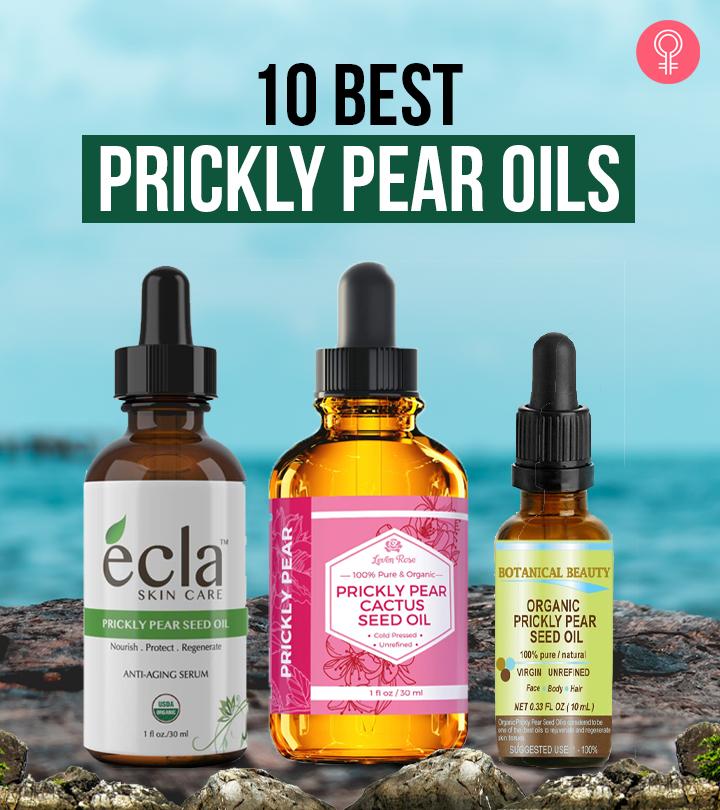 Never heard of prickly pear seed oil? Well, this skin elixir never really was in the spotlight until now. Prickly pear cacti, commonly known as Opuntia, bear delicious pink and yellow fruits. The seeds of these frui ts are used to extract prickly pear oil. This oil is rich in antioxidants and has antibacterial properties (1). It helps prevent photodamage, manage acne, and is said to boost skin hydration levels as it contains linoleic acid. Prickly pear oil is a lightweight carrier oil, so you can use it undiluted as well. If you would like to try this oil, check out the 10 best prickly pear oils you can buy online. Scroll down!
Top 10 Prickly Pear Oils of 2020
Note: These pure, cold-pressed oils are suitable for all skin types. However, a patch test is recommended to avoid allergic reactions.
The Fatima's Garden Prickly Pear Seed Oil is sourced from the Berber women in Moroccan cooperatives and is ECOCERT certified 100% organic. This oil is extracted from the first cold press of the prickly pear seeds that contain vitamins E and K. It claims to helps lighten dark circles, spots, and hyperpigmentation and tighten the skin pores.
The oil contains a high percentage of linoleic acid and phytosterols that moisturize and soften the skin, boost collagen production, and maintain skin elasticity. It also claims to heal acne, cold sores, minor burns, cuts, and blemishes. This oil is suitable for all skin types, kids, and pregnant women.
Pros
Lightweight
USDA and ECOCERT certified organic
Hygienic packaging
Non-GMO
Unrefined
Gets absorbed fast
Two caps (roll-on, pipette)
Ethically sourced oil
Cons
The Ecla Skin Care Prickly Pear Seed Oil is USDA-certified 100% pure virgin cold-pressed oil sourced from Morocco. This oil is unrefined and is claimed to be a natural solution for improving wrinkles. It contains vitamins E and K and amino acids that help brighten dark spots and reduce acne and blemishes. This oil is non-greasy, restores skin elasticity, and is ideal for dry and mature skin. You can apply it directly or mix it with your favorite cream, serum, or shampoo.
Pros
USDA certified organic
GMO-free
Lightweight
Gets absorbed fast
Unscented
Cruelty-free
Vegan
Chemical-free
Cons
The Leven Rose Prickly Pear Cactus Seed Oil is a pharmaceutical-grade oil and has skin rejuvenating and anti-aging benefits. This oil is a multitasker – it nourishes your skin as well as your scalp and hair.
You can use this oil as a serum and directly apply on your skin and also apply it on the hair roots to nourish them, prevent hair fall, and keep them hydrated. This oil is fused with unsaturated fatty acids that moisturize your skin and keep it healthy and glowing. It also contains vitamins E and K that soften your skin. This oil is especially beneficial for dry and mature skin.
Pros
Great for chemically treated hair
Non-irritating
Heals flaky skin
Soy-free
Unrefined
Cons
The Poppy Austin Pure Barbary Fig Oil by Poppy Austin is a 100% pure and organic oil. This cold-pressed oil is lightweight and gets absorbed fast. It is infused with anti-inflammatory agents, carotenes, and essential fatty acids that nourish, moisturize, and rejuvenate the skin. This oil contains vitamin E and omega-6 fatty acids that provide instant hydration and make the skin smooth, plump, and healthy.
Regular application of the oil prevents oxidative damage, premature aging, wrinkles, fine lines, and pigmentation. It also boosts cell regeneration and prevents environmental stress and pollution. You can add this oil to your regular shampoo and moisturizer.
Pros
Money-back guarantee
No chemical additives
Fragrance-free
No synthetic colorants
Repairs cuticles and split ends
Certified vegan
Cons
The Baja Basics Prickly Pear Cactus Seed Oil is 100% organic and undiluted prickly pear seed oil. This is first-pressed oil, meaning it is of the highest quality and is potent. It is loaded with natural antioxidants that protect the skin from wear and tear, omega-6 fatty acids to soften and moisturize the skin, and amino acids to boost collagen production.
This oil restores and revives your skin health, improves firmness, reduces wrinkles, spots, and fine lines, and keeps it rejuvenated. You can apply this oil to your face, hair, and nails. It does not contain any artificial fillers and additives and is safe for all skin types.
Pros
Prevents redness and sunburns
Suitable for dry/sensitive and mature skin
Can double as a makeup remover
Hydrating
Paraben-free
Sulfate-free
No synthetic perfumes
Cruelty-free
Cons
The Dr Adorable Prickly Pear Seed Oil is a 100% first cold-pressed oil of prickly pear seeds. It is pure and slightly viscous and has a mild oily scent and greenish yellow-hue. This oil is loaded with tocopherol (vitamin E), amino acids, and unsaturated fatty acids that nourish your skin, prevent dryness, premature aging, and spots, and keep it soft, supple, and plump. This lightweight oil gets absorbed quickly. You can also use it on your nails and hair to maintain their health. This oil has a shelf-life of two years.
Note: First cold-pressed oil has a different texture, color, aroma, and consistency than cold-pressed oils.
Pros
Can be used on the skin, hair, and nails
100% organic
First cold-pressed
No residue
GMO-free
Cons
None
The Botanical Beauty Prickly Pear Seed Oil is 100% pure, virgin, and unrefined. It is loaded with vitamins B, C, E, and K, fatty acids like omega 3,6, and 9, along with other natural antioxidants. This oil is excellent for mature, dry, and damaged skin.
This oil helps improve skin elasticity, reduce itchiness and flakiness, moisturize the skin, and retain hydration for longer. It also helps relieve skin irritation and itching and can be used as a massage oil for weak nails and frizzy hair. This oil is gentle on the skin and helps to soothe skin issues like psoriasis, eczema, stretch marks, cuts, and scars.
Pros
Lightweight
Gets absorbed fast
Long shelf life
Non-greasy
Unrefined
100% organic
Cons
Expensive for the quantity
The Gya Labs Prickly Pear Seed Organic Carrier Oil is a first cold-pressed of prickly pear seeds and is sourced from Morocco. This 100% pure and natural oil moisturizes the skin and improves its overall health. It also helps maintain dry and frizzy hair and nourish chapped lips and brittle nails.
The oil contains linoleic acid that calms and soothes issues like rosacea, eczema, psoriasis, and itchiness. The vitamin E in this oil further boosts collagen production, improves skin elasticity, and reduces dark spots, signs of aging, and pigmentation to brighten it and keep it youthful. This product is lightweight and gets absorbed quickly into the skin without any residue.
Pros
Tightens the skin
Evens out the skin tone
Suitable for all skin types
Promotes hair growth
100% organic
Cons
None
The Vitae Organics Prickly Pear Seed Oil is a certified organic, 100% pure prickly pear seed oil with therapeutic benefits. This oil contains unsaturated fatty acid (oleic acid), polyunsaturated fatty acid (linoleic acid), and vitamins A, D, and E. All these essential nutrients promote the cell renewal process and prevent free radical damage to improve signs of aging.
This prickly pear seed oil helps soothe sunburn, itchy, and scaly skin, promotes healing, and improves skin texture. It also claims to prevent keloids and stretch marks and tone the skin. This oil acts as a tensor to revitalize and firm the fat cell deposits under the skin, minimize skin pores, and add shine to the skin.
Pros
Mild herbal aroma
Non-comedogenic
Tones the skin
Therapeutic
Unrefined oil
Certified organic
Lightweight
Cons
None
The prickly pear seed oil from Truly Pure Oil is a 100% USDA and ECOCERT certified organic oil sourced from Morocco. This oil has a chemical-free and lightweight formula and contains vitamins E and K that prevent skin aging and brightens it. The omega 3, 6, and 9 fatty acids in the oil help improve hyperpigmentation, acne, and age spots while balancing excess sebum production. This oil soothes skin irritation, improves skin texture, fine lines, dark circles, and keeps it healthy. It is suitable for all skin types, including babies, and is safe for pregnant women.
Pros
No additives
USDA and ECOCERT certified
Unrefined oil
Money-back guarantee
Cons
These are the top 10 prickly pear oils available. If you are wondering what are the benefits of prickly pear seed oil, here is your answer.
How Does Prickly Pear Benefit Skin?
There is not enough scientific proof regarding the benefits of prickly pear oil. However, a few studies have found some skin-health boosting properties of this oil.
It Has Antibacterial Properties: Prickly pear oil contains high levels of antioxidants and also has antibacterial properties (1). It is assumed that these properties may help maintain skin health and prevent any damage. The antibacterial properties may also help in preventing acne issues.
It Is A Potent Carrier Oil: A carrier oil is used for mixing essential oils or other ingredients to help deliver the ingredient to the skin. Prickly pear oil is a highly effective carrier oil. A study done on rats found that this oil could deliver vitamin A topically and is suitable for cosmeceutical applications (2).
It May Improve Skin Hydration: Prickly pear oil contains high levels of linoleic acid. This polyunsaturated fatty acid helps the skin retain water, thus improving its hydration levels.
As per anecdotal evidence, prickly pear oil also helps improve skin texture by enhancing the skin renewal rate. Here is how you can use it.
How To Use Prickly Pear Seed Oil
Undiluted: Rub a few drops of the oil between your palms and apply to your face or body.
As A Carrier Oil: Mix 1-2 drops of any essential oil with a teaspoon of prickly pear seed oil (1% and 2% dilution, respectively). Apply the mixture to your face or body.
Prickly pear seed oil is considered safe for the skin. However, there are a few reasons for avoiding it altogether. Find out who should avoid using the oil and why.
Side Effects Of Prickly Pear Seed Oil
Avoid prickly pear oil if you are allergic to the fruit or similar fruits (like dragon fruit). Otherwise, you may experience side effects like:
Bloating
Redness
Rashes
Itching
Sneezing or wheezing
Prickly pear seed oil has multiple skin benefits. Although it lacks enough scientific backing, those who have used it swear by the oil's effects. If you are not allergic to it, you can pick any of the prickly pear seed oil from our list and try it. However, in case of any adverse reaction, stop using the oil, and consult a doctor.
Expert's Answers For Readers' Questions
Why is prickly pear seed oil so costly?
It is expensive due to the method of its extraction. It takes a lot of fruits to produce a small bottle of oil. Therefore, it tends to be costly.
What does prickly pear seed oil smell like?
It depends on the season and location. Oil collected from seeds harvested in winter has a strong sweet smell, while oil from the seeds harvested in summer has an odor similar to olives.
Does prickly pear seed oil clog pores?
No, prickly pear seed oil is non-comedogenic.
Can we use prickly pear seed oil for hair?
Yes, it can be used for hair and scalp massage.
How do you make prickly pear seed oil?
Pluck the fruits, extract the seeds, and dry them. Use an oil press machine to extract the oil and then filter it.
10 sources
Stylecraze has strict sourcing guidelines and relies on peer-reviewed studies, academic research institutions, and medical associations. We avoid using tertiary references. You can learn more about how we ensure our content is accurate and current by reading our
editorial policy
.
Recommended Articles
The following two tabs change content below.

Latest posts by Harini Natarajan (see all)

Harini Natarajan
As Chief Editor, Harini sets the tone and editorial direction for StyleCraze to deliver engaging, interesting, and authentic content revolving around women's health, wellness, and beauty. She has over 14 years of experience in content writing and editing for online media. She specializes in the areas of Beauty, Lifestyle, and Health & Wellness and is proficient in Medical Sciences (Biology, Human Anatomy and Physiology, and Biochemistry). Her background in Biomedical Engineering helps her decode and interpret the finer nuances of scientific research for her team. Harini is a certified bibliophile and a closet poet. She also loves dancing and traveling to offbeat destinations.