11 Best Magnesium Creams For Pain In 2022
Soothe muscle pain and get relaxing pleasure so that you feel fresh as new for your next day!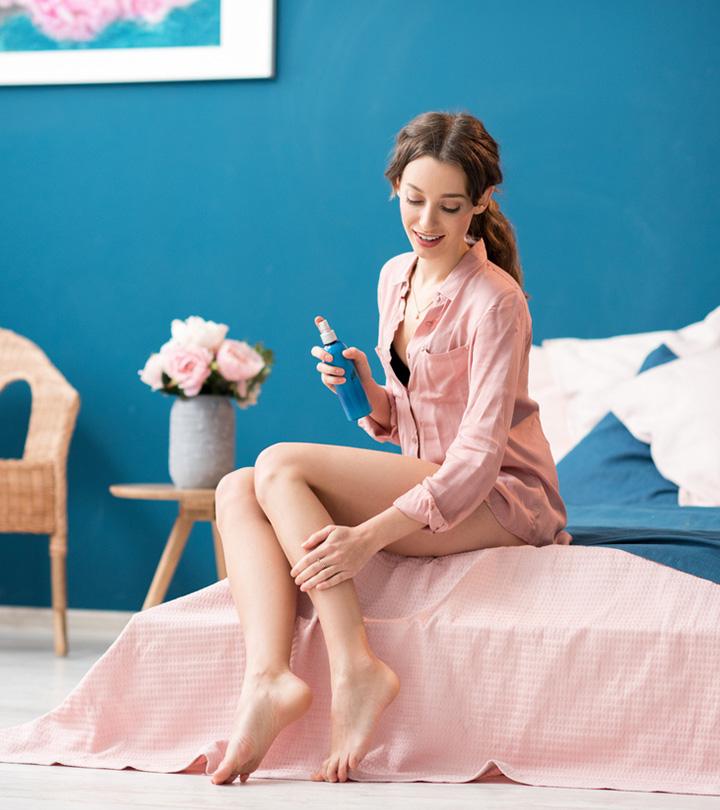 The best magnesium creams for pain can be your one-stop solution to deal with sore muscles and tight joints. Unfortunately, muscle cramps are not uncommon, and they occur when you least expect them. Even when you are not doing any heavy work, something as simple as bending can give you excruciating pain in your joints. This is when the boost of magnesium comes in. Here are the 11 highest-rated magnesium creams to keep your bones and muscles healthy and your activities pain-free.
What Does A Magnesium Cream For Muscle Pain Do?
Power-packed and versatile, magnesium has umpteen benefits for your muscles, bones, and skin. An indispensable ingredient for those suffering from weak bones and muscle cramps, a magnesium lotion also targets headaches and improves your sleep cycle. And it doesn't end there — staying true to its multipurpose label, a magnesium lotion nourishes and repairs dull and dry skin too. One lotion for all your body and skin concerns!
If you're a first timer looking for the best magnesium creams for pain, we have some top choices lined up below. Go on, keep all the pains, aches, and tiredness at bay with the best! Check out our list of the 11 best magnesium lotions of 2022 below.
Top 11 Best Magnesium Creams For Pain
Give your muscles a much-need break! Use the Life-Flo magnesium lotion to relax those muscles be it after workouts or a tiring day. Sourced from the ancient and underground seabed of Zechstein in the Netherlands, you can also use this magnesium chloride lotion to massage sore points in the body as it travels deep into the joints to alleviate pain. One of the best magnesium creams for pain, the formula also contains coconut oil and shea butter to ensure maximum absorption and keep your skin soft and supple.
Pros
Ideal for daily use
Moisturizes, soothes, and softens skin
Ensures relief from muscle tightness and tiredness
Free from dyes, colors, scents, and parabens
Concentrated formula
Non-comedogenic
Non-greasy
Cons
Some may find the vanilla oil scent slightly overpowering
Price at the time of publication: $12.19
Here's another magnesium cream for muscle pain that claims to relax and strengthen your muscles with its high-potency formula. However, what makes this lotion different from others is that it claims to penetrate the skin and reach the cells quicker than through oral intake. Infused with shea butter, argan seed oil, hemp seed oil, prickly pear seed oil, and transdermal magnesium from the ancient seabed of Zechstein in the Netherlands, the lotion is certified organic and ultra-pure too.
Pros
High-concentration formula
Cruelty-free
Provides relief from muscle and joint aches
Ensures optimal mineral and magnesium absorption
Approved by NPA, EcoCert, and NaTrue Standards
Free from parabens, dyes, scents, formaldehyde, or colors
Cons
Some may find it slightly greasy
Price at the time of publication: $19.95
Do you have sensitive skin? Or a sensitive nose? If yes, the Ancient Minerals Magnesium Lotion is a must-try for you! Besides being safe and non-irritating on your skin, it ensures maximum and quick absorption too. And the main highlight is, this topical magnesium cream not only aids in relieving aches and pains but promotes healthy muscles, joints, skin, nails, hair, tendons, and more. Yep, just what your body needs when running low on magnesium! The formula contains magnesium chloride, OptiMSM, jojoba seed oil, shea butter, coconut oil, and coconut fruit extract to provide optimal relief and keep your skin nourished and hydrated. Watch this YouTuber's honest review to get a better idea about the product and its functions.
Pros
Doctor-recommended
Ideal to use as a daily moisturizer
Improves skin and sleep cycle
Increases keratin and collagen levels
Guarantees advanced muscle recovery
Ensures relief from aches, spasms, cramps, and soreness
Cons
Price at the time of publication: $24.95
If you are looking for the best topical magnesium cream, this could be the one that blows your mind. Not only is it aloe vera-based, its packaging ensures that not a single drop in the bottle goes to waste! Now that's something worth trying! And besides this, the brand claims to have 100% natural ingredients, certified organic oils, and the highest potency on the market. And as for its formula, the blend contains shea butter, transdermal magnesium chloride, argan oil, safflower oil, vegetable glycerin, and more.
Pros
Cruelty-free product
Improves sleep cycle
Hydrates, moisturizes, and soothes
Ideal for sensitive and all skin types
Non-comedogenic, quick-absorbing, and non-greasy
Scent-free, dye-free, paraben-free, and formaldehyde-free
Cons
Some may find the consistency slightly runny
Price at the time of publication: $16.99
Applying this magnesium oil lotion will make you wonder if it's a moisturizer or a spa lotion! Creamy, calming, and filled anti-aging benefits, this lotion is a must-try for all skin types. It contains ionic magnesium, avocado, lemon oil, cocoa butter, lavender oil, royal jelly, shea butter, and more, and is formulated with microtechnology. Besides this, it ensures deep nourishment as it penetrates the skin effortlessly and improves collagen production, circulation, and elasticity. And the best part is, the lotion also acts as a carrier lotion and delivers all the nutrients of organic oils to the cells efficiently.
Pros
Hydrates and moisturizes intensely
Non-toxic formula
Suitable for oily, combination, normal, and dry skin
Free from synthetic colors, fragrances, impurities, and endocrine-hormone disruptors
Cons
Some may find it slightly sticky
No more counting sheep or waiting for the sleep fairy to arrive! Enter dreamland with this magnesium sleep body lotion instantly. Although a magnesium lotion for kids, anyone can enjoy the soothing and calming effect it delivers, all thanks to the chamomile and lavender-infused formula. And while relaxing the mind and muscles, this award-winning body lotion preps the body for sleep as it alleviates muscle aches and tiredness. Try this magnesium chloride lotion if you haven't already!
Pros
Ideal to use for massaging
GMP-certified
Cruelty-free
Free from parabens, palm oil, and preservatives
Free for allergens
Natural muscle relaxant
Cons
Some may not like the smell of the lotion
Price at the time of publication: $13.54
OMG, this one melts and how! Get ready to watch your pain melt away with this body butter packed with all-natural magnesium oil. From boosting immunity and relieving pain and stiffness to softening and nourishing the skin, this magnesium body butter offers benefits of both — a pain reliever and a moisturizer. What does it contain? OptiMSM (which means quick absorption), shea butter, lemongrass oil, vitamin A, sweet almond oil, and vitamin E for intense moisture. Also, if you are looking for a good magnesium oil for eczema, you need not look further than this. Here's a personal review video to help you get a better understanding of the product.
Pros
Improves sleep cycle
Soothes and alleviates pain
Reduces stress, cramps, and tension
Provides relief from cracked and dry skin
Eco-friendly, non-toxic, and cruelty-free
Doctor-recommended and suitable for sensitive skin
Free from parabens, fragrances, and artificial colors
Cons
Price at the time of publication: $25.99
Nothing beats the feeling of waking up from a good night's sleep, but then again, not everyone can fall into a peaceful slumber right away. If you have trouble sleeping, you must-try this good night lotion with magnesium chloride. Claiming to be the cleanest lotion of all, it ensures relaxed sleep, reduces muscle cramps and stiffness, and alleviates headaches and constipation as well. One of the best magnesium lotions for pregnancy, this one is vegan, and its formula contains mango butter, apricot oil, lavender oil, shea butter, and more. Check out this video to better understand the functions of this product.
Pros
Natural remedy
Non-itchy and nourishing
Sulfate-free, paraben-free, and fragrance-free
Suitable for restless legs during pregnancy
Cons
Scent can be overpowering for some
Price at the time of publication: $23.99
With the calming and soothing benefits of magnesium and lavender in one, your body has no choice but to rest and restore with this one!  The nfuse Ultra Nourishing Magnesium lotion with pure magnesium chloride is a gel-lotion blend that glides on the skin like water and absorbs almost instantly! Moreover, cocoa and shea butter heals dry and cracked skin too and ensures maximum magnesium delivery with every use. More like a one-stop solution to make your body relax, rejuvenate, and heal, try it and enjoy some 'me' time with this gem this season.
Pros
Improves sleep cycle
Softens, heals and soothes skin
Reduces stress and boosts energy
Alleviates muscle pains and aches
Non-greasy
Vegan, gluten-free, and cruelty-free
Paraben-free, silicone-free, and sulfate-free
Free from mineral oil, phthalates, artificial fragrances, and more
Cons
Not suitable if you need a fragrance-free lotion
Price at the time of publication: $14.99
If you love organic oils, you should try this magnesium chloride lotion for your skin! Ultra-nourishing and moisturizing, it soothes, heals, and rejuvenates the skin without leaving a greasy or waxy residue. The formula contains umpteen organic oils (coconut, olive, castor, avocado, hemp, grapeseed, and more) for intense moisture and lavender to relax your muscles, mind, and body all at the same time. And besides healing skin, this magnesium skin cream relieves soreness, cramps, spasms, and post-workout aches as well.
Pros
Eases muscles and joints
Ensures deep relaxation and improves sleep cycle
Skin-loving and calming formula
Free from parabens and gluten
Cons
Some may find the formula slightly thick
Price at the time of publication: $38.99
Recharge your bone health with this blend of magnesium and calcium! Given that our bones lose strength and density with age, this body lotion will make up for the deficiency with its power-packed formula. Also, vitamin A and D in calcium will nourish skin, eyes, brain, guts, and heart. Yep, no more pills, only a good massage with this magnesium cream for joint pain can beef up your body and bone health effortlessly.
Pros
Lactose-free formula
Alleviates headaches
Improves energy and mood
Promotes healthy blood pressure
Reduces cramps, pains, and aches
Non-irritating, non-sticky, and absorbs quickly
Free from wax, binders, and harsh fillers
Cons
Some may find the scent slightly medicinal
Price at the time of publication: $19.95
If you are constantly experiencing aching muscles and joints, it might be due to magnesium deficiency! Give a magnesium cream a try and watch your pain disappear! However, you cannot just buy any product off the shelf – you have to make sure it suits your individual needs. Keep the following pointers in mind before purchasing a magnesium cream.
Points To Remember Before Buying A Magnesium Cream
Since the primary purpose of a magnesium cream is to treat muscle pain, it should contain ingredients that do just that – without any other unnecessary additives. Stay clear of products with formaldehyde, dyes, colors, scents, and parabens. Make sure the product doesn't contain endocrine-hormone disruptors.
If you need to use the cream every day, opt for milder formulations that are deemed safe for everyday use. If you have muscle pain during pregnancy, there are options available for expecting moms. However, always get your doctor's approval before trying anything new.
If you are going to replace your regular cream with a magnesium cream, make sure it moisturizes your skin. Those who have oily skin can go for liquid formulations. If you just want to try a magnesium lotion for better sleep, you could get one formulated for kids. It would be less potent but help with your sleep troubles. Magnesium lotion is amazing for athletes and gym enthusiasts too! If you have soreness from working out, invest in a magnesium lotion to alleviate the pain.
Those with mature skin can go for magnesium creams that promise to increase collagen levels. Those who get frequent body acne should only choose non-comedogenic, non-greasy magnesium creams. If you happen to have allergic reactions to most products, opt for a hypoallergenic magnesium cream.
Healthy muscles are now a magnesium massage away! There you go, those were the 11 best magnesium lotions of 2022. Check out some amazing benefits of magnesium creams here:
Magnesium Cream Benefits
If you are still wondering how beneficial is magnesium lotion for the body and skin, then you must read on:
Energizes muscles and boosts mood
Eases muscle spasms, cramps, and aches
Relieves post-workout pains and restless legs
Nourishes skin and increases collagen and keratin
Strengthens and rebuilds bone and muscle health
Ensures deep relaxation and improves sleep cycle
Alleviates headaches, joint pains, and age-related cramps
Reduces tension, stress, and promotes healthy blood pressure levels
Why Trust StyleCraze?
We have curated this list of the best magnesium creams for pain management after conducting extensive research. Muscle cramps are common and painful but can be soothed with magnesium creams. We shortlisted the products based on their merits. We checked and investigating many products and reviews on various forums across the internet. These products have benefits such as pain relief, skin-friendliness, skin care benefits like moisturization, absence from harsh ingredients like dyes or parabens, formula, and more.
Frequently Asked Questions
Do magnesium lotions have side effects?
It depends on your skin type. Generally, magnesium lotions do sting or have a slight burning sensation on the skin. So, before applying it, a patch test is necessary, especially if you have sensitive skin.
Is magnesium good for joint pain?
A magnesium deficiency can affect bone health, so a magnesium cream can help alleviate joint pain.
Is a magnesium lotion good for eczema?
Absolutely! Considering some magnesium lotions are packed with ultra-nourishing organic oils, they are ideal for eczema. The Asutra Magnesium Body Butter Lotion is one of the best magnesium lotions for eczema.
Does magnesium help back pain?
Although it may not show immediate results, studies have shown that magnesium supplementation can reduce pain.
Does magnesium cream help muscle pain?
Yes, applying magnesium cream in the area of pain or cramps will help you recover faster.
How long does it take for magnesium to work for muscles?
Magnesium cream takes less than 24 hours to work for your muscles.
Recommended Articles