The 10 Best Gold Eyeshadows For Every Skin Tone – 2021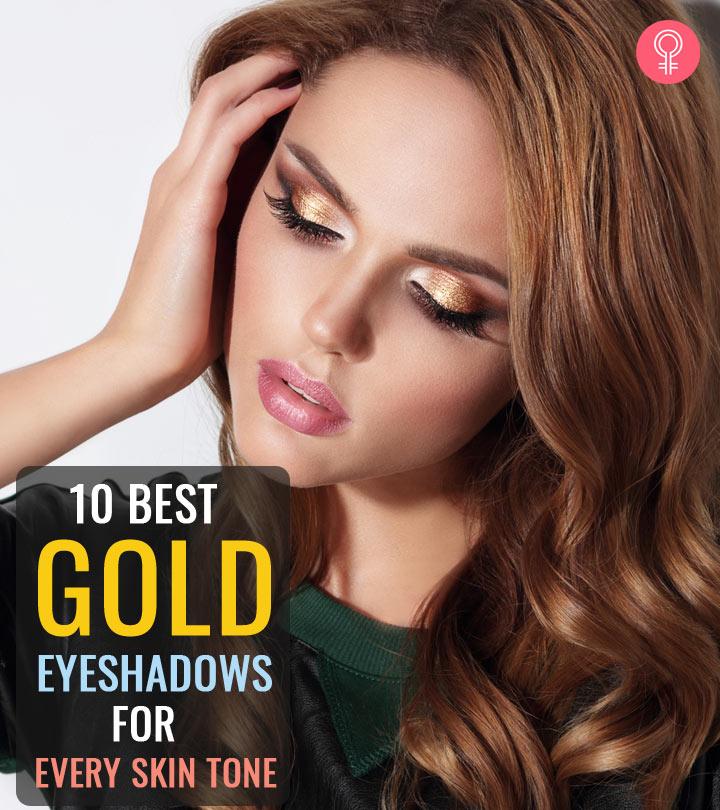 Gold eyeshadow. Not rose gold – none of that subtle stuff – but glittering gold eyeshadow. Ever since Zendaya rocked it as Rue on Euphoria (HBO), we have all been wanting to try it out. Whether it is incompatible skin tone, shades, or the texture of the eyeshadow – something has always put us off buying that perfect shade of gold to sport on a night out. Look no further! We are here to help. We have compiled a list of the 10 best gold eyeshadows that suit every skin tone. Take a peek!
Top 10 Gold Eyeshadows Of 2021
This creamy, saturated, pigmented eyeshadow by Maybelline New York is sported by the likes of Gigi Hadid. It comes in a 0.08 oz container with an applicator brush. It is long-lasting and does not crease or fade up to 14 hours. You can wear this one by itself or mix and match with other shades of the same variant. This eyeshadow is also ophthalmologist-tested and contact lens safe.
Pros
Long-lasting
Can double as a highlighter
Inexpensive
Ophthalmologist-tested
Safe for contact lens wearers
Cons
Not consistent
Difficult to work with
Kitten Karma by Stila is a champagne color liquid eyeshadow with silver and copper sparkle. It is dazzling, durable, and formulated with a mixture of glitter and pearl to make your lids look decadent and luxurious all night! It has a unique lightweight and water-based texture. This eyeshadow glides on smoothly then dries evenly, sealing in maximum sparkle with minimum fallout. For a more low-key look, you could also apply a thin line with the eyeshadow wand at the edge of your eyelids!
Pros
Smooth texture
Long-lasting
Easy application
Multipurpose
Lightweight
Blendable
Cons
Glitter fallout
Not suitable for sensitive skin
Short shelf life
Expensive
"Baked" goods, in terms of makeup, are products that start as creams but are baked for a certain period to dry them into a solid form. This ensures that the resulting powder has a creamy, velvety texture. This eyeshadow from Mall of USA is formulated with this baked technology. It is smooth like cream, glides effortlessly onto your eyelids, and is also easy to blot out.  It has a metallic, silty texture and contains shimmering, lustrous pearls to give an exquisite look, suitable for any occasion. This eyeshadow is long-lasting and does not smudge or crease even in harsh weather.
Pros
Pigmented
Glittery
Suits olive skin tones
Can double as a highlighter
Long-lasting
Lightweight
Cons
Contains parabens
Contains talc
This golden eyeshadow with a pearl shimmer finish suits all skin tones. It is highly pigmented, opaque, and adheres evenly onto the skin without any priming required. It delivers a subtle sheen to the eyes. This eyeshadow by NARS is formulated with pigments suspended in an innovative liquid binding system.  It is dried as a micronized powder before being packed into a compact. This eyeshadow is long-wearing, crease-resistant, lightweight, and easy to blend.
Pros
Suits all skin tones
Even application
Long-wearing
Crease-resistant
Lightweight
Easy to blend
Cons
This is an ultra-pigmented, extreme long-wear eyeshadow from Kat Von D, a Mexican-American tattoo artist, T.V. personality, and entrepreneur.  This is a medium-dark gold metallic shade and is formulated with her proprietary Color-Soaked Concentrate. This is a unique pigment tumbling process that ensures each particle is soft, creamy, and lustrous. It ensures that the color blends out beautifully without losing its intensity. This shadow is paraben-free, cruelty-free, and vegan.
Pros
Highly pigmented
Longwearing
Durable
Creamy
No fallout
Blendable
Paraben-free
Cruelty-free
Vegan
Cons
None
This vibrant, long-lasting shade from bareMinerals can be mixed and matched to create custom looks based on what you are feeling that day. It creates a softer, translucent look when worn dry but is opaque with an incredible sheen when worn wet. This eyeshadow is silky and as light as air. Its all-natural consistency makes it oh-so-easy to apply. It blends seamlessly and stays true to its color all day.
Pros
Lightweight
Blendable
Long-lasting
Pigmented
Buildable
Preservative-free
Cons
Does not suit light-eyed, light-skinned people
Urban Decay's Eyeshadow in the shade Half Baked is a golden bronze powder eyeshadow with a rich, velvety finish.  It is super pigmented, with uniform blendability for crease-free, long-lasting wear. It is formulated with Urban Decay's Pigment Infusion System. This system helps the color hold tightly to pigment so that the eyeshadow glides on seamlessly. It features a proprietary blend of ingredients that allows the color to fuse with the formula, giving high-impact color that stays on your lids. This eyeshadow is free of parabens, sulfates, and phthalate.
Pros
Suits all skin tones
Paraben-free
Phthalate-free
Sulfate-free
Cruelty-free
Blends well
Long shelf Life
Highly pigmented
Long-lasting
Cons
This highly pigmented powder eyeshadow from M.A.C is multi-use and can be applied either wet or dry. It is a warm-toned color with a frost finish. It applies evenly, is blendable, and not at all fussy to work with.
Pros
Easy to apply
Crease-resistant
Long-lasting
Pigmented
Can be used wet or dry
Cons
Might not suit all skin tones
The SupergoopEyeshadow in Golden Hour is a subtle,neutral golden color with a built-in UV shield. Itcontains mineral and clean chemical actives that keep the eyes protected. It glides effortlessly and blends without creasing, flaking, or fading. This eyeshadow is made with skin-loving ingredients like roman chamomile, rose, jasmine, and sunflower.
Pros
Contains SPF 30
Easy to use
Cruelty-free
Reef-safe
Does not crease, flake, or fade
Cons
None
ThePure GoldBabyby Almay is a versatile golden shade that comes in four finishes –  matte, metallic, shimmer, and satin. It helps create a single, monochromatic look, or can be combined to achieve a unique look. This eyeshadow offers a velvety, smooth finish and the elegant golden color stays for hours.
Pros
Hypoallergenic
Ophthalmologist-tested
Dermatologist-tested
Cruelty-free
Fragrance-free
Suitable for daily wear
Cons
Recommended Articles