The 11 Best Black Eyeshadows For Smokey Eyes – 2021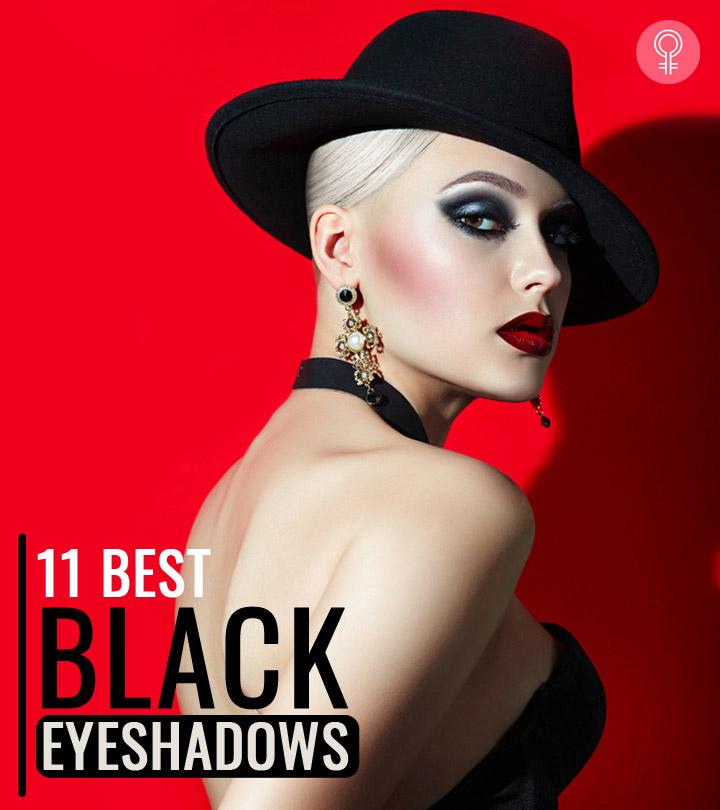 Black is a timeless color. It is chic. It is sultry. A black eyeshadow is the easiest way to intensify any look and add mystery. From smudgy smokey eyes to a dramatic cut crease – there is nothing you can't do with a black eyeshadow. If you want to experiment  with your makeup, we have compiled a list of the 11 best black eyeshadows you can add to your collection. Check them out!
Top 11 Black Eyeshadows In 2021
The Maybelline Eyestudio Color Tattoo in Dramatic Black has a creamy-gel formula with a matte finish.  It is formulated with Maybelline's Ink Technology and lasts up to 24 hours. This eyeshadow has a tattoo-like tenacity. The creamy formula is intensely pigmented and glides onto your lids without creasing. This eyeshadow is suitable for sensitive eyes and contact lens wearers.
Pros
Ophthalmologist-tested
Dermatologist-tested
Allergy-tested
Ultra long-lasting
Hyperpigmented
Suitable for sensitive eyes
Affordable
Cons
The Infallible 24HR shadow by L'Oreal has a velvety formula – a bit powdery, a bit creamy. This unique texture ensures that the eyeshadow glides smoothly. It lasts up to 24 hours and is waterproof, crease-proof, and fade-resistant. It has an intense color and a shimmery finish, giving you opacity and opulence, all at once.
Pros
Waterproof
Crease-proof
Fade-resistant
Long-lasting
Suitable for sensitive eyes
Cons
Transfers easily
Difficult to get glitter off
This single black eyeshadow palette by IS'MINE is excellent for parties, work, or just an everyday look. It is easy to wear, highly pigmented, and long-lasting. This eyeshadow has a natural, waterproof formula and a matte and shimmery finish.
Pros
Highly pigmented
Blends easily
Affordable
Long-lasting
Waterproof
Cons
Not easy to take off
Contains talc
Contains mineral oil
This buildable eyeshadow from Covergirl comes with a double-sided applicator. It is highly blendable, and you can create any look you desire. This crease-proof eyeshadow has a silky-sheer formula and a shimmery finish.
Pros
Buildable
Blendable
Includes spplicator
Cruelty-free
Cons
The ProBeautyCo Matte Eyeshadow has a velvety texture that glides flawlessly on your eyelids. It has a soft matte finish and is highly pigmented. It comes in a pressed powder form and is long-lasting. This eyeshadow is suitable for sensitive eyes because it is hypoallergenic, mineral oil-free, and paraben-free. It also contains vitamin C and E, which are great for conditioning and protecting your eyes. Use it with an eyeshadow primer for best results.
Pros
Highly pigmented
Long-lasting
Hypoallergenic
Mineral oil-free
Paraben-free
Easy to remove
Cons
This black eyeshadow from SHANY Cosmetics is fortified with super-saturated color pigments that create a satin-matte finish. This eyeshadow is also not tested on animals and is long-lasting and easy to blend. It gives the best results when used with an eyeshadow base or primer.
Pros
Paraben-free
Talc-free
Hypoallergenic
Highly pigmented
Long-lasting
Cruelty-free (PETA certified)
Cons
The shade "Jet Matte" from Anastasia Beverly Hills is a cult-favorite, professional-grade, high definition, and ultra-pigmented eyeshadow. Its creamy consistency allows for precision application and full coverage. This eyeshadow blends easily and dries down to a matte finish. It is ideal for any look, be it full smokey eyes or a simple eyeliner. It is crease-resistant, waterproof, and long-lasting.
Pros
Glides on easily
Pigmented
Easy to apply
Matte finish
Waterproof
Crease-resistant
Long-lasting
Cons
Low shelf life
Transfers easily when wet
The Alima Pure Satin Eyeshadow is a loose mineral black eyeshadow with a matte finish. It is highly pigmented and versatile. This eyeshadow has a creamy matte finish and can double as an eyebrow filler. It can be applied dry or wet, depending on the intensity of color required. It is vegan and cruelty-free.
Pros
Matte finish
Highly pigmented
Vegan
Cruelty-free
Allergen-free
Paraben-free
Sulfate-free
Talc-free
Silicone-free
Synthetic dye-free
Nut-free
Easy to apply
Cons
None
This black eyeshadow by Pure Ziva is tested by dermatologists and ophthalmologists and allergen-free. It is appropriate for contact lens wearers. Apply the eyeshadow with a wet brush to activate it. Using a damp brush intensifies and makes it stay for long without budging. This vegan black eyeshadow is free of talc and parabens.
Pros
Dermatologist-tested
Ophthalmologist-tested
Allergen-free
Cruelty-free
Vegan
Talc-free
Cons
Lighter color than it appears
"Baked" goods are creams that are baked into a smooth and powdery solid form. This baked eyeshadow from Palladio Cosmetics has been baked on an Italian terra cotta disk to ensure ultra rich, luscious color. It glides smoothly and evenly and has a highly pigmented and easy to blend formula. This eyeshadow can be used both dry and wet.
Pros
Pigmented
Easy to apply
Easy to blend
Can be used dry or wet
Cons
Fallout
Has a grayish tone
This pressed eyeshadow from Stargazer is highly pigmented and long-wearing. It is easy to blend and buildable. This eyeshadow is crease-resistant. You can sweep it once for a sheer look or layer it for a more saturated look.
Pros
Pigmented
Long-wearing
Crease-resistant
Cons
These are the top 11 black eyeshadows you can buy. Black eyeshadow can seem intimidating and challenging to work with. Don't worry, here are some tips on how to style black eyeshadow perfectly!
How To Wear Your Black Eyeshadow Perfectly
Always prep the skin with primer and eyeshadow before actually starting your eye makeup. This ensures the eyeshadow has a base to stick on to. It also ensures uniformity in skin tone, so the eyeshadow pops out!
Use eyeshadow tape to add a wing to your smokey eye. Put the tape at the angle of the desired wing and blending the black eyeshadow outwards. Remove the tape.
For a sparkly-smokey eye, you can use either shimmery black eyeshadow or apply a layer of lip gloss over your regular eyeshadow.
Always have a Q-tip handy to clean up any fallout or adjust any mistakes.
Combine black eyeshadow with browns, burgundies, and bronze for a less dramatic look.
Apply black eyeshadow as your crease color and keep your lids nude to create the illusion of big eyes.
Combine black eyeshadow with a warm-toned color like orange to have your own Hunger Games: Catching Fire
Pair your black eyeshadow with blue tones. Create a gradient with black on your lids, moving towards a more Prussian or cobalt blue on your crease for a bold look.
Black eyeshadow may seem too bold or too complicated to master, but all you need is a bit of practice and the right eyeshadow. Go ahead, pick from one of these pigmented, long-lasting shadows and try it today!
Frequently Asked Questions
How do you make black eyeshadow look good?
Black eyeshadow can be worn in many ways. You can try smokey eyes, smokey wings, opaque matte cat eye, sparkly smokey eye, cut crease, and many more looks with a black eyeshadow.
Which eye color does black eyeshadow suit the best?
Anyone can wear black eyeshadow, but it suits darker eyes best.
Can you use black eyeshadow as eyeliner?
Yes, you can use the creamy black eyeshadows as liners.
Recommended Articles
The following two tabs change content below.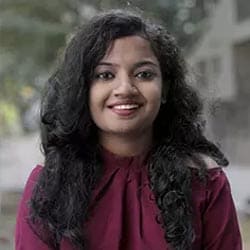 Shalini Roy has a Master's degree in English literature. She is an ambivert whose expressions have found their way in writing. She channels her passion for all things fashion and makeup to write engaging content related to Beauty and Lifestyle. She first found her penchant for writing through poetry and serving on various editorial boards of Model United Nations conferences. Shalini is a lover of spoken word poetry, books, and movies.