13 Best Back Machines Of 2023 That Are Sturdy & Well-Made
Sculpt a strong, ripped back with these best back machines for various exercises.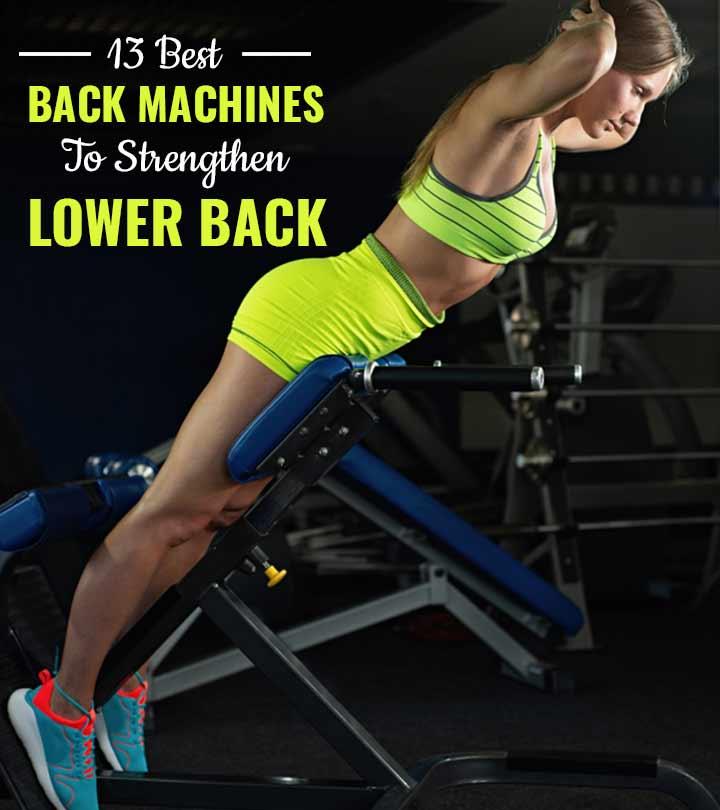 Sculpting a strong, chiseled back requires a lot of hard work. But if you use the best back machine for exercises, things might feel a tad easier. Also called a back extension machine or Roman chair, it's designed to assist you with isolation exercises that target your abs, hip muscles, and lower back. The device facilitates bending at the waist as well as the hips to burn fat from your lower torso, making you slimmer. Whether you're working for the coveted V-shape in men or hourglass figure in women, a back machine will be critical in your fitness journey.
However, it's essential to choose one that's sturdy and well-made. To help you out, here are 13 recommendations for the best back machines of 2023. Scroll down!
Note: Avoid using a back machine if you have mild lower back pain or lumbar spine pain. Avoid using it at all costs if you have a lower back injury or a slipped disc.
The 13 Best Back Machines Of 2023
The Teeter Dex II Decompression And Extension Machine is a versatile, forward-rotating, hip-supported inversion device. It helps strengthen the lower back, improves full-body muscle tone, and can be used to get relief from back pain.
It is made of plastic and steel and provides the stability you need to workout safely. You can exercise in various positions to target your lower back and strengthen you back without over-extending your back and hamstrings. This back extension equipment reduces the risk of a lower back injury. It is designed to add comfort to your workout.
The large padded vinyl lap cushion is adjustable height-wise and offers stability and support. The ergonomic rollers with adjustable depth ensure secure leg hold while you are in an inverted position.The handles are designed to support varied exercises and are rubber-coated to prevent slipping.
You can easily perform modified push-ups and inverted dips. The best part is, this brand is FDA-registered, gives a 5-year warranty, supports a maximum weight of 300 lbs, and is adjustable for users between 4'8″ – 6'6″ tall.
Pros
Stable and sturdy
Suitable for core, upper body, and lower back workouts.
Helps stretch the back and reduce pain.
Does not overextend the lower back.
Reduces the risk of lower back injury.
Supports many different workouts.
Strengthens lower back.
Ergonomic, adjustable leg rollers
Adjustable padded vinyl lap cushion
FDA-registered brand
Rubber-coated handles provide good grip.
Secure leg hold
Provides full-body workout support
Supports a maximum of 300 lbs weight.
Adjustable for users with 4'8″ – 6'6″ of height.
Cons
Difficult to get in and out of the machine.
Could be uncomfortable on the upper thighs.
Takes a lot of floor space.
May cause lower back pain for people who are shorter.
Price at the time of publication: $449.0
The Nubax Therapeutic Back Stretch Machine relieves strain on the spine by providing soft yet powerful spinal traction. According to clinical testing, this easy-to-use setup can help alleviate and lessen back pain in only three minutes. The compactness and portability of the product allows you to transfer and store it anywhere you like, whether that be your house, office, or another location. The shoulder pads and waist belt fit your specific body measurements, allowing you to stretch comfortably and effectively. As a result, it helps improve your posture, flexibility, and mobility, and gives you an enviably shapely figure!
Pros
Customizable
Compact
Portable
Easy to use
Gentle traction
Cons
None

Price at the time of publication: $299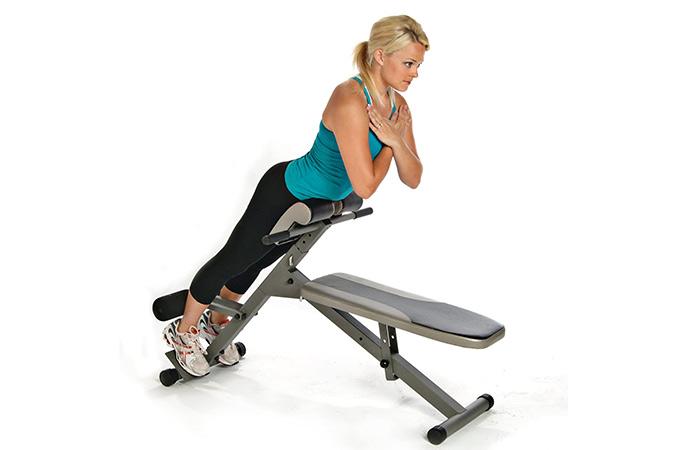 The Stamina Pro Ab/Hyper Bench is a multipurpose equipment. It comes with a bench along with a back extensor. Hence, you can do crunches, oblique crunches, and grab two dumbbells or free weights to comfortably sit or lie down to do shoulder press, chest press, overhead presses or bench push-ups, hip thrusts, tricep dips, cable rows, bent-over rows, seated rows, reverse fly, and split squats.
The heavy-duty 2″ steel frame construction and thickly padded bench with a durable stitched vinyl upholstery provide support and stability when you do intense workouts. The foam-lined rollers lock the legs and support the calves as you crunch forward or to the side. The thigh support ensures your safety and increases stability and balance. The best part is, the footrest is also adjustable, thereby supporting a range of heights.
The bench that comes with this equipment can be adjusted to four positions and helps maintain a stable spine position. Its compact, foldable design makes it easy to store and fits in a small space as well.
Pros
Stable and sturdy
Multipurpose equipment
Heavy-duty 2″ steel frame construction
Thickly padded bench with durable stitched vinyl upholstery.
Can perform total body exercises.
High-density foam pads support and withstand intense workouts.
Foot adjustments
Foam rollers support and lock legs for stability.
Bench is adjustable to 4 positions.
The height of the footrest is adjustable.
Foldable and easy to store.
Cons
May not support heavier weights.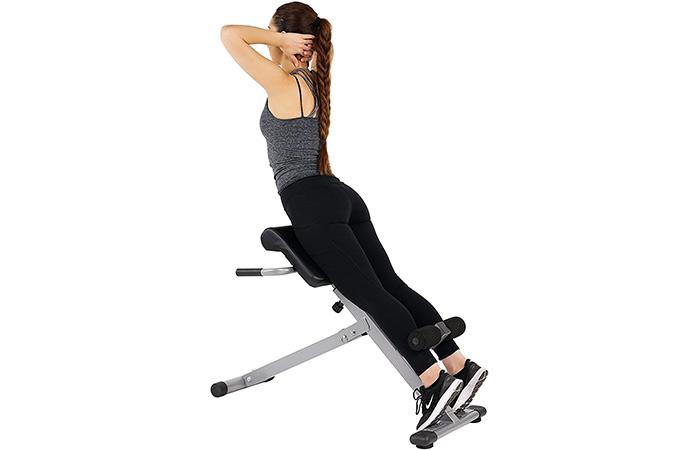 The Sunny Health & Fitness Hyperextension Roman Chair is a 45-degree back extension workout equipment. It targets the lower back and glutes.
At 39" x 24" x 33",  the design is sleek, but the steel frame makes it stable and sturdy. You can increase core strength without hyperextending your back and risking lower back injury. The high-density foam rollers lock the leg and provide calf support while you workout. This machine has stabilizers to increase the stability of the equipment as you workout.
The floor levelers help you perform back exercises without the equipment wobbling on an uneven floor. The thigh support pad is height adjustable (you can adjust it according to your height). This back extension machine is foldable, and you can store it easily in a corner. It supports a maximum weight of 250 lbs.
Pros
Targets lower back, core, and hips
Steel frame – sturdy and stable
Sleek design
Stabilizers and floor levelers make it wobble-proof.
Adjustable thigh support
Foam calf support
Does not hyperextend the lower back.
Foldable and easy to store.
Supports up to 250 lbs weight.
Cons
Limited number of exercises can be performed.
Does not support shorter heights.
Assembling can be difficult.
Heavy to carry for women.
Price at the time of publication: $74.99
If you are looking to build your home gym inside your garage or apartment, then the FLYBIRD Adjustable Weight Bench can be your ideal workout bench of choice. Touted as a traditional home gym bench that has been built using high-quality materials, you can use it to perform workouts such as line dumbbell fly, dumbbell press, sit-ups, etc. The bench requires no assembly, which means it arrives at your doorstep ready for use. All you have to do is unfold the bench and position the knob and its two pins. You can also easily move it around after your home space. Additionally, it includes a special barb-style back support rod that is simple to adjust and guarantees complete security. The adjustment may be performed between 90 and 210 degrees. Aside from that, the bench can withstand more than 600 pounds, thanks to its solid design and welding. The bench is 18.4 inches tall, which allows you to conduct bench workouts to improve your body's stability. This machine also features a large cushion, great padding, and is lined with sturdy leather.
Pros
Comfortable cushioning
Sturdy
Highly adjustable
Comfortable height for all users
Secure fit
No installation required
Easy to adjust
Durable
Cons
None
Price at the time of publication: $99.99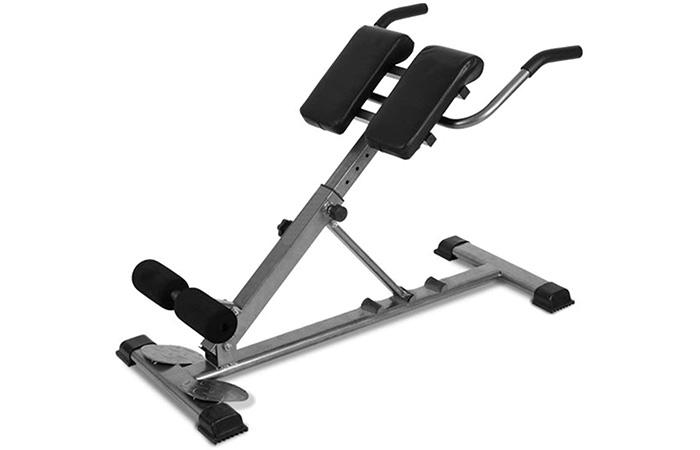 A good back extension machine should have a multiple adjustment setting. The ComMax Romain chair is one such adjustable back machine. It has 3 incline settings – 30-40-50 degrees.
The main back steel rod can also be adjusted in seven settings according to your height. The 1.6" support pads with handlebars provide support and comfort while you perform exercises. The leg foams hold your body stable while you perform crunches.The back machine is designed to ensure a full range of motion while your body is in an incline position. It is a great piece of workout equipment that targets various muscle groups. It strengthens and tones the abs, glutes, lower back, and hamstrings. It is foldable and can be easily stored in a small space. It supports up to 300 lbs of weight.
Pros
3 incline settings
7 adjustable height settings
Stable and sturdy
6" thigh pad provides cushion and support.
Allows full range of motion.
Works on the abs, glutes, thighs, and lower back.
Foldable and can be easily stored.
Supports a maximum weight of 300 lbs.
Cons
Does not support heavier weights.
Not suitable for tall people.
Price at the time of publication: $122.98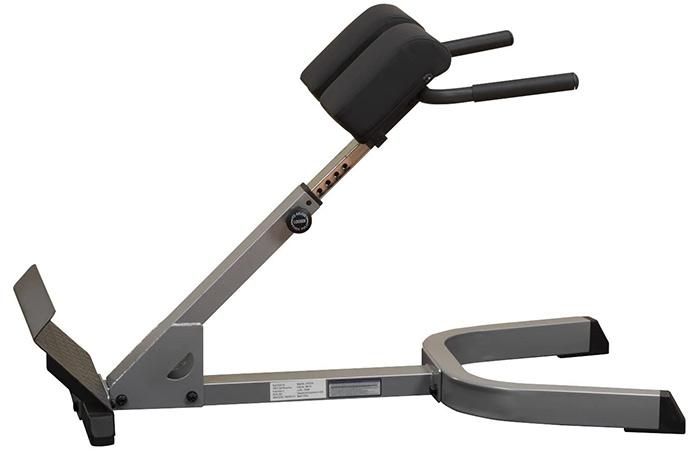 The Body-Solid Back Hyper Extension is perfect for home gym and commercial use. Its 2″x 3″ heavy-gauge steel body and extra-thick 3-inch durafirm thigh support pad make this back extensor uniquely stable and sturdy.
You can perform crunches, stretches, and oblique crunches to tone and strengthen your core, lower back, and glutes. It also improves your flexibility and circulation and may relieve lower back pain.


Pros

2″x 3″ heavy-gauge steel body
Stable and sturdy
Improves your flexibility and circulation.
Strengthens and tones the abs, lower back, and glutes.
Can be used at home or in a commercial gym.
Can be used to rehab lower back pain.
Cons
No supporting calf foam rolls.
May not be totally comfortable for all kinds of exercises.
May hyperextend the lower back.
Not for people over 5'10".
Assembly may take time.
Does not offer value for money.
Price at the time of publication: $494.0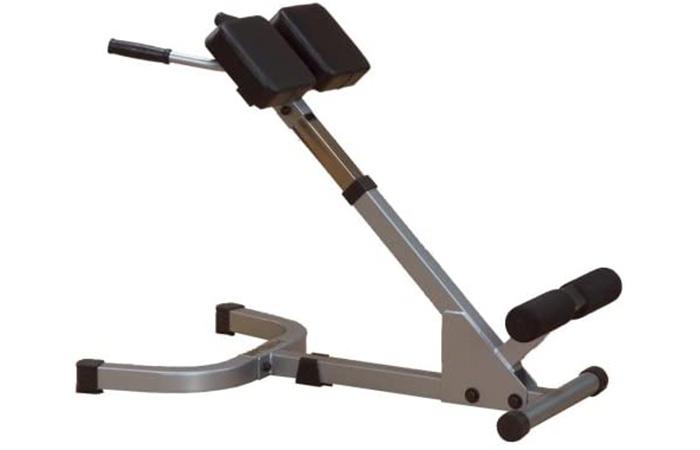 The Body-Solid Powerline Hyperextension Bench is a combination of inverted back extension and oblique flexor set at an exact 45-degree angle. The inverted 45-degree angle helps release tension in your back and body. You can safely and comfortably strengthen and tone your abs, lower back, and glutes.
The 4" double-stitched, telescoping midsection pads are adjustable for users of all sizes. The bench has an oversized 8" foam roller to hold your legs firmly and give you the needed support to work on your core.
Pros
Combination of inverted back extension and oblique flexor set at an exact 45-degree angle.
Helps strengthen, tone, and improve flexibility.
Improves blood circulation
Releases fatigue
Works on abs, lower back, and glutes
4" mid-section adjustable pads provide cushion and comfort.
Can withstand an intense workout.
8" foam rollers lock the legs and prevent falls.
Cons
Price at the time of publication: $323.0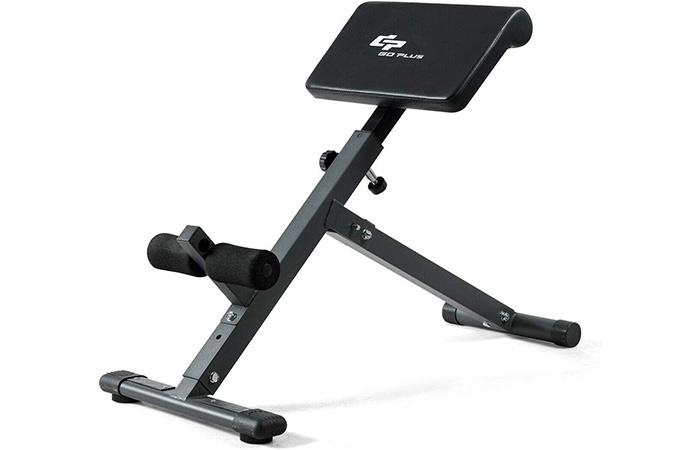 The Goplus Adjustable Roman Chair is made of heavy-duty steel and thickened steel pipe. It is sturdy and gives optimal support for sit-ups, lateral flexion, and push-ups. It targets the muscles of the lower back, abs, thighs, and glutes.
It has five adjustable points (from 28.7" – 23.5") for increasing or decreasing height. The 1.5" wide thigh support pad provides support to your body, and the foam rollers prevent your legs from slipping. Each foot is encased with rubber caps that allow you to workout with more stability along with protecting the floor. This machine has a maximum weight-bearing capacity of 330 lbs.
Pros
Sturdy frame
Good for lower back exercises
Good for toning and strengthening the abs, lower back, thighs, and glutes.
5 point adjustable height
5" wide thigh support pad
Foam rollers for leg support and body stabilization.
Rubber non-skid floor supports
Maximum weight bearing capacity is 330 lbs.
Cons
May not withstand heavier weights.
Assembly can take time.
Price at the time of publication: $79.99
The Marcy Adjustable Hyperextension Roman Chair is made of a durable metal frame that can bear up to 300 pounds. It has a thick padded back that allows you to achieve wide positions and strengthen the muscles. You can use this equipment for abdominal muscle and lower back exercises. Padded assist handles provide a good grip to hold.
You can adjust the ankle pads to different heights to suit your comfort. This hyperextension bench also helps posture correction by strengthening the core and back muscles. Moreover, it offers a wide range of motion and is pretty easy to assemble. Additionally, the tube framing with a powder-coated finish makes it a sturdy and durable product. Go through this video for a detailed demo of the Marcy Adjustable Hyperextension Roman Chair.
Pros
Anti-slip foot cover
Durable frame
Adjustable height
Strengthens the core and erases back pain
Suitable for upper back exercises
Helps to build six-pack abs
Sleek and ergonomic design
Compact frame makes it a space-saving equipment
Supports maximum weight up to 300 lbs
Well-padded for comfort and stability during workouts
Cons
None

Price at the time of publication: $113.56
Menciro Roman Chair is ergonomically designed in a triangular structure of premium quality steel. It comes with a height adjustment feature to suit multiple exercises within the range of 23.5 inches -28.7 inches. The equipment can bear weight up to 330 pounds. Additionally it has a 1.5-inch wide pad to protect your back and add comfort during exercising.
You can use this sit-up bench for push-ups and other back exercises. The different workout exercises increase your range of motion, back strength and stability, and flexibility while improving your circulation for overall health benefits. The legs of this machine come with a plastic foot cover to provide stability.
Pros
5-level height adjustable feature
Versatile workouts
Sturdy construction and durable
Improves full range of motion
Soft and durable foam
Compact size
Improves range of motion and flexibility
Strengthens core and lower back
Supports weight up to 330 lbs
Comes with a installation tutorial
Cons
Price at the time of publication: $69.99
The Synergee Roman exercise chair offers safe workouts and encourages gymnastic movements and solid lifts. This equipment is constructed using 15 gauge alloy steel with a visually appealing red powder coating. It can bear a weight of 250 pounds. In addition, the machine is provided with padded rollers and rubber feet for additional comfort.
You can also adjust the height of the chair between 29.5''- 34.5''. It comes with an angled design that takes less space and allows easy storage. In addition, it offers quick and hassle-free customer service with free replacements in case of any valid issues with your machine.
Pros
7-level height adjustment feature
Easy to store
Suitable as a home gym equipment
Sturdy steel frame
Comfortable padding
Minimal assembly time
Downloadable assembly guide
Offers great tricep dips
Strengthens core and lower back muscles
Cons
None
Price at the time of publication: $119.95
Vanswe Adjustable Multifunctional Bench is made with a high-density foam cushion, high-grade steel with a scratch-resistant powder-coated finish, and an adjustable leg hold-down bar. The thick roller pads offer the user stability and comfort. It comes with one flat bench and three decline bench adjustments. You can use this bench for multiple workouts to strengthen your core, abs, and muscle. This bench is suitable for dumbbell curls, shoulder presses, bench presses, dips, and more.
The equipment comes with transportation wheels that allow you to move it smoothly for easy storage. In addition, it has a 2'' thick cushion for the midsection and 2.6'' thick pad for maximum comfort to the back. The 4'' roller pads also provide added comfort and have 2 levels of adjustment. Additionally, it is quite easy to assemble and maneuver.
Pros
Strong and stable construction
Ergonomic design
Smooth and quiet operation
Adjustable
Supports weight up to 650 lbs
User height range is 5''-6'4''
1 flat and 3 decline bench adjustments
10 thigh support adjustments
Cons
Price at the time of publication: $159.99
These are the 13 best back machines of 2021 you may consider buying. Here are the other types of back machines.
Types Of Back Machines

Roman Chairs – Roman chairs are best for hyperextension exercises. These are basically back machines that help strengthen and tone the lower back, abs, obliques, and also target the hamstrings and glutes.
Traction Beds – These are best suitable for decompression therapy and rehabilitation. They help accelerate the recovery process, relieve pain, improve circulation, and increase mobility. Traction beds come with waistbands and ankle locks to ensure double safety.
If you are still not sure which back machine to buy, the following checklist could help.
What To Look For In A Back Machine – Buying Guide 
Construction – Check if the back machine is constructed well and made of durable material, especially if you want to use it regularly or are tall and/or strong. Heavy gauge steel with a broad frame is best. Check if the back machine is foldable, has an adjustable height, and has a user-friendly interface.
Stability – The last thing you want is to fall on your face and injure yourself. Hence, assess the stability of the machine in the first few uses. Check if it has enough padding, rubber encased feet, broad frame, and a lower center of gravity.
Range Of Motion – If you want to invest in a back machine, it better be versatile. See if it allows you to target various muscle groups. A back machine with an adjustable bench and multiple points for adjustable height is best. It should allow you to perform at least three types of exercises to improve strength, flexibility, circulation, and reduce fatigue.
Caution!
While back machines are great for spinal support they are notorious for causing lower back issues. If you do not have a spotter or a personal trainer to guide you, you will end up hyperextending your lower back and may face irrevocable injury. You must maintain proper form while using this back extension machine. Avoid using it if you are a beginner or have a lower back issue. Do not use this machine without proper guidance from a licensed trainer.
Why Trust StyleCraze?
Aditi Naskar, the author of this article, has a diploma in health and wellness and is a fitness enthusiast. She recommends back machines for a chiseled and strong back. She conducted thorough research and shortlisted the products mentioned in the list after reviewing a host of reliable user feedback on various online forums for her readers. These machines give you a perfect balance of sturdiness, comfort, and effectiveness.
Frequently Asked Questions
Is back muscle hard to build?
Yes. Overall strength and v-shaped muscle is a key to muscular development. But building a powerful v-shaped back is not easy because back musculature is complex and hard to build.
What gym equipment helps the lower back?
The elliptical exercise equipment is the first choice for the lower back. The machines feature separate foot platforms to smoothly move back and forth and glide easily. Therefore, they are ideal for people with chronic low back pain.
What machine targets the lower back?
A back extension machine like a Roman chair targets lower-back muscles, primarily the erector's spine. It supports your lower body while performing the action, like reclining face-down, and facilitates flexing at the waist targeting lower back muscles.
What machine works back fat?
Elliptical machines, featuring upright handlebars that move to and fro, effectively reduce back fat, burn extra calories, and tone the body in one workout.
How often should you work out your back muscles?
Unlike other muscles in your body, you can perform back exercises only two consecutive days a week. If you are lifting heavy weights, perform only six to eight repetitions. You require three to four days of rest before performing the exercise again.
Recommended Articles