15 Best 2-in-1 Hair Straighteners and Curlers of 2021 for Luscious Locks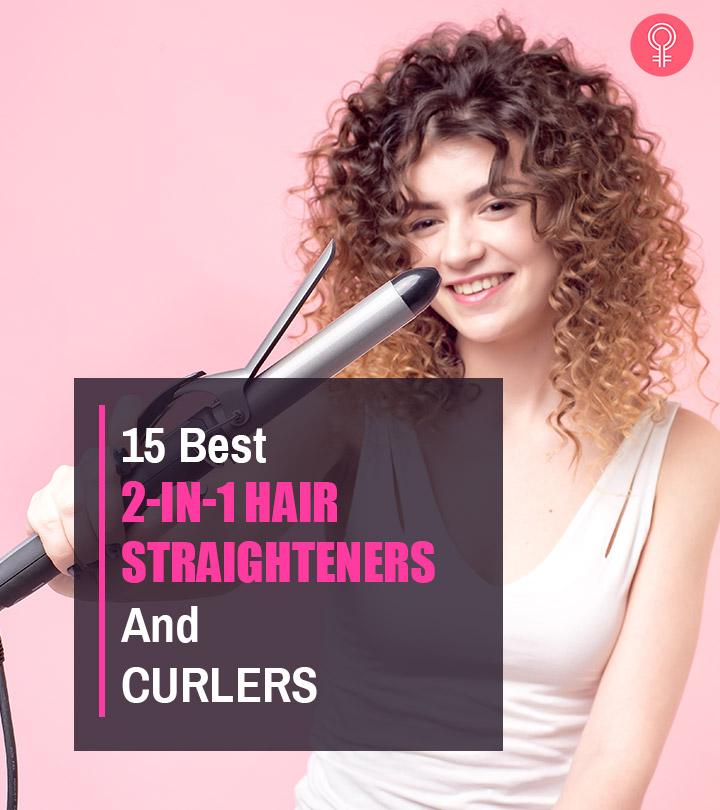 Gone are the days when we used separate curling and hair straightening tools. It's time to switch to a 2-in-1 curling iron that offers you the best of both worlds. A 2-in-1 hair straightener and curler is extremely convenient and space-saving. Whether you need beach waves or want to smoothen your frizzy hair, nothing can beat the convenience offered by these devices. Moreover, it is wise to invest in one styling unit with dual function than to buy two separate tools. If we got you interested, scroll down to find the best 2-in-1 hair straighteners and curlers you may buy.
The Top 15 2-in-1 Hair Straighteners and Curlers
This is a second-generation authentic TYME Iron. You can use it to curl, wave, and straighten your hair without damaging it. This curling iron works on five easy-to-adjust temperature settings – 300°, 325°, 350°, 375°, and 400°F. The best thing about this hair curler and straightener is that it has a temperature memory. This means you do not need to set the temperature every day. The iron will use your last setting when you turn it on the next time. This is a dual voltage appliance and accepts both 110-120V and 220-240V.
Specifications
Temperature: 300-400°F
Key Feature: Swivel cord
Pros
Includes free heat sleeve
Automatic shutoff after 30 minutes of non-use
Free one-on-one session with a virtual stylist
1-year warranty
30-day money-back guarantee
Heats up in 55 seconds
Professional titanium plates
Cons
May not give results on fine hair
A bit complicated to use for first-timers
Similar products:
This flat iron is suitable for all hair types. It has a rotating adjustable temperature and 20 heat settings. The Furiden hair straightener distributes heat evenly, so it curls or straightens the bunch of hair in one go. It reaches maximum heat in less than 15 seconds. It has floating plates that can work wonders on all hair types without causing split ends or breakage. This flat iron doesn't damage your hair and helps retain the moisture and keeps it protected in the long run.
Specifications
Temperature: 5-450°F
Key Feature: 3D floating plates
Pros
Great temperature control (easy to use knob)
Heats up in just 15 seconds
Mirror titanium plates
Auto-shutoff
Locking option
Long cord (swivel cord)
Compact and lightweight
Comes with a complimentary hairbrush
Cons
Rolls easily (due to its shape)
Plates could have been a bit longer
Similar products:
This is a mini flat iron that also combines a curling iron. You can switch between the two with just one button. It claims to give you super-sleek, straight hair, polished curls, or cascading waves without damaging your hair. The titanium barrel and PTC fast heating ensure that the curling iron heats up quickly and evenly. This saves time and energy and also protects your hair from heat damage. It comes with a carry bag that makes it easy to store and carry along.
Specifications
Temperature: 365-420°F
Key Feature: 360° tangle-free swivel cord
Pros
Fast heating
Used for keratin treatment
Dual voltage (100-240 AC)
Travel-friendly
Lock button
Carry bag included
Anti-scald tip
Snug curl clip
Ceramic tourmaline plate
Slim and compact
Cons
Flat iron performance is not up to the mark
No temperature control
Similar products:
One of the best features of the Horatii Hair Straightener is its real-time temperature adjustment. This product has an LED display on the body to check the temperature and three buttons for temperature control. The 3D floating plates design helps adjust the strength and prevents snagging your hair. It also comes with a negative ion generator. These ions repair hair that is prone to split ends. The package also includes a heat-resistant glove, a salon comb, two salon hair clips, and a flat iron bag.
Specifications
Temperature: Up to 450°F
Key Feature: Negative ion generator
Pros
Doesn't snag the hair
Quick results
No burnt smell
Temperature display for easy monitoring
Tourmaline, ceramic coated titanium iron
Standby mode
Anti-scalding design
Closed lock switch
Temperature control buttons
Comes with protective gloves
Cons
Not suitable for fine hair
The placement of the temperature buttons is awkward (may change accidentally)
Similar products:
This 2 in 1 styling tool by Conair is suitable for all types of hair. You can curl, wave, and straighten your hair easily with it. This curling and straightening iron has five LED heat settings, giving you the flexibility to adjust the heat without damaging the hair. It has a powerful ion generator that makes the hair frizz-free and shiny. It conditions the hair and smoothens the cuticles. This helps reduce static electricity, frizz, and flyaways.
Specifications
Temperature: Up to 400°F (plates), up to 265°F (outer barrel)
Key Feature: Removable silicone cool tips
Pros
Warp-resistant stainless housing (for proper plate alignment)
Auto-off function
2 removable silicone cool tips for safe storage
30 seconds heat up
Uniform heating
6-foot long professional swivel cord
Cons
Plates are all the way around the iron (risk of accidental burns)
Not that great for straightening
Similar products:
This is a ceramic tourmaline hair straightener and curler. You can switch between the straightening and curling options with a single button. It has adjustable temperature control and displays it for your convenience. It is suitable for all types of hair. This hair straightener-curler supports 120V-240V and can automatically adjust to the proper voltage. All you need to do is plug it in a compatible adapter.
Specifications
Temperature: 275°F-425°F
Key Feature: International voltage
Pros
Anti-scald cool tip
Rubber handle
360°tangle-free swivel cord
Auto-shutoff
Temperature control
Cons
The temperature buttons might get pressed while using the unit
This hair straightener and curler works fast and styles your hair easily in minutes. It has 3D plates that are slightly curved outwards. This shape helps reduce the chances of accidental burns and balances the heat evenly across the entire surface. The titanium plates with tourmaline ceramic coating heat up fast and release negative ions to minimize frizz and hair damage.
Specifications
Temperature: 285°F – 428°F
Key Feature: 3D Concave & Convex plate heating surface
Pros
Dual voltage
360° swivel salon-grade cord (2.5 m)
Lifelong customer service
Adjustable temperature settings
Anti-scalding design
L-shaped design for smooth function
Cons
Needs re-heating after every layer of hair
Usage instructions are not clear
This hair straightener and curler gives you tight curls, loose beachy waves, or a sleek hairdo. It has a unique twisted shape with 3D concave-convex plates and micro guide combs that don't snag your hair. The heat is evenly distributed throughout the plates, and the comb keeps the hair smooth.
Specifications
Temperature: 210°F – 450°F
Key Feature: Micro guide combs
Pros
Micro-guide comb
LCD temperature display
Rotary temperature regulation
Travel-lock
30 seconds ultra-fast heating
Cons
May not straighten thick hair
Not user-friendly
This hair styling device has integrative rose gold-plated ceramic plates. The plates are specially designed with an advanced PTC heater that provides optimum heat in a short time. You can easily switch between straightening and curling iron with the push of a button. The mini flat iron is extremely travel-friendly and can adjust to local voltage automatically. It comes with a pro heat resistant pouch in which you can store the curling iron even while it is hot.
Specifications
Temperature: Up to 450°F
Key Feature: Universal dual voltage
Pros
Instant heat up
Safe, insulated tip
Non-slip design
Power on/off LED indicator
Safety stand
360°swivel long cord
Negative ion generator (for protecting hair)
30 seconds heat up
Easy to store
Handy travel case and heat gloves included
Cons
This is a 2-way mini iron for hair. It has ceramic coated plates that heat up quickly. The negative ions protect your hair from damage caused by heat and keep it smooth and shiny. This dual voltage styling device has a front cover that prevents scalding injuries. It is portable and great for traveling.
Specifications
Temperature: 400°F (not adjustable)
Key Feature: 1-year replacement
Pros
Travel-friendly
Barrel technology
Heats up in 60 seconds
Auto-shutoff
Indicator lights
Dual voltage
Easy to carry
Handy
360° swivel cord
Suitable for short to medium hair
Protective handle to prevent burns
Magic rotate switch
Cons
No temperature adjustments
The MOCREO 2 in 1 Travel Curling Flat Iron is an extremely handy tool to curl or straighten your hair on the go. It is a dual-voltage curling iron, which means you can carry it along to any country you are traveling to. It heats up in just 30 seconds and goes up to 420°F. It quickly takes the frizz away and gives you sleek straight hair or soft curls. It is safe for all hair types.
Specifications
Temperature: Up to 420°F
Key Feature: Dual voltage
Pros
Ceramic floating plates
Rapid heating
Automatic temperature regulator
360-degree swivel cord (2.5 m)
Works on fine hair
Cons
The heating plate of this device has a twisted shape so that it doesn't snag your hair while you are styling it. It also has a unique rotating temperature adjustment feature where you can simply rotate the end of the tool clockwise to adjust the temperature. You can switch between Celsius and Fahrenheit. It has ceramic-coated floating plates to distribute the heat evenly so that it doesn't damage your hair. The safety lock on the device protects the flat iron. The package includes two salon clips, a protective cover, insulation gloves, and a cloth bag for storage.
Specifications
Temperature: 212-446°F
Key Feature: Rotating temperature adjustment
Pros
Turn on/off button
LCD display
Comes with insulation gloves and cloth bag
Anti-heated design
Safety lock
360-degree swivel salon-grade cord
Cons
No proper instructions for operating the device
May not function properly
This is a professional grade curler and touch-up straightener. It has a floating plate design with which you can do easy curls and wavy hairstyles. You can also use it to straighten small sections of hair. The ceramic plates heat up evenly to prevent frizz and hair damage. It has only two heat settings, one for thick hair and the other for thin hair.
Specifications
Temperature: 410°F (thick hair) and 350°F (thin hair)
Key Feature: 1-inch floating plates
Pros
Cool-touch ends
Swivel fabric cord
30-second heat-up
LED power indicator
60-minute auto-shutoff
Comes with a storage pouch
2-year limited warranty
Cons
Doesn't open. The user needs to slide the hair sections between the plates
This 2 in 1 curling iron heats up fast and operates smoothly without pulling your hair. It is easy to operate and comes with a user manual with step by step instructions to help you. It has a proportionate body. It measures 12.6″ in length and 1.37″ in width. It is best suited for short and medium hair. The package includes a heat-resistant glove to prevent scalding.
Specifications
Temperature: Up to 410°F
Key Feature: Thermally insulated wand tip
Pros
Cool tip to prevent burns
360-degree tangle-free swivel cord
Thermally insulated wand tip
Includes heat-resistant glove
Turns off automatically after 30 minutes of non-use
Cons
The control button is near the handgrip. May accidentally turn it off or change the temperature
The blades often do not glide smoothly. Might burn hair
This 2 in 1 curling iron comes with worldwide dual voltage, which means you can carry it along anywhere. This styling tool is built with Metal Ceramics Heater technology and has 3D floating titanium plates that automatically adjust the heat strength as per your hair volume. This helps reduce hair friction. Its far-infrared technology releases negative ions to make your hair smooth and shiny.
Specifications
Temperature: 300°F-420°F
Any Key Feature: Metal Ceramics Heater technology
Pros
Adjustable temperature
LED display function
Heats up to 300°F in 15 seconds
Fast heat recovery (just 5-8 seconds)
Auto-shutoff after 60 minutes of non-use
360° swivel power cord
1-year replacement and 2-year warranty
Cons
None
Now you know exactly what your hair needs and which 2 in 1 curling iron fits the bill. However, there are a few factors that you need to consider before zeroing in on one.
What To Consider When Buying The Best 2-in-1 Hair Straightener And Curler
The Material Of The Iron Plates: Is it ceramic, titanium, or tourmaline? Ceramic bases often have titanium or tourmaline coating and are expensive. Titanium heats up faster (best for curls) and is found in ion-generating irons.
Temperature Adjustment: You will need different heat settings to play around with hairstyles. Hence, pick one that offers this feature.
The Shape Of The Iron: These devices usually have a round curler with plates. Go for one that has plates running until the end of the frame. This will make rolling your hair easy.
Your Hair Type: Not all devices are made for all hair types. Some are suitable for thin hair, while others work for thick and frizzy hair. If you have thin hair, you need a device with a low temperature range, while if you have thick hair, you need a device with a high temperature range. Choose wisely.
Weight And Size Of The Device: When styling your hair, you need to hold the device for long. Hence, it should not be very heavy. Titanium plates are usually on the heavier side.
The Cost: The best product never comes cheap. Decide what you need and go for a device that fits your requirements.
Travel-friendly: If you are looking for a styling tool for travel purposes, check if it has dual voltage. Also, check if it will fit international power sockets, or you need to buy an adapter.
Whether you are going for a meeting or getting ready for a date night, you will need a hair straightener and curler to help you style your hair for the occasion. These 2-in-1 hair straighteners and curlers are easy to use and convenient to carry for travel purposes. Pick the one that meets your requirements and get experimenting with your hair.
Expert's Answers For Readers' Questions
How do you use a 2 in 1 curler with a straightener?
Each device has a different operating mechanism. You need to follow the user manual to know how to use the straightener and curler model you have bought.
Recommended Articles