Top 9 Tan Extenders To Try in 2021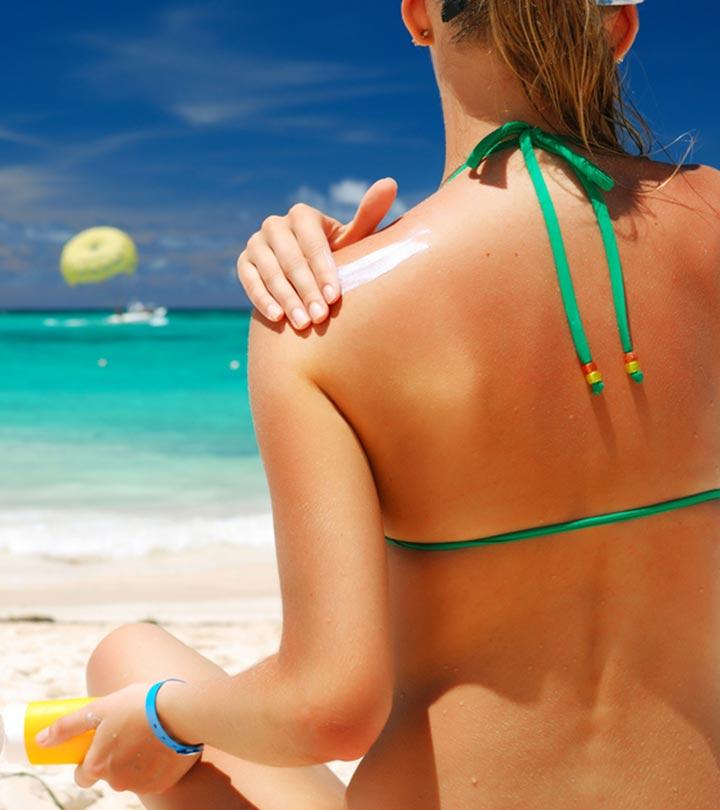 Summers are just around the corner and that means it's vacation time! It's time to say goodbye to the winter blues and hello to the sun. We all have envied celebrity Instagram pictures in the Bahamas or Hawaii and their perfect beach body, take Rihanna's Barbados pictures, for instance.
If you have planned a tropical vacation and have worked out all year to get the perfect bikini-body, then you are almost ready for the best hot girl summer of your life. But how can you get sun-kissed skin? Just spray tan isn't going to cut it. To make sure your tan doesn't wear off quickly, tan extenders are a must. Don't know much about tan extenders? Don't sweat it; we are going to help you with just that. Here are the 9 best tan extenders that will make sure that your golden beach hues last the entire summer.
A tan extender might be a new term for many women. Therefore, to make things crystal clear, here is what they are and their function.
What Is A Tan Extender? 
Pale skin or fair skin is prone to sun damage that sunblock or sunscreen can't prevent. The longer the time you spend in the sun, the more likely you are to get sunburned. But tans are different in that they are caused when your skin produces melanin to protect you from the UV rays from the sun. But as we all know, tanning can wear off quickly. To supplement or extend the lifespan of those tans, tan extenders are used.
To make your life easy, we have put together a list of the 9 best tan extenders, so you can simply take your pick.
Top 9 Tan Extenders To Try In 2021
From the land of beaches Down Under comes the Australian Gold Moisture Lock Tan Extender and Moisturizer. With over 25 years to its name, this tan extender has no added chemicals and is ethically formulated, with no animal testing. Its panthenol and Aloe vera blend extends your tan life and enhances your complexion. Enriched with vitamin E that nourishes and moisturizes your skin and conditions it to help lock in color.
Pros
Contains panthenol and aloe
Vitamin E nourishes skin
Cons
Has a strong bubble gum fragrance
Similar Products
Not only does this product extend the lifespan of your tan, its vanilla and pineapple ingredients make it an excellent moisturizer for sensitive skin. Its enzymes and antioxidants reduce signs of aging and promote skin elasticity. Its pure hemp seed oil provides hydration, while shea butter, jojoba, and glycerine lock in the natural oils. Its supercharged vitamins E and B5 fusion protect against aging and diminish fine lines and wrinkles.
Pros
THC drug and paraben-free
Charged with vitamins E and B5
Cons
Has a thick and greasy texture
Similar Products
Proudly made in the USA, the Golden Star Beauty Daily Tan Extender And Moisturizer is one of the best vegan and animal cruelty-free products on the market! It's all organic blend of aloe vera, argan, olive, and avocado oils extends your tan for upto 3 days. This tan extender promises not to overpower your favorite perfume as it is100% odor-free. Regardless of oily, dry, sensitive, or acne-prone skin, this product is suitable for all skin types.
Pros
Suitable on all skin types
Vegan and animal cruelty-free
Extends tan upto 3 days
Cons
Similar Products
We all want that perfectly bronzed skin beach look for our Instagram feed. But wearing makeup to the beach without an army of stylists for touch-ups is a bad idea. The humidity, sun, and salty water can completely ruin your makeup. But wait, there is hope! This tan extender's Color Perfecting Complex and Natural Colorant Blend utilizes your skin's organic color to develop your tan. Hydrated with aloe vera, sunflower oil, and shea butter, it keeps your skin moisturized all day. Its revolutionary Bronzextend Blend combines DHA and erythrulose to create long-lasting color and natural highlights.
Pros
UV Protection
Bronzextend Blend creates darker color and natural highlights
Contains aloe vera, shea butter, and sunflower oil
Cons
Can turn orange if used in excess
Similar Products
With the Designer Skin Juicy Daily Moisturizer And Tan Extender, getting that Chrissy Teigen island bronze skin just got easier! That's right, its unique aloe and vitamin-infused formula hydrates your skin and enhances the production of natural oils. This tan extender leaves you with a pleasant white peach fragrance that is sure to make you feel like a tropical princess!
Pros
Hydrates skin and enhances production of natural oils
Has a pleasant white peach fragrance
Cons
Similar Products
The Skinerals Self Tanner Extender Natural Lotion is designed for all skin types. It works wonders on pale skin tones and helps the tan last longer without exposing your skin to harmful UV rays. Its all- natural ingredients in the lotion form is easy to apply and spreads evenly. Being 100% nuts, oils, and chemicals free, this product is the ideal skincare solution for people prone to allergies or with sensitive skin.
Pros
UV ray protection
100% nut, oil, and chemical-free
Suitable for people with allergies and sensitive skin
Cons
May make skin look dry and streaky if used in excess
Made in Maui, the land of sunsets and beaches, this tan extender brings you the best that natural ingredients like macadamia nut and aloe vera have to offer. It is sure to give you that smooth brown glaze that every woman dreams of. This tan extender's unique formula prevents tans from fading, while also hydrating your skin and repairing sun damage.
Pros
Available in packs of 1, 2, 3, 6, and 9
Hydrates and repairs skin
Cons
The Devoted Creations So Naughty Nude Tan Extending Moisturizer comes in a compact and easy-to-use squeeze and pump bottle, so you get just the right amount with each pump. As it contains zero mineral oil, it doesn't strip the tan off your skin. It includes the benefits of a moisturizer in a tan extender, bringing you the best of both products. So you can be sure that your skin is in good hands!
Pros
Moisturizer cum tan extender
No mineral oil
Cons
In addition to protecting your tan, the Ink By Ed Hardy Tattoo & Color Fade Moisturizer protects the life and luster of your tattoos as well. Its unique tan extender formula extends the life of your tan and blends into your skin making it look natural. It is formulated with organic shea butter, which softens your skin without leaving your skin greasy. Its potent anti-aging lotus extracts nourish your skin with high levels of antioxidants. It has a unique honey and bourbon fragrance that makes it a perfect fit for the girl who likes to live life on the edge.
Pros
Protects the color and luster of tattoos
Non-greasy
Cons
The pump is easily breakable
If you are still on the fence about tan extenders, then you are sure to find these pointers that highlight the advantages of tan extender helpful. 
Benefits Of Using Tan Extenders 
Extends the lifespan of your tan- a tan extender acts as an extra layer protecting your tan from overexposure to the direct sun, thereby locking in your tan for a longer time.
Protection against UV rays- UV rays can have disastrous effects on the skin, ranging from sunburns to premature skin-aging. Tan extenders offer adequate protection from ultraviolet radiation, keeping your skin looking and feeling healthy.
Moisturizes skin- Most tan extenders are composed of ingredients like aloe vera and vitamin B. These ingredients work wonders on your skin, and they are great moisturizers.
Adds vital nutrients to your skin- the harsh sun can rob your skin of nutrients. Tan extenders that are infused with the goodness of vitamins A, C replenish these lost nutrients.
Makes your skin look great- Tan extender with added vitamins, natural oils, and organic ingredients improve the texture of your skin.
Picking the right tan extender can be a daunting task, mentioned below are a few points that have to be kept in mind while buying and using a tan extender.
What To Consider While Using A Tan Extender 
Your Skin Complexion– Each woman has a unique skin complexion. In other words, different skin textures and colors require tan extenders that are made especially for them. Finding the right product for your skin will help the product work better for you.
Brand- With the numerous tan extenders in the market, it is essential to filter them by having adequate knowledge of the brand. Picking a well-known brand can make all the difference.
Formulation- Understanding the composition and ingredients in your tan extender before buying it is crucial. Purchasing an all-natural product is always a safer bet. For people with allergies or sensitive skin, understanding the ingredients becomes even more important as some chemicals can cause allergic reactions.
Mode of application- A creamy, fluid tan extender is easier to apply and spreads evenly on the skin, while thick lotions can impart a cakey look.
Channeling your inner island diva can be hard, just flaunting the perfectly toned beach body isn't enough. Therefore, tanning is essential to achieve that bronzed glow! It is here that tan extenders come in handy, as they not only extend the life of your tan but also protect your skin. We hope that this article helped you understand the need for tan extenders and helped you pick the best one! If you have any questions or comments, feel free to leave them below, we love hearing from you!
Expert's Answers for Readers Questions
Can you shave after a fake tan?
Yes, you can, but we advise that you wait a day or two before shaving. Shaving immediately after a tan can cause the color to fade a lot sooner than it usually would.
How long does it take for a tanning bed tan to show?
Tanning beds are one of the fastest ways to tan. Typically, a tanning bed tan takes a few weeks of regular tanning sessions for the color to show. You would have to wait for 2 to 3 weeks to see the tan develop.
What do you put on your skin after tanning?
Since your skin is exposed to chemical colors, moisturizing your skin right after your tan session is a good idea. Moisturizers, especially ones that contain aloe vera, help hydrate skin, and even make your tan look better.
Is it possible for tanning to be permanent?
Yes, your tan can cause permanent changes in the color of your skin. However, when this happens, it is a sign of skin damage that needs to be checked by a dermatologist.