15 Best GPS Running Watches For Women – 2023
Track your running records effectively with handy devices that help meet your goals.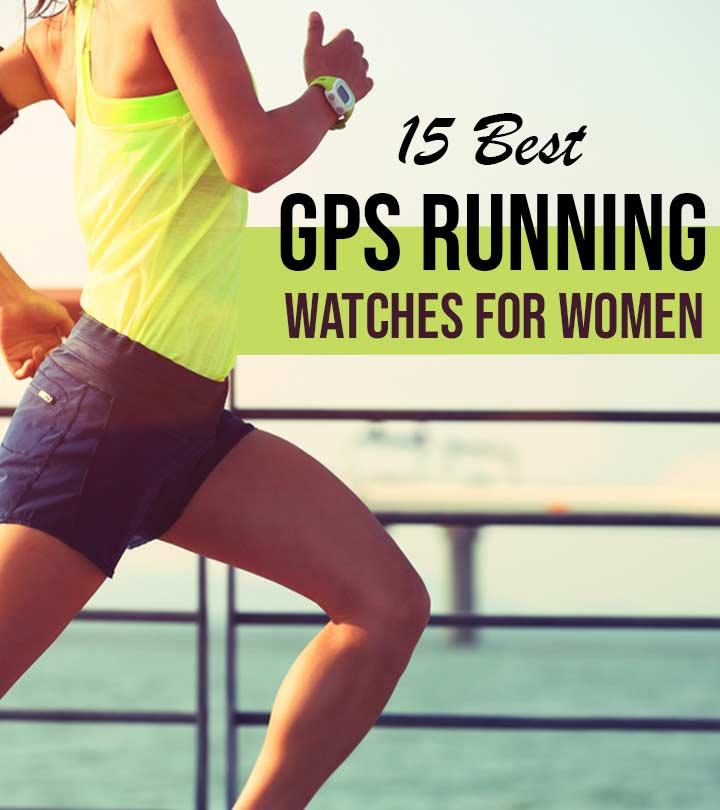 There's a reason running is one of the most preferred forms of exercise. It gets your heart racing and helps with fat reduction, among many other benefits. Investing in the best GPS running watches for women can help you become more strategic and plan your runs to meet your daily, weekly, and monthly goals. These devices track your performance and help you improve your form, making workouts more effective.
So, if your goal is to get fitter and be more mindful about your runs, this list of our top 15 watch recommendations will definitely be of help. Have a look!
GPS Running Watch Vs. Fitness Tracker Vs. Smartwatch – How Are They Different?
GPS Running Watch – A GPS running watch provides you with accurate data on your pace and distance while running. These watches are perfect for sports like cycling, swimming, and hiking. They offer advanced metrics like an instant heart rate tracker and calorie count tracker. Some may even have software that helps you plan a workout routine.
Fitness Trackers – A fitness tracker estimates your running distances by counting the steps you have taken. Some fitness trackers may contain a GPS, though that option may not be as good as that of a GPS running watch.
Smartwatch – A smartwatch will not show you the pace and distance that you have run. Most often, you will need a phone to carry with you along with the smartwatch. The smartwatch needs to be connected to your phone via Bluetooth app. You will see your fitness progress uploaded on the phone.
Now that we have decoded how GPS running watches stand apart, let us look at the top brands available on the market.
15 Best GPS Running Watches For Women
The Fitbit Inspire HR is an everyday friendly fitness tracker. This device will serve as a good motivator to reach your fitness goals. This fitness tracker will help you track your progress by letting you know how many calories you have burnt. It has various added features like recording 24/7 heart rate, workout features, calories burned tracker, and goal celebrations.
The 24/7 heart rate helps you track calories burned and resting heart rate and heart rate zones while you workout. This tracker tracks all exercises and training activities, including steps, calories burned, and distance. It also tracks sleep, which will give you insights into different sleep stages – like deep and REM sleep stages. The battery lasts up to five days, and the charge time is 2 hours. Check out the review of the Fitbit Inspire HR Heart Rate & Fitness Tracker on YouTube to know why it is one of the best one out there.
Pros
Waterproof
Comfortable to wear
Cost-effective
5-day battery life
Cons
Straps of the watch may be faulty
Difficult to operate
Price at the time of publication: $166.81
The Garmin Forerunner is a stylish, easy-to-use GPS running watch. It monitors your heart rate and also doubles as an all-day activity tracker. With a clear screen and long battery life, Garmin can become a great addition to your daily exercise routine. The watch has an elevated wrist heart rate technology.
The GPS can track how fast you walk or run, even when you are under a tree. The watch does not need a phone. It comes with vibration alerts that notify you of running prompts. It also tracks milestones and shows your virtual pacing progress. Although it is a great device, its software may be too complicated to use for some people. For an honest review about the Garmin Forerunner 35, Easy-to-Use GPS Running Watch, click here.
Pros
Cheaper than other Garmin products
Long battery life
Can be paired with external sensors
Cons
Slow GPS
Complicated software
Price at the time of publication: $169.99
This smartwatch from Garmin is a multitasker. It has both music and a sports app, which may become your perfect companion when the workout routine gets a bit dull. Along with its sleek design, it also is very comfortable to wear.
The watch fits wrists with a circumference between 5 to 8 inches. It can store over 500 songs. The Garmin Pay feature in the watch allows you to make payments right from your watch (you do not have to carry your card). The running watch has more than 15 preloaded apps. You can monitor your fitness levels with the VO2 max and fitness age estimates. The watch battery lasts for 7 days in the Smartwatch mode and for about 5 hours in the GPS with Music mode.
Pros
Comfortable wear
In-built music and sports app
Good battery life
Sleep tracker
Cons
Price at the time of publication: $174.99
The series 5 watch from Apple is truly stunning. With its always-on feature, you will be able to see the time whenever you want without turning the watch on. One important feature of this smartwatch is that it has an ECG app. This app will read your heart rate and heart rhythm easily, thanks to its electrical and optical heart sensors.
Not only this, but the watch also lets you track your menstrual cycle and informs you when the noise around you is too loud to impact your hearing. The watch also comes with a built-in compass, an emergency SOS, and a fall detection feature. It has a 30% larger screen. The Apple Music Library allows you access to over 60 million songs, including podcasts and audiobooks. The most interesting feature of the watch happens to be its watch face. There are over 100 of them you can personalize them in several ways to suit your style. For further information about the Apple Watch Series 5, go ahead and check out this video.
Pros
ECG App
Water-resistant
Always-on feature
Comfortable wear
Cons
Price at the time of publication: $169
The Forerunner 735XT is a perfect watch for athletes. This watch has a wrist-based heart rate tracker and comes with smart notifications, automatic uploads, and a connect IQ compatibility. This watch also has a slim feature and an in-built GPS. It is available in two colors – Black and Frost Blue.
The watch offers advanced dynamics for running, swimming, and cycling. These include ground contact time, stride length, vertical ratio, etc. It also has a recovery advisor. You can customize the watch with free watch faces from the Connect IQ store.
Pros
Wrist-based heart rate tracker
In-built GPS
Cons
Not a very good battery life
Expensive
Price at the time of publication: $189.95
The APEX premium watch from Coros is known for its long battery life. In addition to an in-built GPS, this watch also has a built-in barometer app. This multisport mode watch will also track your sleep. What makes this smartwatch different from others is its 24-day battery life. It has a comfortable and modern design, and you would want to wear this watch everywhere.
This watch bagged the 2019's Runner's World Editor's Choice award. It has a ceramic bezel finish with a sapphire glass and a digital knob. In the UltraMax GPS mode, the battery lasts for about 80 hours. In the Full GPS mode, the battery lasts for about 25 hours.
Pros
Excellent battery life
Sleek design
Accurate GPS
Cons
Not suitable in cold weather
Price at the time of publication: $349.0
This running watch from Garmin will be a good addition to your workout routine. This may come in handy when you go for a run, as the navigation system in this watch is a class apart. The Forerunner 935 is completely smartphone customizable. One interesting feature of this watch is that it has an in-built electronic compass. However, this watch comes in two versions – ROW (Rest of The World) and the Asia Pacific. Many have reported varying differences between the two versions and prefer ROW to Asia Pacific.
The watch is comfortable to be worn all day as it weighs only 49 grams. The built-in barometer provides elevation changes. The watch also helps you understand if you are under-training or overdoing it and helps in framing your training plans. It offers dynamics for running, cycling, and swimming, including ground contact time and stride length.
Pros
Accurate navigation
Customizable
Cons
Price at the time of publication: $229.99
The Polar Ignite is a waterproof watch with advanced wrist-based heart rate tracker, GPS, and personalized workout guides. The heart rate tracker includes the technology of bio-impedance of electrodes and optical sensors. This water- resistant watch has a lightweight design that makes it comfortable to wear every day.
It suggests workout routines on a daily basis. Its Nightly Recharge feature measures your recovery in the night and suggests if you must workout the following morning. The Advanced Sleep Tracking feature gives you inputs on how to get a good night's rest, thanks to the Polar's Sleep Plus Stages analysis. Chandel Stallworth, a Personal Trainer reminds you, "Never underestimate the importance of a good night's sleep. Lack of sleep can lead to weight gain, greater chance of injury during your workout, and just overall grumpiness".
Pros
Lightweight design
Personalized workout guides
Cons
Difficulty in pairing with smartphone
Price at the time of publication: $200.06
This is another one from the Apple watch series, The watch comes with an electrical heat sensor, an ECG app to monitor your heart rate, and personalized workout plans. Its ECG app will notify you about high and low heart rates and irregular rhythms, thanks to its electrical and optical heat sensors.
This watch also lets you share your activity with friends and awards you for reaching your achievements. This app also comes with a walkie-talkie, Apple music, and Apple podcasts that will keep you company during workouts. The watch has an improved accelerometer and a gyroscope for better fall detection. It is swim-proof. It comes with a 50% louder speaker and a 30% larger display.
Pros
In-built ECG app
Electrical heart sensor
Cons
The PlayBetter Garmin Forerunner 55 GPS Running Watch can keep tabs on your time, distance, pace, and speed no matter your level of fitness. The battery on this watch can last up to 20 hours when using the GPS function and up to 2 weeks when using the smartwatch function. This watch is lightweight and comfy, making it the ideal smartwatch for jogging and daily life. The watch's built-in PacePro Technology uses GPS to provide personalized pace recommendations depending on the user's chosen route or distance. The watch is fortified with HD tempered glass screen protectors, a portable 5000mAh battery charger, and a USB charging connection. The Race Predictor tool uses your level of fitness and exercise data to help you reach your race objective and observe how training affects your expected finish time. It can even notify your emergency contacts about your position if the watch detects any threat.
Pros
Good battery life
Good exercise and sleep tracker
Sleek design
Accurate GPS
Cons
Price at the time of publication: $204.99
The Huawei Band 3 Pro is a high-end running watch. This watch has integrated smart features like a heart rate monitor, GPS, fitness monitor, and sleep monitor. It also has a feature that sends you reminders about your workouts through messages. Another fun feature of this watch is its "Find your phone" feature. This comes handy when you forgot where you have kept your phone.
It also has True Sleep 2.0, a technology developed in collaboration with Harvard Medical School, that gives suggestions for better sleep. The watch also works as a camera shutter remote for your smartphone.
Pros
Good battery life
Good exercise and sleep tracker
Find your phone feature
Inexpensive
Cons
Price at the time of publication: $54.99
The SUUNTO 9 Peak & Peak Pro Sports Watch is a full-featured GPS sports watch designed for the most strenuous activities and travels. Even in hard circumstances, the improved GPS navigation makes it possible for you to view your position as well as your speed and distance traveled with higher precision. The durability of the sports watch was evaluated using criteria established by the United States military. It is resistant to water immersion up to a depth of 100 meters and is constructed from materials of the best possible quality, including sapphire glass, stainless steel, and titanium in some models. The sports watch offers a battery life of 40 hours in GPS mode and 21 days in daily use. It is compatible with over 95 different sports and allows you to keep track of multisport activities as well. In addition, the watch monitors your activity levels around the clock, including your heart rate, calorie burn, and the number of steps taken, as well as your sleep.
Pros
Long battery life
Waterproof
Durable
Fast charging
Long battery life
Cons
Price at the time of publication: $499
This running watch comes with a heart rate and activity tracker that uses Google Fit. The built-in GPS helps with tracking the distance one has run. It works as your personal Google, thanks to the responses from Google Assistant. This is an ultra-lightweight watch that is 40% lighter than other models. It tracks your workout as well, including swimming.
You can also receive notifications from your smartphone and other calendar alerts. The smart battery modes help extend the watch's battery life for multiple days. It comes with a magnetic USB rapid charger that can charge up to 80 percent in under an hour.
Pros
Fast charging
Comes with Google Assistant
Lightweight
Cons
Price at the time of publication: $321.02
This is a cute and easy-to-use running watch that is also button operated. It is waterproof and is a highly sensitive GPS receiver. It also motivates you while running by notifying you when you have completed a mile. An added bonus will be its heart rate and calories tracker and the ability to upload your runs easily to your computer or phone. This watch is available in multiple colors – Pink, Silver, Purple, and Red.
The battery lasts for 5 weeks in power saver mode and 5 hours in the training mode. The watch also has different training tools that help track training metrics. Virtual Pacer, one such tool, compares the current running pace with your target.
Pros
Easy-to-use
Accurate GPS signal
Cons
Price at the time of publication: $119.95
The Wahoo ELEMNT Rival Running/Multisport GPS Smartwatch features an optical heart rate sensor and barometer. The GPS smartwatch has a robust user interface, made possible by the ELEMNT operating system. The multisport features such as touchless transition, multisport handover, and ideal view zoom provide a smooth performance edge throughout training and competition. It has a battery life of 2 weeks in smartwatch mode and 24 hours in GPS exercise mode. The watch can monitor your heart rate, steps, and calories burned all day, every day. It can even keep track of your sleep patterns. The 64-bit color display, ceramic bezel, and gorilla glass lens of this watch make it not only durable enough to handle your toughest workouts but also stylish enough to wear every day.
Pros
Stylish
Accurate GPS
Fully customizable screen
USB rechargeable battery
Cons
Price at the time of publication: $301.58
Why Trust StyleCraze?
The author of this article, Aditi Naskar, has a diploma in health and wellness with a keen interest in finding the latest fitness gadgets that can help you meet your fitness goals. She has gone through plenty of customer testimonials online and has curated this list of the best GPS running watches for women. These watches help you track your performance and keep you in shape.
Frequently Asked Questions
Are GPS running watches worth it?
Yes, GPS running watches correctly keep a track of your pace and distance covered without you having to use your phone during running. GPS watches offer accuracy and are widely used by runners.
Are GPS running watches durable?
Yes, many GPS running watches are made of good quality material and are durable.
How accurate are GPS running watches?
On a flat, plain area, the error on GPS running watches is less than 1%. In the urban landscape with buildings, the error margin may be slightly more than 1%. However, the error margin might be more than 5% when running through a rocky forest.
How long do GPS running watches last?
GPS watches may last up to seven or eight years.
How long does the battery last on a running watch?
The battery may easily last between 20 to 35 hours. Expensive watches usually have better battery life.
Recommended Articles