11 Best Selling Skin Care Products For Kids – 2023 Update
Protect the tender skin of your little ones with products made from kid-safe ingredients.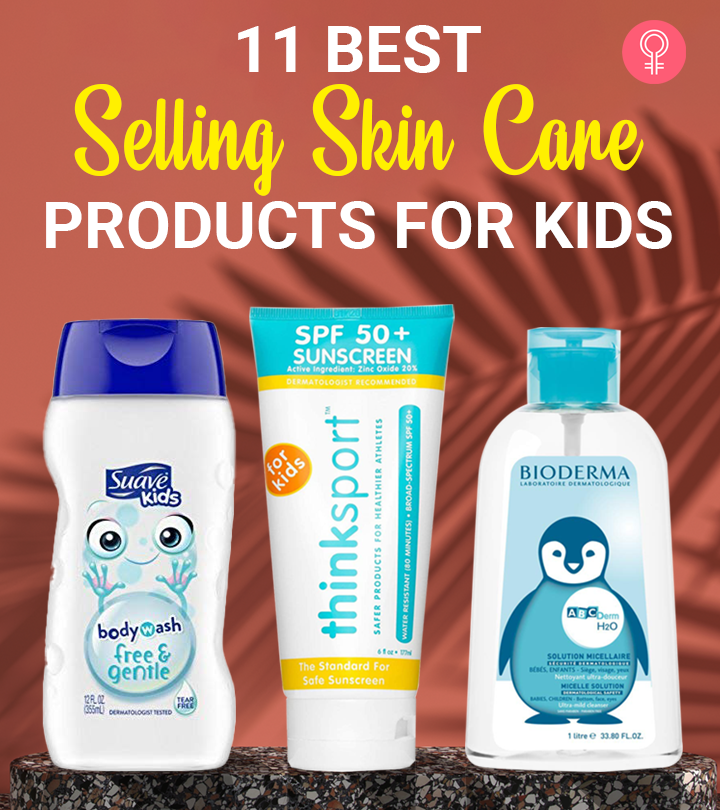 When it comes to our kids and little ones, we are always extra careful about everything. The same goes for the creams and lotions we use for them. We are always on the lookout for the best skin care products for kids. A child's skin is tender and needs gentle care and protection. Be it a face cream, body lotion, oil, or body wash, we must ensure that they are dermatologist-tested and certified safe for kids. Not only should they help cleanse your baby's skin, but they also help nourish and strengthen the skin barrier. With so many brands, it might get overwhelming to decide on your child's right one. To help you decide, we have enlisted the 13 best options for you to choose from.
11 Best Skin Care Products For Kids
The Kidskin T- Blast Cleanser cares for your kids and is specially formulated to reduce pre-teen acne. This potent facial cleanser is foamy and refreshes the skin, preventing breakouts, blemishes, and blackheads. It is formulated with 0.4% natural tea tree oil that is gentle on the skin and eliminates excess sebum.
Tea tree oil's natural balancing action enables the skin to fight against free radicals. This facial cleanser for kids and teens has anti-inflammatory properties that help calm and soothe the affected skin and reduce redness and irritation. Nichelle Temple, an esthetician, says, "The tea tree oil in the formula imparts antioxidant benefits to the skin, and the oil's antimicrobial properties help calm the irritated skin of the kids."
Key Ingredients: Natural tea tree oil
Pros
Lightweight
Vegan
Natural ingredients
Recommended by dermatologists
Pediatrician- approved
Paraben-free
Sulfate-free
Benzoyl-free
Cruelty-free
Gluten-free
Fragrance-free
Cons
May cause rashes.
Not suitable for people with nut allergies.
The Natural and Organic Family Foaming Face Wash is formulated with 99% natural and more than 80% organic ingredients. This rejuvenating product addresses skin concerns like acne, pimples, and breakouts. The potent formula contains organic aloe vera that calms, soothes, and gently hydrates the skin. The natural astringents in papaya extract exfoliate the skin to reduce excess oil and leave the skin feeling clean and smooth. This face wash is also enriched with organic orange flower water that keeps the skin soft and toned and reduces irritation and redness. The gentle exfoliating action of this face wash helps to improve skin texture and promote a healthier-looking complexion.
Key Ingredients: Organic Aloe vera, Papaya extract, and Orange Flower water
Pros
Subtle floral fragrance
Suits sensitive skin
Vegan
Sulfate-free
Paraben-free
Phthalate-free
Cruelty-free
Artificial fragrance-free
Cons
None
The Good For You Girls Three-Step Skin Care Kit helps you achieve balanced, happy skin. This set consists of a cleanser, a toner, and a moisturizer that work in tandem to prevent pore clogging and get rid of acne-causing bacteria. They improve the overall skin health without causing any irritation or redness, even on the most sensitive skin.
The entire range is formulated with natural ingredients like aloe leaf juice, lavender extract, chamomile extract, calendula extract, white tea leaf extract, and natural aromatic essential oils. The gentle cleanser is lightweight and lathers richly to remove dirt and grime from the surface of your skin. The purifying toner eliminates impurities from the depth of the pores, and the moisturizer provides optimal hydration and nourishment to the skin for long hours.
Key Ingredients: Aloe leaf juice, Lavender extract, Chamomile extract, Calendula extract, White tea leaf extract, and Natural essential oils
Pros
Refreshing natural fragrance
Suits all skin types
Vegan
Paraben-free
Sulfate-free
Phthalate-free
Silicone-free
Petrochemical-free
Synthetic fragrance-free
Artificial dye-free
Cruelty-free
Gluten-free
Cons
May cause allergic reactions.
May dry out the skin.
The Mineral Me Believe In Magic Bath Bombs come with a unicorn theme to ensure a fun and relaxing bath time. These pleasantly scented bath bombs are best suited for kids between 3-12 years and feature strawberry, pineapple, sweet orange, blueberry, watermelon, and green apple flavors.
They are formulated with organic shea butter and essential oils with delicious scents that help in soothing and hydrating the skin. The bath bombs give the water a vibrant color that does not stain the bathtub, skin, or hair and lathers richly to create fun bubbles. They come in an attractive box that can later be reused as a jewelry box or a storage box. This product received a huge number of positive reviews that attest to its ability to provide visible results, such as softer and nourished skin.
Key Ingredients: Organic shea butter and Scented essential oils
Pros
Lathers well
Tear-free formula
Organic ingredients
Non-toxic
Paraben-free
Phthalate-free
Sulfate-free
Artificial color-free
Cons
Not suitable for sensitive skin.
The Thinksport SPF 50+ Sunscreen is a skin-safe product that is perfect for your kid's gentle skin. This baby product provides water resistance for up to 80 minutes and protects the skin from harmful UVA and UVB rays. This sunscreen also contains aloe vera juice extract that soothes skin irritation and sunburns. The lightweight and quick-absorbing properties of the sunscreen ensure that it does not feel greasy after application. It can also be added to your kid's daily routine for its gentle composition. The great news for animal lovers is that this product has not been tested on any furry creatures.
Key Ingredient: Zinc oxide
Pros
Non-greasy
Dermatologist-recommended
Smells good
Absorbed quickly
Lightweight
Avobenzone-free
Oxybenzone-free
Paraben-free
Phthalate-free
Gluten-free
Cruelty-free
Cons
Leaves a white film on the skin.
The Suave Kids Body Wash ensures a refreshing and gentle bath time for the kids. The mild and tear-free formula of this body wash is enriched with the rejuvenating fragrance of citrus extract and the highly moisturizing glycerin. It lathers well and creates rich bubbles that retain the skin's natural moisture and prevent it from drying out.
Key Ingredients: Citrus extract and Glycerin
Pros
Tear-free formula
Smells good
Suitable for sensitive skin
Dermatologist-tested
Ophthalmologist-tested
Dye-free
Cons
None
The Bioderma ABCDerm H2O Micellar Water is best suited for kids and toddlers. This non-rinse formula gently cleanses, moisturizes, and soothes the skin. It can be used to clean the face, eyes, and hands. It is enriched with non-ionic surfactants that cleanse the skin of impurities and rebuild its hydrolipidic film. This micellar water is mild, soothing, refreshing, and maintains the skin's natural balance.
Pros
Non-rinse formula
Gentle
Suitable for sensitive skin
For daily use
Cons
The Southern Natural Lavender Goat Milk Soap Bar is one of the best skincare products for kids, thanks to its natural ingredients. This soap bar is formulated with goat's milk and plant-based ingredients such as olive oil, coconut oil, palm oil, and lavender essential oil that deeply and gently cleans the skin. The hydrating natural ingredients in the soap cleanse the skin without drying or irritating it. This moisturizing soap bar is suitable for both kids and adults and can be used on the body, face, and hair.
Key Ingredients: Goat's milk, Olive oil, Coconut oil, Palm oil, and Lavender essential oil
Pros
Lathers well
Non-GMO
No harsh chemicals
Sulfate-free
Paraben-free
Cons
Not suitable for sensitive skin.
The Boogie Wipes are unscented, soft, and gentle on the skin. They can be used on newborns and kids to clean their noses, faces, fingers, and toes, as they clean dirt and grime and dissolve mucus. Each wipe is infused with a serum that is formulated with 0.9% isotonic saline, aloe vera, chamomile extract, and vitamin E that cleanses and nourishes all skin types. The package comes with a hard flip-top lid that can be resealed to keep the wipes fresh and wet always.
Key Ingredients: 09% Isotonic saline, Aloe vera, Chamomile extract, and Vitamin E
Pros
Soft
Gentle
Approved by pediatricians
Hypoallergenic
Paraben-free
Alcohol-free
Phthalate-free
Artificial fragrance-free
Cons
Dr. Teal's Kids Body Lotion is specially designed for kids with irregular sleep patterns. The lightweight and nourishing formula helps promote a better night's sleep while soothing your body and mind. Its formula also helps in skin repair.
It is formulated with melatonin, a natural hormone that induces sleep and helps regulate the sleep and waking cycle. This body lotion is also enriched with shea butter, cocoa butter, vitamin E, lavender, and chamomile essential oils that work in tandem to calm the nerves and help the kids unwind and relax. The moisturizing properties of cocoa butter and shea butter help in nourishing and soothing the skin while offering relief from common skin conditions.
Key Ingredients: Shea butter, Cocoa butter, Vitamin E, Melatonin, Lavender, and Chamomile essential oils
Pros
Hypoallergenic
Pleasant smell
Dermatologist-tested
Paraben-free
Phthalate-free
Artificial dye-free
Cons
The Gilden Tree Baby & Kids Gentle Touch Moisturizing Cream is formulated with the highest quality and natural ingredients. This nourishing blend helps in treating dry skin, eczema-prone skin, rough and blotchy skin, diaper rash, burns, hives, sunburns, and chapped or peeling skin. The moisturizer is enriched with skin-friendly ingredients like organic aloe vera, wild-crafted shea butter, jojoba oil, and organic lemon essential oil that nourish the skin and make it soft and smooth.
Key Ingredients: Organic aloe vera, Wild-crafted shea butter, Jojoba Oil, and Organic lemon essential oil
Pros
Mild and pleasant fragrance
All-natural ingredients
Vegan
Paraben-free
Gluten-free
Fragrance-free
Dye-free
Petrolatum-free
Mineral oil-free
Cons
Contains alcohol
May cause breakouts.
*The prices provided in this article are based on the latest available information. However, they may vary due to changes in pricing by the seller and/or promotional offers.
From regular brushing, and washing hands properly, we teach our kids good habits from a very young age. What we forget is introducing proper skin care habits as well. The tricky part in this is choosing the right skincare products that cater to the sensitive and fragile skin of kids. To help you out, here is a list of things to consider when choosing skin care products for kids.
How To Choose The Best Selling Skin Care Products For Kids
Choose natural skin care products that are infused with moisturizing ingredients and have a proven efficacy in soothing and nourishing the gentle skin of children. If your kid has acne prone skin, go for the products that have active ingredients like aloe vera, and green tea extracts that are clinically-proven to target acne-causing bacteria. Kids often suffer from itchy skin and dry patches mostly on the elbows, knees and feet. Choose an intense product, infused with ingredients like shea butter, coconut oil, and cocoa butter to relieve flakiness and itchiness. Balms are the best savior for kids suffering from eczema.
Avoid chemical compounds including parabens, sulfates, formaldehyde, artificial dyes, and synthetic fragrances as these cause skin allergies, irritation, and attack the immune system. To keep kids' skin safe, opt for dermatologist-tested or clinically-verified ingredients and gentle face wash formulas.
It is recommended to choose lightweight, hypoallergenic products if your child has oily skin. Choose a product with thick consistency if your child has dry skin and requires moisturization. Fast-absorbing products do not clog the pores and keep your skin from getting suffocated.
Choose skin care products with SPF 20 to SPF 40 in them to protect your children's skin from the harmful UV rays. Additionally, incorporate a good lightweight sunscreen in their skincare routines that is specifically formulated for sensitive baby skin.
Why Trust StyleCraze?
Shiboli Chakraborti is a certified skin care coach who believes that skin care is equally essential for kids. According to her, one should use dermatologist-tested and certified skin care products for their kids. She has thoroughly gone through multiple reviews to pick the best ones for her readers.
Frequently Asked Questions
How do you take care of your kid's skin?
Make sure your kid is not roaming around in the sun. Moisturize their skin daily with baby-friendly products recommended for delicate skin. Give them daily baths to remove dirt and debris from their skin. Use mild soaps and lukewarm water to keep your baby's skin free of rashes and sores.
What helps with dry skin on kids?
Apply moisturizer twice daily to keep your kids' skin free of dryness. Also, do not forget to use body oil before the bath to keep the skin soft and supple.
Do children need to use a moisturizer?
Yes. Not just for children, a moisturizer is an essential skin care step for people of all ages. It prevents dryness and protects your skin from flare-ups, inflammation, or irritation.
What is the reason for dry skin in kids?
Children may face dry skin due to excess bathing or using soaps and other products that are too rough on the skin. Environmental aggressors may also be a reason for dry skin in kids.
When should kids start a skin care routine?
Start a gentle skin care routine by the age of 10. Make sure that the products contain gentle, safe, and clean ingredients.
Recommended Articles