11 Best Anti-Aging Sunscreens For Body & Face That Actually Works – 2023
Stay protected and slow down aging signs with these anti-aging sunscreens.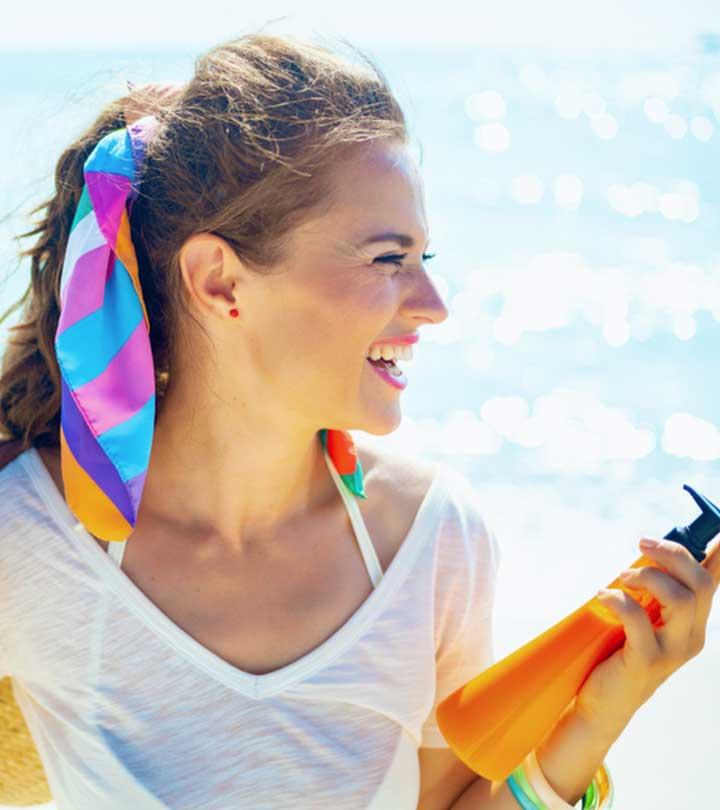 Protect yourself from sun damage and stay youthful with an anti-aging sunscreen in your daily skin care routine. The average sunscreen may not provide both protection from the Sun and prevention of aging signs. So, instead, you can invest in an excellent sunblock early in your adult life. You can enjoy the Sun with no worries when applying anti-aging sunscreen as part of your regimen! This product will help in wrinkle prevention and reduction in fine lines, age spots, patches, photoaging, and dull spots. Protection from sun damage also means a reduced risk of skin cancer! But with a sunblock in hand, you can plan a beach trip tension-free!
Don't let the Sun's harmful rays and the signs of aging affect your skin! Create a protective shield with the best anti-aging sunscreen! We've compiled a list of the best sunblocks in the market, given the umpteen options! Take a look at the best sunscreen recommendations for anti-aging solutions. Discover more by reading on!
Top 11 Anti-Aging Sunscreens To Combat Sun Damage! (With Buying Guide)
No harmful rays can penetrate the skin if you have Neutrogena anti-aging sunscreen in your skincare routine. With SPF 110 (which is the highest btw), it is dermatologist-tested and prevents sun damage, skin cancer and early signs of skin aging at the same time! Need more convincing? The science-backed formula with Helioplex, a broad-spectrum sunscreen technology that also guarantees anti-aging benefits. Besides this, it claims to go 6 layers deep into the skin to provide sun protection and moisturize intensely. Give it a try if you haven't already! Watch this video to get an insight into the reviewer's experience of the product.
Pros
Dermatologist-tested
Broad-spectrum UVA/UVB protection
Maintains the youthful glow
Water-resistant for up to 80 minutes
Non-comedogenic, oil-free, and PABA-free
Ideal for use during biking, hiking, and other outdoor activities
Cons
Not suitable for oily skin
Makeup mavens, all eyes on this physical sunscreen! Here's an anti-aging sunscreen moisturizer that'll blend with your makeup products seamlessly to give you that perfect day look. How? All thanks to its tinted SPF formula! Infused with transparent zinc oxide, this mineral-based sunblock delivers a sheer finish that you can wear alone or as a primer under makeup. Besides this, it has an active ingredient hyaluronic acid to boost moisture levels and reduce the appearance of wrinkles and pigmented skin. Yep, your skin will always be ready for outdoor selfies with this one! Have a look at this video to learn more about this mineral sunscreen.
Pros
Lightweight sunscreen
Helps in targeting aging signs
Quick-absorbing and glides on easily
Provides optimum UVA/UVB protection
Free from parabens and fragrances
Suitable for post-procedure, normal, and combination skin
Cons
Here's another anti-aging sunscreen for the face that makeup lovers and those with darker skin tones may fancy! An award-winning dermatologist-tested mineral sunscreen formulation – this guarantees multiple benefits for the skin along with broad-spectrum protection. It delivers a non-whitening and mattified finish, is fast-absorbing and is powered with Cell-Ox Shield Technology to diminish sun damage. Also, with no sun damage, you don't have to worry about dullness or premature skin aging! Still want to give it a miss? Here is an informative video about the reviewer's experience with the oil-free sunscreen.
Pros
Lightweight sunscreen
Offers antioxidant protection
Prevents radical damage
Non-comedogenic and oil-free
Dermatologist and allergy tested
Water-resistant for up to 80 minutes
Suitable for sensitive skin types
Ideal for wearing alone or under makeup
Fragrance-free, oxybenzone-free, paraben-free, and octinoxate-free
Cons
Calling this sunblock an anti-aging moisturizer with sunscreen would not be totally wrong. Packed with key ingredients niacinamide and hyaluronic acid, it targets skin aging signs by boosting moisture levels, correcting skin tone, tightening pores, and hydrating intensely. And as for sun protection, it's formulated with the active ingredient zinc oxide to provide optimum UVA/UVB protection. Want more? The infused antioxidants prevent skin-damaging radicals in UV and IR radiation from penetrating the skin. Also, it is a dermatologist-recommended mineral sunscreen suitable for oily skin types! Worth a try, we think.
Pros
Lightweight sunscreen
Oil-free and clear formula
Non-comedogenic and non-greasy
Suitable for sensitive skin types
Cruelty-free, gluten-free and hormone-free
Reduces the appearance of fine lines and wrinkles
Ensures no white cast and ideal for all skin tones
Fragrance-free, sulfate-free, gluten-free, paraben-free, and more
Cons
May leave a slightly shiny film
Enjoy the sun and your younger-looking glow with this anti-wrinkle sunscreen and moisturizer. Infused with active ingredients like encapsulated retinol, 3 essential ceramides (1, 3, 6-II), and hyaluronic acid, consider the fine lines and wrinkles taken care of under this powerful shield. With broad-spectrum SPF 30, it safeguards against harmful UVA/UVB rays and protects the skin's natural barrier and enhances skin rejuvenation. Mature skin users must indulge ASAP in this retinoids-infused sunscreen to enjoy the goodness of its anti-aging properties!
Pros
Gentle and non-irritating formula
Hypoallergenic and non-comedogenic
Dermatologist-tested and fragrance-free
The MVP technology ensures 24-hour hydration.
Cons
Here's a sunscreen-moisturizer combo that you should not miss! Protecting the outer layer with broad-spectrum SPF 30, this sunscreen also fights wrinkles, dark spots, hyperpigmentation, uneven skin tone, and other aging signs like a pro. Yep, its formula contains glycolic acid, pro-retinol, and vitamin C to balance the skin's moisture levels, prevent premature aging, and protect from harmful UVA/UVB rays. Give it a try ASAP!
Pros
Brightens skin
Hydrates intensely
Reduces pigmentation
Suitable for acne-prone and mature skin
Cons
Not ideal if you are sensitive to smell
Are you looking for an anti-aging sunscreen for oily skin? This sunblock is ideal for oily, normal, and combination skin and might suit your sunscreen and anti-aging needs. And the best part is, it is lightly tinted, so you don't have to worry about the white cast! Along with that, it moisturizes intensely with antioxidants and resveratrol to repair sun damage and prevent new damage. Its SPF 30 decreases the risk of early skin aging from exposure to the sun if used as directed. The brand promises a more even-looking skin tone from the first use itself. Besides that, it also claims the product visibly reduces fine lines and wrinkles with daily use. Do not skip this daily sunscreen, which is a favorite sunscreen among users all over the world!
Pros
Silky-matte finish
Suitable for all skin tones
Corrects uneven skin tone
Plumps skin and alleviates redness
Protects from harmful UVA/UVB rays
Non-irritating, fragrance-free, and cruelty-free
Ideal for wearing alone or as a primer under makeup
Cons
Vegan squads, this daily moisturizer, and sunscreen combo will make you want to step out in the sun more! A professional-grade brand, it protects your skin from the damaging UVA/UVB rays and prevents premature aging as well. More like a moisturizer that hydrates and nourishes your skin while protecting from the sun, this broad-spectrum SPF 50 sunblock is a must-try for all.
Pros
Medium-weight texture
Suitable for all skin types
Ensures long-lasting hydrating
Blends seamlessly on the skin
Non-greasy and fragrance-free
Cruelty-free, gluten-free, and artificial color-free
Cons
Not ideal if you need lightweight texture
With this lightly-scented sun lotion in your kitty, you will always be beach-ready! Yep, prep your skin with this dermatologist-tested anti-aging sunscreen formulation packed with clinically proven antioxidant complex, 15 mineral-rich Vichy volcanic water, and UV filters for optimum sun protection. A great option for those into water sports or activities, this face and body sunscreen is water-resistant for up to 80 minutes. Also, do you have sensitive skin? If yes, then go on, apply it generously because it is sensitive skin-tested and allergy-tested as well. Give it a try!
Pros
Dermatologist-recommended
Suitable for all skin types
Delivers a soft-sheer finish
Provides UVA and UVB protection
Protects from skin-aging free radicals
Gentle, fast-absorbing, and non-greasy
Allergy-tested and non-comedogenic
Oil-free, paraben-free, and oxybenzone-free
Cons
This broad-spectrum sunscreen with Japanese wild rose will leave a poreless look on your skin! Yep, this is not a drill, and if you have clogged or open pores, you must give this sunscreen a try. Smooth enough to blend like butter on the skin, it leaves a mattified finish that conceals all the pores within. Besides this, the infused loquat leaf extract soothes and protects the skin too. And as for sun protection— the SPF 35 ensures to keep the UVA/UVB rays at bay. Why miss it?
Pros
Weightless formula
Suitable for all skin types
Smoothens skin's texture
Ensures to not leave a chalky cast
Ideal for wearing alone or as a primer under makeup
Cons
The RAIN OR SHINE Daily Moisturizing Sunscreen has an award-winning formula that is gentle, and non-irritating sunscreen with SPF 50, which is perfect for sensitive skin. You can apply it like a normal moisturizer or use it as a makeup base like a primer. The dermatologist-recommended sunscreen formula is rich in natural ingredients like vitamin E oil, hyaluronic acid, green tea, licorice root, and ginseng, which hydrates the skin and protects it from environmental aggressions. It is lightweight and absorbs quickly into your delicate skin without leaving any greasy or tacky residue. The waterproof formula is ideal for use at a beach or pool party.
Pros
Lightweight
Non-smelly
Travel-friendly
Suitable for all skin types
No oily residue
Dermatologist recommended
Vegan and cruelty-free
Cons
Some users find the smell unpleasant
*The prices provided in this article are based on the latest available information. However, they may vary due to changes in pricing by the seller and/or promotional offers.
Go on, get sunkissed and flaunt your ageless glow! Those were the 11 best anti-aging sunscreens of 2023 that you must try. However, if you still need assistance with buying the right anti-aging sunscreen, check out our buying guide below.
Buying Guide 
How To Choose The Right Anti-Aging Sunscreen?
It's simple! Look out for the following features in the product before buying:
Skin type: Whether you are looking for sunblock for mature skin or dealing with early signs of aging, you must choose a clinically-proven product suitable for your skin type to enjoy maximum benefits.
Skin tone: Makeup lovers and those with darker skin tones, pick a tinted sunscreen or a product that will blend with your skin color seamlessly unless you don't mind the conspicuous white cast.
SPF Power: While looking for anti-aging benefits, do not overlook the SPF (Sun Protection Factor) power to protect your skin from sun damage. SPF 30-50 with broad spectrum protection is a must to avoid various skin concerns that arise due to daily exposure. However, for water sports enthusiasts and athletes, SPF 50+ sunscreen efficacy should be ideal.
Moisturizing formula: Keep the aging signs at bay with intense moisturization. Choose a lightweight sunscreen packed with key ingredients like vitamins A and B5, and hyaluronic acid, or infused with multi-vitamins and antioxidants that claim to moisturize and protect your skin while providing sun protection.
Water and sweat resistant: Lastly, your sunscreen should be water-resistant. The reason being— sweat, rain, and beach vacays always come as a surprise! 
Why Trust StyleCraze?
Medha Deb has a deep interest in skin care and loves writing about different skin care products. She has shortlisted some of the best anti-aging sunscreens after thoroughly reviewing them based on user reviews and feedback on multiple forums and brand websites. The sunscreens listed in this article are safe on the skin and may reduce any appearance of fine lines, wrinkles, and dull spots.
Frequently Asked Questions
Does sunscreen slow down aging?
An anti-aging sunscreen will prevent premature aging due to photodamage, and some can reduce the appearance of wrinkles and fine lines with consistent use.
Does sunscreen tighten your skin?
Yes, using a sunscreen packed with anti-aging benefits daily can improve complexion, minimize pores, and tighten skin too.
Does sunscreen increase collagen?
Yes, anti-aging sunscreens protect your skin from harmful UV rays which break down collagen. These sunscreen ingredients boost collagen production and collagen preservation.
What causes skin to wrinkle with age?
Skin wrinkles due to the decrease of natural oil production in the skin and the elimination of fat from the deeper layers of the skin.
What happens when you wear sunscreen everyday?
Wearing sunscreen everyday lowers your exposure to the harmful UV rays, decreases skin damage, and eliminates aging signs. Also, if you are looking for a moisturizer with sunscreen benefits go for one that contains aloe vera for better skin benefits.
Which anti-aging sunscreen is best for daily use?
The Dermalogica Dynamic Skin Recovery Sunscreen – SPF 50 is best for daily use. It is long-lasting and offers intense protection.
Recommended Articles