11 Best Speed Training Hurdles Of 2023, According To A Fitness Pro
Build your agility and flexibility and improve your core strength to up your fitness score.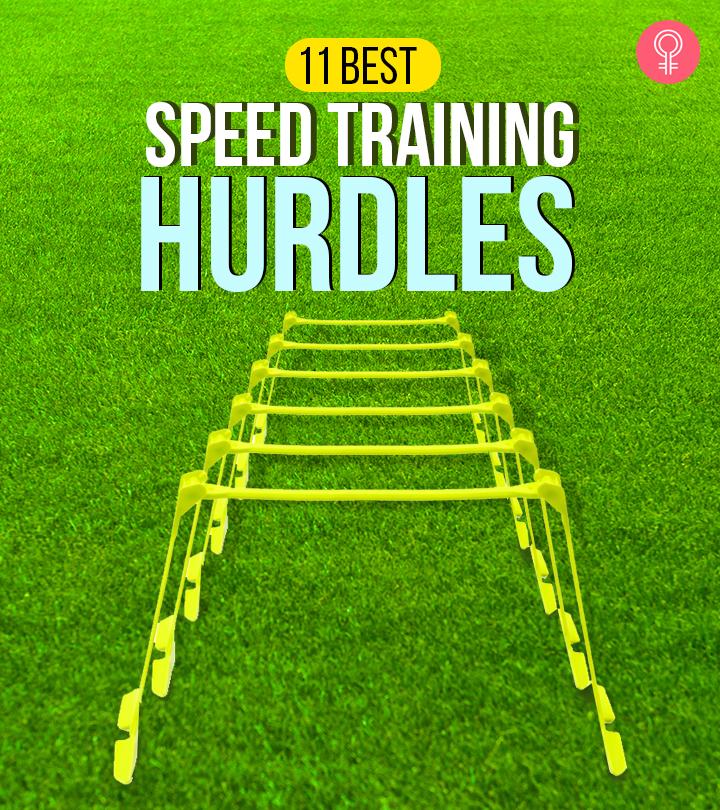 Stamina and agility are the two most important aspects of fitness training. The latter can be improved with the best speed training hurdles mentioned in our list. Add this mini equipment to your running routines and watch it work its wonders in accelerating your agility. Fitness instructors and athletic trainers advise including training hurdles in your speed training regime. You can also use these speed hurdles as a part of your weight training and other fitness regimens. Our list consists of the best-rated speed training hurdles. Swipe up to explore.
What Are Speed Or Agility Hurdles?
Speed hurdles are banana-shaped loops, marked cones, or discs spaced at distances throughout the length of a sprinter's stride. They are a series of small barriers arranged to encourage specific step patterns.
How Do Speed Hurdles Work?
The most common purpose of agility and speed hurdle training is to improve speed. Using speed training hurdles or acceleration ladders strengthens your leg muscles and footwork, leading to enhanced speed. These training aids improve the early acceleration by spacing each step to create the correct rhythm. The goal is to produce greater force from your body and decrease contact time with the ground. That's why the athletes use them to improve stride technique and frequency at top speed.
Speed hurdles will help you quickly start, decelerate change directions, accelerate again while maintaining body control, and minimize loss of speed. Therefore, introduce them into your workouts not only to strengthen legs and build agility but also to improve focus and sharpen your brain.
Listed below are the top 11 speed training hurdles available online.
Top 11 Speed Training Hurdles, Suitable For All Workouts
The Trademark Innovations 6″ Speed Training Hurdles are perfect for improving footwork training and toning leg muscles. These high-visibility speed hurdles develop horizontal force and explosiveness, especially while running and sprinting. They are also great for boosting agility when combined with varying hurdle drills. You can carry these hurdles anywhere using the convenient carry case. The reviews mention that the product is lightweight, compact, and easy to store when not in use.
Pros
Lightweight
Portable
Durable
Suitable for all ages and sports
Travel-friendly
Value for money
High visibility
Cons
Inconsistent hurdle height
The SKLZ 6-Inch Ultra Durable Agility Hurdles feature bounce-back construction and maintain their shape even after being used for the toughest workouts. Each plyometric hurdle is 6 inches high and has a durable, flat base. Whether you are training for soccer, basketball, or any other sport, drills with these hurdles will help you increase speed and agility. The carrying case makes it easy to carry and set up. They have a one-piece twist design, and the height helps to develop quick feet for maximum power and footwork.
Pros
Portable
Lightweight
Durable
Easy to store
Cons
The Pro Adjustable Hurdles And Cone Set includes six adjustable hurdles, 12 speed cones, a mesh carrying bag, and two bonus "speed and agility hurdles and cone drills" eBooks. They are easy to set up and adjust – rotate the legs until you hear a click at the 6, 9, or 12-inch height settings. They are uniquely designed to collapse flat when you step on them. Therefore, your feet, ankles, and shins stay protected during workouts. Many reviewers agree that these hurdles can be used by athletes, beginners, coaches, kids, and dog trainers.
Pros
Durable
Easy to store
100% money-back guarantee
Cons
The QUICKPLAY PRO Adjustable Height Speed Hurdles have Quick-Click mechanism in bright neon colors. They are safe to use on most training surfaces, including gym floors, artificial turfs, concrete, asphalt, and grass. You can change the height of each hurdle easily – rotate the feet until a 'click' sound is produced. These lightweight hurdles are designed in a unique dog-bone rung shape and beveled edges to minimize being caught by the athlete's foot. The practical insights of the reviewers on Amazon suggest that the product is durable, made of solid plastic, and snaps into place quickly if stepped on during training.
Pros
Adjustable height
Durable
Ultra-portable
Easy to store
Cons
The FORZA Agility Hurdles are designed to improve your footwork, speed, and acceleration. They come in three different sizes – 6, 9, and 12 inches with high-visibility fluorescent yellow color that stands out on every type of indoor and outdoor surfaces. According to reviews, these hurdles are easy to pack and carry because of their unique anti-shatter design. They are also made of weatherproof plastic and safe for any age-group.
Pros
Durable
Lightweight
Portable
Easy to set up
Adjustable heights
Safe for children
Value for money
Shatterproof
Weatherproof
Cons
These speed hurdles by Pro Footwork can be adjusted to 6, 9, and 12 inches heights. They are easy to set up and take apart. Working with them can improve your acceleration, lateral speed, and direction shift while enhancing balance, rhythm, and body control. This set is made of high-quality material that benefits any professional sportsperson or beginner. You can add them to your cardio training, core strength exercises, athletic training, football, soccer, basketball, hockey, lacrosse, tennis, or badminton drills.
Pros
Adjustable height
Durable
Value for money
Includes a carrying case
Safe for children
Cons
None
The REEHUT 6-inch Speed Hurdles are made of shatterproof and weatherproof plastic (PVC). This makes them ideal for a wide range of sports, drills, workouts, and warm-ups. You can use them on any surface, both indoors and outdoors, because of the high-visibility neon orange color. Their lightweight and stackable design with handles make it easy to carry. They are suitable for enhancing speed, functional core strength, dynamic flexibility, coordination exercises, and balance.
Pros
Weatherproof
Durable
Lightweight
Easy to store
30-day replacement or refund
2-year warranty
Lifetime customer support
High visibility
Cons
The SS Sports Speed Agility Hurdle Training Set is approved and used by coaches and players of championship teams. The height options of 6, 9, and 12 inches allow multiple training configurations. You can use them in track-and-field, football, soccer, tennis, la crosse, hockey, or indoor training. They improve your overall athleticism and agility on the field, court, or ice surface. Kids, adults, professionals, athletes – all can use these speed hurdles alike because of the ideal height options. They are made from high-quality, lightweight PVC material that offers durability, while the bright colors provide clear visibility during training.
Pros
Easy to store
Lightweight
Safe for kids
Easy visibility
Value for money
Cons
The Unlimited Potential Speed Agility Hurdle Training Set is made of heavy-duty solid flat PVC pipe. These hurdles are flexible yet rebound into shape when stepped on. They are designed with a stable base that keeps them upright, even in windy, outdoor conditions, thereby reducing the risk of injury when bumped into. These 6-12 inch speed hurdles are brightly colored and ensure easy visibility even on overcast days. Their lightweight body enables easy, hassle-free portability as attested by multiple reviews.
Pros
Easy to set up
Portable
Durable
Value for money
Lightweight
High visibility
Cons
None
The Sportime Adjust-A-Hurdles are affordable and ideal for children and adults. The hurdles come with a swivel base that not only protects the athletes' feet but also enables easy storage in tight spaces. These lightweight hurdles are made of high-impact PVC plastic and can be adjusted from 21 inches to 36 inches height in 3-inch increments. They get back into shape instantly after being stepped on. These speed hurdles can also be used in your school gym, recreation, or childcare center.
Pros
Easy to stack
Space-saving
Safe for kids
Adjustable height
Lightweight
Affordable
Cons
The Net World Sports 6″ Speed Hurdles are essential training aids for challenging practice drills. You can use them to warm up for soccer, football, baseball, hockey, and track and field hurdle games. These hurdles are made of durable and weatherproof plastic tubing with an anti-shatter design. These track and field equipment come in bright, fluorescent yellow and help improve speed drills, agility, stride technique, coordination, and jump techniques. The hands-on experience of the reviewers with the product suggests that it is sturdy and perfect for balance and stretch.
Pros
Sturdy
Value for money
Ideal for all age groups
Weather-proof
Anti-shatter design
Cons
None
*The prices provided in this article are based on the latest available information. However, they may vary due to changes in pricing by the seller and/or promotional offers.
Those were the top 11 speed hurdles that can be used anywhere and for any sport. Check out the features you need to look for to choose the best speed hurdle.
Things To Consider While Buying A Speed And Agility Training Kit
Portability: You should be able to use agility hurdles and ladder indoors and outdoors. Chandel Stallworth, certified pilates instructor, says, "I use portable hurdles often with my clients, and their ability to be quickly packed up and easily toted around is especially important." Choose products that lightweight and made of durable material. The hurdles should also be stackable and easy to store. Look for speed and agility equipment options that have a simple, collapsible design. They would need less space and are convenient to carry.
Height Adjustability: Choose an adjustable hurdle set as you can change the height of the hurdle based on the drill or the athlete's capacity. Kids and elders can use a lower height setting while professionals can use the highest.
Material: Good-quality hurdles bounce back to their original shape after being stepped on multiple times. The build material should be flexible yet sturdy, weatherproof, and shatterproof. The most commonly used material is heavy-duty plastic or PVC. Some high-end hurdles and ladders also come in steel. Therefore, ensure that your choice of hurdles is made of high-quality material that will last longer and protect you from accidents.
Why Trust StyleCraze?
Aditi Naskar, who authored this article, holds a diploma in health and wellness. As a fitness and health enthusiast, she went on a hunt for the best speed training hurdles and compiled a list of them after thorough research and scouting through hundreds of reliable online reviews. The items that have been listed here are best-rated, and they can up your fitness game like never before.
Frequently Asked Questions
Do hurdles improve speed?
Yes, running hurdles improves speed. They also improve a runner's strength, flexibility, and balance.
How do you set up speed hurdles?
Set up the speed development hurdles in a linear progression with equal space between each of the hurdles. Leave enough space to palace two feet comfortably.
How many steps should you take before the first hurdle?
Take at least 7-8 steps before the first hurdle.
How many steps are between hurdles?
Generally, it is a three-stride pattern between the hurdles.
How do you jump a hurdle faster?
The general rule is to lean your body forward and get your knee up, as it helps cross over hurdles quicker.
Recommended Articles