7 Best Waterproof Mascaras For Swimming – 2021 Update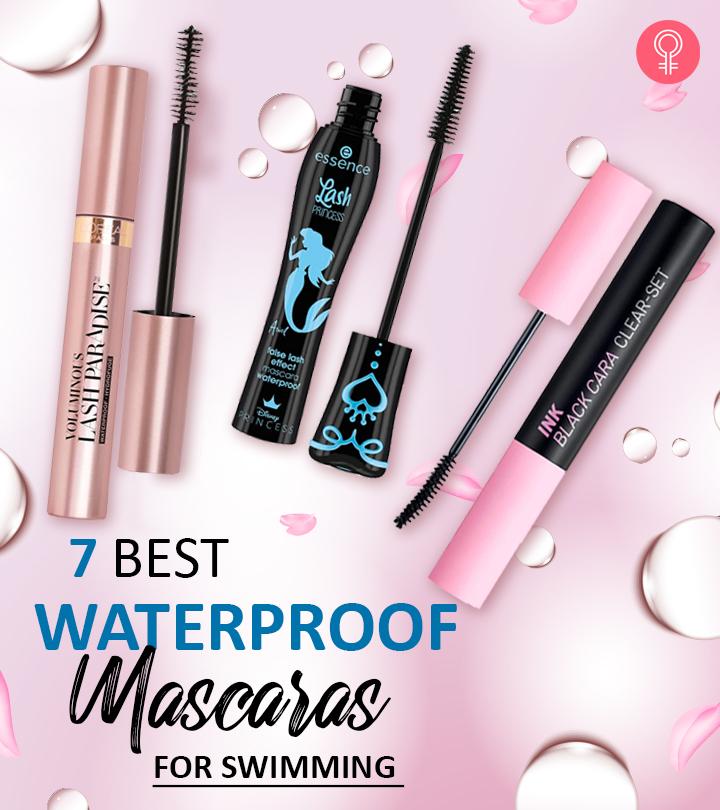 We all have different requirements when it comes to the ideal mascara. But whether we are looking for a subtle and natural look or a thick and volumizing look, a mascara that is waterproof and doesn't smudge is everybody's choice. Nobody wants streaks of mascara running down their face! Waterproof mascaras do not budge and stay put, even when you are taking a dip in the ocean or swimming in a pool. You look photo-ready any time of the day.
But then again, we have water-resistant mascaras and waterproof mascaras. A regular water-resistant formula works great for a good cry but cannot stay put underwater. Waterproof formulas, on the other hand, are thicker and dry faster and do not disintegrate even underwater! With so many choices to choose from, finding the right waterproof mascara that is effective can be a challenge. To help you out, we have curated a list of the 7 best waterproof mascaras, especially for beach cations! Read on and take your pick!
7 Best Waterproof Mascaras For Swimming
If you are someone who regularly visits the beach, then this waterproof mascara by Eyeko London is your holy grail! It instantly volumizes and lengthens your lashes, thus giving you the perfect-picture ready curls. The formula is infused with coconut oil and various essential fruit extracts that keep your lashes nourished and moisturized. The sunscreen in the formula protects your eyelashes against the UVA and UVB rays of the sun.
Pros
Long-lasting
Soft bristles
Clump-free
Smudge-proof
Easy to remove
Value for money
Sweat-proof
Cons
This rich mascara by L'Oreal Paris lengthens and volumizes your lashes instantly! It creates feathery soft fringes without flaking, clumping, or smudging. The uniquely designed bristle brush has over 200+ bristles that give you maximum coverage. 95% of users say that the formula lasts all day.
Pros
Smooth formula
Long-lasting
Feathery soft
Smudge-free
Clump-free
No flaking
Intense length
Fade-proof
Easy application
Easy to remove
Value for money
Cons
This limited-edition mascara from the Essence Cosmetics – Disney princess collection is simply glorious! It has a cone-shaped fiber brush that sculpts every single lash for added volume and definition. The formula is super smooth and doesn't form any globs or clumps. It stays on without fading, flaking, and smudging! This mascara is also PETA-certified, so you can indulge in guilt-free wear!
Pros
Cruelty-free
Clump-free
Long-lasting
No flaking
Fade-proof
Sweat-proof
Easy to remove
Value for money
Smudge-proof
Doesn't smear
Cons
Lengthen and lift your lashes with this iconic black mascara by Peripera! The formula lengthens each lash separately to create a fuller effect that looks like eyelash extensions. The strong curve system technology of this mascara forms a powerful gel coating to seal in your curls. You can also enhance the volume of your lashes by applying multiple coats, as this formula does not clump or stick. The wand is designed ergonomically to grab the lashes which are closer to the root. It is long-lasting and does not smear or smudge.
Pros
Smudge-proof
Cruelty-free
Long-lasting
Smear-free
Clump-free
Easy application
Doesn't flake
Easy to remove
Cons
Feels heavy on the lashes
Why spend a fortune on getting eyelash extensions when you can get them instantly and at a much lower price at home! The Illegal Length Fiber Extensions by Maybelline New York is infused with 4mm of measurable fiber extensions that dramatically extend your lashes with a single swipe. The fibre fix brush evenly spreads the extensions to each lash and delivers optimal fibre placement. The formula seals in the fibres securely and does not break or flake. This formula is also safe for individuals who wear lenses.
Pros
Doesn't flake
Ophthalmologist-tested
Long-lasting
Clump-free
Smooth application
Value for money
Cons
This waterproof mascara by Lancôme Paris is super long-lasting and can stay put for up to 24 hours. The formula delivers superior volume and has an ultra-creamy texture that coats your lashes equally. The applicator has a unique shape with super soft wavy bristles that deliver just the right amount of formula. The wax and polymers in the mascara instantly add length and volume with a single swipe. It does not flake or smudge.
Pros
Long-lasting
Sweat-proof
Smudge-proof
Creamy texture
Intense length
Great for travelling
Easy to remove
Smooth application
Value for money
Quick drying
Cons
This mascara by Pacifica Beauty is infused with natural ingredients like coconut oil, kelp extract, and vitamin B. These ingredients hydrate your lashes while strengthening, lengthening, and adding volume to them. The 100% vegan brush is super soft and separates each lash to deliver a voluminous look. The mascara's gentle formula makes it an ideal choice for people with sensitive skin and eyes.
Pros
Vegan formula
Cruelty-free
Suitable for sensitive eyes and skin
Long-lasting
Long lashes
Sulphate-free
Gluten-free
Paraben-free
No propylene glycol
No petroleum
No mineral oil
Easy to remove
Volume control
Cons
Whether you want to lounge in the neighbourhood pool or at the beach, waterproof mascara always comes in handy! Since waterproof formulas can be drying, choose a mascara with moisturizing ingredients like coconut oil or rose oil to prevent your lashes from feeling brittle. Do not forget to thoroughly remove your waterproof mascara at the end of the day to avoid any eye irritations. Take your favorite pick from our list above and say goodbye to panda eyes!
Frequently Asked Questions
Should you wear makeup to the pool?
There are no rules when it comes to beauty, so if you want to wear makeup to the pool, give it a shot! But make sure you invest in waterproof makeup and always clean your face thoroughly once you are home.
Recommended Articles