11 Best Mascaras For Oily Skin Of 2021- A Review Guide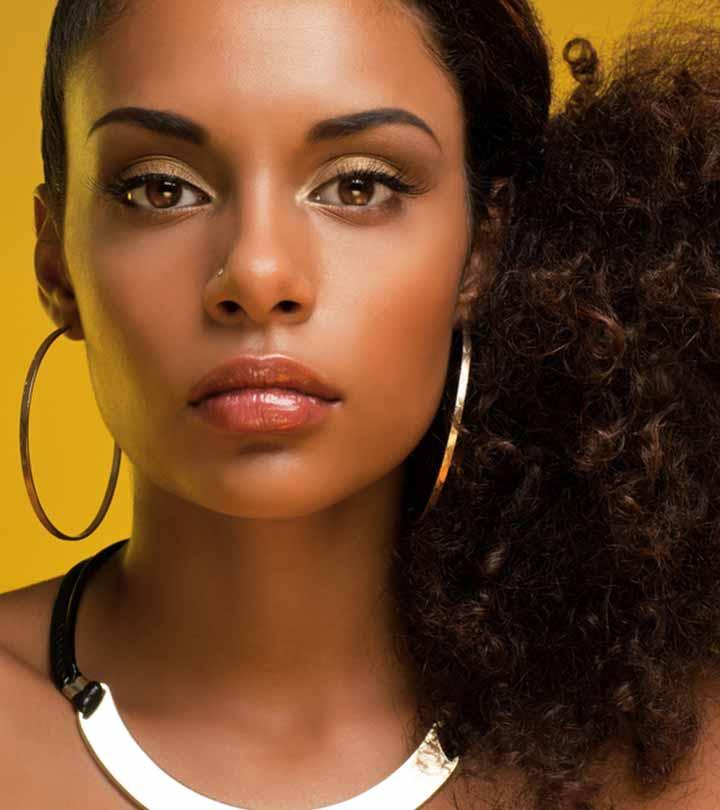 Who doesn't like naturally long eyelashes? Everyone likes and wants natural voluminous thick eyelashes. Surely long eyelashes are worth the hype. Long eyelashes highlight your eyes and make them look more beautiful. You can get such beautiful dramatic eyelashes with a swipe of a magic wand. This magic wand is called mascara. It is a great product that can be used on a daily basis.
While mascara is undoubtedly an essential part of our makeup routine, there are some things to keep in mind before buying one. Knowing your skin type is essential and you must use it depending on your skin type.  Also, know the finish that suits your skin like softly defined, lengthening formula or curly formula. We have compiled the best mascaras for oily skin here. These products are smudge-proof, water-resistant, and are preferred by people with oily skin. Have a look. 
Top 11 Best Smudge-Proof Mascaras For Oily Skin Of 2021

1. 4D Silk Fiber EyeLash Mascara
If you have oily skin, you must try this mascara from Tetyana Naturals. With its silky formula, this mascara provides the needed lift to your eyelashes. The 4D silk formula ensures to avoid imparting the spidery look and lets you attain voluminous eyelashes that stay for a long time. It is undoubtedly one of the best smudge-proof mascaras for oily skin.
Pros
Non-toxic formula
Highly pigmented
Waterproof
No flaking and clumping
Cons
Might be difficult to remove
Get your hands on this budget-friendly waterproof mascara for full and healthy-looking eyelashes. The advanced formula is thick and deeply nourishes the lashes. Despite being nourishing, it does not trouble people with oily skin. Mascara lovers can expect to have clump-free, smooth lashes effortlessly with this product. Just swipe the brush from root to tip for an even application. Pro tip: Do not let the mascara dry between coats.
Pros
No lash loss
Nourishment of vitamin E
Suitable for contact lens wearers
Can be removed easily with an oil free makeup remover
Cons
Sensitive people might experience irritation
When you use this mascara from Heroine Make, you are surely going to thank the Japanese for this product. Loaded with natural extracts like camellia oil, argan oil and royal jelly extract, this mascara offers much-needed nourishment to the lashes. Watch as this mascara offers long and curled eyelashes with just a few coats. Those with tiny lashes can keep them curled for long hours with this smudge-proof mascara. People with oily eyelids will love this product for its non-sticky coverage.
Pros
Light-weight formula
Waterproof mascara
No smudging and clumping
Easy to use
Cons
Some people might struggle to remove the mascara
With this 2-in-1 4D Mascara, you bid goodbye to your falsies. After using this no-flake mascara, your eyelashes not only look fuller but also appear naturally fuller. The product comes with two brushes. The first one gives you a natural look while the second one adds volume to your lashes. The formula is waterproof and lasts all day.
Pros
Hypoallergenic formula
long-lasting
Effortless application and removal
Versatile product
Cons
Elevate your glam routine with this highly pigmented smudge proof mascara for oily skin. It is a product that people with oily skin love. The product volumizes the lashes and gives intense black color within seconds. The soft, flexible bristles of this mascara brush separate the lashes and enhance their length. There are no clumps and flakes observed when using this mascara. Whether it is day or night, try coating your eyelashes with its triple-black pigmentation and mesmerize people with your dramatic lashes.
Pros
Premium quality
Easy to wipe off excess product
Cruelty-free
Waterproof formula
Cons
Might become clumpy as the product dries out with time.
Adding a high quality mascara to your makeup kit can be of great use. One such mascara is this from Mostory that lets you enjoy a bold and dramatic look. Few features that make this product stand out are hyper curl intensity, sweat-proof formula and hassle-free application. Suitable for creating intense volume without having your lashes weighed down. Ditch your falsies without any fear now and enjoy long and lengthy eyelashes with this supermodel mascara.
Pros
No flaking
Lasts long
Great product to substitute false eyelashes
Suitable for people with contact lenses
Cons
Might cause irritation on sensitive skin
Grande Mascara is one that conditions while coating your eyelashes. It is loaded with peptides, panthenols and natural waxes that make your eyelashes look healthier and voluminous. Not only do these ingredients help your lash look fuller, but also condition them, making them smoother and softer. The mascara brush is a combination of hard and soft fibers to lift the lashes. This nourishing formula is the ideal choice for thick and clump-free lashes.
Pros
Curls the eyelashes
Smooth gliding formula
Keeps the lashes soft and shiny
Water-resistant formula 
Cons
Brush might break off easily
Classy, long-lasting and smudge-free are the main features of this mascara. Clinique is known for its impressive line of products and this mascara is no different! The product offers long-lasting stay for up to 24 hours in any weather. This lengthening mascara is capable of lengthening even the tiniest of lashes, resulting in beautiful, voluminous lashes. The product is safe to use even for contact lens wearers. It surely is a must-have mascara for oily skin.
Pros
Allergy-tested
No sulfate formula
Free from SLS and gluten
Ophthalmologist tested 
Cons
This is a premium-quality product from a world-renowned brand. This mascara is one of the best ones out there for oily skin. Whether you are in hot and humid weather or experiencing perspiration, you must get your hands on this mascara to give your eyes that desired pop. It defines your lashes and keeps them clump-free for an entire day. Microfiber bristles used to design this mascara brush ease the application process and keep the lashes untangled for a smooth look.
Pros
No smudge formula
Prevents raccoon eyes
Upwards of 15 hours of wear time
Easy to remove
Cons
Thin brush, which some might not like
A mascara with 4D silk fiber bristles that touch and coat even the smallest lashes to avoid ruining your eye makeup. Its advanced formula helps the lashes look fuller, thicker and more beautiful. The color is highly pigmented and leaves lashes gorgeously coated and voluminous. You can easily wear it all-day long even in humid and rainy conditions. The ingredients used are natural and good for lashes.
Pros
Gentle formula
Long-lasting wear
No fall outs
No flaking and clumping 
Cons
Might be difficult to use for sensitive skin
This is a perfect magic wand for your eyelashes. It works miraculously well and leaves the lashes highlighted. As the name suggests, the product offers a bold eye look and keeps up your makeup game together. The bristles are soft and flexible for easy application. Since the product is free from mineral oils, it serves as the perfect mascara for oily skin. 
Pros
Great applicator
Prevents fall outs
Two types of bristles
Good consistency of the product 
Cons
The brush may take some getting used to
This was all from us about the top mascaras for oily skin. Hope this list is useful to you in choosing the best smudge proof mascara to give you luscious black eyelashes. Before buying any mascara make sure you read some tips given below to ensure a glam and gorgeous look.
How Do I Stop My Eyelids From Getting Oily
You can keep your eyelids from getting oily by following the below tips and tricks:
Conceal your oily eyelids with a matte concealer.
Set your eyelids with a setting powder.
Wash your face before applying any makeup.
Blot Regularly
Try to use powder products rather than creamy formulations.
How Do You Avoid Getting Mascara On Your Eyelids?
Here are some quick tips that can help you avoid getting mascara on your eyelids:
Use the mascara wand horizontally and vertically to apply mascara evenly on every side of the lashes.
Apply a couple of coats for curling, lengthening and volumizing. These are three different steps and it is important to take time to carry out these steps separately. Trying to do everything in one coat brings mascara on eyelids.
Do not forget to blot your eyelids before applying mascara. It keeps excess oil away and you can avoid getting mascara on your eyelids if there is no stickiness around.
Wipe off the excess product collected on the applicator. If there is less product, you can always take more and enjoy a fresh look.
Look downwards while applying mascara. It can prevent any coating of eyelid.
Mascara is a common makeup item used by women all across the globe. Choosing a mascara that goes with your skin type is probably the best. Whatever be your color choice, choose a mascara that lasts long, has great consistency and is clump free. The right product can do wonders to your look and thus needs to be chosen wisely.
Frequently Asked Questions
Which is the best mascara for oily eyelids?
The best mascara for oily eyelids is the one that is transfer-proof, smudge-proof, clump-free and long-lasting. One of the best mascaras for oily eyelids is Estee Lauder Double Wear Zero-Smudge Lengthening Mascara which lengthens your lashes and keeps the product only to your lashes, thus preventing raccoon eyes.
Which is the best mascara that avoids smudging?
There are quite a few best mascaras that don't smudge. Products with long-lasting stay do not generally smudge. The list mentioned above has 11 options. Naming a few here- Clinique lash power mascara, Stila huge extreme mascara & Maybelline full 'N soft waterproof mascara can be trusted for smudge free eyes.
How do I stop mascara from smudging under my eyes?
In order to stop your mascara from smudging under eyes use the following tricks-
Use a blotting paper to remove excess oil from under your eyes.
Set your makeup with a setting powder to keep away the stickiness.
Choose a smudge proof mascara.
Opt for a mascara that is thick in consistency, dries easily and is long-lasting.
Avoid creams in your under eye area.
What is the best mascara for hooded eyes?
Usually a curling and water resistant mascara is great for hooded eyes. Choose a long-lasting and water resistant formula like HEROINE MAKE long and curl mascara which keeps your eyes mess free. Also, it allows you to skip your eyelash curler which generally can be a hassle for people with hooded eyes.
Recommended Articles