10 Best Guerlain Perfumes For Women
Thrill your senses with sensual Guerlain fragrances made with a delicious blend of notes.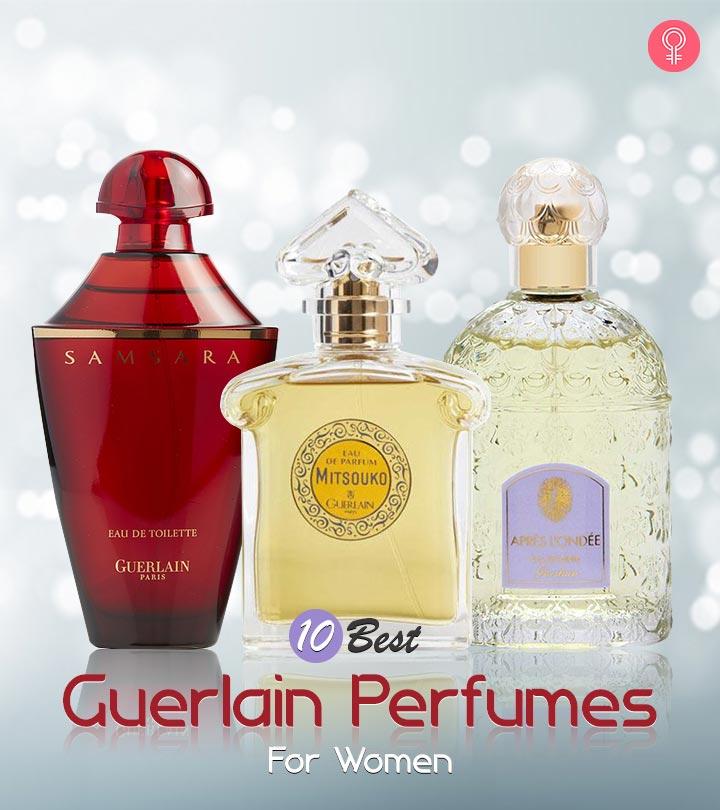 Guerlain perfumes are intoxicating, classic, and unique. This French beauty brand was founded in 1828. The best Guerlain perfumes are available in the notes of iris, rose, vanilla, bergamot, tonka, jasmine, and bean. These fragrances are long-lasting, and they won't fade away. Guerlain is well-known for its scent and has created exceeding 700 perfumes.
The luxurious Gurlein perfumes can be worn as per your mood or to match the occasion. Some of these perfumes are best to use daily to lift your spirits. Choosing the perfect Guerlain perfume from the huge collection of perfumes can be demanding. So, we have compiled a list of the 10 best Guerlain perfumes for women that will charm you no matter the day or occasion. Check them out below!
Top 10 Guerlain Perfumes For Women
Shalimar By Guerlain Eau De Parfum is an ode by Jacques Guerlain to the legendary romance between Emperor Shah Jahan and his wife Mumtaz Mahal that was symbolized for generations by the Taj Mahal. The fragrance is named after the gardens of Shalimar that Shah Jahan built for his wife.
The top notes of this perfume bring a whiff of freshness with bergamot, mandarin, lemon, cedar, orange, and citrus notes. The heart notes feature a delicate blend of iris, jasmine, rose, patchouli, and vetiver. The base notes of this classic fragrance are a spicy symphony of vanilla, tonka bean, sandalwood, musk, civet, and incense. Learn more about the product in this video.
Pros
All-natural ingredients
Ethereal fragrance
Not gaudy smell
A few sprays serve the purpose
Long-lasting fragrance
Exquisite packaging
Cons
Samsara By Guerlain Eau De Toilette is an oriental woody fragrance that was created and launched by Jean-Paul Guerlain in 1989. Its theme explores a breath of long-lasting freshness with a hint of warm sophistication. Samsara is a Sanskrit word that describes the cycle of birth and rebirth and is the route to nirvana.
The sweet and enchanting aroma of this perfume envelops you with the first whiff as you sense the charming top notes of peach, bergamot, ylang-ylang, lemon, and green notes. The heart notes are a heady blend of violet, jasmine, narcissus, iris, rose, and orris. The base notes create a lingering scent featuring tonka bean, musk, sandalwood, vanilla, and amber.
Pros
Gentle fragrance
Long-lasting fragrance
Cons
Insolence By Guerlain Eau De Toilette is a fruity floral fragrance with powdery hints that you can flaunt with ease at any casual gathering. It has a delightful sensuality that shines through and reflects the bold spontaneity within you. This scent was launched in 2006 and was created by Maurice Roucel and Sylvaine Delacourt.
The top notes are sweet and infused with dazzling violet and raspberry. The heart notes strike a delectable chord using rose, orange blossom, and yet more violet. Balsam, iris, tonka bean, and raisin in the base notes make for a very alluring fragrance.
Pros
Unique fragrance
Not overpowering
Value for money
Vintage packaging
Cons
Champs Elysees By Guerlain Eau de Parfum is a joyful floral fragrance that celebrates lilac and mimosa. Created by Jacques Guerlain and Jean-Paul Guerlain in 1996, Champs-Elysées highlights the mimosa in all its glory for the first time in the world of perfumery.
Black currant, almond, peach, melon, violet, and anise make for striking top notes. The heart notes of the fragrance feature an explosion of mimosa flowers with peony, lilac, lily-of-the-valley, hibiscus, almond blossom, and rose, creating an intoxicating melody. Sandalwood, vanilla, and cedar make up the base notes of this perfume that rejoices in the splendor of fresh fruits and flowers.
Pros
High-quality ingredients
Fresh fragrance
Value for money
Pretty packaging
Long-lasting fragrance
Cons
None
Mitsouko by Guerlain Eau de Parfum is a mysterious, chypre-fruity fragrance that is a surefire hit among those who prefer strong, woody scents, feminine florals, and fresh citruses. Mitsouko is a masterpiece that blends balance and innovation, giving you a symphony of peach, jasmine, and rose.
This perfume starts with top notes of citrus, bergamot, and peach. The heart notes of lilac, jasmine, rose, and ylang-ylang envelop you in a heady daze. The base notes are an impressive blend of warm woody and spicy elements such as amber, cinnamon, and sandalwood. The sillage and longevity of this perfume make it a powerful and ideal scent for those days when you want to stand out from the crowd.
Pros
Long-lasting fragrance
Emits a vintage aura
Exquisite bottle
Cons
Might be too overpowering for some
L'heure Bleue By Guerlain Eau De Parfum is the creation of Jacques Guerlain. It was launched in 1912. L'heure Bleue or "the bluish hour" is elegant, mysterious, and timeless. The fragrance is a celebration of dusk – a time before the first stars make their appearance in the sky.
The scent opens with top notes of fresh bergamot and spicy-sweet aniseed that evolve into stirring heart notes of carnation, rose, neroli, tuberose, and violet. Vanilla, iris, benzoin, and tonka bean make an arresting base to this floriental perfume with powdery undertones. Overall, the fragrance exudes casual sophistication, best suited to evening wear.
Pros
Wears throughout the day
Not overpowering smell
Elegant fragrance
Cons
L'Instant De Guerlain By Guerlain Eau De Parfum is the creation of perfumer Maurice Roucel. It was released in 2003. Wear it on a night out with friends or a dinner with colleagues. Its scent is sure to accentuate the allure of all your favorite outfits.
The fragrance is a blend of citrus honey accord, amber accord, and Chinese magnolia accord, with ylang-ylang and sambac jasmine. The top notes contain fresh bergamot, mandarin oranges, and apple. The heart has gorgeous scents of magnolia, iris, and jasmine. Honey and vanilla blend with the warmth of musk and amber at the base.
Pros
Pleasant smell
Not overbearing
Does not trigger allergies
Cons
Aqua Allegoria Mandarine Basilic By Guerlain Eau de Toilette is an aromatic citrus fragrance that was launched in 2007. Created by Marie Salamagne, Mandarine Basilic is rooted in grace and lightness. The Aqua Allegoria collection combines the freshness of a cologne with the sensual appeal of a Guerlain perfume.
Clementine, ivy, orange, and green tea form the pleasant top notes, followed by soothing heart notes of chamomile, peony, mandarin orange, and basil. Sandalwood and amber finish off the scent with a lingering base that continues to enchant your senses throughout the day. The perfume goes well with both casual and dressy ensembles.
Pros
Clean fragrance
Mild scent
Value for money
Cons
Imperiale by Guerlain is a famous fragrance creation of Pierre-Francois-Pascal Guerlain. It has come a long way since it was launched in 1860. This fragrance is reminiscent of a citrusy aroma that celebrates the delicate and beautiful aura of a woman.
This feminine fragrance opens with notes of citruses, neroli, and lemon verbena. The heart notes are of bergamot, lemon, and orange. The scent ends on the warm notes of rosemary, cedar, and tonka bean.
Pros
Refreshing smell
Unisex perfume
Ideal for summer time
Cons
La Petite Robe Noire By Guerlain Eau de Parfum takes inspiration from the elegance of the little black dress that is an eternal staple in any woman's wardrobe. Thiery Wasser is the nose behind this fragrance, which was first released in 2009. It has since been reinterpreted several times, making this a perfume that evolves with the ages.
The scent opens with sparkling and playful top notes of black cherry, almond, red berries, and bergamot. The heart notes feature a profusion of Turkish and Bulgarian roses, infused with notes of smoked black tea and licorice. The warm base notes consist of tonka bean, iris, vanilla, aniseed, and patchouli.
Pros
Fruity fragrance
Not overpowering smell
Pretty packaging
Cons
Might smell too sweet for some
Why Trust StyleCraze?
The author of this article, Sakshi Bahal, is a makeup enthusiast with a special passion for perfumes. She experimented with different fragrances and browsed through several forums for user feedback to compile this list of the best Guerlain perfumes. Her list contains products that have received high praises from all corners. They are long-lasting, classic, and unique.
Recommended Articles: