10 Best Mascara For Straight Lashes Of 2023 Reviews
These specially-designed mascaras give your eyelashes a straighter and fuller look.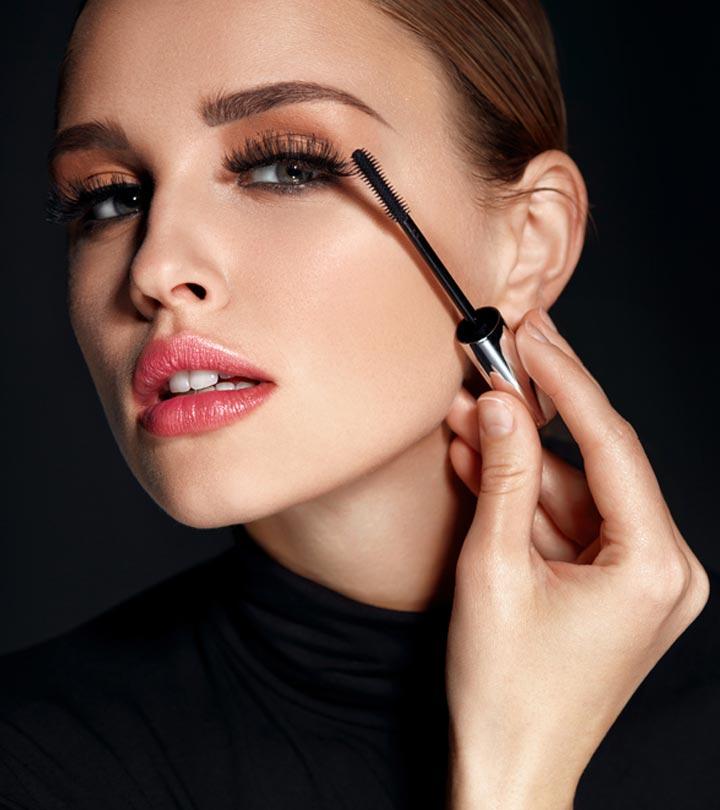 If you are here looking for the best mascara for straight lashes, you are in luck! While everyone has their own preference when it comes to mascara, those with straight lashes might find it a bit difficult to get the right one. While an eyelash curler can do the trick for some, not all of us can afford that extra time and effort. That's when a good mascara specifically designed and formulated for straight lashes can come in handy. It not only adds the required volume and definition but also give them the much desired curly look. To help you pick one, we have shortlisted the 10 best options for you!
Top 10 Best Mascara For Straight Lashes Ever!
Pros
Provides 8 times more volume instantly
Waterproof formula
Mascara is smudge-proof
Ophthalmologist-tested
Safe to wear while using contacts
Cons
Price at the time of publication: $7.98
Pros
Does not form any clumps
Stays all day long
Lightweight formula
Smudge-proof and waterproof
Cons
May not be easy to remove
Price at the time of publication: $22.99
Pros
Volumizing formula
Adds curling effect in a single coat
The hourglass-shaped brush adds volume.
Cons
Price at the time of publication: $19.65
Pros
Lasts all day long
Does not smear
Suitable for sensitive eyes
Can be worn while wearing contact lenses
Washable and waterproof formula
Cons
May dry out quickly while applying
Price at the time of publication: $8.02
Pros
Efficient brush design
Stays all day long
Smudge-proof
Waterproof
Cons
Price at the time of publication: $15.0
Pros
Special brush design that curls and lifts the lashes
Stays for 12 hours
Water-resistant formula
Cons
Price at the time of publication: $24.24
Pros
Helps your regular mascara stay water and smudge-proof
Conditions the lashes
Adds volume to your lashes
Cons
Price at the time of publication: $7
Pros
Lengthens your lashes
Provides even coverage
Does not form clumps or flakes
Hypoallergenic formula
Cons
Price at the time of publication: $18.66
Pros
Specially designed brush for curling your lashes
Volumizing formula
Easily removable
Cons
Price at the time of publication: $31.86
Pros
Comes in a pack of 3
Long-lasting formula
Cruel-free
Cons
Price at the time of publication: $14.97
Still not sure about what you want? Check out our buying guide for some extra info!
Buying Guide For Mascara For Straight Lashes
Finding the right mascara for your stubborn straight eyelashes might seem like a laborious task. However, there are many great mascaras out there that are specially designed for just that. Also, go through the product description to see if the mascara stays all day because you don't want your eyelashes drooping down in the middle of the day. In addition, if you have sensitive eyes, it is best to get a mascara that is particularly safe for sensitive eyes.
If you have straight eyelashes that just won't curl, then it is always better to go for an eyelash curler. This helps maintain the curl of your lashes. Also, use mascara that is specifically formulated for straight eyelashes. Make sure that the formula is lightweight and wouldn't weigh your lashes down.
Marin McCarthy, a licensed professional makeup artist, suggests, "A great route for straighter lashes is to curl once at the base and hold, the repeat moving up the lash. You can also purchase smaller curlers that can curl in segments to reach those stubborn lashes."
Most mascaras that curl straight lashes come with a wand that helps in achieving that curl you long for. While applying your mascara make sure you start from the root of your lashes and go all the way to the tip in an upward motion to give it a curl. Your mascara should do the rest of the work in maintaining that curl all day.
Why Trust StyleCraze?
The author of this article, Chaitra Krishnan, is very passionate about makeup and loves experimenting with different eye makeup products. She thoroughly researched mascaras from different brands and checked numerous user reviews on online forums to compile this list of the best mascaras for straight lashes. The shortlisted products add volume to the lashes and give them that much-desired curly look.
Frequently Asked Questions
What Mascara Makes Your Eyelashes Curl?
There are several great mascaras available in the market right now that are specially designed for straight eyelashes. These mostly have formulations that help in creating and maintaining the curl of your lashes. Maybelline New York the Falsies Volum' Express, Too Faced Mascara, benefit Roller Lash, and heroine make Long and curl mascara are designed for straight lashes.
What Can You Do With Straight Eyelashes?
Working with straight eyelashes can seem like a dead-end job until you find a mascara that is made for just that. You could also try using an eyelash curler which helps in curling up your lashes almost instantly. Finally, opt for waterproof mascara as they tend to maintain the curl for a longer period.
What Is The Best Mascara For Long Full Lashes?
If you have long full lashes, then you don't want a heavy mascara that would weigh your lashes down. Instead, go for a lightweight mascara that is designed to curl your eyelashes while defining them. heroine make's Long and curl mascara could be a good option.
How To Prevent Mascara From Smudging On Your Eyelids?
If you want to prevent the smudging on your eyelids, the primordial thing to do is to go for a smudge-proof mascara. Make sure to apply the mascara on a clean face devoid of any dirt or excess sebum. You could also apply a matte primer on your under-eye area to prevent smudging.
How To Build Up More Coats Of Mascara?
While adding more coats can help you achieve a dramatic look, make sure you don't overdo it. 2-3 coats of mascara should do the trick. Also, go for a mascara that doesn't clump.