10 Best Mascara For Straight Lashes Of 2022 Reviews
These specially-designed mascaras give your eyelashes a straighter and fuller look.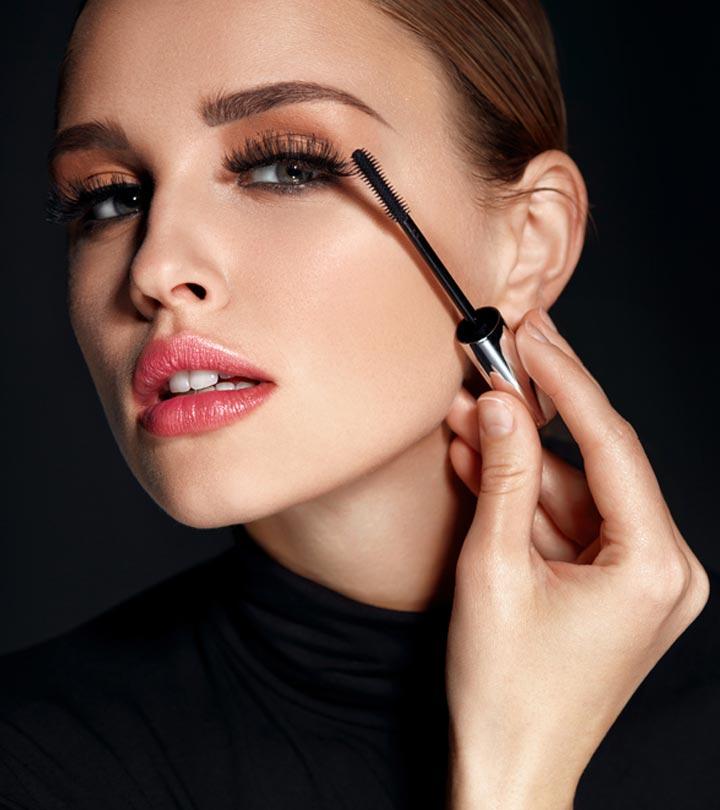 If you are here looking for the best mascara for straight lashes, you are in luck! While everyone has their own preference when it comes to mascara, those with straight lashes might find it a bit difficult to get the right one. While an eyelash curler can do the trick for some, not all of us can afford that extra time and effort. That's when a good mascara specifically designed and formulated for straight lashes can come in handy. It not only adds the required volume and definition but also give them the much desired curly look. To help you pick one, we have shortlisted the 10 best options for you!
Top 10 Best Mascara For Straight Lashes Ever!
The Falsies Volum' Express mascara by Maybelline New York comes with a flexible wand brush. The patented spoon curler brush is designed to lift and separate each lash. The brush also helps lengthen the lashes while curling them, giving it a falsies effect. The mascara is crafted using Kera-Fiber formula that prevents clumps and adds instant volume to your lashes for a dramatic look. The waterproof mascara is ophthalmologist-tested and can be worn while wearing contact lenses. Here's a video to help you know more about this product.
Pros
Provides 8 times more volume instantly
Waterproof formula
Mascara is smudge-proof
Ophthalmologist-tested
Safe to wear while using contacts
Cons
heroine make's Long and curl mascara is designed to let your lashes stay curled all day. Crafted with curl locking Memory-Shape Polymer, the mascara maintains the curl of your lashes for up to 10 hours, while also providing a lengthening effect. It also contains lightweight fibers that separate each lash without forming clumps for a defined look. Long and curl mascara comes in a waterproof and smudge-proof formula that can withstand anything from water and oils to sweat and tears. Infused with natural ingredients such as camellia oil, royal jelly extracts, argan oil, and wild rose fruit extracts, the mascara protects lashes while wearing makeup. This video takes you through this product's details.
Pros
Does not form any clumps
Stays all day long
Lightweight formula
Smudge-proof and waterproof
Cons
May not be easy to remove
Too Faced Mascara is one of the best mascaras for short straight lashes. It contains film-forming polymers that help maintain the curl of your eyelashes for a long time. It allows you to lengthen, thicken, and curl your lashes in a single stroke. The Acacia Senegal tree extract in the mascara also adds major volume to your lashes. The mascara comes with an hourglass-shaped brush that aids in styling your lashes for curl.
Pros
Volumizing formula
Adds curling effect in a single coat
The hourglass-shaped brush adds volume.
Cons
Maybelline New York's The Falsies Lash Lift mascara is designed to add drama to your lashes. Its double curved lifting brush reaches the root of even the tiniest of lashes and lifts them. The fiber-infused formula helps volumize and lengthen your lashes. It also adds an instant lift to the lashes making them look like falsies! The mascara comes in a clump and flake-free formula that is ophthalmologist-tested. For a more detailed review of this product, here's a video.
Pros
Lasts all day long
Does not smear
Suitable for sensitive eyes
Can be worn while wearing contact lenses
Washable and waterproof formula
Cons
May dry out quickly while applying
Next up on our list of the best curling mascaras for straight lashes is the Curl Fix! by Etude House. With its strongly adhering Curl 24HR Technology, it perfectly curls up your straight, stubborn eyelashes. This technology allows the mascara to maintain the curl of your lashes for up to 24 hours. It also comes with a C-Curl Brush that evenly coats each lash while providing a defined curl. Curl Fix! comes in a waterproof and sweatproof formula.
Pros
Efficient brush design
Stays all day long
Smudge-proof
Waterproof
Cons
Roller Lash by benefit comes with a Hook 'n' Roll brush that grabs the lashes, separates them, lifts, and then curls. That's everything that we look for in a mascara! It is also crafted with an instant curve setting formula that helps ensure that the lashes stay curled for up to 12 hours. It is infused with ingredients such as provitamin B5 and serin that aid in conditioning and extending your lashes. This gives your lashes a satin finish. The mascara also comes in a water-resistant formula that is easy to remove.
Pros
Special brush design that curls and lifts the lashes
Stays for 12 hours
Water-resistant formula
Cons
This transparent gel mascara by Etude House is solely crafted to give your lashes that long-deserved curl it needs. It is infused with black bean extract that helps condition the lashes. Applying it on top of your mascara makes your lashes look more voluminous. Dr. Mascara Fixer is designed to hold the curl of your lashes for a long time. It also comes in a clump-free formula that helps give your lashes a falsies effect!
Pros
Helps your regular mascara stay water and smudge-proof
Conditions the lashes
Adds volume to your lashes
Cons
Xtension Plus Curl by Marcelle has a curvaceous brush that is perfectly aligned with the natural curve of your eye. Its tapered end allows the mascara to reach the smallest of lashes to provide an even coverage. Its evenly-distributed bristles help lengthen and curl individual eyelashes for a dramatic look. The mascara comes in a silky formula that prevents any clumps or flakes from developing on your lashes. What's more? The formula is safe for sensitive eyes.
Pros
Lengthens your lashes
Provides even coverage
Does not form clumps or flakes
Hypoallergenic formula
Cons
Diorshow Iconic Overcurl mascara is infused with K Polymers that have sheathing and fixative properties. The mascara is designed to instantly add volume and curl to your lashes. It also comes with an incurved brush that helps in styling up each individual lash. Moreover, it is formulated with a stretch-effect cream formula that helps in curling and volumizing the lashes from root to tip. The mascara is also easily removable.
Pros
Specially designed brush for curling your lashes
Volumizing formula
Easily removable
Cons
essence's Volume Stylist 18hr Curl & Hold mascara comes in a pack of three. It is infused with micro styling waxes that keeps your lashes curled for a good 18 hours. It comes with a fiber-releasing brush that is crafted to coat the smallest of lashes for an even coverage. This also means that a single coat is all you need to achieve voluminous lashes. It is also cruelty-free!
Pros
Comes in a pack of 3
Long-lasting formula
Cruel-free
Cons
Still not sure about what you want? Check out our buying guide for some extra info!
Buying Guide For Mascara For Straight Lashes
How Do I Choose The Right Mascara For Straight Lashes?
Finding the right mascara for your stubborn straight eyelashes might seem like a laborious task. However, there are many great mascaras out there that are specially designed for just that. Also, go through the product description to see if the mascara stays all day because you don't want your eyelashes drooping down in the middle of the day. In addition, if you have sensitive eyes, it is best to get a mascara that is particularly safe for sensitive eyes.
Useful Tips For Straight Lashes Owner
If you have straight eyelashes that just won't curl, then it is always better to go for an eyelash curler. This helps maintain the curl of your lashes. Also, use mascara that is specifically formulated for straight eyelashes. Make sure that the formula is lightweight and wouldn't weigh your lashes down.
How Do You Apply Mascara To Straight Eyelashes?
Most mascaras that curl straight lashes come with a wand that helps in achieving that curl you long for. While applying your mascara make sure you start from the root of your lashes and go all the way to the tip in an upward motion to give it a curl. Your mascara should do the rest of the work in maintaining that curl all day.
Why Trust StyleCraze?
The author of this article, Chaitra Krishnan, is very passionate about makeup and loves experimenting with different eye makeup products. She thoroughly researched mascaras from different brands and checked numerous user reviews on online forums to compile this list of the best mascaras for straight lashes. The shortlisted products add volume to the lashes and give them that much-desired curly look.
Frequently Asked Questions
What Mascara Makes Your Eyelashes Curl?
There are several great mascaras available in the market right now that are specially designed for straight eyelashes. These mostly have formulations that help in creating and maintaining the curl of your lashes. Maybelline New York the Falsies Volum' Express, Too Faced Mascara, benefit Roller Lash, and heroine make Long and curl mascara are designed for straight lashes.
What Can You Do With Straight Eyelashes?
Working with straight eyelashes can seem like a dead-end job until you find a mascara that is made for just that. You could also try using an eyelash curler which helps in curling up your lashes almost instantly. Finally, opt for waterproof mascara as they tend to maintain the curl for a longer period.
What Is The Best Mascara For Long Full Lashes?
If you have long full lashes, then you don't want a heavy mascara that would weigh your lashes down. Instead, go for a lightweight mascara that is designed to curl your eyelashes while defining them. heroine make's Long and curl mascara could be a good option.
How To Prevent Mascara From Smudging On Your Eyelids?
If you want to prevent the smudging on your eyelids, the primordial thing to do is to go for a smudge-proof mascara. Make sure to apply the mascara on a clean face devoid of any dirt or excess sebum. You could also apply a matte primer on your under-eye area to prevent smudging.
How To Build Up More Coats Of Mascara?
While adding more coats can help you achieve a dramatic look, make sure you don't overdo it. 2-3 coats of mascara should do the trick. Also, go for a mascara that doesn't clump.
Recommended Articles