Undo Hair Color Blunders With These 5 Best Clarifying Shampoos
These clarifying shampoos help remove your hair color and help you deal with any color mishap.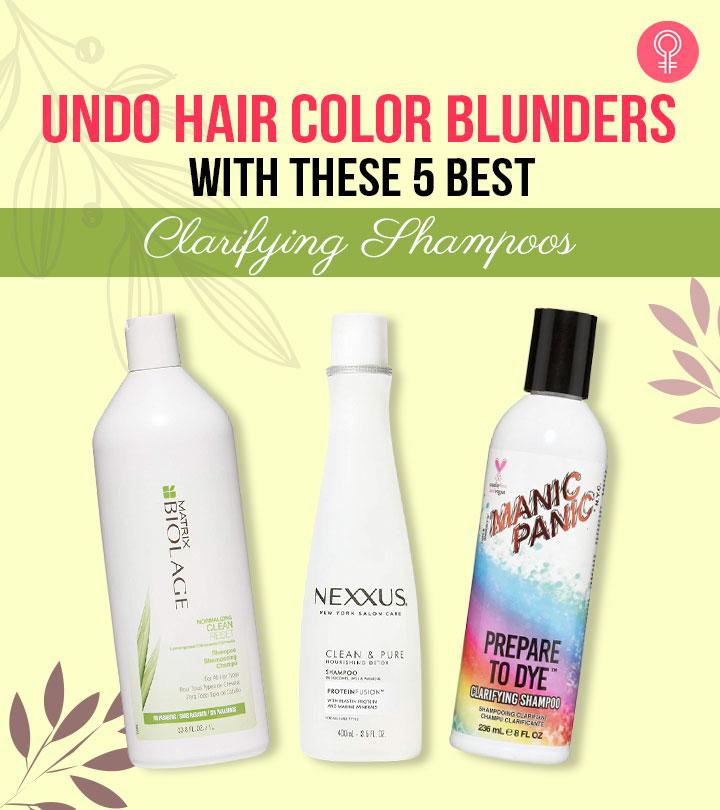 If you are going through some hair color mishap and want to get rid of that unflattering hue, here is some good news for you. The best clarifying shampoo to remove hair color is here to help. Color-safe, professional-grade clarifying shampoos clean your hair gently by removing excess oil from the scalp, styling products, and color pigments from your hair. As a result, they leave your hair soft and your scalp clean. The shampoo also fades the color of your hair with each wash. There are several brands available on the market that offer different clarifying or deep cleansing shampoos. In this article, we have listed the best clarifying shampoos for hair color removal treatment available online. Keep scrolling to check them out!
Note: Before you invest in the best shampoo to strip color, remember that it is advised to use a good clarifying mask or conditioner after using the shampoo. Most clarifying shampoos have Sodium Lauryl Sulfate or Sodium Laureth Sulfate that dries out the hair.
5 Best Clarifying Shampoo To Remove Color
Add bounce to your limp hair with the Neutrogena The Anti-Residue Shampoo. It is a non-irritating, gentle cleansing shampoo to wash out hair dye. It has been designed as a weekly clarifying treatment to clean away grease, oil buildup, and residue from the scalp and hair shaft. The Sodium Laureth Sulfate in the formula washes off the color from your hair while glycerin, a humectant, prevents moisture loss and keeps your hair soft and hydrated. This anti-build up shampoo to lighten dyed hair also also boosts hair volume and adds bounce to dull hair. Check out this video on YouTube for an in-depth review of Neutrogena Anti-Residue Formula.
Key Ingredients: Glycerin, SLS
Pros
 Non-irritating
 Artificial colorant-free
 Artificial dye-free
 Gentle formula
 Suitable for all hair types
Cons
 Unpleasant smell
 Can cause hairfall
Price at the time of publication: $1.05
The refreshing Matrix Biolage Normalizing CleanReset Shampoo is formulated with lemongrass extract that strips off the color and chemical buildups from the hair. Cleansing agents Sodium Laureth Sulfate and Sodium Lauryl Sulfate gently lighten the hair color, while sage extracts add shine to the tresses. This intense cleansing treatment has antibacterial and antiseptic properties to help control oil production and scalp acne. It promotes healthy hair growth. If you want to know more about the Matrix Biolage Normalizing CleanReset Shampoo, go ahead and check out this reviewer's experience video on YouTube.
Key Ingredients: Lemongrass and Sage
Pros
 Antibacterial
 Lathers well
 Paraben-free
 Refreshing fragrance
 Suitable for all hair types
Cons
Price at the time of publication: $37
The lightweight Nexxus Clean & Pure Nourishing Detox Shampoo lightens the hair color while the exclusive ProteinFusion blend of elastin protein and marine minerals rebonds the hair shaft. This sulfate-free shampoo nourishes the hair and makes it smooth and silky. It is packed with nourishing ingredients like hydrolyzed wheat protein, hydrolyzed keratin, and coconut oil that replenish essential nutrients to the hair. Plus, the intensive treatment formula seals in moisture to restore shine and bounce to dry, damaged hair. In this YouTube video, you will find a detailed review and the tester's experience of the Nexxus Clean & Pure Nourishing Detox Shampoo.
Key Ingredients: Elastin protein, Marine mineral, Hydrolyzed wheat protein, Coconut oil, and Hydrolyzed keratin
Pros
 Lightweight
 Silicone-free
 Paraben-free
 Sulfate-free
 Dye-free
Cons
Price at the time of publication: $15.99
The concentrated formula of OUAI Detox Shampoo uses apple cider vinegar and chelating agents to wash away the stubborn color pigments as well as oil, dirt, flakes, hard water deposits, and product buildup from your hair. It is fortified with keratin to strengthen the hair strands and keep hair soft, shiny, and frizz-free. It is infused with hints of bergamot, cedarwood, lychee, and white musk that leaves you with a long-lasting refreshing experience. According to research and reviews, it is safe to use this shampoo as a weekly treatment.
Key Ingredients: Apple cider vinegar, Hydrolyzed keratin, Tamarind seed extracts, and Chelating agents
Pros
 Lightweight
 Sulfate-free
 SLS/SLES-free
 Paraben-free
 Formaldehyde-free
 Phthalate-free
 Mineral oil-free
 Triclosan-free
 Cruelty-free
 Gluten-free
Cons
 Not suitable for fine hair
Price at the time of publication: $60
The special blend of surfactants and bonding ingredients in the Manic Panic Prepare To Dye Clarifying Shampoo helps to remove styling product buildup, excess oils, and hard water residues from the hair. This breakthrough formula is crafted using organic ginseng root, sage extract, and rosemary extract to promote healthy flake-free scalp. The high pH level of this shampoo opens up the hair cuticles to prepare it for the next color. Its mild grapefruit fragrance uplifts your mood.
Key Ingredients: Organic ginseng root extract, Rosemary extract, and Sage extract
Pros
 Organic ingredients
 UV protectant
 Pleasant fragrance
 Vegan
 Cruelty-free
 Ammonia-free
 Paraben-free
 Gluten-free
 Resorcinol-free
 Phthalate-free
Cons
None
Price at the time of publication: $14.99
Unlike professional-grade color stripping agents that are loaded with harsh chemical agents, clarifying shampoo strips off the hair color pigments comparatively gently. It clears off deep-rooted dirt and grime from the hair, making the tresses squeaky clean. And if you use a clarifying shampoo to remove hair dye the right way, it can even be a healthy detox for your scalp and hair as it is known to offer restorative care.
Alexandro Vasquez, a hairdresser, says, "I normally recommend these types of shampoo for customers that want to get rid of those strong pigments like red, blue, purple and black. It helps to remove those colors giving opportunity for a good change in the future. Another one is for customers that want to see some kind of sun-kissed hair color for natural hair in beach areas due the sun exposure."
How To Use A Clarifying Shampoo To Remove Hair Color
Using a clarifying shampoo to remove hair color is as simple as using a regular shampoo. But the following tips can enhance the effectiveness of the shampoo in removing the color.
 Take some shampoo in your palms and rub it well until it lathers. Now, massage it on your wet scalp and along the lengths of your hair.
 Leave it in for at least two to five minutes so that the cleansing agents can dissolve the color pigments attached to the cuticles. Pay special attention to the inner and bottom layers of your hair, as those tresses tend to hold more color than the top layers.
 Use warm water to rinse the shampoo.
Remember to use a good conditioner or a clarifying leave-in conditioner to prevent your hair from drying out.
To get the best benefits from a clarifying shampoo, you also have to ensure you have the right formula with proven efficacy. Read below some factors you should consider before buying a clarifying shampoo.
How To Choose The Best Clarifying Shampoo To Remove Color
 Anti-residue formulas: Since this is the basic purpose of a clarifying shampoo, make sure it will cleanse away all residues from your scalp and hair to leave it squeaky clean. The stronger the anti-residue factor is the better it will cleanse away color pigments.
 Ingredients: Pay close attention to the ingredients list while picking up a clarifying shampoo. Among other ingredients, a clarifying shampoo contains sodium lauryl sulfate or sodium laureth sulfate. These are scientifically proven cleansing agents that give your clarifying shampoo the power to fade colors as well as remove dirt and grime from your hair.
 Nourishment: Color-treated hair needs special care, so while you are trying to strip the color off, make sure the shampoo does not strip off the natural oils and nutrients from your hair. Choose a shampoo with a tried-and-tested formula that will nourish and strengthen the strands while it removes the color.
Why Trust StyleCraze?
The author, Shiboli Chakraborti, is a hair care enthusiast who loves to experiment with different hair care products. She went through numerous reviews and feedback on multiple forums and websites to curate a list of the best clarifying shampoos. These products help remove excess oil from the scalp, residue of styling products, and color pigments from your hair.
Frequently Asked Questions
How long does it take for a clarifying shampoo to fade hair dye?
A clarifying shampoo may take up to five washes to remove semi-permanent hair dyes. The time will vary depending on the strength of the color and your hair's texture.
Will clarifying shampoo lighten hair dye?
Yes, clarifying shampoos can lighten hair dyes if used well. These shampoos have been formulated to remove product buildup and keep your strands clean.'
What does clarifying shampoo remove hair color?
Clarifying shampoos remove stubborn product buildup and lighten semi-permanent hair color to bring back the original color of your tresses. These shampoos often use a higher pH formula to lift the cuticles and remove color pigments or residues.
Are clarifying shampoos safe for color-treated hair?
No. Clarifying shampoos can often lighten semi-permanent colors on your hair. If used too much, they might also dry your tresses and damage cuticles.
Should I use clarifying shampoo before coloring?
Yes, you can use a clarifying shampoo on your tresses before coloring. These shampoos can help enhance the effect of new dyes while making your hair feel cleaner than usual.
Recommended Articles