10 Best Micellar Shampoos You Need To Try Right Now
Infused with micellar water, you can achieve a velvety smooth, shiny mane in no time.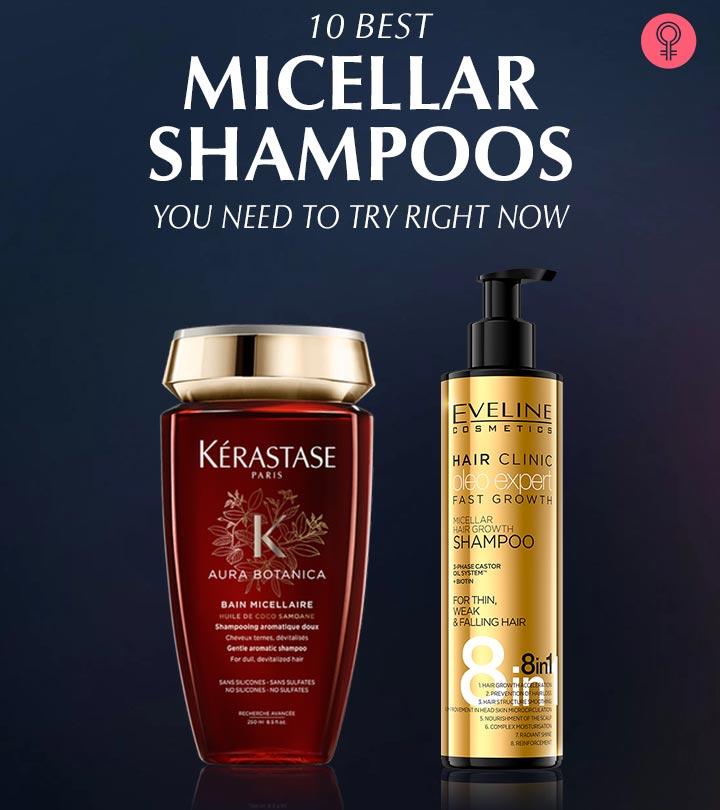 You've heard about (and probably own bottles of) micellar water, but what about micellar shampoo? Well, this extension to the makeup remover goes one step further in your beauty regimen to instantly refresh your tresses and scalp. Curious to know more about this mystifying product that's been taking the hair care world by storm? Read on to find out!
What Is Micellar Shampoo?
The world is going gaga over the new revolutionary micellar water. What makes it so fancy? Micellar water or micellar shampoo contains tiny molecules called micelles. These are cleansing molecules that cling onto the oils and impurities on your scalp like a magnet. The best part is that they rinse out quickly, taking the dirt and grime along with them. These shampoos are similar to clarifying shampoos but unlike micellar shampoos that can be used every day to keep impurities at bay, clarifying shampoos can be used only once or twice a week.
How is a micellar shampoo different from a regular shampoo? Let's find out!
What Is The Difference Between Micellar Shampoo And Regular Shampoo?
Micellar shampoos are milder than regular shampoos and can be used every day. The formula is much gentler and does not lead to dryness despite using it regularly. For someone who uses a ton of serums and styling products, this product can be of great help as it clears scalp build-up without drying your scalp. A regular product, on being used every day, can buildup on your scalp over time.
If the entire hair care industry is embracing this product, there must be something about it, right? Here are the benefits.
Benefits Of Micellar Shampoo
A micellar shampoo cleanses your hair without being too aggressive on your scalp.
It keeps your hair moisturized and hydrated for days.
It leaves your hair feeling clean and fresh.
It helps remove product build-up without stripping your hair color.
It helps combat unpleasant scents or sweat odors that get trapped in your hair.
It fights against the effects of environmental pollutants and keeps your hair smelling great all day long.
It adds a dose of antioxidants to your hair and scalp with every wash.
Let's now look at the top 10 micellar shampoos you can lay your hands on.
Top 10 Micellar Shampoos To Buy In 2023
The L'Occitane Gentle & Balance Micellar Shampoo cleanses dirt, oil, and impurities from your hair and imparts a healthy shine. The gentle formula contains essential oils of rosemary, orange, chamomile lemon, and lavender. This shampoo helps strengthen and volumize your hair and prevent breakage. It repairs damaged hair and adds a subtle fragrance. If you want to know more about the benefits of this product, check out this quick review on YouTube.
Pros
Gentle formula
Suitable for all hair types
Silicone-free
Sulfate-free
Pleasant fragrance
Cons
None
Price at the time of publication: $36.0
Pantene's new micellar shampoo is a nutrient-infused formula that helps remove impurities from your scalp effectively. It contains pro vitamin B5 and antioxidants that protect your hair against breakage. It deeply cleanses the scalp without stripping away hydration. This protein-filled shampoo is ideal for people with greasy and dull hair as it clears the oils off your scalp while adding radiance to your tresses. Here's an honest review of the product.
Pros
Improves scalp health
Makes your hair more manageable
Imparts shine
Nice fragrance
Cons
None
Price at the time of publication: $59.99
Herbals Essences Blue Ginger & Micellar Water Shampoo is specially crafted for adding volume to thin and limp hair. It is infused with natural ingredients like essential antioxidants, sea kelp, and aloe.
This volumizing shampoo gently cleanses your hair by removing dirt and oils from your scalp. The formula balances scalp pH levels and restores life into dull and fragile hair. It adds a natural radiance to your hair by imparting a luminous glow to it. This shampoo contains refreshing notes of fresh ginger blossom and musk. Here's a video featuring a detailed review of the product.

Pros
Cleanses scalp well
Doesn't weigh your hair down
Adds volume and bounce
Free of silicones and parabens
Soothes dry and itchy scalp
Cons
Not suitable for fragrance-sensitive skin
Price at the time of publication: $6.99
This gentle cleanser is formulated with sugar tensides and cationic polymers that deeply nourish the inner hair structure to give you strong and healthy hair. It smoothes the surface of each strand and tames unruly wild hair to provide you with soft, silky, and shiny hair. The new Q10+ Time Restore Technology combined with nutrifiler technology offers 100% resistance and elasticity to your hair while protecting it against damage and aging. It strengthens, hydrates, and protects your tresses against thinning. It reactivates keratin production and gives you thicker and fuller-looking hair.
Pros
Ideal for dry, weak, dull, and brittle hair
Stimulates hair's natural keratins
Reduces breakage and split ends
Cons
None
Price at the time of publication: $34.31
This luxurious shampoo is infused with 96% natural ingredients that are transformed into a rich and creamy lather, cleansing away all the dirt and impurities. It contains Samoan coconut oil and Moroccan argan oil that nourish the hair fiber, while the natural micelles remove dirt, impurities, and oils efficiently to give you clean and non-greasy hair. It clears dead cells, sweat odor, and other toxins that cling onto the scalp. Regular use of this shampoo can improve your overall hair health.

Pros
Gentle formula
Color-safe
Leaves hair bouncy and shiny
Orange peel oil adds a citrusy aroma to your hair.
Cons
Price at the time of publication: $43.71
This water-to-foam shampoo cleanses hair gently without stripping it off its natural moisture. Ideal for naturally curly, kinky, and coily hair, it minimizes tangles, reducing time to detangle the hair. It is infused with rose water and naturally-derived glycerin that leave the hair moisturized, shiny, and very soft. It transforms from water to foam lather to easily flow through hair and rinses without causing friction. This shampoo is a 97.1% biodegradable formula that is vegan and free from sulfates, parabens, and silicones.
Pros
Sulfate-free
Paraben-free
Silicone-free
Vegan
No artificial colors
Water-to-foam texture
Cons
Might have varying results
Price at the time of publication: $11.98
The Cake Beauty The Gentle Giant Micellar Gentle Shampoo gently cleanses hair, removes all dirt and impurities for a squeaky clean scalp. The calendula, shea butter, and chamomile in the formula nourish, strengthen, and condition your hair. The magnet-like micelles attract buildup for effective cleaning, while being extremely light and non-irritating. Moreover, it does not weigh down your hair and leaves them fragrant with its pleasant scent.
Pros
Non-greasy
Paraben-free
Sulfate-free
Phthalate-free
Cruelty-free
Vegan
Enriches hair with natural oils
Color-safe
Cons
None
Price at the time of publication: $8.99
This shampoo is specially designed for dry and damaged hair. It contains probiotic PM TM yogurt, an active ingredient containing amino acids and vitamins, which helps develop microflora on the scalp for healthy hair growth. It gently cleanses your hair and scalp and restores depleted moisture. It clears excess oils without drying your scalp. This hypoallergenic formula is ideal for people with sensitive skin.

Pros
Suitable for all hair types
Gentle for daily use
Cleanses scalp well
Conditions your hair
Cons
Price at the time of publication: $2.33
TRESemme Pro Pure Micellar Moisture Shampoo is a hydrating shampoo meant to boost moisture in your dry and dull hair. It also provides shine, giving you healthy and lustrous tresses. It is free from sulfates, parabens, and mineral oil, making it an ideal shampoo for chemically treated hair. The gentle formula cleanses the scalp and adds freshness with its pleasant scent.
Pros
• Cleanses hair well
• Boosts moisture
• Color-safe
• Silicone-free
• Suitable for all hair types
Cons
None
Price at the time of publication: $33.52
This Italian-based shampoo is enriched with organic aloe vera. It claims to cleanse your hair without stripping away the natural oils. The formula is free of parabens, SLES, and SLS and is ideal for all hair types. It gently cleanses your hair and adds a glossy look to it. It also claims to add volume to thin and limp hair.

Pros
Suitable for everyday use
Clears dirt and excess oils
Ideal for sensitive scalp
Cons
Price at the time of publication: $36.95
Different micellar shampoo formulas work differently when it comes to maintaining your hair. Here is a list of factors you should consider before buying the best micellar shampoo that works effectively on your hair and scalp.
Things To Consider Before Buying The Best Micellar Shampoos
Micellar shampoos are loaded with chemicals that keep the hair nourished and healthy while thoroughly cleaning the scalp. Look for formulas that have ingredients such as sea kelp, glycerin, rose water, fruit extracts, vitamin B5, and aloe vera. In addition, calendula, chamomile, sage, jasmine, and other calming botanical ingredients keep the scalp from drying out.
Choose micellar shampoos with delicate, non-irritating formulas. Avoid using harsh chemicals that can trigger allergic reactions, such as parabens, phthalates, and alcohol. These may trigger skin conditions if applied on sensitive scalp. In addition, it is best to use products that are non-sticky and lightweight. Finally, choose micellar shampoos that have been dermatologist and ophthalmologist tested.
Select micellar shampoos that assist in preserving the pH balance of your scalp. These are ideal for sensitive scalps since, unlike the traditional foamy cleansers, they don't need to be scrubbed in order to work. Instead, ingredients like cornflower water rejuvenate your tresses and preserve the pH levels in their natural state.
Choose micellar shampoos that are fragrance-free or come with a subtle aroma. Do not opt for overpowering, and extremely smelly shampoos as they may trigger headaches and nausea. Instead, choose micellar shampoos that leave your hair smelling lovely after use.
Why Trust StyleCraze?
Pooja Karkala, the author, is passionate about the latest products and trends in haircare. She finds absolute joy and satisfaction in drafting customized solutions for her users. She sifted through user feedback on reliable forums and put together this list of the leading micellar shampoos. These shampoos cleanse your scalp and give you soft and smooth tresses.
Frequently Asked Questions
How often should you use micellar shampoo?
A micellar shampoo can be used every day as it has a gentle formulation.
Is micellar shampoo the same as clarifying shampoo?
No. Although micellar and clarifying shampoos help remove product buildup from the scalp, a clarifying shampoo is drying and used sparsely. On the other hand, a micellar shampoo is moisturizing and can be used daily.
Is micellar shampoo good for dandruff?
Yes. A micellar shampoo is good for mild to moderate dandruff as it gently cleanses the scalp and removes dead skin and product buildup. However, chronic dandruff cannot be treated with this shampoo.
How do you use micellar shampoo?
A micellar shampoo can be used daily, just like any other shampoo. Apply a bit of product to the wet scalp after lathering in your palms. The micelles in the shampoo attract dirt and impurities from the scalp and help cleanse the hair.
Can I use micellar water instead of shampoo?
Yes. Although you can use micellar water to cleanse the scalp, it is not as strong or effective as a shampoo.
Recommended Articles