13 Best Weighted Workout Bars To Keep You Fit In 2023
Improve your balance and build your muscles to achieve all your fitness goals!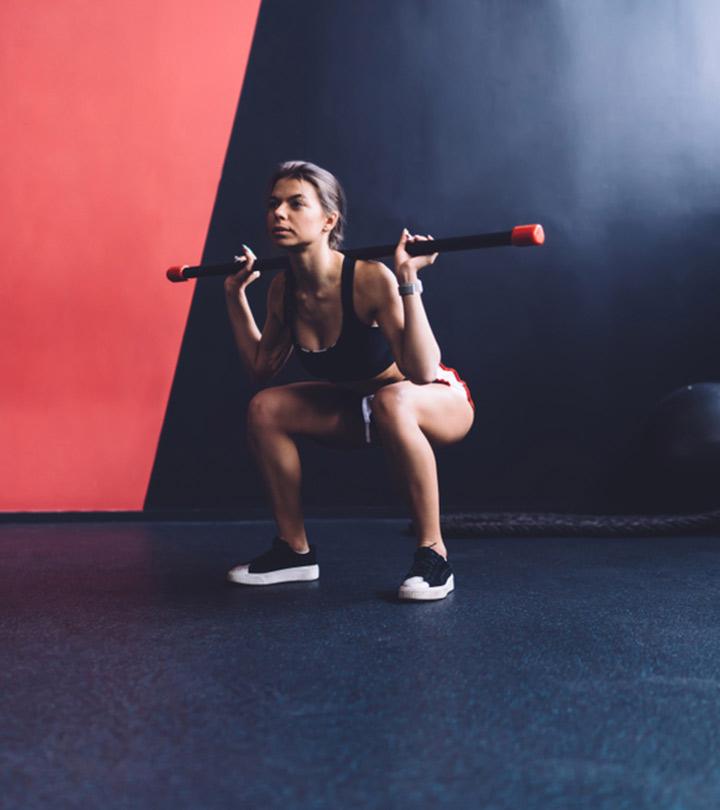 The constant lockdowns triggered by the pandemic can be a huge bummer for fitness enthusiasts. Therefore, while you cannot have all the gym equipment at home, you can surely make some space for the best-weighted workout bars. Of course, some workouts can be challenging at home, but the weighted bars are blessings for everyone.
Whether you are a professional or a beginner, this workout equipment will help you perform your training sessions without any hassles. These bars are available in different weights and sizes to cater to the specific needs of the users. If you find it hard to choose the right bars from the endless options in the market, fret not. In this article, we compiled a list of the 13 weighted bars with the top ratings. Swipe up to grab them!
Top 13 Weighted Workout Bars For At-Home Workouts
These weighted workout bars are a great workout companion suitable for people of all ages. It is a 48-inch weighted body bar available in 2 weights — 5 lbs and 8 lbs. If you're gearing for an advanced level fitness training, the weight of the bars can be extended as they support up to 150 lbs of resistance bands. All you have to do is attach the bands to the steel rings. You can try intense workouts for long hours with this weighted exercise bar as the soft foam material prevents hand fatigue. It comes with 5 resistance bands made from natural latex for peak performance.
Pros
Coated in color-coded soft foam
Includes resistance bands
The bar is stable and comfortable
Made from heavy-gauge steel for durability
Cons
It may be too long for short people.
Price at the time of publication: $24.99
CAP barbell weighted workout bars are versatile training equipment that can be used for strength exercises, sports conditioning, and martial arts, among others. The bar is made from a proprietary combination of iron and steel. You'll find various sizes suitable for different exercises like curtsy lunges, biceps curls, and deadlifts that promote muscle definition. You can easily slide it underneath the base of your couch to store it such that it is easily accessible for your everyday workout.
Pros
Hypoallergenic synthesized rubber end caps
Comfortable EVA foam exterior
Suitable for various exercises
Made from a blend of steel and iron for durability
Colored end caps for easy identification
Cons
Some may find it too thick.
Price at the time of publication: $37.42
Day 1 Fitness padded, weighted bars offer a secure grip with high-density rubber pads coated over the body. The color-coded bars are shaped such that they don't damage the floor when you store them. You can use these well-constructed bars for your aerobic or fitness routine and is ideal for both beginners and people engaged in advanced-level training. These weighted fitness bars are made from a single piece of steel that increases strength in your body.
Pros
Sturdy, unbreakable construction
Heavy-duty end caps
Color-coded caps
High-density padded foam surface
Comfortable grip
Anti-slip and anti-roll design
Cons
Some may find it too long.
Price at the time of publication: $24.05
Adding the HulkFit Total body workout weighted bar to your routine can help your body shape up with a range of weighted bar exercises. It is made from high-quality steel for toughness and enhances stability. The padded surface makes it easy to hold the bar for long durations even as your hands get sweaty. The bar is of an optimum thickness, which works for people with big and small hands to hold without difficulty. These bars are 48 inches in length, and you can choose out of a range of weights.
Pros
Solid steel core
Breathable padded foam
Improves coordination
Shaped to prevent rolling
Easy to grip
Cons
The foam may develop tears over time.
Price at the time of publication: $44.97
When training at home, nothing gets as convenient as using weighted bars that are resistance band-compatible. These bars are pre-assembled, which saves you the hassle of assembling while also offering added durability. The bars are perfect for muscle toning as they're 38 inches long and can support 800 lbs. The bar is layered with heavy-duty foam rubber so that your hands don't get calloused while exercising. It also features a hanging loop on one side so that you can hang it when you're not using the bar. Your entire family can use this versatile weighted workout bar — all you have to do is change the resistance bands to suit individual needs.
Pros
Features metal bars for resistance bands
Sturdy construction
Comfortable
Integrated structure for durability
Can handle heavy resistance bands
Cons
Does not include resistance bands
Short for squats
Price at the time of publication: $49.99
The Champion Reactor workout bar weighs 15 lbs and is ideal for beginners. It is 48 inches long, and the body of the bar is covered with rubber foam for better grip. You can use this bar for a full-body workout as it can equip you with squats, curls, lunges, dead rows, and workouts for core strengthening. It is made of a simplistic design, yet it is effective and is easy to maneuver. Unlike barbells, the weight is equally distributed across the bar to offer stability and balance while promoting overall fitness. It is worth the investment whether you plan to start your own gym and need gym equipment or look for weighted bars for personal training.
Pros
Resistance band-compatible
Balanced weight distribution
Beginner-friendly
Soft grip
Non-slippery rubber foam
Easy to store
Cons
The foam may rip after several uses.
Price at the time of publication: $46.95
Yoga or pilates, the Body Solid Tools weighted exercise bar will help you stick to your new year workout resolutions. The green-capped variant weighs 12 lbs and is 48.5 long. You can conveniently find bars weighing between 4 lbs to 36 lbs if 12 feels too light for your workout goals. The embossed finished caps are made from durable rubber, ensuring there's no scuffing or ripping when you use the bar regularly.
Pros
Easy to grip
Easy to clean
Colorful coding system
Heavily padded
Rubber finish caps defend flooring
Latex-free
Cons
Some may find it uncomfortable due to its length.
Price at the time of publication: $69.0
This beautifully designed, sleek weighted workout bar lets you exercise without fretting about dropping it on the floor as it comes with rubber end caps that won't cause any damage to your floor. These bars are 4 feet long, which is an ideal length for most people and fits most palms. The 30 lbs bar is 5 feet long to evenly distribute the weight so that you can exercise without straining your muscles too much. You can use this workout bar for bone strengthening, among many other exercises for overall core training.
Pros
Durable rubber coating for secure gripping
Convenient length
Stable and balanced
Suitable for rehabilitation
Cons
The rubber coating may have a peculiar smell.
Price at the time of publication: $41.45
The Bintiva Weighted Body Bar is a professional-grade weighted bar which is designed for the ultimate user comfort. It features a solid cast iron bar encased in foam to ensure safety and support. This one-piece construction ensures that the weight is spread evenly across the bar, unlike its sand-filled counterparts. It also comes with color-coded end caps that display the weight of each bar to provide further ease of convenience.
Pros
Comfortable padding
User-friendly design
Safe to use
Durable
Color coded end caps
Cons
None
Price at the time of publication: $26.97
The Fitness Republic weighted workout bar is ideal for physical rehabilitation and strength and muscle gain alike. The 6 lbs variant is 47 inches long, ideal for yoga, aerobics, squats, and other exercise forms. The caps are rounded so that they don't suffer scratches after prolonged use or when you accidentally drop the bar. The heavy-duty construction resists bending and breaking. The neoprene padded foam surface offers a better grip and ensures that the foam doesn't rust. When you use the Fitness Republic workout bar, you don't have to worry about losing your grip due to sweaty palms.
Pros
Slip-resistant
Thick neoprene-coated foam padding
Heavy-duty construction
Color-coded caps
Round end caps don't cause damage
Cons
Not compatible with resistance bands.
Price at the time of publication: $44.99
The SPRI exercise bar adds a twist to your home workout session with its compact design and foam coating. You'll find 4 variants at 6, 9, 18, and 24 pounds. The end caps are wear-resistant, so you can use the bar for a long time without fretting about the rubber ripping. If you've been complaining of calloused hands from multiple reps, this one won't disappoint you as it offers a super comfy grip. Boot camp conditioning, circuit training, or flexibility training— name the exercises, and these weighted bars will help you accomplish them.
Pros
Solid metal bar
Scuff-resistant end-caps
Comfort grip
Durable
Cons
Price at the time of publication: $37.33
The Harkkey weighted workout bars can replace the classic gym workout instruments like weighted barbells if you're looking for an equipment that's evenly weighted. The resistance bands help add more weight and aid in stretching and resistance-band exercises. These bars and resistance-bands are built to offer durability and stability. You can use this workout bar outdoors as it features a removable 2-pole and pilate bar. With all the perks that it offers to workout newbies and advanced-level fitness gurus, this weighted bar kit will help you stick to your workout routine without succumbing to excuses.
Pros
Portable
Adjustable length
Includes eco-friendly resistance bands
Highly elastic
Removable pilate bar
Cons
Does not offer high resistance
Price at the time of publication: $19.99
If you plan to upgrade your aerobic training, adding this weighted workout bar for exercises can be a fantastic idea. The Versa weighted bar can be used for cardiovascular training, core strength training, and a host of individual exercises. The bar is made from heavy-duty solid steel material, and the caps are streamlined and injection-molded for added durability. Since the weights are molded into the caps, the weights won't come off despite an intense workout session.
Pros
Heavy-duty
Color-coded caps
Comfort foam
Solid steel construction
Cons
The weights can't be changed.
Price at the time of publication: $74.28
While this list of 13 best weighted workout bars gives a good idea of what you should look for in exercise bars, nothing works like a buying guide. We're here to help you understand the different features to look for in a weighted workout bar so that you can use it every day to fulfill your fitness commitments.
How To Choose The Right Weighted Workout Bar?
Experience
When buying a weighted workout bar, it is crucial to determine your level and experience to decide the weight that would suit you. If you're a beginner, it is best to start with low to mid-range body bars (5 lbs to 8 lbs). However, if you have some strength training experience, you can try 10 lbs to 12 lbs. If you're a fitness and workout veteran, you can choose one over 15 lbs.
Purpose
If you plan to add some weight to your regular exercise routine, you can purchase weighted workout bars of 6 lbs to 15 lbs. However, if your aim is an intense workout or to build muscles, you choose up to 15 lbs to 30 lbs. Experience plays an important role too, so consider that before you pick the heavy-weighted bar. Make it a point to start with bars that weigh lower so that you don't hurt your muscles using a heavy-weighted workout bar. Robert Savin, a master trainer with 15 years of experience, states, "If your intended use is primarily for circuit Training or high-intensity interval training then a regular standard weight bar such as a 6lb or 10lb bar would suffice. However, if your intended use is for strength training, then it would be crucial for your progress to pick a bar that can continuously support added resistance. Progressive overload is a key part of an intelligent strength training program, hence picking a barbell that can support incremental increases over time is necessary."
Length
The length of a weighted bar generally depends on its weight. However, most weighted bars are 48 inches. If you're taller or shorter than average, you might need to go a few numbers above or below 48 inches so that exercising doesn't get awkward with a too-long or too-short bar.
Foam coating
A padded weighted bar or foam-coated bar helps have a better grip and is maneuverable even with sweaty hands. Additionally, if you accidentally drop it, it doesn't damage the floor (more often than not). So, foam-coated weighted bars are always a better option.
Resistance bands
Resistance bands can be added to the ends of a weighted workout bar for extra weight or resistance training and exercises. However, they're only useful if you have a concrete plan to use them. Therefore, if you're not planning to add resistance-band exercises to your routine, you don't need to look for resistance bands or band hooks in the bar.
Adjustable bars
The length of a weighted workout bar can be a problem when many people use the same bar. If you buy 1 size and length, it might feel too short or too long. When your family uses the bar or when you have a gym where different people opt for weighted bar workouts, it is best to buy adjustable bars so that you can work with a suitable length.
How To Use A Weighted Workout Bar?
The way you use your weighted workout bar depends on the type of exercises you perform. For most exercises like squats, deadlifts, bicep curls, etc. you can use them like you would with other equipment like a barbell or dumbbells. However, since they're long, it is ideal to use them for exercises that involve holding them with both hands.
Why Trust Stylecraze
The author of this article, Shreya Vishwanathan, is a health and fitness enthusiast who likes to help her readers find the right fitness products. She compiled a list of the best weighted workout bars after going through several product details and customer feedback on trusted platforms and brand websites. These products can be used from the comfort of your home, and they help you perform your training sessions without any hassle.
Frequently Asked Questions
How heavy should a weighted bar be?
A standard weighted bar weighs roughly 45 Pounds.
What size weighted bar should I start with?
Women generally start with a 5-10-pounds bar, while men start with 10-20-pounds.
How much weight should I lift to build muscle?
The general rule for increasing muscle mass is low repetitions with heavy weights. Add 6-12 repetitions to the weight you can normally lift to build muscles. Of course, a proper diet, sleeping schedule, and other lifestyle factors play a big role in the whole process as well.
How heavy should I squat?
For beginner levels, women can squat roughly 50% of their body weight for the best results. Men can go up to 65% with the same.
Recommended Articles