8 Best 3-in-1 Ellipticals
Exercise on your own terms with sturdy and effective multi-functional workout machines.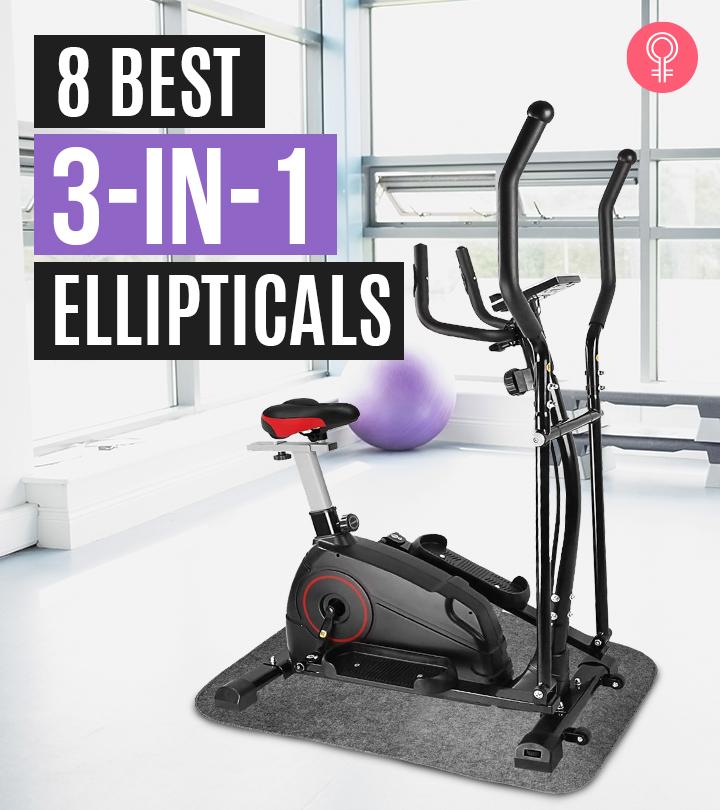 Generally, some people experience pain in their joints after running on a treadmill. An elliptical machine may help them out as it runs smoothly without any impact or causing joint pain. In fact, the best 3-in-1 elliptical machines help them best to perform their workouts with ease.
The machines come with movable handgrips and adjustable resistance that assists in performing the full-body workout. They are multi-functional, and you can perform different types of cardio exercises on a single machine. In this listicle, you will find the 8 best 3-in-1 elliptical machines that will make your workout routine smooth. Keep scrolling!
8 Best 3-in-1 Ellipticals
The Teeter FreeStep Recumbent Cross Trainer & Elliptical provides a zero-impact workout suitable for all fitness levels. It has a naturally-reclined seated position, which helps eliminate body weakness and stress on the joints and back while burning body fat. This machine is suitable for people with arthritis, Parkinson's disease, or MS. The friction-free linkage system makes it long-lasting.
The elliptical has an exceptional striding motion with a whisper-quiet variable magnetic resistance adjusted with a single dial. The spring-loaded adjustment knob helps to set height and achieve neutral stride motion. The dual power motion works your upper and lower body, engaging all key muscle groups to boost strength and burn additional calories.
You can also alter your workout by isolating your arms and legs for high intensity. This elliptical comes with a water bottle holder, transport wheels, a device stand, and a battery-powered digital console. The adjustable design fits your body correctly for different positions and intensity. For more details about the Teeter FreeStep Recumbent Cross Trainer & Elliptical, click here.
Specifications
Dimensions: 54 x 38 x 522 inches
Weight: 110 lbs
Key Features
Transport wheels
Reclined seated position
Battery-powered digital console
Friction-free linkage system
Pros
Long-lasting
Affordable
Adjustable design
Quiet operation
Cons
Price at the time of publication: $1049.0
The YOSUDA 3 in 1 cardio climber can be used as a low impact elliptical, a stepper for cardiorespiratory exercises, and treadmill for high impact exercises. Its compact design is easy to store and allows a full body workout at home. It has a magnetic resistance level of up to 16 which allows high intensity exercises. Its 18 LB heavy flywheel makes the exercise more difficult and helps you lose more calories. Its heavy duty front and rear stabilizers give stability while riding and the 15mm thickened frame tube allows safe climbing without any wobble. The cardio climber has a sturdy build and can easily carry a weight of upto 300lbs. It features the latest magnetic system which eliminates noise while exercising. The aluminum alloy double-slide rails provide smooth climb and stride while protecting your knees. The equipment has an LCD that keeps a track of calorie, time, speed, distance covered and pulse while exercising. It is recommended for basic, intermediate, and advanced exercises.
Specifications
Dimensions: 37 x 30.5 x 13 inches
Weight: 300 pounds
Key Features
LCD monitor
Rectangular stand
One iPad mount
Compact design
Pros
High resistance level
Heavy-duty
Compact
Low noise
Sturdy
Lightweight
16 levels of magnetic resilience
Easy to use
Cons
None

Price at the time of publication: $499.99
The ER KANG Elliptical Machine Trainer has a humanized design to make your workout easy. Its15-pound two-directional magnetic flywheel provides smooth resistance while working out and also runs in forward and reverse directions. The 7-slot design minimizes contact between belt and belt pulley to reduce wear.
This elliptical features 13-inch strides that reduce knee wear during workouts. It also features transport wheels, eight levels of adjustable magnetic tension resistance, and a non-slip grain on the pedal to maximize friction. You can adjust the seat horizontally and vertically according to your comfort. The handles come with pulse pads, which can be spun to 120°to monitor your heart rate.
This machine comes with a large screen LCD monitor for viewing the distance, time, speed, burnt calories, scan, mileage, and target zone heart rate. It produces less than 40 dB sound and has a maximum weight capacity of 280 lbs.
Specifications
Dimensions: 58 x 27.17 x 10.63 inches
Weight: 79 lbs
Key Features
Non-slip foot pedal
Adjustable seat and handles
Two-direction magnetic flywheel
7-slot wear-resistant belt
8 magnetic tension resistance levels
Intelligent LCD monitor
Pros
Smooth resistance
Includes an additional phone/pad holder
Cons
The seat is uncomfortable.
The DSHUJC 3-in-1 Elliptical Machine offers a trio of a spinning bike, treadmill, and traditional elliptical machine. It has different levels of intensities and 16 resistance levels that can be adjusted. The two-way magnetic control fly wheel ensures a silent and smooth ride.
The machine has an ergonomic design that conforms to the scientific pace of the human body, protects the knees from injuries, and reduces frontal impact. It also features a stable base, thick main support tube, and an iPad bracket.
Specifications
Dimensions: 59 X 39 X 19.7 inches
Weight: 6 lbs
Key Features
Adjustable cushioned seat
16 resistance levels
Two-way magnetic control flywheel
Pros
Sturdy
Easy to move
Ergonomic design
Cons
None
Price at the time of publication: $1796.43
The Body Power 3-in-1 Exercise Machine functions as an elliptical trainer, recumbent bike, and upright stationary cycle. The patented 3-in-1 design helps you save space and provides all cardio exercises in one convertible machine. The transition is convenient and effortless, and no need to dismount or adjust the hardware. The magnetic resistance can be adjusted easily to customize your workouts.
This trainer machine features three sets of integrated handlebars – a U-shape handlebar with a heart-rate monitor system, a dual-action handlebar,and a wraparound handlebar at the seat base. The reclined backrest cushion is suitable for long workout sessions. The safety enclosed fan flywheel system ensures noiseless operation with continuous resistance-level adjustment.
This machine is equipped with an electronic computer console that tracks the speed, distance, time, and calories burned. It also comes with transport wheels and a 28-day meal plan by Leisa Hart. Click here for a better insight into the Body Power 3-in-1 Exercise Machine.
Specifications
Dimensions: 7 x 62.2 x 29.13 inches
Weight: 6lbs
Key Features
Safety enclosed fan flywheel
Reclined backrest cushion
Electronic computer console
3 sets of integrated handlebars
Transport wheels
Pros
Hassle-free transition
Easy to store
Includes a 28-day meal plan by Leisa Hart
Cons
Price at the time of publication: $238.99
The Body Flex Sports 3 in 1 Trio Trainer has a patented design that combines three cardio machines into one – elliptical trainer, upright bike, and recumbent bike. It comes with three sets of ergonomic handlebars. The transition from one workout to another is hassle-free and does not require pedal adjustments.
The machine features an advanced computer interface with more than 17 training programs and pre-set options. It has adjustable magnetic resistance with motor drive. This trainer comes with an integrated hand pulse, adjustable back pads,a heart rate monitor,and a deluxe faux-leather stitched seat.
Specifications
Dimensions: 62 x 55 x 25 inches
Weight: 8 lbs
Key Features
17 training programs
Adjustable back pads
Faux-leather seat
Pros
Ergonomic design
Hassle-free transition
Cons
Price at the time of publication: $268.99
The Body Champ 3 in 1 Exercise Machine provides you all the cardio exercises in one machine –elliptical trainer, recumbent bike, and an upright stationary cycle. It is convertible without any hassle and enables easy transition without the need to dismount or adjust the pedals.
The fluid magnetic-encased flywheel system is powered by a computer, which makes it dependable. You can adjust the eight resistance levels based on the required difficulty. This trainer comes with a U-shaped handlebar, dual-action handlebar, and a wraparound handlebar. It features transport wheels,a 2-way adjustable seat,and a straightforward computer with a media holder to place your mobile phone.
Specifications
Dimensions: 42 x 19 x 63 inches
Weight: 5 lbs
Key Features
2-way adjustable seat
8 resistance levels
Transport wheels
Fluid magnetic-encased flywheel
Straightforward computer
Pros
Easy to store
Portable
Easy transition
Cons
Price at the time of publication: $298.99
The Body Rider 3 in 1 Trio Trainer can be used as an upright cycle, recumbent bike, and an elliptical trainer. This device offers a seamless transition without paddle adjustments.
It is equipped with computer monitored 17+ programs, an integrated heart rate and pulse monitor, and an LCD console with 21 training programs to add variations in your exercise. The seat comes with a backrest that can be adjusted horizontally and vertically according to your need. This trio trainer also features motorized magnetic resistance and dual-action handlebars.
Specifications
Dimensions: 63 x 52 x 25 inches
Weight: 1 lbs
Key Features
Adjustable backrest
21 training programs
Computer monitored 17+ programs
Motorized magnetic resistance
Dual-action handlebars
Pros
Cons
Price at the time of publication: $301.05
Let's now look at a few benefits of ellipticals in the following section
Benefits Of Elliptical Machines And How They Work
Burn Calories – Depending on your weight, the elliptical can burn almost 270 to 400 calories in 30 minutes.
Suitable For Upper And Lower Body Workout – Ellipticals pump your arms as fast as your legs. They work on your hamstrings, chest, glutes, biceps, triceps, quads, back, and core muscles.
Relieve Pressure On The Joints – Your feet do not lift the pedals while exercising on an elliptical. This relieves the pressure on the knees, hips, ankles, and other joints.
Build Stamina –An elliptical is great for cardio workouts, and it strengthens your lungs, heart, and muscles, boosting your stamina.
Customizable Workouts – An elliptical offers various pre-programmed exercises, such as mimic hill-climbing, customized as per your preference.
Maintain Fitness After Injury – If you are recovering from an injury and cannot indulge in regular fitness activities, working out on an elliptical will help you maintain fitness since it is a low-impact workout.
Improve Your Balance – Standing straight and letting go of the elliptical handles improves your balance.
Before buying an elliptical, consider these essential points to make the right choice.
How To Find The Best Elliptical Exerciser
Model: There are several ellipticals with varied features. Figure out which feature suits your workout regimen and buy one accordingly.
Size: Find out how much space your elliptical machine will occupy. Most ellipticals are 6 inches long and 2.5 inches wide. Ensure you have ample space on each side to get on and off. Also, ellipticals are more elevated than treadmills and might not fit in a low ceiling room.
Ergonomics: A treadmill allows you free movement, whereas an elliptical restricts your movement. The handgrips should move with ease and not strain your wrists. The movable hand grips and fixed frame components should not get in the way of your arms, shoulders, or knees.
Exercise Intensity: All ellipticals have variable resistance. Ensure the lowest resistance setting is convenient to pedal, and it should become challenging to pedal at 75% of the highest setting. You should be able to feel a significant change when you increase or decrease the resistance. A few ellipticals have an adjustable incline that can be automated or adjusted manually.
High-Tech Features: Many ellipticals come with built-in wireless connectivity or Bluetooth. This feature helps you stay connected to social networking sites and browse the library of workout programs.
Programs: If you are bored with performing the same exercise or require additional guidance, choose an elliptical that offers various programs to guide you through your fitness journey.
Why Trust StyleCraze?
An elliptical is a helpful machine that can be used for working out to avoid joint pains. Our writer, Aditi Naskar, holds a diploma in health and fitness and brings you this post on the best 3-in-1 ellipticals that will make your workout sessions seamless. These ellipticals were selected after carefully considering their efficiency, safety, and ease of operation. A buying guide is also prepared to help you make the best purchase.
Frequently Asked Questions
Does an elliptical burn belly fat?
An elliptical will not spot reduce belly fat but will help you burn overall body fat.
What is a good speed on the elliptical?
The moderate speed level is ideal on an elliptical.
What is the best elliptical machine for home use?
The Body Power 3 in 1 Exercise Machine is the best elliptical machine for home use since it functions as an elliptical trainer, recumbent bike, and upright stationary cycle.
How many times a week should you use an elliptical?
Use an elliptical for five days a week to remain fit and healthy.
How long should I be on the elliptical to lose weight?
30 minutes daily for 5 days a week is enough to lose weight on the elliptical.
How long does it take to see results from an elliptical?
Elliptical machines show effective results between one to three months of use.
Is elliptical good for hip arthritis?
Yes. Elliptical machines strengthen your muscles while exerting less force on the joints. They reduce swelling in the joints and relax the bones.
Is the elliptical good for lower back pain?
Yes. Although elliptical machines have little impact on your back, they effectively relieve back strain and cramps.
Recommended Articles