15 Best Coconut Oil Shampoos
Say "goodbye" to itchy scalp and dandruff and get healthy and clean hair and scalp. Have you been on the lifelong quest of finding the best coconut oil shampoo? Then let us tell you, you're finally at its end. A reason why coconut oil shampoo is so sought after is that it holds a multitude of benefits within itself. They contain antioxidants such as lauric acid that moisturize your hair and strengthen your scalp, making them a great addition to your hair care arsenal. If you are looking to get rid of your itchy scalp or dandruff, sneak a peek at our list of the 15 best coconut oil shampoos available on the market today.
15 Best Coconut Oil Shampoos
For your deeply damaged hair, here is a super hydrating and damage repair coconut oil shampoo. This exotic shampoo with vanilla extracts and coconut oil is perfect for repairing and rejuvenating the damaged hair strands quickly. While some coconut oil shampoos are greasy and oily, this one is non-sticky. If you have curly or frizzy hair that requires constant care and nourishment, this shampoo is worth a try. Learn more about the product in this reviewer's experience video.
Pros
Coconut and vanilla extracts for hydrated scalp and healthy hair
Calms frizz and offers natural bounce
Works well on frizzy, damaged, or curly hair
Regular use reduces hair breakage and thinning
Cons
May leave white residue if not rinsed properly
Price at the time of publication: $6.57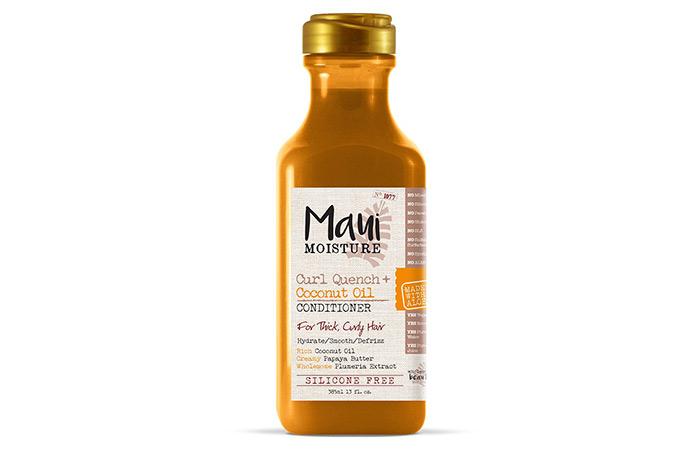 If you are looking for a silicone-free organic coconut oil shampoo for your hair, the Maui moisture shampoo is a great option! This shampoo reduces frizz while also detangling your hair. If your frizzy and curly strands just won't stay in place, use this shampoo formulated with coconut oil, aloe vera that tames the frizz right away. It is infused with coconut water for maintaining the pH balance of your scalp and keeping it hydrated.
Pros
Sulfate, silicone, and paraben-free
Redefines curly and frizzy hair
Offers a natural shine and bounce to hair
Easily detangles and defrizzes hair
Cons
Not for extremely thin and straight strands
Price at the time of publication: $7.99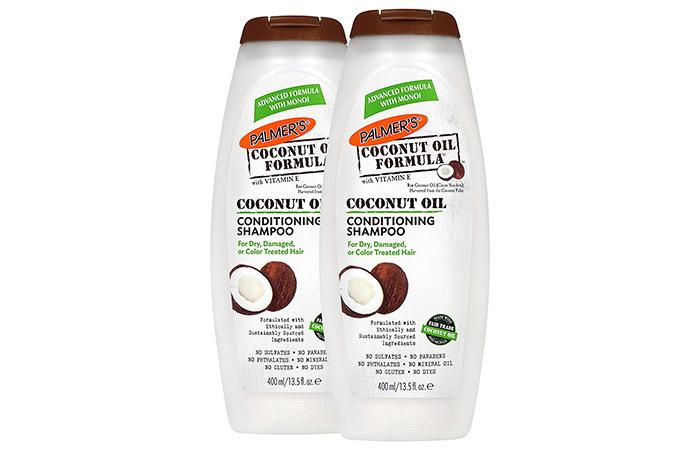 This shampoo not only strengthens hair, but it also prevents dry scalp. Especially if you have color-treated and damaged hair, this conditioning shampoo will deeply moisturize and add shine to your hair. It hydrates, pampers, and repairs the damaged strands. This shampoo will help you get rid of unwanted frizz, so whenever you feel your hair is getting greasy and dull, rinse with this coconut oil-enriched shampoo and get the shine back!
Pros
Non-greasy and softening shampoo
Prevents frizz and brittle hair
Great for color-treated or damaged hair
Nourishes the scalp and strands
Cons
Doesn't have an appealing fragrance
Price at the time of publication: $17.52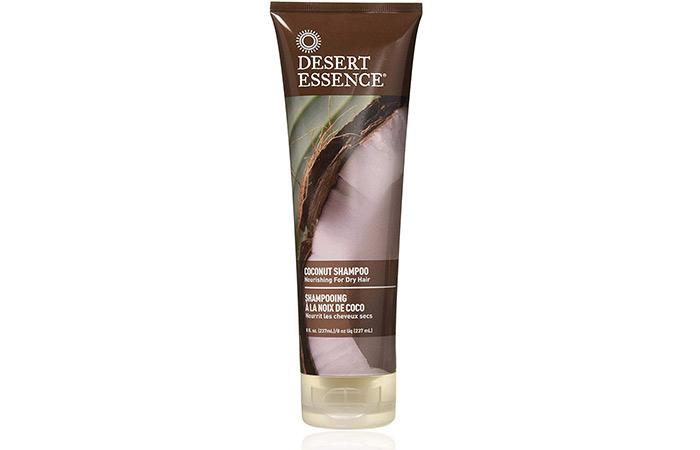 This cruelty-free shampoo features the wonderful combination of nourishing ingredients like coconut, olive, and jojoba oils for adding more shine, smoothness, and nourishment to your hair. This intensely moisturizing shampoo smoothens frizz without weighing the hair down. It is also loaded with natural ingredients like shea butter and rosemary leaf extracts for refreshing fragrance and moisturization. This review video gives you more information about the product.
Pros
Great for everyday use
Perfect for frizzy and curly hair
Comes with jojoba and olive oils
Free from silicone, parabens, and sulfates
Cons
Not a completely organic product
Price at the time of publication: $22.99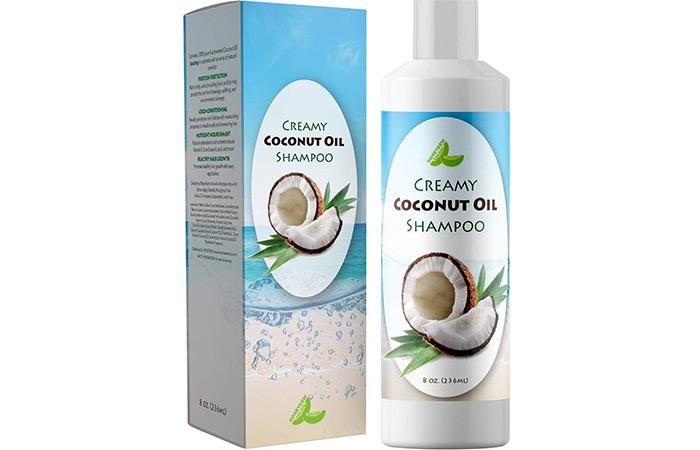 If constant coloring and styling have made your hair lose its natural texture, use this shampoo to restore the shine. This shampoo promotes hair growth and limits hair loss. It is also great for fighting scalp issues like dryness and itching. The rich coconut oil formula hydrates your scalp and leaves you with healthy and voluminous hair. It will also reduce seasonal dryness and its adverse effects on your scalp.
Pros
Limits hair loss and promotes hair growth
Hydrates hair follicles and prevents it from shedding
Helps with itchy scalp and dandruff
Promotes fuller and thicker hair strands
Cons
Price at the time of publication: $8.95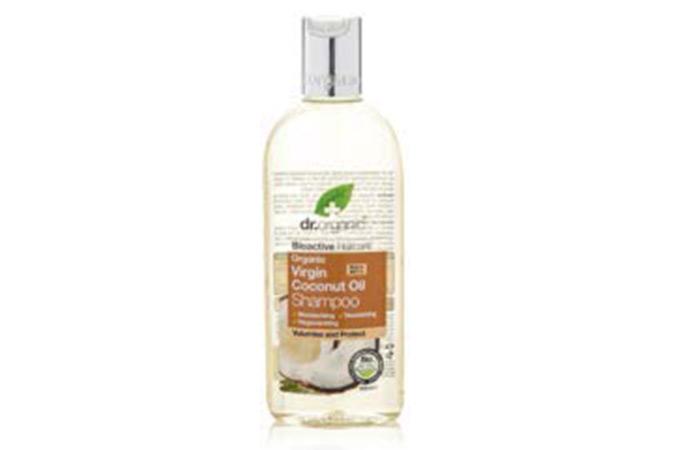 This coconut oil shampoo is certified to be organic as it is made using natural extracts that can make your hair look shinier and healthier. The shampoo hydrates your scalp and prevents dryness, hair breakage, and itching. It is also safe for use on hair that is colored and styled very often. Just make sure that you are not allergic to any ingredient. Rich with coconut oil, it also minimizes scalp infections and issues such as dandruff.
Pros
Aromatic moisturizing shampoo
Composed of virgin coconut oil
Cruelty-free and vegetarian-friendly
Gentle on the scalp
Cons
Does not work on extremely thin hair
Price at the time of publication: $18.68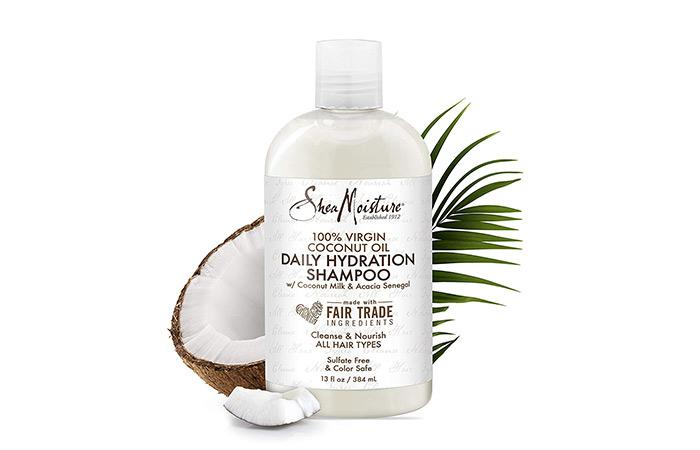 Loaded with shea butter and virgin coconut oil, this hydrating and deep conditioning shampoo removes impurities and dirt away from the scalp and hydrates the hair gently. This is a sulfate-free shampoo that will leave you with a light coconut fragrance. It adds natural shine and keeps your hair soft and smooth, and is not tested on animals. Composed of a soothing blend of moisturizing agents, it hydrates the scalp and reduces seasonal dryness.
Pros
Makes the hair shiny and smooth
Silicone and sulfate-free
Prevents hair breakage and split ends
Cons
Might leave your hair greasy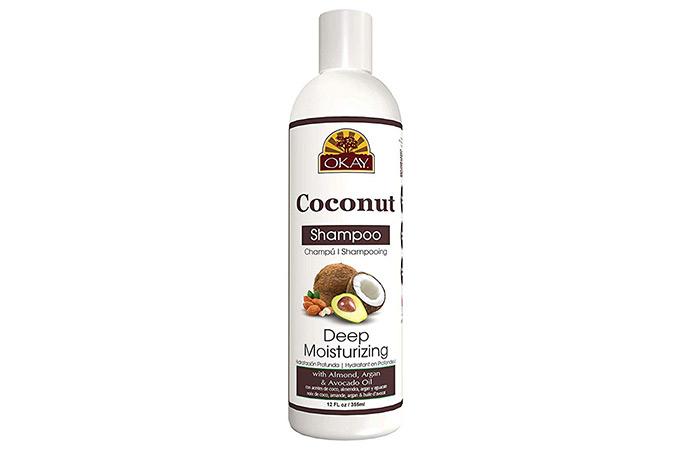 Here's a redefining coconut oil shampoo for all hair types. This shampoo is enriched with the goodness of coconut, avocado, and almond oils to keep your scalp and hair healthy. It is specially designed for people facing issues like itching, dandruff, rashes, hair thinning/loss, rashes, frizz, etc. It moisturizes and nourishes hair strands, thereby combating breakage and split ends.
Pros
Silicone and sulfate-free
Strengthens hair strands and prevents split ends
Comes with added nutrients
Prevents scalp issues like dandruff and itchy
Cons
Doesn't have a pleasant fragrance
Price at the time of publication: $9.88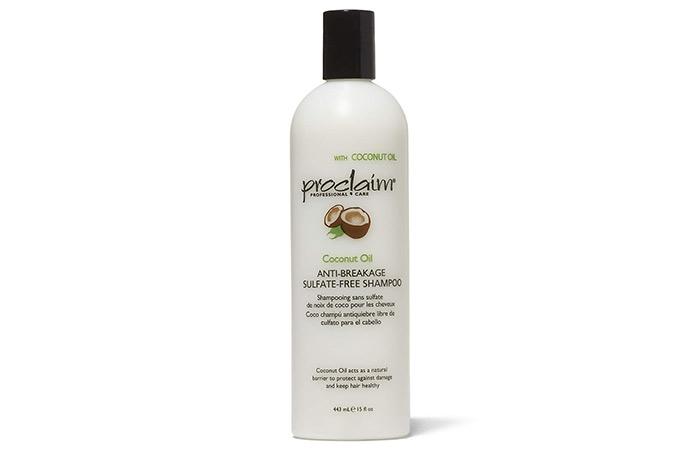 Here is a cleansing and nourishing coconut oil shampoo that you can use on a regular basis to rejuvenate your damaged hair. If you live in a place with high humidity, it is no surprise that your hair often gets frizzy. This coconut oil-based anti-frizz and anti-breakage shampoo, will calm the frizz and also keep your scalp hydrated. It is free from mineral oils, gluten, and parabens and, thus, is safe to use. This shampoo will provide a deep conditioning treatment to your hair and will keep the strands strong and healthy.
Pros
Petroleum, gluten, and mineral oil-free
Prevents breakage and frizz
Nourishes the scalp and prevents itchiness
Great for all types of hair
Cons
Packaging can be better for easy use
Price at the time of publication: $9.67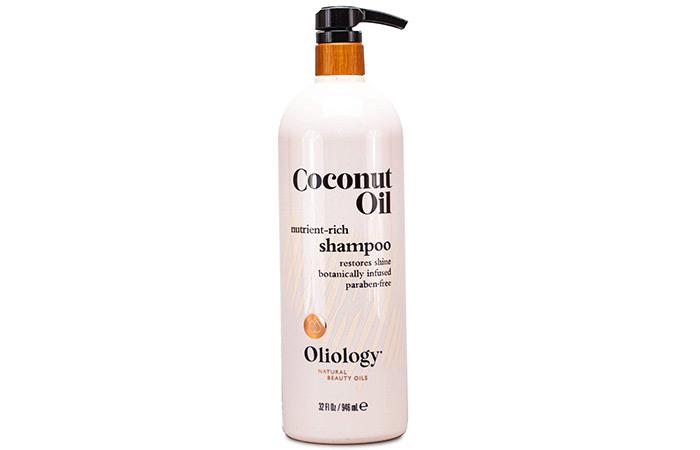 This nutrient-rich organic coconut oil shampoo mixes botanical extracts with coconut oil to restore healthy hair. This strengthening shampoo has a formula that hydrates and strengthens your hair. If your hair lacks moisture and shine, this shampoo will make your strands glossy and soft within several washes. With this paraben-free shampoo, your hair will become beautiful and manageable.
Pros
Easy-to-use dispenser and packaging
Does not feel greasy or sticky
Enriched with botanical extracts
Restores the natural moisture balance
Cons
Price at the time of publication: $17.99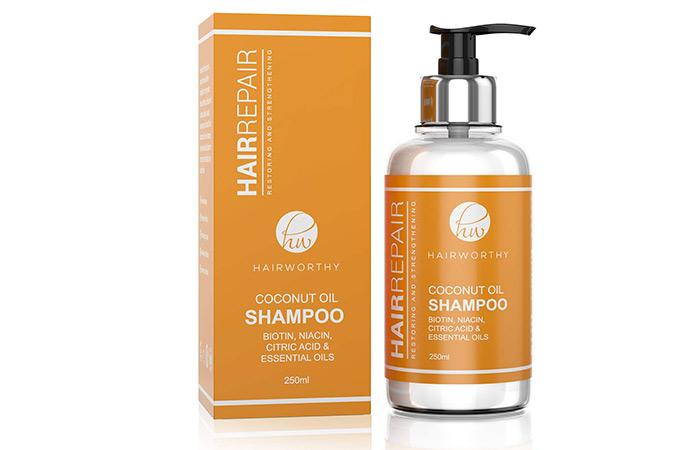 This biotin-rich shampoo will help you get flawless and salon-quality hair. It is composed of argan, castor, coconut, and other essential oils, biotin, niacin, citric acid, etc. that can repair hair damaged by heat treatment and color. This shampoo soothes the scalp, prevents breakage, and keeps the follicles healthy.
Pros
Adds life to damaged and thin hair
Washes out easily
Promotes hair growth
Prevents frizz and tangling
Cons
Price at the time of publication: $16.8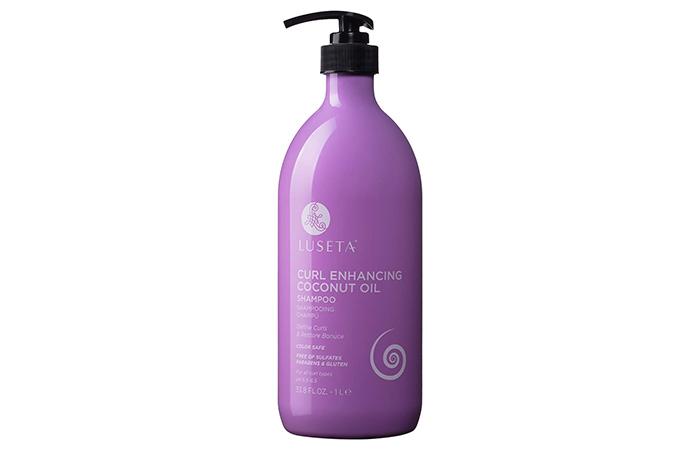 Reverse hair damage and poor circulation with this curl-enhancing coconut oil shampoo! This shampoo is designed, keeping in mind the specific needs of curly hair. It cleanses and moisturizes the scalp simultaneously and contains ingredients that strengthen, hydrate and protect the scalp from further damage. Plus, this shampoo is made using cruelty-free ingredients and is sulfate and paraben-free. It is the perfect way to add bounce and shine to your curly locks.
Pros
Enhances hair volume and shine
Rosemary leaf oil stimulates hair growth
Prevents flaky and itchy scalp
Great for color or keratin treated hair
Cons
Might leave some residue in your hair
Price at the time of publication: $29.8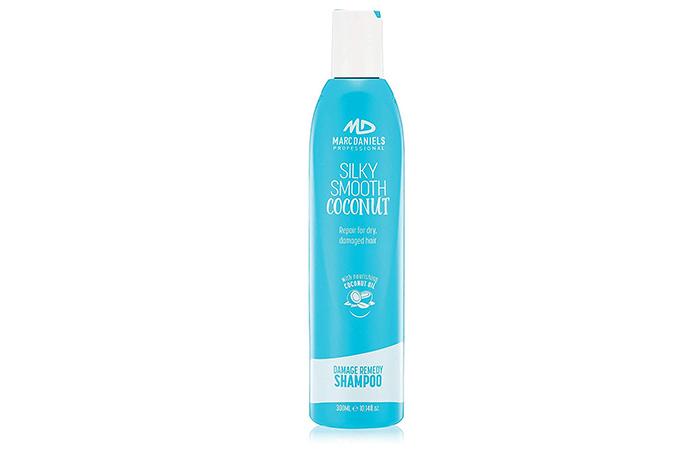 This sulfate-free coconut oil shampoo can undo the damage that is caused to your hair and scalp by heating tools, sun exposure, or color. Offer your hair a spa treatment with this shampoo, and it will surely breathe life into damaged and dull hair. This organic shampoo is not tested on animals and revitalizes and revives brittle hair and provides nourishment. This is a plant-based cleanser that penetrates the cuticles and smoothes frizz. For voluminous and lustrous, you can use this shampoo regularly.
Pros
Doesn't strip natural oils from the scalp
Easily detangles hair
Herbal blend repairs damaged hair
Sulfate-free
Cons
Might dry out some hair types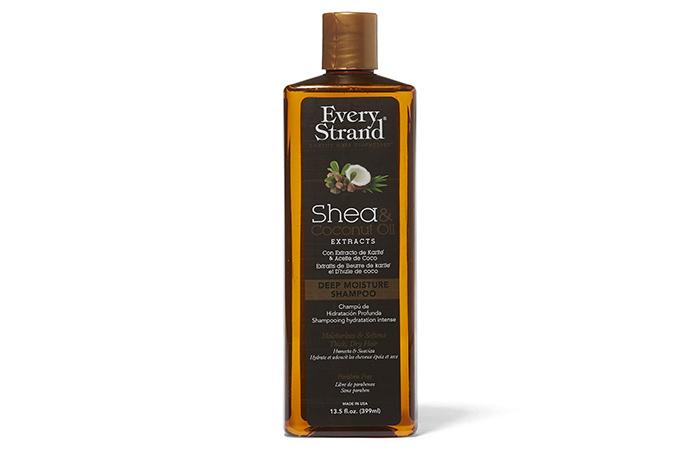 This shampoo will transform your hair from dull and damaged to glossy and healthy. Within a few washes, you'll be able to witness the reduction in frizz and damage. It cleanses the scalp and softens dry hair strands. Tame your unmanageable frizzy hair with this shampoo that's enriched with the goodness of shea butter, coconut oil, and other ingredients to enhance the shine and texture of your hair.
Pros
Enriched with coconut oil and shea butter
Cleanses and moisturizes hair
Perfect for dry and damaged hair
Cons
Price at the time of publication: $24.25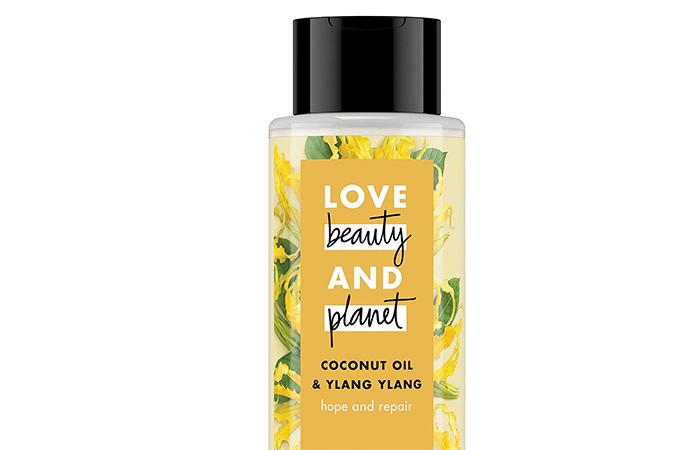 This exotic shampoo is a blend of organic coconut oil and Ylang-Ylang oil for intense damage repair and conditioning. This is a perfect choice for all hair types while also fighting frizz and itchiness. The richness of ylang-ylang and coconut oils will leave your hair smoother, shinier, and healthier within a few washes. The scent of these amazing oils will also make you feel fresh and light, so for a blast of morning freshness and healthy hair, this is the best choice!
Pros
No sulfates or parabens
Hydrates and moisturizes hair
Plant-based and vegan
Repairs damaged and brittle hair
Cons
Price at the time of publication: $6.93
As stated earlier, coconut oil is a natural cleanser that can help restore balance in your scalp and leave your hair feeling refreshed and manageable. We have compiled a buying guide to help you choose the best coconut oil shampoo.
Things to Look For In A Coconut Oil Shampoo
Hair Type: Coconut oil is a natural detangler and can be used on all hair types, but it works best on dry, frizzy, or damaged hair. If your hair is already oily, you may not require coconut oil shampoos much.
Ingredients: Look for coconut oil shampoos that are sulfate-free and paraben-free. These two ingredients can cause scalp irritation and other skin problems. Additionally, make sure the shampoo is also free of gluten and phthalates.
For those with dry hair, a sulfate-free option is ideal as it will not cause build-up and shall leave your locks feeling clean and refreshed. Additionally, some coconut oil shampoos also contain vitamins and minerals that can help strengthen hair strands.
pH Level: Another thing to keep in mind is the pH level of the coconut oil shampoo. While most shampoos are between 4.5 and 5.5 on the pH scale, some may be higher or lower depending on their ingredients. If you have sensitive scalp or have dandruff, it is important to choose a shampoo with a low pH level so that it won't cause any irritation.
Scent: Consider the scent you want your shampoo to have. Some shampoos claim to have a "tropical" scent, while others are more subtle. Both options have their benefits; some people like a strong smell while others prefer one that is less noticeable. However, avoid shampoos with added scents as these can be harmful for your tresses.
Do let us know what you think about these products, in the comment below!
Why Trust StyleCraze?
Medha Deb, the author, is well-versed in hair care and loves to use coconut oil shampoos because it has multitudes of benefits. After going through an in-depth research and sifting through thousands of online reviews, she has carefully curated this list that includes the most effective options for her readers. According to her, the best part about these shampoos is that they moisturize and strengthen your hair.
Frequently Asked Questions
Is coconut oil shampoo suitable for your hair?
Yes. Coconut oil shampoo is suitable for your scalp and hair. Coconut oil contains a natural chemical called lauric acid that deeply penetrates the hair shaft for moisturizing, strengthening, and conditioning the roots resulting in long, strong, and healthier hair. In addition, it also repairs split ends and dry hair.
Does coconut oil shampoo help hair growth?
Yes, coconut oil shampoos promote hair growth by curbing hair fall. Coconut oil contains vitamins and fatty acids that penetrate easily into the cuticle of your hair to give it a boost of nourishment.
Is it okay to apply coconut oil shampoo on your hair every day?
It is not ideal to wash your hair every day. But if you do require to shampoo daily, then a coconut oil shampoo is your best bet. Coconut oil is gentle and does not irritate or damage your hair. Using it daily can prevent dry scalp and help to improve the overall health of your hair, and reverse the signs of hair damage.
Can coconut oil shampoo dry out your hair?
No, coconut oil shampoos will not dry out the hair. Instead, they provide enough hydration by penetrating deep into the roots.
Recommended Articles
11 DIY Coconut Oil Hair Masks for All Hair Types: Benefits + Recipes