11 Best Mattifying Moisturizers For Oily Skin In 2023
Get a natural matte finish with the non-oily and hydrating moisturizers that absorb excess oil.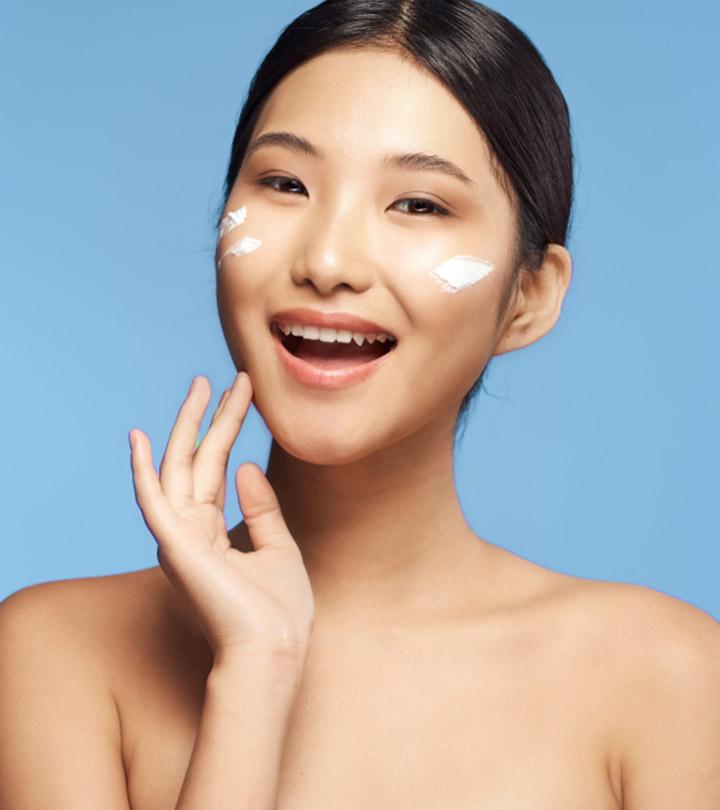 Oily skin demands hydration, but we often do not find good moisturizers that work well on oily skin. Vanessa Huerta, a licensed Esthetician and pigmentation correction specialist says, "A moisturizer specifically formulated for oily skin is necessary because it will help regulate oil production and protect the skin barrier. Not moisturizing can cause your skin to produce more oil to hydrate itself, which imbalances the skin and leads to congestion or irritation." That is where mattifying moisturizers may help. The best mattifying moisturizer for oily skin solves the excess oil issue faced otherwise. They leave no greasy residue on the skin but help maintain proper hydration for hours has come to an end.
Mattifying moisturizers are lightweight and extremely mild. They get easily absorbed into the skin and help balance sebum production without clogging the pores and making the skin shiny. As a result, your skin looks refreshed and oil-free throughout the day. It is better to use a sulfate-free moisturizer loaded with botanical extracts that are safe to use on skin to keep it healthy and happy. But, we understand! It is not easy to choose a product among the innumerable ones available on the market. So, let us help you with this list of the best 11 mattifying moisturizers for oily skin that can give you a matte finish for hours. Scroll down.
Top 11 Best Mattifying Moisturizers
Excessive oiliness can be a hurdle in maintaining plump and radiant skin. Correct this problem with this mattifying moisturizer from Cetaphil. Keeping your skin hydrated all day with its Micropearl technology, this lightweight formula gets absorbed quickly, controls sebum production, and delivers a grease-free look. Also, the Oleosome Technology uses lower levels of sunscreen filters to minimize skin irritation and maximize hydration. The clinically-proven formula of this oil-free moisturizer contains glycerine, which hydrates your skin and silica promotes the production of collagen, leaving it firm and youthful. This video of the reviewer's experience gives you more information about the product.
Pros
Paraben-free
Oil-free formula
Fragrance-free
Unclogs the pores
Controls sebum production
Treats acne, roughness, and dryness
Formula with SPF 30 for UVA/UVB protection
Dermatologist-tested
Cons
Might cause a slight tingling effect
Price at the time of publication: $15.45
Give your skin the hydration it deserves with this Acure mattifying moisturizer. Like other skin types, oily skin also requires moisturization to stay smooth and supple. This product contains shea butter, argan oil, and safflower oil to maintain a non-greasy texture and soothe and rejuvenate skin. It improves skin elasticity and minimizes clogged pores. Infused with argan oil, lilac extract, and chlorella, the moisturizer controls oil production, repairs damaged skin cells, and treats acne and blemishes. This 100% vegan mattifying moisturizer also includes vitamin E, which reduces the harmful effects caused by the sun.
Pros
Cruelty-free
100% vegan
Grease-free look
Improves elasticity
No added mineral oils
Free of parabens and sulfates
Soothes and rejuvenates the skin
Cons
Some may find the scent overpowering
Price at the time of publication: $13.81
Does your skin feel greasy after applying a moisturizing cream? Here is an award-winning solution to combat this problem. With Sebulyse Technology and dual-action targeting, it combats shine, sebum, enlarged pores, and keeps your skin well-hydrated and prevents oiliness. The lipo-hydroxy acid, a derivative of salicylic acid, facilitates chemical exfoliation to prevent acne and breakouts. Abundant in vitamins C and E, it repairs the damage caused by harmful UV rays, leaving your skin radiant and plump. It is the best dermatologist-tested mattifying moisturizer for oily skin and has received several positive reviews online.
Pros
Matte finish
Paraben-free
Non-comedogenic
Dermatologically-tested
Allergy tested
Shine-reducing formula
Rich in antioxidants (vitamin C and E)
Cons
Contains salicylic acid and may not be suitable for sensitive skin
Price at the time of publication: $32.99
Are you looking for an oil control mattifying moisturizer? If yes, you should consider this tea tree mattifying lotion by The Body Shop. This formula contains pure tea tree oil and willow bark extracts, which hydrates your skin, provides moisture, and keeps acne at bay. This nourishing lotion will amaze you by lending you a shine and grease-free look with an adequate glow that you always wanted for your skin! This lotion also contains lemon tree and Tamanu oils, which brighten and rejuvenate dull skin and fight against damage caused by free radicals. Try out this calming and soothing lotion today!
Pros
Lightweight
100% vegan
Doesn't clog the pores
Treats acne and blemishes
Free of parabens and gluten
Cons
Might not be suitable for dry, flaky skin
The strong smell of tea tree extracts may be overwhelming for some
Price at the time of publication: $20
This one stands tall as one of the best mattifying moisturizers for oily skin on our list. It is enriched with aloe vera and bamboo extracts to help you achieve soft, silky, and nourished skin. Its shine-absorbing formula includes salicylic acid, which acts as a mild chemical exfoliator to reduce dead skin cells, prevent acne, and blackheads while unclogging the pores. Include this oil-control mattifying moisturizer into your skin care regime and see the difference for yourself. Have a look at this video to learn more about the tester's experience of using the product.
Pros
Cruelty-free
Prevents dryness
Absorbs excess oil
Contains botanical ingredients
Locks in moisture
Soft-focus effect
Cons
Might not reduce the sheen on skin
Price at the time of publication: $5.29
This Bioderma anti-shine moisturizer is what you need to hydrate, treat, nourish, and pamper your oily skin. With a proven efficacy of its long-lasting effect of 8-hour matte protection and 12-hour hydration, it keeps skin oil-free, plump, and glowing. The blend of salicylic acid, mushroom extracts, and castor oil lends you clear and smooth skin while warding off acne and excess oil. The FluidActiv complex repairs your skin and retains moisture by preventing the blocking of pores.
Pros
Regulates shine
Tightens the pores
Dermatologically-tested
Gentle on sensitive skin
Leaves no grease or oiliness behind
Refines the texture of the skin
Cons
The consistency may be slightly watery
Price at the time of publication: $19.99
Are you looking for an excellent oil-free moisturizer with SPF? Well, say hello to this Murad mattifying moisturizer. It is formulated with avocado oil and African yellow wood bark extracts that help you achieve even-toned, firm, and hydrated skin in no time. The natural oil-fighters tone down shine and greasiness for up to 10 hours and reduce the appearance of pores up to 54%. The brand also claims that consumers noted visible results after 2 weeks of use. This moisturizer also includes oil-trapping microspheres to absorb excess sebum, to deliver soft and supple skin. Watch this instructional video of a tester's experience for more details.
Pros
Gluten-free
100% cruelty-free
Free of mineral oils and phthalates
No parabens and sulfates
Lends you a grease-free look
Gives you a skin-blurring effect
Formulated with SPF 45 to protect skin from sun damage
Cons
Might not be suitable for sensitive skin
Price at the time of publication: $42.0
Oily skin with a greasy sheen will be a thing of the past with this moisturizer. Its hydrating formula consists of a sugar derivative that acts like a micro-sponge and absorbs excess sebum production. The critical ingredient is apricot oil, which not only tones the skin but provides hydration as well. This moisturizer's cool-gelled texture acts both as a mild exfoliator and a hydrating cream to help you achieve soft, glowing skin. Look no further than this refreshing, mattifying gel moisturizer that facilitates a long-lasting matte look, locks in moisture, and repairs your skin.
Pros
Dermatologically-certified
Regulates sebum production
Prevents shine and greasiness
Suitable for all skin types
Sugar acts as a micro-sponge to clear dead skin cells away
Cons
The scent may be overwhelming for some
Price at the time of publication: $30.0
The PanOxyl Oil Control Moisturizer reduces shine and absorbs excess oil. Formulated with hyaluronic acid and antioxidants to clear pores and help prevent breakouts, its non-oily formula also provides effective sun protection with SPF 30. The pore-minimizing formula leaves your skin looking matte, fresh, and clean. It also has a moisturizing effect and gently nourishes your skin while protecting it from environmental aggressors. This antioxidant-rich product is perfect for those with normal, oily, or combination skin types who want to keep their skin soft and supple without the greasy feeling of a lotion.
Pros
Lightweight formula
Removes blemishes
Offers matte finish
Gentle for everyday use
Free of harmful chemicals
Non-comedogenic
Paraben-free
Fragrance-free
Suitable for sensitive skin
Suitable for acne-prone skin
Cons
Price at the time of publication: $9.99
The Vinopure Moisturizing Mattifying Fluid from Caudalie makes your skin clear, glowing, and flush-free. It reduces sebum, removes buildup, and illuminates the face – thanks to its combination of squalane and polyphenols. The rich, creamy formula also contains java tea extract and essential oils that mattify the skin and reduce blackheads. All in all, it is the perfect matte makeup base!
Pros
Paraben-free
Mineral Oil-free
Sulfate-free
Phthalate-free
Alcohol-free
Vegan
No synthetic fragrance
Cons
None

Price at the time of publication: $38
The Plum Green Tea Mattifying Moisturizer is lightweight and leaves your skin looking youthful. It contains glycolic acid that gently removes dead skin cells and clears greasy, acne-prone skin. Kakadu plum and squalene hydrate the skin, and hyaluronic acid makes it plump. Green tea and niacinamide impart glow and fight signs of aging. This moisturizer treats pigmentation and nourishes the skin.
Pros
Vegan
Cruelty-free
SLS-free
Paraben-free
Long-lasting
Cons
Moisture-balancing formula
Price at the time of publication: $13.99
And that was it for our list of 11 best mattifying moisturizers for oily skin. Before you go on to pick your favorite one, here are a few important points to consider.
How To Choose The Right Mattifying Moisturizer
1. Ingredients
Ingredients play a major role in skincare. Dry and combination skin requires hyaluronic acid, ceramides, and glycerin to lock in ample moisture to the skin. For oily skin, products with salicylic acid, retinol, and niacinamide work the best as they control excess sebum production. To hydrate your sensitive skin, go for expert-recommended products that include nourishing ingredients, like beeswax, aloe vera, honey extract, or green tea.
2. Non-comedogenic
When it comes to choosing a mattifying moisturizer for oily skin, we suggest you opt for a non-comedogenic formula. They don't clog the pores and thus, prevents acne formation. They also ensure that no product build-up or residue is left behind. You may give the Eve Hansen Daily Defense Intense Moisturizing Cream a try, if you're looking for a non-comedogenic one.
3. Reduces shine
Unfortunately, many mattifying moisturizers leave behind a white residue that may not complement your skin tone. Hence, it is crucial to use mattifying moisturizers with sebum-regulating ingredients, such as niacinamide and hyaluronic acid. We recommend the Embryolisse Emulsion Hydra-Mat Moisturizer, as it contains sponge-like ingredients and absorbs excess oil.
4. SPF formulation
Who doesn't love added skin benefits! Sunscreen is an absolutely important skincare step as it protects our skin from harmful sun damage. We recommend that you pick a mattifying moisturizer that has at least 30 SPF, to help protect your skin from the harmful effects of the sun and provide UVA/UVB protection.
How To Use A Mattifying Moisturizer
Wash your face with a mild and gentle cleanser to remove any dirt, dust, and grime from your skin.
Then, apply a toner to restore the pH balance. Toners also tighten your pores and act as an extra layer of protection.
Now, take 2-3 drops of the mattifying moisturizer and spread it evenly on your toned face and neck.
Why Trust Stylecraze
Kirtana Divakar is a skin care enthusiast who loves using mattifying moisturizers for her oily skin. She prefers using these moisturizers because they leave your skin hydrated without turning it greasy. She has carefully picked the best moisturizers for her readers after browsing through various online user reviews and product specifications. According to her, the best part about these moisturizers is that they are lightweight and get easily absorbed into the skin.
Frequently Asked Questions
Is mattifying moisturizer good for oily skin?
Oily skin tends to generate excess sebum and thus, applying a normal moisturizer might leave your skin extremely oily and greasy. Hence, mattifying moisturizers are essential for oily skin types to help provide a matte finish and control the sebum production of the skin.
Why does my face feel oily after moisturizing?
Since most of the moisturizers contain nourishing oils for hydration, it tends to leave your skin oily after application. In such cases, opt for an oil-free mattifying moisturizer or natural emollient.
Is it okay to apply powder after moisturizer?
Yes, after applying a moisturizer, you can apply a mattifying powder to help set it. Make sure that you apply powder once your skin absorbs the moisturizer entirely. Applying powder on wet skin might leave white patches.
Is matte moisturizer good for acne-prone skin?
Yes. Matte moisturizer is suitable for acne-prone skin because it is mild, lightweight, and non-comedogenic.
Can I use mattifying moisturizer at night?
Yes, you can use mattifying moisturizer at night before bed.
Recommended Articles