11 Best Tamanu Oils Of 2022 – For Face, Skin, Hair
Enjoy the immense goodness of moisturizing organic oils with medicinal properties.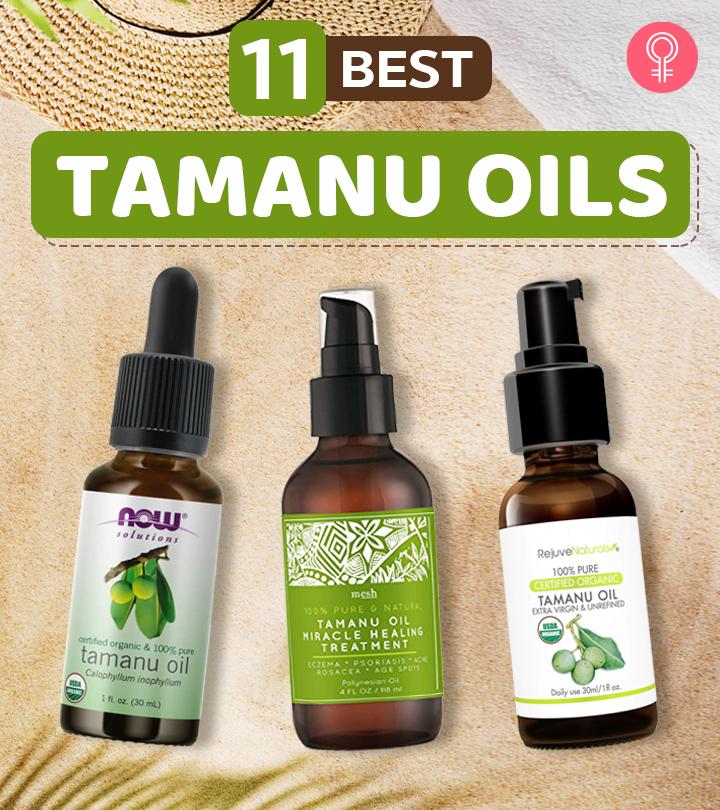 For centuries, people living in Polynesia and Asia have prominently used tamanu oil to care for their skin and hair. The best tamanu oil used in the African, Asian, and Pacific Islands is also known for its medicinal properties. The oil has a greenish-yellow color and is known for its antibacterial, anti-inflammatory, and antioxidant properties. In addition, it addresses various concerns like scars and aging signs. Keep reading to find out the 11 best tamanu oil available online. Scroll down!

11 Best Tamanu Oils
The purad' or Professional Organic Tamanu Oil is a boon to dry, dehydrated skin. It helps reduce the appearance of aging signs, dark spots, and blemishes. It is carefully formulated to restore one's youthful radiance and improve hair health. It helps maintain long-lasting moisturization. The oil is extracted from an organic Tamanu tree. The oil is USDA certified and hexane-free.
Pros
Moisturizes skin
Certified organic ingredients
100% pure and natural
Hexane-free
Cons
The Rejuve Naturals Organic Tamanu Oil has a thick consistency. It is 100% pure, natural, and certified organic. It penetrates the skin without leaving an oily residue. It helps stimulate collagen production and reduces the appearance of scars, blemishes, stretch marks, fine lines, and wrinkles. It leaves the skin feeling soft, smooth, and supple. It is free of chemical additives, parabens, and artificial fragrances.
Pros
Paraben-free
Fragrance-free
Alcohol-free
No artificial colors
No fragrances
No added allergens
Non-GMO
100% natural and organic
Thick consistency
No oily residue
Quick-absorbing
Cons
Unpleasant smell
Defective pump
The Prime Natural Organic Tamanu Oil helps rejuvenate the skin. It penetrates all three skin layers and accelerates the healing process. It contains rich fatty acids that are ideal for dense hair and long, strong nails. The oil also helps blur the signs of premature aging. You can also check this YouTube video for a complete idea about the product.
Pros
USDA-certified
100% vegan
Non-GMO
Alcohol-free
Gluten-free
Purity-tested
Cons
The SVA Organics Tamanu Oil is extracted from the cold-pressed Calophylluminophyllum fruits from Vietnam. It is 100% pure and natural. It is a rich source of fatty acids, vitamins, and minerals. It is specifically formulated for products associated with skincare, haircare, and beauty. The fatty acids in the Tamanu oil rejuvenate the skin. The oil is non-greasy and leaves no residue. Regular application of the oil strengthens the hair follicles and stimulates hair growth.
Pros
USDA-certified
No harsh chemicals
Therapeutic-grade
Cons
None 
The Now Solutions Tamanu Oil is made with 100% pure and organic ingredients that help heal and soothe various skin conditions. It is extracted from the Tamanu nuts from the South Pacific. The premium therapeutic-grade carrier oil is rich in fatty acids that promote soft, smooth, and hydrated skin. The oil comes from a GMP-certified manufacturing process.
Pros
100% vegan
GMP-certified
Cruelty-free
Non-GMO
Cons
None
The NZ Country Tamanu Oil is a skin-healing carrier oil. It deeply penetrates the skin and absorbs fast. It helps moisturize, heal, and regenerate the skin. Its anti-aging properties help fade away the visible signs of aging, including fine lines, wrinkles, and blemishes. It also acts as a sunscreen with SPF 30 to protect the skin from environmental aggressors. This natural oil can be mixed with other skin moisturizers or hair oils for added benefits.
Pros
Certified-organic
No harmful chemicals
Cruelty-free
GMO-free
100% BPA-free
Cons
None
The Mesh Organic Tamanu Oil is rich in fatty acids (linoleic, oleic, stearic, and palmitic acids) that nourish the skin and help reduce inflammation. It is also effective for wound healing. It helps reduce scars, blurs stretch marks, and offers relief from skin diseases. It is lightweight and absorbs quickly. The oil leaves the skin feeling soft, smooth, and supple.
Pros
No additives
No fillers
No preservatives
Unrefined
Paraben-free
Sulfate-free
Colorant-free
Cons
None
Kate Blanc Cosmetics provides USDA-certified organic Tamanu oil that possesses anti-inflammatory and healing properties. The oil effectively reduces scars, fine lines, and stretch marks. It contains no fragrances, preservatives, fillers, parabens, or additives. The oil causes no skin irritation. It keeps the skin glowing and moisturized for a long time.
Pros
Fights acne
No fragrances
No preservatives
No fillers
No additives
Paraben-free
Makes skin plump
Cons
None
The Aura Cacia Tamanu Oil contains powerful antioxidants and essential fatty acids that restore the skin's vibrancy and radiance. Its versatile aromatic fragrance uplifts one's mood and protects the skin from environmental aggressors.
Pros
Has a sweet aroma
Viscous consistency
No synthetic fragrances
Cruelty-free
Non-GMO
Cons
None
Life-Flo Pure Tamanu Oil purifies the skin for a smoother, healthier, and plumper appearance. It helps retain the skin moisture, nourishes the dry scalp, and helps blurs cars. It helps tone the skin to revive youthful radiance.
Pros
Paraben-free
Fragrance-free
No additives
Cruelty-free
Lab-verified
Cons
None
The US Organic Tamanu Oil is USDA-certified. The dark green colored Tamanu oil is completely unrefined. It helps heal scratches and cuts. It is a perfect natural moisturizer that takes care of most skin issues. The oil also helps treat psoriasis, rosacea, eczema, dry skin, dark spots, athlete's foot, and acne scars.It gets absorbed quickly into the skin.
Pros
Helps make skin plump
Can be used as a massage oil
USDA-certified
Cruelty-free
Cons
None
These are the top 11 Tamanu oil brands available online. We will further discuss Tamanu oil in the following sections.
What Is Tamanu Oil?
Tamanu oil is extracted from the nuts or seeds of the Tamanu tree (Calophylluminophyllum). It is a greenish oil predominantly extracted in the Southeast Asian and Polynesian Islands. It is rich in essential fatty acids, vitamins, and minerals that nourish hair and skin. It has healing properties and is topically used to treat various skin disorders (1). Tamanu oil can be mixed with other carrier or essential oils or moisturizers to enjoy the benefits.
Benefits Of Tamanu Oil
The fatty acids and antioxidants in Tamanu oil help blur acne scars, treat scars from burns and insect bites, and help fade away stretch marks (1). The anti-aging properties of the oil help treat fine lines, wrinkles, and blemishes. The antibacterial properties of the oil protect the skin from acne breakouts by halting the growth of acne-causing bacteria (2).
The major bio active components present in Tamanu oil are calophyllic acid and lactonethat act as antibacterial agents and fight against skin diseases (3).
There are limited studies on the benefits of Tamanu oil for hair. It may help moisturize hair strands. Anecdotal reports show that applying Tamanu oil may slow down hair loss.
In the following section, we will see how you can use the oil to achieve effective results.
How To Use Tamanu Oil
Tamanu oil can be used directly on the skin or hair for effective results.
It can also be mixed with other essential oils or moisturizers or shampoos for making DIY skin care and hair care products.
Though the oil is beneficial, it does have its share of adverse effects. Take a look.
Potential Side Effects Of Tamanu Oil
It may irritate the eyes.
Applying Tamanu oil to an open wound may cause irritation and pain.
Although Tamanu oil is generally safe, it may lead to allergic reactions in some cases (4). 
The following guide helps you pick the right product.
What To Check Before Buying Tamanu Oil
Check the processing of the extraction of the oil. It should be extracted from the virgin and organic Tamanu tree from the cold-pressed technique.
Original, pure, and natural tamanu oil is yellow or dark green.
The oil should be thick and viscous with a nutty smell.
Why Trust StyleCraze?
Oyendrila Kanjilal, the author, is a certified skin care coach who swears by this Asian beauty secret. She shares tips for choosing the best tamanu oil in her buying guide and explains how to consider parameters such as purity and ingredients for a better experience. She compiled this list of the top products after conducting extensive research and analyzing numerous online reviews. Tamanu oil may help fade scars, promote hair growth, and combat signs of aging.
Frequently Asked Questions
Who should use Tamanu oil?
Anyone can use tamanu oil. However, those with nut allergies must consult with a dermatologist before using the oil.
Does Tamanu oil help slow down the signs of aging?
The essential fatty acids present in Tamanu oil help blur the signs of aging and may fade away fine lines and wrinkles.
Is it okay to apply the oil under makeup?
Tamanu oil is a remedy for various skin issues. You can mix it with other carrier or essential oils or moisturizers. But applying it under makeup will not serve any purpose.
Does Tamanu oil work as a face moisturizer?
Yes, Tamanu oil works as a face moisturizer.
Can Tamanu oil help even out skin tone and red spots?
Yes, the anti-inflammatory properties of Tamanu oil help even out skin tone and reduce red spots.