13 Best Face Powders For Mature Skin (2023) – Reviews & Guide
Conceal wrinkles, blemishes, and age spots with these face powders for mature skin.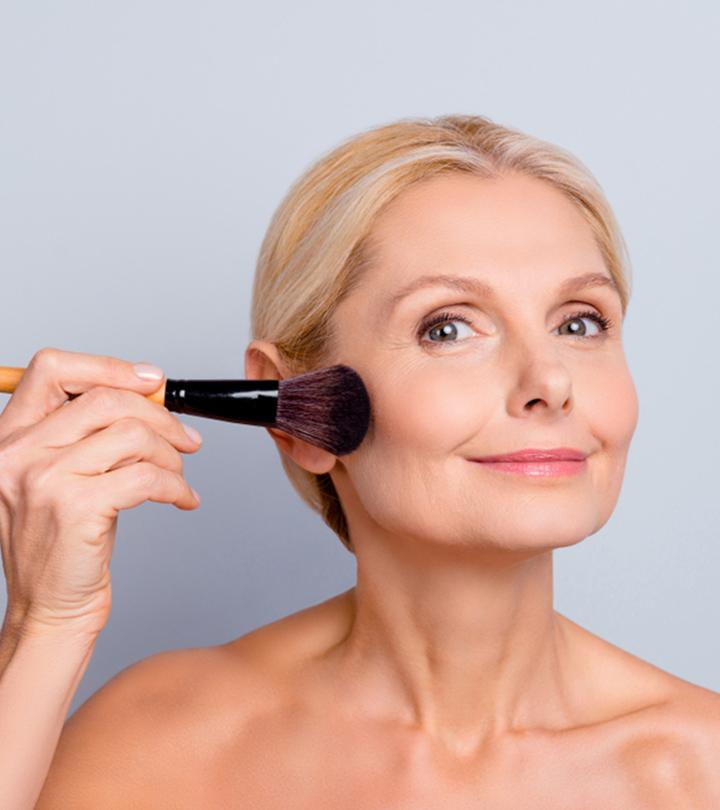 When our face starts showing signs of aging, finding the best face powder for mature skin becomes a never-ending activity on our lives. A face powder that can conceal wrinkles, fine lines, and blemishes in a single sweep is a must-have for all mature skin beauties. In addition, a face powder will not just cover your imperfections but also seal your makeup, absorb shine, and make it last and look flawless all day long. So, if you are someone who loves to set her makeup with face powder, then you have come to the right place.
While there are various face powders, loose or cake compacts in the market, finding the right one for mature skin might be tricky. Hence, we are here to help you out. So, scroll down to check the 13 best face powders for mature skin now. With these magic powders in your purse, be ready to rewind your age instantly.
Top 13 Best Face Makeup Powders For Mature Skin That Glows!
Just like a mask for your makeup, Dermablend Loose Setting Powder will keep your foundation and concealer intact for up to 16 hours! Though it looks white, this translucent powder can control all the excess shine and deliver a seamless matte finish. This loose or pressed powder for mature skin is a must-try for those with oily skin and large pores, for it will minimize them effortlessly. All you have to do is dust on this powder as the last step, and your makeup is ready to look fresh and flawless all day long. Bonus — it's suitable for all skin tones too! Need more information? Watch this video to make an informed decision about the product.
Pros
Lightweight and a micronized formula
Delivers a smooth and sheer finish
Mattifies the complexion effortlessly
Smudge-proof and transfer-resistant
Non-toxic and cruelty-free product
Dermatologist-tested and safe for sensitive skin
Non-comedogenic, allergy-tested, and fragrance-free
Cons
Expensive
It may leave a slightly white cast.
Price at the time of publication: $44
Pros
Translucent setting powder
Erases blemishes and imperfections
Delivers an airbrushed and shine-free finish
Includes skin-loving ingredients like peptides and antioxidants
Suitable for all skin tones
Cons
Expensive
Flimsy packaging
Price at the time of publication: $22.5
Pros
Finely-milled powder
Weightless and easy to wear
Blends easily on the skin
Delivers a seamless matte finish
Suitable for all skin tones
Cons
Not ideal for sensitive or dry skin
Price at the time of publication: $22.66
Pros
Enhances complexion
Lightweight and smooth formula
Easy to blend and apply
Delivers a natural coverage
Suitable for all skin tones
Mineral face powder for mature skin
It leaves the skin soft and glowing.
Cons
It might leave a white cast.
Price at the time of publication: $24.0
Pros
Delivers a natural and full coverage
Lightweight and long-lasting
Allergy-tested and fragrance-free
Mattifies the skin effortlessly
Non-creasy, non-cakey, and clump-free
An application brush is included for your convenience
Cons
Price at the time of publication: $53.7
Pros
Delivers a natural and illuminating glow
Non-cakey and non-creasy
Provides buildable and full coverage
Sweeps on smoothly without tugging
Application sponge and mirror included
Lightweight and compact face powder for mature skin
Cons
You may need touch ups after a few hours
Price at the time of publication: $13.99
Pros
Evens out your skin texture
Reduces fine lines and wrinkles
Reduces the appearance of pores
Offers flake-free finish
Covers redness
Value for money
Easy to apply
Cruelty-free
Cons
Price at the time of publication: $10.3
Pros
Boosts natural radiance
Airbrushes all the imperfections
Delivers a flawless coverage
Cruelty-free product
No white cast, creasing, or caking
Paraben-free, non-toxic, and vegan
Cons
Price at the time of publication: $46.0
Pros
Lightweight and ultra-fine powder
Doesn't add texture or heaviness
Long-lasting up to 12 hours
Suitable for all skin types
Non-cakey and deliver a flawless finish
Cons
Price at the time of publication: $40.0
Pros
Offers luminous coverage
Offers intense hydration
Lightweight
Paraben-free
Petroleum-free
Phthalate-free
GMO-free
Gluten-free
Synthetic dyes and fragrances-free
Cons
Not long-lasting
Clogs pores
Price at the time of publication: $30
Is oily skin interrupting your flawless skin moments? Don't endure it; control it with Jurlique Silk Finishing Powder. Ideal for mature skin and oily combination skin makeup users, this loose translucent powder will not only control all the excess shine and sweat but enhance your complexion too. Just what you need to make an impression confidently! Other than keeping your skin oil-free, it also maintains the optimum moisture balance throughout. A perfect combo for one and all, try it!
Pros
Refreshes the skin
Add a flawless and matte finish
Minimizes large pores easily
Refines and improves complexion
Suitable for normal to oily skin.
Cons
The fragrance can be a turn off for a sensitive nose.
Price at the time of publication: $27.3
Pros
Lightweight and compact powder
Delivers a natural coverage
Sets makeup and adds a matte finish
No cakey or powdery feeling
Cons
Expensive
It may not last long.
Price at the time of publication: $34.0
Pros
Super-fine milled powder
Lightweight and long-lasting
Blurs imperfections and fine lines
Ultra-moisturizing and soft
Brightens the complexion effortlessly
Suitable for medium skin tone
Cons
Price at the time of publication: $31.5
There you go! Those are the 13 best face powders for mature skin to fight wrinkles, fine lines and blemishes. If you still need assistance with buying the best face powder for mature skin, read our buying guide below.
Buying Guide – Best Powder For Mature Skin
Skin Tone: Most of the powders on this list are translucent, which means they are suitable for all skin tones. But it is advisable to check whether the powder is suitable for your skin (especially pressed powders) before buying to avoid the hassle of returning and re-ordering.
Skin Type: There is a misconception that all loose, finishing, or pressed powders are suitable for all skin types. Unfortunately, that's not true. Pressed or loose powder for dry skin may be greasy for oily skin, or those for oily skin may crack on the dry skin. Hence, it is important to inspect the skin type before buying the best compact powder for mature skin.
Conceal Power:The best pressed powders for mature skin come packed with skin-enhancing and blurring ingredients to hide all the fine lines, blemishes, and wrinkles. So, choose a good translucent powder that brightens your complexion while hiding all the imperfections at the same time.
Convenience: The more convenient, the better always! Given the packaging design, even the best face powders for older women tend to spill easily on opening, and given how pricey they are, that spill is unfair. So, while you are browsing for a loose powder, check if the packaging is spill-proof, easy-to-use, or even better — travel friendly!
Loose or setting powder can either be used alone or on makeup for setting and baking purposes. Here are some basic steps for you on how to use the best loose powder for aging skin:
Apply your makeup or moisturizer like always
Now take a clean brush or sponge, whichever you are comfortable using and dip it in the jar or sweep it on the pressed powder
Dust off the excess carefully so you don't end up wasting
Now gently dab the brush or sponge on the shiny or oily areas on the skin
Continue to dab until you get the desired coverage.
Marin McCarthy, a licensed professional makeup artist, says, "The only way I will apply loose powder is with a powder puff. Blend out your foundation with a brush or sponge to make sure there is no product settling into fine lines and set immediately, pressing the powder into the skin."
That's all folks! Go, find the best pressed powder for mature skin to keep your timeless beauty intact! With a few of them in your makeup box, we bet you can't help but feel spoilt for choices. Don't let those stubborn fine lines and wrinkles interrupt your picture-perfect moments anymore. With one of these powders in your makeup kit, you'll always be camera-ready anywhere, anytime! Now go, pick yours today.
Why Trust StyleCraze?
The author of this post, Srijani Roy Chowdhury, is a makeup fanatic. She keeps herself updated with the latest trends in makeup and does extensive research. The list of the best loose face powders for mature skin is curated after extensive research and reading many customer reviews online. She says face powders are a great way to manage fine lines, blemishes, and wrinkles, and the products included in the list best serve this purpose.
Frequently Asked Questions
Should mature skin use face powder?
Absolutely! There are several setting powders in the market by brands like Clinique, MAC, Dermablend, and more, for mature skin. With benefits like blurring fine lines, wrinkles, pores, and imperfections, these face powders are worth a try.
Is mineral powder good for older skin?
Mineral face powders have reflecting power that help blur the wrinkles and fine lines effortlessly. So yes, the mineral powder is good for older or mature skin.
Liquid or powder foundation: which is better for aging skin?
It depends on the type of skin you have. For mature dry skin, a liquid foundation is a great option, whereas, for mature oily skin, powder foundations deliver better results.
Why is powder a problem?
Face powder is not a problem, but the ingredients and wrong type or tone could be a problem. Hence, why before purchasing a face powder, check out the ingredients and whether it suits your skin tone and type.
Is pressed or loose powder better for mature skin?
Pressed powders are enriched with more hydrating ingredients, which makes them better suited for mature skin. However, loose powders offer more extended wear.
Does powder help with mature wrinkles?
Yes, a powder helps with mature wrinkles. It can help eliminate the appearance of fine lines and wrinkles without cracking. Also, a powder can hydrate the skin and offer a flawless finish without flaking.