11 Best Bras For Older Women You'll Love Wearing Everyday
These comfortable and stylish bras offer the best coverage and support to older women!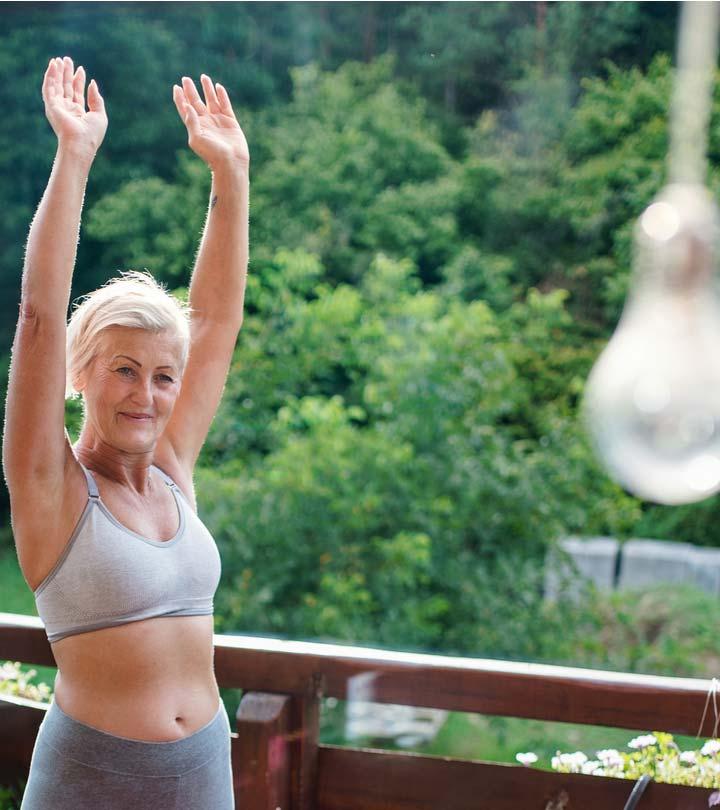 As the number of candles on the birthday cake increases, the need for the best bras for older women becomes necessary. Aging brings a lot of changes to your body, and the most evident are changes in the shape of your body parts, shrinking of size, and change of the texture of your skin. With youth slipping out from the gaps of your finger, it's natural to feel heavy at heart, but that does not mean you have to sit in a corner and switch to knitting! Gone are the days when aging women would hide the embarrassment of losing the edge behind younger women. Now it's time to celebrate your body by highlighting your shape and size the way it is. When it comes to bras, they have always given you the curves you wanted, but with age, it sags down and needs more support to keep it in place. If you struggle to find the perfect bra that is comfortable, breathable, and enhances your lift, we have just what you need. Getting the perfect bra made for your body needs is no more struggle as more brands are pouring in to make the clothing practical, comfortable, and pretty to keep your confidence high. If you are overwhelmed by the number of brands and their similar products, we are here to help. Go through these 11 bras specially made to suit the seeds of mature women.
11 Best Bras For Older Women That Will Makeup You Feel Uplifted
When you're looking for the best bra for older women, the first thing that comes to mind is comfort. Try Wanayou's Women's Zip Front Sports Bra that offers you exactly that. With a front closure zipper, it makes for easy wearing and removal. You don't have to strain your arms finding that hook in the back. It also had removable pads, which is perfect for tee-shirts that require padding, and for blouses that do not. No matter what you choose to wear on any given day, this sports bra has your girls covered! Made with a premium blend of polyamide and spandex, this is one of the best bras for older ladies and has a racerback design for additional support.
Pros
 Suitable for post-surgery use
 Front closure
 Removable pads
 Racerback design
 Ideal for active, dailywear
Cons
 May be rough around the edges
When you're looking for security, you want everything contained in one place, without the dread of your breasts feeling uncomfortable, flattened, or misshapen. The Delimira's Women's Full Coverage Wire-free Back Support bra is ideal just for that. Not only is it a front closure bra for seniors, which makes for easy everyday wear, but it also offers extra back support, thanks to its criss-cross back reinforcement and posture correcting technology. With a blend of polyamide and spandex, this full coverage bra softly but firmly holds your breasts in place, leaving no room for extra jiggles and wiggles.
Pros
 Extra back support
 Front closure
 3 adjustable positions
 Wire-free design
Cons
We all like a little 'lift' from time to time, but it can be very uncomfortable with underwires and push-up cups. Thanks to the Glamorise's Women's Full Figure Plus Size MagicLift bra, it manages to give your bosom a very good lift, minus the underwires. With its contoured cup support, your breasts are given a gentle push upward from all angles, while keeping them secure and comfortable with its full coverage. They also have wide cushioned bra straps, which are a blessing for stressed out shoulders and delicate skin! Glamorise has been synonymous with comfortable, body-positive, stylish, and curve-enhancing lingerie since as early as the 1920s, so you can rest assured you will get the best bras for older women from this brand.
Pros
 Machine washable
 Contoured cup support
 Wide cushion straps relieve shoulder pressure
 Hook and eye closure
 3 adjustable fits
 Ideal for curvy women
Cons
 May not be suitable for sensitive skin
If you're looking for medium support and coverage, with a delicate design that holds your girls in place, look no further. Carole Martin's Full-Freedom Comfort Bra's multi-directional stretch fabric helps cover all bases, without loosening up or changing form. The nylon-spandex fabric blend is ideal for that comfortable stretch and feels so good on your skin, it's almost as if you've got nothing on at all! The wide and adjustable shoulder straps are ideal to relieve shoulder pressure, and the frontal hook closure is easy, convenient, and quick, especially if you're on-the-go. Pop this old lady bra beauty on, and feel the easy breezy comfort.
Pros
 Multi-directional stretch fabric
 Wide straps relieve shoulder pressure
 Suitable for light to medium support
 Hook-and-eye closure
Cons
 Straps may not stay in place
Cotton comfort is the absolute ultimate when it comes to bras for older women. So, of course the Leading Lady Women's Meryl Cotton Leisure certainly makes it to the list of the best bras for older women. It offers the comfort of cotton with the stretchiness of spandex, and the convenience of a frontal hook-and-eye closure mechanism. We love that it is absolutely wire-free and doesn't rely on any kind of wiring technology for breast support. Its wide back design ensures that the bra stays in place and doesn't ride up while you're wearing it through the day. Not only is this a great daily wear bra option, but you can also wear it comfortably at nighttime. Thanks to its convenient frontal closure, you can also use it while breastfeeding. It's truly a versatile bra for older women!
Pros
 Contains cotton
 Front closure
 Wire-free support
 Full coverage
 Suitable for convenient breastfeeding
Cons
 May not be washable by machine
This Mom's Choice Award Winner is the best bra for older women, especially those in need of an adjustable strap bra that aids nursing. This nylon and spandex 4-way stretch fabric blend offers smooth, soft comfort, along with enough stretch and firmness to wrap itself efficiently around your breasts, without compromising on strength, lift, or style, even as your breasts may change in shape or size, while nursing. The cups are molded and have shape-defining foams that are inserted, but can be removed as well if you're not into foam padding. The adjustable shoulder straps are easily detachable, so you don't have to unhook your bra every single time you have to breastfeed. One of the best bras for older, sagging breasts, there are no guesses as to why this baby's an award winner!
Pros
 Mom's Choice Award Winner
 Seamless and wire-free
 Ideal for nursing
 4-way stretch fabric
Cons
 May not be as supportive for shallower-breast sizes
When you're buying the most comfortable bras for seniors, you want it to fit well, keep your breasts well-secured, and make you feel light, comfortable, and carefree. Warner's Women's Easy-Does-It No Dig Wire-Free Bra has a wide bottom band, which makes sure the bra doesn't ride up or dig into your skin, while you wear it throughout the day, even if you are working out and moving around a lot. The multipurpose straps are easily adjustable from the front and can convert to a criss-cross configuration, which also makes for a chic design if you are wearing a backless top. Who said bras are meant to be hidden away, anyway? If you got it, flaunt it!
Pros
 Machine washable
 Convenient front-adjustable straps
 Straps can convert to criss-cross
 Wide bottom band prevents digging in
Cons
 May not be suitable for all body types
Deyllo's Women's Full Coverage Plus Size Comfort Minimizer meets all the criteria for the best bra for older women. Comfort, style, convenience, and support — this bra delivers on all accounts. The breathable and skin-hugging fabric is lightweight and feels as though there's barely anything on! These bras come in a wide range of sizes, especially plus sizes, which is a plus point for ladies with bosoms on the heavier side. The wide cushion straps provide extra support, relieving your shoulders from the burden of carrying all the weight. And they're adjustable, too! The wirefree cups fall easily into shape and keep your girls secure and well-rounded in shape. This bra would be perfect to wear under dresses and blouses!
Pros
 Breathable and skin-friendly fabric
 Full coverage
 Available in many cup sizes
 Ideal for plus sizes
 Adjustable wide cushions straps
Cons
 Strap lengths may not be effectively adjustable
Looking for something luxurious, sensually feminine, stylish, and well-supported for older women with large breasts? You need to try Elomi's Plus-Size Cate Underwire Full Cup Banded Bra. The polyamide, nylon, and elastane blend makes for a smooth, comfortable and firmly supported texture for your skin while the cups are constructed in a 3-piece format, which provide extra support and lift from all angles. In addition, the back strap is positioned in a way that there is no sliding or slipping about. We absolutely love the full coverage cups held together by the comfortable underwire, along with mesh inserts and flattened embroidery that adds a little visual delight, while keeping the view discreet and covered.
Pros
 Full coverage
 Three-piece cup support for lift and definition
 Inward back strap avoids slippage
 Underwire keeps everything in place
Cons
 May not be suitable for all body shapes
 May not be machine-washable
If you're interested in bras for older women that give off a more vintage and conservative vibe, try. Chantelle's line of brassieres. The 3-part cup provides a well-rounded lift and maximum support. The 3 seams on the cups further contribute to a slimming effect around your waist. The straps are fully adjustable and also have a beautifully designed stitch detail. The vintage-styled lace cups are stretchable and adjust well to your shape and size, keeping your breasts well-supported and decorated, too!
Pros
 Unlined double-layer underwire cups
 Full coverage
 Fully adjustable straps
 Side support panels add definition
Cons
 May not suitable for all body shapes
Feel like going dancing? Well put on your dancing shoes and your favorite dress with no hesitation when you've got the Just My Size Easy-On Front Close Wirefree Bra on inside. This gorgeous number is the bra for older women, who are in the mood to boogie this weekend, without a care! The frontal hook-and-eye closure makes for convenient wearing and removing. The 3-piece seamed cups help give your breasts some definition and extra lift, all the while keeping them in place, no matter how much you plan to jive away the evening. The wide straps are cushioned and firm, which is a blessing for your shoulders, and offer maximum support. Want more support? You got it! With the laminated inner cups that provide that extra lift and security.
Pros
 Wide cushioned straps relieve shoulder pressure
 Laminated inner cups add support
 Front closure
 Three-piece seamed cups add definition
Cons
 May not be machine-washable
Now that you have the skinny on the best bras for older women, have a look at our buying guide for some useful tips on how to shop for them!
How to Choose the Best Bra For Older Women
When choosing a bra that makes you feel comfortable, supported, and happy, it is important to look at certain factors before making a purchase.
When you look at quality bras for older women, you have to take into account what these bras are made of. Most bras are made from a blend of nylon, cotton, polyester, and spandex. Choose a moisture-wicking fabric that works for your skin and something you are comfortable wearing for long hours while being easy to maintain and clean. The best bras for older women would have a blend of spandex and cotton for support and comfort.
Ask yourself what kind of coverage you require. Some ladies prefer fully covered breasts, while others like a half-cup coverage, for more cleavage-revealing clothing. You may even look for delicately laced bras, which provide semi-coverage but give an aesthetically pleasing look. If you feel your breasts sag more than you'd like, then a full coverage bra is the best option for you. If you want a little lift and like wearing low cut tops or dresses, then opt for half-coverage or something that props your girls up beautifully.
Why do you need to wear a bra? Apart from the obvious reasons of making sure things remain in place, avoiding excessive jiggling, and wanting general support and padding under your daily wear, there are many more reasons one may need a bra. Perhaps your skin is way too stretched over the years and you'd like to reduce the heaviness you feel on your chest. Perhaps you want to wear bras only for specific kinds of clothing. Or you might have had surgery and require comfortable padding and cushioned supports. Sometimes it's simply too cold to go out without keeping your breasts warm. Whatever your requirement is, there is a bra for older women out there that will satisfy your needs. Look out for materials, constructions, variety, and durability that perform your desired function.
Bras for older women are available at a vast range of prices. Whether it's a luxury brand or the bargain lingerie store around the corner, it's important to decide beforehand how much you are willing to spend on innerwear every year. Some bras last longer than a year while others are perishable at a very rapid rate, but feel absolutely soft and comfortable. Once you know how much you're willing to spend on your bras, you'll be able narrow down the options and shop within your budget. Then, no matter what you choose, you will gain value for the money you spend.
It's time to throw away those poorly constructed, boring, old 'granny' bras and trade them in for something sleek, smooth, comfortable, supportive, and, above all, exciting! Bring out your girls and set them free, with some of the best bras for older women out there. Flaunt your beauty with confidence and joy, and remember: age is just a number. There is no limit to what you can do to celebrate yourself, give yourself the love and support you need, and feel comfortable while doing it all.
Why Trust StyleCraze?
Fashion enthusiast Priyam Gupta, who authored this article, loves experimenting with different fashion goodies available in the market. She understands that aging changes the shape of your body, and for this reason, she researched the best bras for older women and curated a list of them. These products will give your bust the right lift and keep you super comfortable.
Frequently Asked Questions
How does one determine the bra size for older women?
To find the right bra, you need to measure your cup size and underbust. Get a measuring tape and wrap it around, just under your breasts. Once you note the measurement, run the tape around the fullest part of your breasts. This will determine your cup size. While bust size runs in inches, cup size is usually identified in alphabets. You can use the size guide of any brand, whose bras you would like to try out.
How often should you replace bras?
Ideally, you should replace your bras every 6-8 months. But in some cases, you can easily stretch that to 12 months.
Is Sora Bra the most supporting and comfortable bra for older ladies?
Sora Bra is considered to be one of the best bras for older women, because it has a 5D shaping technology that not only holds your breasts together, but gives them a healthy lift and definition, which flatters your body and makes you feel more confident as you age. It offers complete bust coverage, has a figure-hugging fit, provides maximum wireless support and lift, and is made of comfortable, breathable, moisture-wicking, and cooling fabric. Its natural latex pad prevents skin irritation and has antibacterial properties.
Which bra is best and most comfortable for daily use?
The LEADING LADY Women's Meryl Cotton Leisure Bra is the most comfortable bra for daily use. The perfect blend of cotton and spandex makes the bra super stretchy and soft on the skin. Also, its wide back design helps the bra stay in place throughout the day.
Are wire-free bras better?
Yes. Wire-free bras with wide bands and soft fabric can provide better comfort than wired bras. Also, wired bras contain a metal lining that sits on your skin and prevents the smooth flow of blood. So, wireless bras are better options.
How long should a woman keep a bra on?
One can wear a bra all day long if one is comfortable with it. However, certain fabrics cause excessive sweating, which can clog your pores. So, invest in breathable fabrics like cotton that absorb excess sweat and keep you cool.