6 Best Gluten-Free Lip Glosses In 2023
Bring on the drama and shine with some sparkle on your lips to watch heads turn.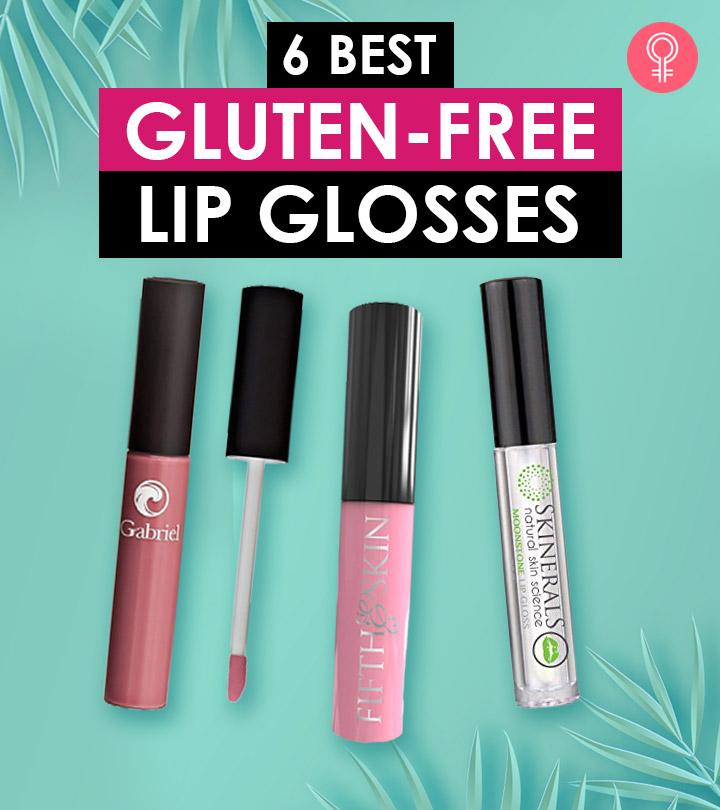 If you are a sucker for mild skincare and makeup products when it comes to your face, we suggest looking at some of the best gluten-free lip gloss, which will not only serve the moisturizing and shine-inducing purpose but also guarantee no lip reactions. This is primarily a concern for people with sensitive skin who have to think twice before purchasing an attractive lip product. Don't worry because the following list is exactly what you need!
6 Best Gluten-Free Lip Glosses Of 2023
Fifth and Skin's Better'n Ur Lips Gloss is 100% natural and made with 90% organic ingredients. It is enriched with natural oils and organic butters that provide moisture and nourishment and help in healing dry, cracked lips. This lip gloss can be used alone or over your favorite lipstick to enhance its color, shine, and longevity. The formula is sheer and buildable and infused with real vanilla pods for that ultra-luxurious scent.
Pros
100% natural
Hypoallergenic
Non-sticky
Lead-free
Talc-free
Paraben-free
Petroleum-free
Non-toxic
Vegan
Phthalate-free
Non-GMO
Preservative-free
Cons
None
Price at the time of publication: $14.99
The Gabriel Cosmetics Lip Gloss gives your lips the tender love and care they deserve. Its gluten-free, moisture-rich formula protects and seals your lips with moisture while adding a brilliant luster and a splash of sheer color. The gloss is infused with naturally sourced ingredients, such as jojoba oil that hydrates and moisturizes the lips and aloe vera that heals chapped and dry lips, leaving them soft and supple.
Pros
Non-sticky
Non-toxic
100% natural ingredients
100% vegan
Cruelty-free
Non-GMO
Cons
May not give full coverage
Price at the time of publication: $17.59
The Clique Premium Clear Lip Gloss has a lightweight formula that lasts all day long. It glides smoothly on the lips, giving them intense moisture without being sticky. The product has a touch of shimmer and adds body and definition to your lips. It can be worn alone or over your lipstick.
Pros
Lightweight
Non-sticky
Buildable
Natural ingredients
Cruelty-free
Vegan
Cons
May appear gray on darker skin tones
Price at the time of publication: $16.5
The Skinerals Moonstone Lip Gloss offers natural shine to the lips. The unique moisturizing formula adds unmatched dimension and sheen to your lips. The lip gloss is packed with the goodness of natural oils and organic butters that boost hydration and lock in moisture. It lasts all day without being sticky on the lips. Wear it alone or over your matte lipstick to ass some gloss to your lips.
Pros
Mild scent
Non-toxic
Organic
Vegan
Dye-free
Cruelty-free
Paraben-free
Cons
None
Price at the time of publication: $14.99
The AltFore Moisturizing Lip Gloss has a light and smooth texture that does not settle into the fine lines of your lips. Its anti-clump technology makes it easy to apply using the soft doe-foot applicator. The gloss is formulated to keep your lips looking luscious, full, and plump. It contains jojoba oil that keeps the lips soft, supple, and moisturized.
Pros
Eco-friendly ingredients
Paraben-free
Sulfate-free
Phthalate-free
Cruelty-free
Vegan
Cons
None

Price at the time of publication: $17
The Mom's Secret 100% Natural Lip Gloss is made with certified organic and all-natural ingredients. It adds a splash of color and a wave of sparkle to the lips, making for the perfect lip wear for everyday wear. The product can be used alone or over your lipstick to enhance the color, shine, and longevity. The gloss is infused with coconut oil and shea butter that provide long-lasting hydration and antioxidant protection. It imparts superior shine without being sticky.
Pros
Clean ingredients
Pleasant vanilla scent
Vegan
Non-GMO
No synthetic fragrance
Cruelty-free
90% organic
Cons
None
Price at the time of publication: $15.99
There are not many gluten-free lip glosses on the market that are of good quality. However, all the products in our list are tried and tested. If you want to know how to choose the best gluten-free lip gloss for yourself, read the section below.
How To Choose The Best Gluten-Free Lip Gloss
Avoid products that contain ingredients like wheat germ or barley extract. Educate yourself on the synonyms and chemical names of ingredients that may contain gluten or may be gluten-based. In addition, you will also want nourishing and moisturizing ingredients like natural oils and butters to keep your lips soft and healthy.
Gluten-Free Certification
Your safest bet to find a gluten-free product is to look for the "gluten-free" tag on the label. Some products claim to have only 'trace amounts' of gluten. Based on the severity of your condition, you may take a call on whether to use that product or not.
Why Trust StyleCraze?
The author, Baishali Bhattacharya, is certified in makeup techniques and writes well-researched product reviews for readers. She has carefully researched a wide range of gluten-free lip glosses and went through hundreds of reviews posted online by users to narrow down on the products listed above. These glosses, which are non-sticky, hypoallergenic, and lightweight, not only moisturize your lips but also eliminate the risk of adverse reactions.
Frequently Asked Questions
Do lip glosses usually contain gluten?
Yes, most lip glosses contain gluten in their formulae. If you are pursuing a gluten-free lifestyle, always look for 'gluten-free' lip glosses.
Is it okay to wear gluten-free lip gloss every day?
Yes. Gluten-free lip gloss adds a color pop and a wave of shine to the lips. It is filled with organic oils and butter to treat and hydrate cracked lips while leaving them soft and smooth.
Is gluten-free lip gloss bad for your lips?
No. Gluten-free lip gloss is not bad for your lips.
Recommended Articles