Get Sparkly, Glamorous Lips With The 13 Best Glitter Lipsticks Of 2023
Amp up your look and make your lip party-ready by adding some shimmer to your lips.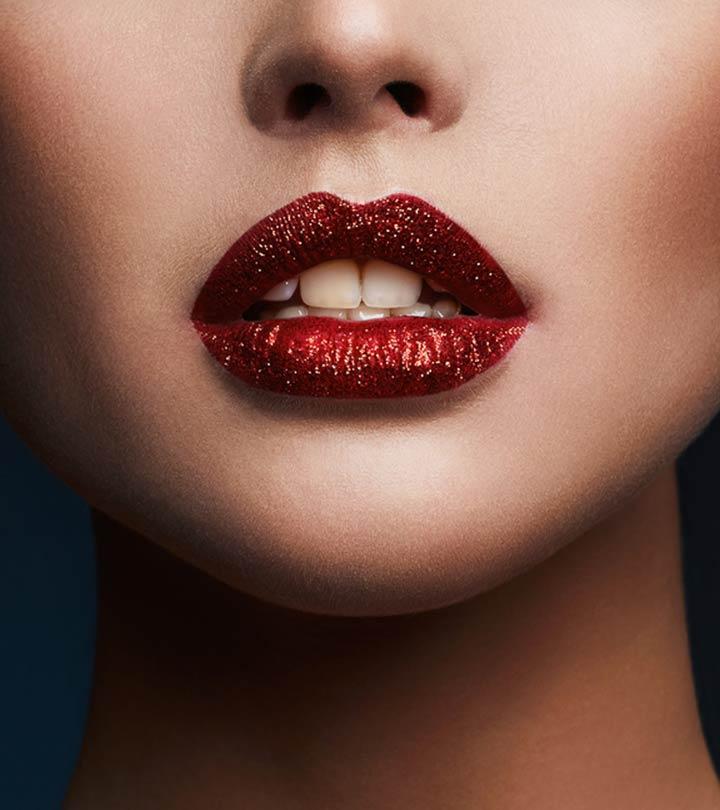 Party makeup demands a bit of glitz and glamour. Why shy away from using the best glitter lipstick to match your radiant personality? Shimmery lipsticks and pouts have been a part of the fashion world since forever! Nowadays, even Instagram is filled with models and influencers posting glittery lips.
Lipsticks are a big part of our makeup. They instantly amp up your entire look with just a touch of color. The lipstick world has a lot to offer in terms of textures and finishes. The newest addition is glitter lipsticks. Now, to make your glitter lips pop, add a bit of thick balm to your lips before applying the glitter lipstick. You can also add a light lip color first and apply the lipstick to enhance both the color and the sparkle of your lips. Glitter lipsticks are available in multiple finishes like basic shimmer and metallic shine. Check out our list of the 13 best glitter lipsticks and gear up for your next party.
Top Picks
13 Best Glitter Lipsticks For A Sparkly Lip Makeup Look
Pros
Vegan
Lightweight
Cruelty-free
Smells great
Cons
The formula may be a bit drying for a few.
Price at the time of publication: $6.49
Pros
Lasts long
Doesn't flake
Doesn't fade
Cruelty-free
Cons
Price at the time of publication: $10.99
The TOO FACED Throwback Metallic Sparkle Lipstick is made with high-pigment sparkles that deliver a multi-reflective glitter finish, making your lips look absolutely party-ready. It goes on smoothly and wears comfortably for many hours, making you appear all shiny and bright. For a more detailed review of this product, here's a video.
Pros
Smooth application
Great color payoff
Rich pigmentation
Creamy
Cons
Price at the time of publication: $35
Pros
Durable
Lasts long
High pigmentation
Beautiful coverage
Cons
May have a chemical smell initially
Price at the time of publication: $16.0
Pros
Gluten-free
Cruelty-free
Gorgeous packaging
Great for both day and night looks
Cons
The stick may be fragile.
Price at the time of publication: $19.95
Pros
Long-lasting
Highly pigmented
Available in 6 shades
Waterproof
Comes with a non-stick cup
Easy to apply and remove
Cons
Price at the time of publication: $9.98
Power up with this limited edition glitter lipstick. Created in collaboration with Wonder Woman 1984, this Revlon X WW84 Warrior Glitter Lip Color is a liquid lipstick that transcends into a multi-dimensional glitter finish after application. All you have to do is press your lips together after applying to get that lovely sparkle. It is a beautiful sparkly red, and is sure to be one of your favorites after the first buy. The final finish is super lustrous and ultra-glamorous red.
Pros
Lightweight
Well pigmented
Moisture-rich formula
Delivers powerful shimmery red lips
Cons
Price at the time of publication: $4.99
Pros
3D shades
Available in 6 shades
Non-drying
Smooth on lips
Cons
None
Price at the time of publication: $29.95
Pros
Lightweight
Good coverage
Moisturizing formula
Velvety smooth glitter finish
Cons
Price at the time of publication: $8.68
If you are looking for pitch-black shimmer, then this Kat Von D Studded Kiss Lipstick in Nayeon is ideal for you. This shade is a medium-dark black hue with silver sparkle and a soft shine. It is a slightly cool-toned color with a frost finish and has high chroma content that lends a pure, vivid color. This formula is smooth, glides effortlessly on your lips, and delivers an ultra-feminine, diva look. It has a strong vanilla scent, which fades a while after application.
Pros
Lightweight
Well pigmented
Beautiful packaging
Matte lipstick
Doesn't dry out lips
Cons
May be a bit too dark for everyday look
Price at the time of publication: $14.15
Pros
Smells great
Unique metallic glitter
Available in 6 shades
Buttery smooth formula
Cons
Price at the time of publication: $23.18
Pros
Vegan
Best for all skin types
Easy to apply
pH-balanced
Cruelty-free
Phthalate-free
Sulfate-free
Gluten-free
Parabens-free
Cons
Price at the time of publication: $16
Pros
Vegan
Non-toxic
Cruelty-free
Paraben-free
Cons
May not blend in too easily.
Price at the time of publication: $21.0
If you are a fan of all things shiny, a sparkling glitter lipstick is just the thing for you. Glittery lips have traditionally been the mainstay of ramp shows and photoshoots but today bright shiny lips are trending everywhere you look, from Instagram to the streets. However, there's a variety of glitter lipsticks available out there and making a choice for yourself needs some time and thought. And, here are some factors to keep in mind to help select the best glitter lipsticks.
How To Choose The Best Glitter Lipsticks
Choose glitter shades that complement your skin tone and undertone. For warm undertones, choose warm shades, like brick red, bold oranges, and terracotta browns. Gold and bronze pair well with these. For cool undertones, choose lipsticks with purple or blue undertones. Shades like pink or cranberry pair well with silver or pink glitter, and look good on cool undertones.
The finish of your lipstick can vary from matte to intensely creamy. For dry and cracked lips, choose a creamy formula as it will help to heal and moisturize your lips. But, for a long-lasting matte finish, opt for one that has a soft pigment so it will not dry out your lips.
Choose lipsticks that offer a smooth application and glide on effortlessly without any gritty feeling. Mica is the glitter that is usually used in glitter lipsticks to give that pearlescent high shimmer and shine. Ensure that the particles are finely milled so that your lips have a smooth comfortable finish.
Look for glitter lipsticks that are enriched with healing ingredients like avocado, aloe vera, illipe butter, and jojoba seed oil, to offer long-lasting moisture to your lips. The addition of vitamins C and E will offer antioxidant properties for healthy lips.
Look for glitter lipsticks that are fade-resistant and smudge-proof so that it lasts the evening without requiring any touch-ups. Look for a glitter lipstick that does not bleed or transfer even while you eat or drink.
Check the ingredient list for harmful ingredients. Look for formulations that are free of parabens, retinyl palmitate, nickel, tocopheryl acetate, lead, and phthalates. Avoid buying lipsticks that contain potential allergy causing substances like carmine and beeswax if you have sensitive skin.
Why Trust StyleCraze?
The author, Chaitra Krishnan, is an ardent makeup enthusiast who loves trying out the trendiest sparkly lipsticks to amp up her look. To compile this list, she tried on several sparkly lipsticks herself and carefully read through the formulations on the brand websites to shortlist the best of the best for you. These lipsticks are cruelty-free, durable, last long, and come in various shades to enhance the shape and sparkle on your lips.
Frequently Asked Questions
Is it safe to put glitter on your lips?
This depends on the type of glitter. We wouldn't advise putting craft glitter on your lips ever, of course. Safe-for-skin glitter powder is used to create sparkles in lip glosses and lipsticks. Of course, always check for certified products before any cosmetic application.
Can you use eye glitter on lips?
The mineral-infused shimmer eyeshadows may not be safe to use on lips. They are approved for topical skin application, but not for use on your lips.
How do you apply glitter lipstick?
Begin with well-exfoliated lips and a transparent lip balm/lip primer. Next, apply a lip liner and prep the area around the lips with a concealer and thin brush. Smile just a little to ensure your lips stretch. Glide the glitter lipstick within the contours of your lips to get full coverage.
How do you remove glitter from your lips?
Use a microfiber towel to gently wipe off the layers of glitter and then use a makeup remover. You may also use sticky tape to gently remove glitter layers and then use a cleansing balm and cleanser.
Can you put cosmetic glitter in lip gloss?
Yes, take some cosmetic glitter from a premium brand and add it to your lip gloss, and jazz up your looks instantly!