Get Sparkly, Glamorous Lips With The 13 Best Glitter Lipsticks Of 2022
Amp up your look and make your lip party-ready by adding some shimmer to your lips.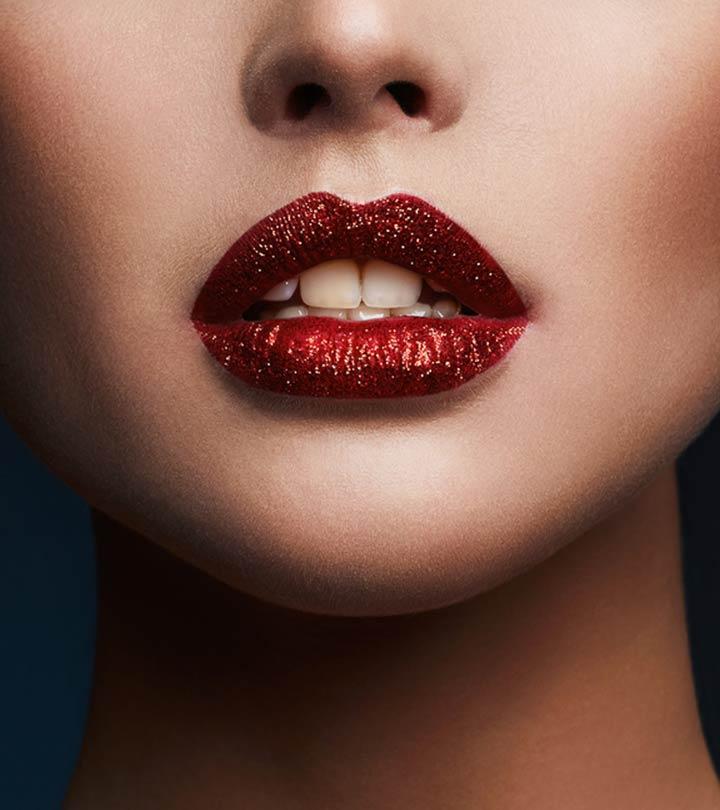 Party makeup demands a bit of glitz and glamour. Why shy away from using the best glitter lipstick to match your radiant personality? Shimmery lipsticks and pouts have been a part of the fashion world since forever! Nowadays, even Instagram is filled with models and influencers posting glittery lips.
Lipsticks are a big part of our makeup. They instantly amp up your entire look with just a touch of color. The lipstick world has a lot to offer in terms of textures and finishes. The newest addition is glitter lipsticks. Now, to make your glitter lips pop, add a bit of thick balm to your lips before applying the glitter lipstick. You can also add a light lip color first and apply the lipstick to enhance both the color and the sparkle of your lips. Glitter lipsticks are available in multiple finishes like basic shimmer and metallic shine. Check out our list of the 13 best glitter lipsticks and gear up for your next party.
13 Best Glitter Lipsticks For A Sparkly Lip Makeup Look
If you are a beginner who is making the shift to trying out a glamorous look by adding some shimmer to your lips, this one will work well for you. With a metallically-matte tone, this liquid lipstick glides smoothly on your lips to reveal a metallic shine that dries into a gorgeous glitter finish. A little goes a long way with this one. Just dab a little on your lower lip and then smack your lips together for dazzling lips.
Pros
Vegan
Lightweight
Cruelty-free
Smells great
Cons
The formula may be a bit drying for a few.
This BYS Lipstick Holographic Unicorn has a super silky and intense formula that creates a multi-dimensional effect, rendering a sparkly look. If you are a fan of subtle looks and not looking for a dramatic appearance, then this is ideal for you. It is easy to apply and never looks too over the top. If you have a sparkly dress on and you don't want your makeup to take away from what you are wearing, but just pleasingly complement it, then this lipstick works well for you.
Pros
Lasts long
Doesn't flake
Doesn't fade
Cruelty-free
Cons
The TOO FACED Throwback Metallic Sparkle Lipstick is made with high-pigment sparkles that deliver a multi-reflective glitter finish, making your lips look absolutely party-ready. It goes on smoothly and wears comfortably for many hours, making you appear all shiny and bright. For a more detailed review of this product, here's a video.
Pros
Smooth application
Great color payoff
Rich pigmentation
Creamy
Cons
Looking for drama on your lips? Two swipes of this Graftobian Pro Lip Color on your lips does the trick. Be it disco night or a glamorous evening with your best friends, this Pink Glitter lipstick will transform your regular party look to glamorous yet elegant. Just apply a little swipe of this one, whenever you want to look like a gorgeous diva. It is the right amount of sheer, spreads evenly, doesn't harden or crust over, and delivers a smooth look. It glides on smoothly and is rich in color.
Pros
Durable
Lasts long
High pigmentation
Beautiful coverage
Cons
May have a chemical smell initially
Going for an ultra-glamorous look? Well, how about taking notes from some good old classic Hollywood looks? Nothing wrong with aspiring for those alluring cinematic looks. This Gerard Cosmetics brown Glitter Lipstick in Hollywood Blvd. offers that premiere night red carpet elegant shimmer look without the paparazzi drama. Capturing the excitement and lure of California's most iconic street, this lipstick comes in a nude glitter shade.
Pros
Gluten-free
Cruelty-free
Gorgeous packaging
Great for both day and night looks
Cons
The stick may be fragile.
Experimenting with glitter shades? You'll find your shade among an array of bold, bright hues to super versatile neutral tones in the Vice Collection by Urban Decay. This Vice Lipstick in Singe is a deep wine red color with glitter and a metallized finish. This innovative formula is likely to win your loyalty. It is infused with babassu oils, aloe vera,  avocado, and jojoba that soften and nourish your lips. This lipstick also contains vitamins C and E that deliver a dose of antioxidants and illipe butter, from Malaysian illipe trees, that offers long-lasting moisture.
Pros
Vegan
Cruelty-free
Waterproof
Hydrating formula
Cons
May not last all day long
Power up with this limited edition glitter lipstick. Created in collaboration with Wonder Woman 1984, this Revlon X WW84 Warrior Glitter Lip Color is a liquid lipstick that transcends into a multi-dimensional glitter finish after application. All you have to do is press your lips together after applying to get that lovely sparkle. It is a beautiful sparkly red, and is sure to be one of your favorites after the first buy. The final finish is super lustrous and ultra-glamorous red.
Pros
Lightweight
Well pigmented
Moisture-rich formula
Delivers powerful shimmery red lips
Cons
Looking for a lipstick with a metallic glitter hue? Your search ends with the Ciate London Glitter Storm Lipstick. Once applied, this metallic glitter lipstick transforms into a star-like pigmented color with amazing shine.  Simply press your lips together to increase the shimmer. This Apollo color is a lovely dark shade of purple that works great for both day and night looks. This lipstick is incredibly lightweight and offers opaque coverage.
Pros
3D shades
Available in 6 shades
Non-drying
Smooth on lips
Cons
None
Spice up your lipstick game with a sheer coat of this Rude Starlett Supercharged Color Shift Glitter Lipstick for that soft glow or layer it on for full glam. This Prima Donna shade is a lovely shimmery tone of bright pink. If you are going for a sultry look, with wet hair and a strappy dress, wear this lipstick for a touch of glitter and pair it with a minimal makeup look. It will deliver a juicy shimmery glossy lips and will likely elevate your Instagram game to the next level.
Pros
Lightweight
Good coverage
Moisturizing formula
Velvety smooth glitter finish 
Cons
If you are looking for pitch-black shimmer, then this Kat Von D Studded Kiss Lipstick in Nayeon is ideal for you. This shade is a medium-dark black hue with silver sparkle and a soft shine. It is a slightly cool-toned color with a frost finish and has high chroma content that lends a pure, vivid color. This formula is smooth, glides effortlessly on your lips, and delivers an ultra-feminine, diva look. It has a strong vanilla scent, which fades a while after application.
Pros
Lightweight
Well pigmented
Beautiful packaging
Matte lipstick
Doesn't dry out lips
Cons
May be a bit too dark for everyday look
This next-generation lipstick combines star-like glitter with a colored base to offer a three-dimensional shimmery look. If you have been looking to nail that OTT Instagram looks, then this one is an ideal complement to a glamorous selfie. This glitter liquid lipstick transforms any plain look into a luscious, sensual, and feminine appearance. Add this to your collection of lipsticks and put it on days when you need to shine a little more.
Pros
Smells great
Unique metallic glitter
Available in 6 shades
Buttery smooth formula
Cons
This limited-edition metallic lipstick delivers a sophisticated bejeweled finish on your lips. It offers buildable coverage, which means you can layer it on, depending on the kind of makeup finish you are going for. This Sci-Fly shade is a slightly warm-toned dark plum color with sparkle. The color-soaked micro shimmers in this product reflect a sheen that is modern and never looks out of balance. The texture is irresistibly creamy and makes your lips look fuller with every swipe. This one definitely has our heart when it comes to dark glitter lipstick.
Pros
Cruelty-free
Lasts all day long
Moisturizing formula
Great for everyday wear
Cons
Looking for a soft matte finish? Try this REALHER Metallic Liquid Lipstick in Be Bold. Despite being matte, it is super shimmery and chic. This vibrant copper color looks great with the shimmer. It is lightweight, easy to apply, and offers good coverage. This formula is infused with extracts of jojoba seed oil that nourishes your lips. If you are looking to create  a luscious ultra-glamorous look, you can apply a lip gloss over it. This formula lasts all day long.
Pros
Vegan
Non-toxic
Cruelty-free
Paraben-free
Cons
May not blend in too easily.
Why Trust StyleCraze?
The author, Chaitra Krishnan, is an ardent makeup enthusiast who loves trying out the trendiest sparkly lipsticks to amp up her look. To compile this list, she tried on several sparkly lipsticks herself and carefully read through the formulations on the brand websites to shortlist the best of the best for you. These lipsticks are cruelty-free, durable, last long, and come in various shades to enhance the shape and sparkle on your lips.
Frequently Asked Questions
Is it safe to put glitter on your lips?
This depends on the type of glitter. We wouldn't advise putting craft glitter on your lips ever, of course. Safe-for-skin glitter powder is used to create sparkles in lip glosses and lipsticks. Of course, always check for certified products before any cosmetic application.
Can you use eye glitter on lips?
The mineral-infused shimmer eyeshadows may not be safe to use on lips. They are approved for topical skin application, but not for use on your lips.
Recommended Articles