11 Best Loose Yoga Pants To Try In 2023 (With Buying Guide)
Wearing comfortable and lightweight clothes during yoga sessions is a necessity!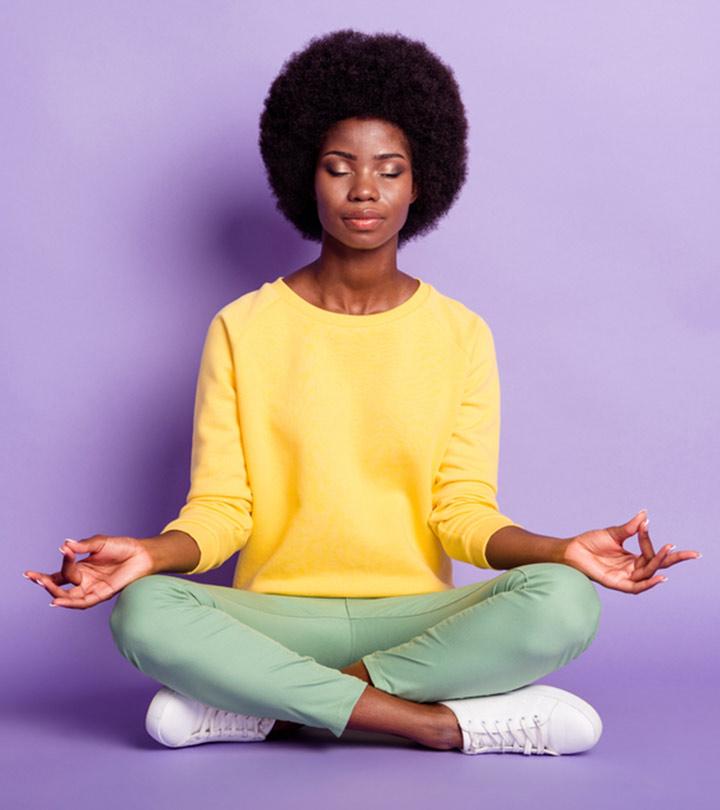 Wearing the best loose yoga pants can give you an experience like no other. Gone are the days when wearing something tight and uncomfortable defined how trendy you are. Fashion technology has made their products more and more customer-friendly, and when it comes to loose yoga pants, it has reached a summit. They are the ones that are loose at the bottoms but fit you perfectly on the waist. Whether performing yoga, traveling, or just lying on your couch all day, these pants are made to help you breathe and relax. The stretchy yet smooth fabric gives you movement while looking super pretty when you need something to flatter your silhouette. These pants are super versatile and look amazing when paired with tank tops, tops, and even loose crop tops. If you're overwhelmed at the number of yoga pants new brands are pouring in, we are here to help you choose the best one for yourself. Here are the 11 highest-rated loose yoga pants that will make your loungewear super comfy.
11 Best Loose Yoga Pants To Add Comfort To Your Workout Look
These loose yoga pants are a great choice to up your style game. With a straight leg design that can be adjusted at the waistband and a high-quality polyester-spandex blend, these wide-leg yoga pants feel really soft and offer a lot of stretchability. Shoppers looking for versatility should definitely give these bottoms a try because they are appropriate for everything from casual occasions and morning walks to beach visits and workout sessions. You can also wear these lightweight yoga pants throughout the year because the fabric is thick enough to shield you from mild winter chills without feeling too warm when the sun is peeking.
Pros
Lightweight
Easy to clean
2 side pockets
Breathable material
Cons
Some may not find it thick enough.
These loose, Bohemian yoga pants from the house of Joob Joob are ideal for those who like to keep things really spacious when they're out and about. They have a relaxed fit that runs up to the ankles and keeps your tummy in control with a smocked waistband. If you prefer a thin, stretchable fabric for workout or regular wear, these yoga pants will serve you well. Made from pure rayon, the flowy yoga pants feel buttery-soft and lightweight. Whether it's running errands, doing yoga, going to pilates, or lounging around the house, this pair will help you do it all. According to several reviewers, the lightweight fabric feels and looks great as it is not see-through.
Pros
Versatile style
Beautiful patterns
Sleek, chic design
Has a side pocket
Cons
Made with a blend of rayon and spandex, these loose yoga pants are highly recommended for knee or hip-surgery patients. These stretchy yoga pants are totally non-see-through, comfortable, and immensely flexible. The V-shaped design on the front combined with a loose fit over the hips makes them ideal for activities that involve leg movement. The pants are easy to wear, thanks to the wide waistband that also happens to contain the tummy. There are elastic bands around the ankles as well, which prevent these harem yoga pants from rolling up while you are busy doing yoga. To add style, there are pleats around the waist that will make you feel like an Arabian princess. The plenty of room in every area makes these a great option for pregnant ladies. The reviews that mention fit assessment say that these are an ideal option for maternity wear as well.
Pros
Soft, stretchy material
Versatile use
Flaunts your figure
Tapered legs for slim look
Cons
Might take a while to dry
This ultra-comfy harem from the Fitglam store is made of rayon and spandex. It pulls up to the midsection of your tummy with a high-rise elastic waist, which ensures complete support and a snug fit. The breathable yoga pants feature wide legs and oversized ventilating side slits, perfect for those who like to keep it airy and flaunt their legs a little. The elastic cuffs around the ankles keep them from getting in the way of your workouts or rolling up and ruining the fine, balanced silhouette. Those who love to experiment with styles will fall in love with these high-waisted yoga pants.

Pros
Unique design
Buttery-soft material
Light and breathable fabric
Elastic cuffs keep them clean
Available in 16 color options
Cons
Might get caught in the slits
If all your heart desires is simple and stretchy yoga pants, this has to be your first choice. These comfortable yoga pants have wide flared legs. Ideal for yoga, gym, aerobics, lounging, and running errands, the pants let you live the cozy vibe all the time. For women who are conscious of their bodies, these pants fit like a dream and provide a sleek look that boosts confidence. There are 2 side pockets for your convenience, so there really isn't anything left to ask for. Available in a wide range of bright and neutral colors, these flared yoga pants are suitable for all age groups.
Pros
Moisture-wicking fabric
Well-stitched loose design
Adjustable drawstring waist
Lightweight, stretchy material
Cons
For women who have a lot on their plate with not enough time to change for workouts, these yoga pants will be your all-time favorite. Along with being open and comfy, they have the perfect vibe for brunching, shopping, lounging, and even low-key training. Crafted from cotton, spandex, and polyester, the pants feel soft and stretch perfectly well. The fabric is breathable and evades issues associated with sweating. From being snugly fit at the waist to completely flowy towards the legs, these yoga pants are designed for utmost freedom of movement. The sides come with a leg-lengthening silhouette that provides a refreshingly sleek and streamlined look. They are available in a range of sizes from small to 3X-large, so everyone can get the right fit.
Pros
Soft and breathable cotton
Contains natural fibers
Elastic waistband
Has 2 roomy pockets
Non-see-through material
Gusseted crotch
Cons
Some may find the fabric slightly heavy.
If you love getting dressed to the nines and want to create a unique look for casual occasions, these harem pants will make you look hipper than ever. Crafted with pure rayon, the quick-drying yoga pants are simple and super comfy, with an elastic wide waistband keeping them secure. There's a 5-thread double-stitching on all the seams to make sure they hold up for a long time. But the highlight is the stunning designs and patterns that leave boring behind and inject a healthy dose of fun into your wardrobe. Unlike regular yoga pants, this pair is ideal for rocking a chic, boho look.
Pros
Quick-drying
Lightweight material
Multifunctional design
Elastic smocked fold
Cons
Some may not like the light crotch seam.
Created with soft and skin-friendly fabric, these non-see-through yoga pants are truly cozy. The material offers a four-way stretch and helps you deliver a frictionless performance in yoga class. There's enough sheerness in the fabric to make it breathable and perfect for workouts. For all those who like their pants on the shorter side, these are the most comfortable capris to wear. You can put them on for some light jogging, a visit to the seaside, or long-haul flights to benefit from a combination of support and functionality.
Pros
Loose fitting
Deep side pockets
High-performance fabrics
Non-see-through material
Drawstring waist
Cons
The waist might be slightly small for some.
Designed with a silk-smooth rayon and spandex fabric, these non-restrictive yoga pants are ideal when you want the widest range of motion. The material feels really light and breathable. Its sweat-wicking properties keep you dry and comfy. Featuring a high-stretch-smocked waistband, the pants contain the tummy without restricting your movements or blood circulation. They are highly flexible and have a lot of extra room from thighs to legs, which is perfect when you want to ditch the skin tights and embrace a relaxed fit. As per a few reviewers' experiences, they are perfect for loungewear and are super comfy.
Pros
Reflective logo
Big side pockets
Elastic ankles
Multi-faceted style
Cons
These stylish yoga pants are made from a durable polyester fabric with some spandex giving it the right amount of stretch. Perfect for wearing both indoors and outdoors, these durable yoga pants are completely opaque and have a wide boot cut that complements the body quite beautifully. The premium quality, uber-soft fabric makes the pants feel super-smooth against the skin and allows wide stretches with ease. The elastic waistband lets you adjust the fit until it's comfortable for you. Wear this pair of yoga pants with bright t-shirts, tank tops, and sports bras when you are home, going to the movies, traveling, or heading to aerobics.
Pros
Durable quality
Premium fabric
Slimming fit design
Has deep pockets
Keeps you cool
Spandex for stretch
Cons
High-quality athletic yoga pants can not only make your workout session smoother but also help you feel less fatigued afterward. This buttery-soft number from G Gradual is made with a blend of spandex and nylon, which gives you plenty of stretch without looking too baggy. There is a wide elastic waistband that runs above the navel for a super-high rise with mild or light compression to make you look seriously put together. Length-wise, it runs from the tummy to the ankles and offers excellent coverage. Oh, and there are 2 side pockets, so when yoga class begins, you can just put away the phone and focus up. Those who have tested the material left positive reviews for the comfortable fit, which is perfect for running, jogging, and walking as well.
Pros
Snug fit
Stretchy material
2 deep side pockets
Spandex cuff at the ankles
Cons
Doesn't come with crotch liner
*The prices provided in this article are based on the latest available information. However, they may vary due to changes in pricing by the seller and/or promotional offers.
Having explored so many top choices of loose yoga pants, you might be wondering which one's the best. Well, there's definitely a pair that works better for your specific needs than the others, and this buying guide will help you figure out how to find it.
How To Choose The Right Loose Yoga Pants
While most yoga pants are designed for free movements, your priority has to be looking for a material that offers proper comfort in every aspect. Materials like cotton and lycra are highly recommended by class regulars because they absorb sweat and are really stretchable. You should be able to move around without a hassle and stay dry throughout sessions.
Finding the right size is key when choosing loose yoga pants. They should fit properly and not be too loose around the waist. Also, they should not be very tight on the hips and ankles so that your range of motion remains unrestricted.
Full-length yoga pants run from your waist to just below the ankles, while capris end at the calves. Make sure the pants aren't too long as the fabric might get in the way of your workouts and trip you up. If they are longer than you need, you can always get them hemmed.
Why Trust StyleCraze?
The author, Srijita De, is a fashion enthusiast. After thorough research, she has provided a detailed list of the best loose yoga pants. She went through numerous reviews and feedback on multiple forums and brand websites to help you pick the perfect loose yoga pants. The products listed in this post are super versatile and look amazing when paired with tank tops and loose crop tops.
Frequently Asked Questions
What is the difference between yoga pants and leggings?
Yoga pants are especially designed with a thick material for performing yoga or other exercises, whereas leggings are thinner in texture and can be used for multiple purposes.
Should yoga pants be tight or loose?
Yoga pants can be both tight or loose, as per one's own choice. The important thing is they fit you well and don't restrict your range of motion.
Who should not wear yoga pants?
Anyone who loves a comfy, stretchable pair of bottoms can wear yoga pants. However, if you're not into the style or prefer something less free-flowing and more sturdy, you might not like yoga pants.
What are baggy yoga pants called?
Baggy yoga pants are also known as harem pants or trousers.
Can you wear loose pants for yoga?
Yes. Loose pants allow easy air passage and hence, are highly comfortable. In addition, the flowy material aids in perfecting your yoga postures and calms down your mind.
How tight should yoga pants be?
Invest in yoga pants that are one size larger than your regular size. Opt for pants that firmly grip your hip and are slightly loose at the bottom.
Is it okay to wear loose yoga pants in public?
Yes. Wear loose yoga pants in public if you are comfortable that way. The outfit will radiate your sporty and comfy vibe.
Why are yoga pants so tight?
Yoga pants are stitched with body-hugging fabric to offer a minor compression effect to your body. The material stimulates blood circulation and boosts energy levels.
Should I size down in yoga pants?
No. Always opt for yoga pants that fit you or are a size bigger than you. Never buy a size smaller to prevent restricting your movements and disturbing the yoga postures.
Recommended Articles