Top 15 Full Body Vibration Machines – 2023 Update
Burn calories and ease muscle soreness with these full-body vibration machines.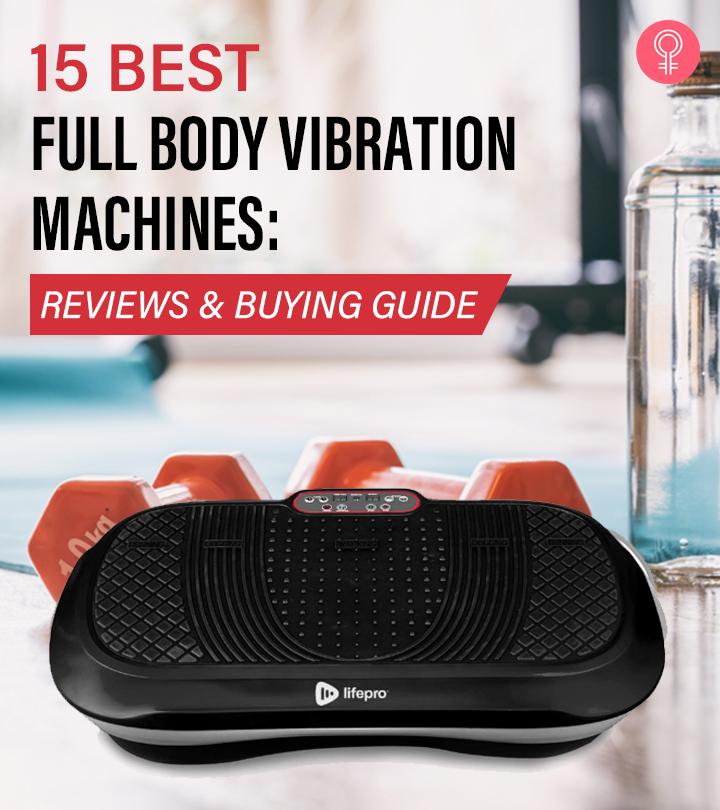 The best full-body vibration machine is intended to help a person lose weight and build muscles. Also known as a whole-body vibration machine, this equipment stimulates a person's body to burn calories and alleviate soreness in the muscles. Some studies even suggest that people who do regular vibration training sessions have significantly lower blood pressure readings than they had before.
Want to buy one, but you think this machine is too costly, then you are wrong. It comes in all price ranges. However, not sure which one to choose? Check out our list, we have included all the details that you are seeking.
15 Best Full Body Vibration Machines Of 2023: Reviews And Buying Guide
The Waver Vibration Plate by Lifepro allows you to stay fit and flexible. Its vibrations stimulate the body muscles and help you remain active throughout your workout session. It burns unwanted fat, suppresses joint pain, boosts metabolism, and increases bone density and flexibility. This machine also improves blood circulation, decreases stress, builds stamina, and relaxes muscles. The resistance bands help tone and strengthen your upper and lower body. The plate has a wide range of speed settings from 1 to 99 that can maximize the results of your workout.
The wheels attached to the vibration plate allow for easy movement and storage. The plate has a user-friendly display and remote control. It comes with an online professional trainer manual and ebook. This device offers a fast and effective low-impact workout and is perfect for home use. Its anti-slip rubber at the top and a stabilizing suction at the bottom keep it in place and facilitate a safe workout. Check out this video to better understand the functions of this product.
Specifications
Maximum User Weight: 330 lbs
Product Dimensions: 30.5″ x 15.3″ x 5.8″
Pros
Anti-slip design
User-friendly display
Whisper-quiet vibrations
99 adjustable speed settings
Remote access
Easy to store
Free access to online workout videos
Cons
None
Price at the time of publication: $199.99
The Hurtle Fitness Vibration Platform is an easy-to-store device that comes with a maximum weight capacity of 265 lbs. It features 40-level vibration speed and timer setting option that gives you complete control during your workouts. This machine allows you to choose built-in preset workout program modes. The touch button controls and digital LCD controls of the device add to the convenience of the users. This vibration machine firms thighs, abs, legs, and glutes. Its anti-slip surface board pad design ensures safety. The platform is also equipped with detachable resistance band straps that help you perform more versatile exercises. This exercise platform increases stamina, strengthens bones, tones the body, and improves blood circulation.
Specifications
Maximum User Weight: 265 lbs
Product Dimensions: 26.77" x 14.96" x 4.72"
Pros
Compact design
Easy to operate
Uses dynamic oscillating motion technology
Convenient carrying handle
Rolling wheels for easy transportation
Ideal or all body types and ages
Cons
None
Price at the time of publication: $151.63
The Axis-Plate Whole Body Vibration Platform is a premium-quality fitness machine. It is designed with high-quality steel construction and is equipped with a time-tested motor. It can support up to 265 lbs. This commercial-grade vibration machine with an oversized non-slip base plate offers low-impact training for all fitness levels. You can get customizable and full-body stimulation with 99 speed settings. It features non-skid rubber feet, 3 pre-programmed workouts, and a manual mode option. The easy-to-read control panel enables convenient speed control. Additionally, it comes with built-in BMI sensors for progress monitoring on handles, removable resistance bands, and front-mounted wheels for easy portability. Watch this YouTuber's honest review to get a better idea about the product and its functions.
Specifications
Maximum User Weight: 265 lbs
Product Dimensions: 27-1/2" x 29" x 48"
Pros
Sturdy construction
Extra-large plate design
Noiseless operation
Easy to operate
Compact
Portable
Cons
Price at the time of publication: $269.99
The LifePro Rumblex 4D Pro Vibration Plate allows you to indulge in a fast, effective, low-impact workout from the comfort of your home. This full-body vibrator stimulates muscles and improves overall health. It calms the nervous system, improves bone density, and strengthens your core for greater balance. The therapeutic vibrations improve blood circulation, repair old injuries, loosen stiff joints, offer lasting pain relief, and protect your nerves and bones. This plate features LED light screens, built-in Bluetooth speakers, and 3 whisper-quiet, top-of-the-line motors for noise-free workouts. Moreover, the device comes with 18+ bands, straps, and workout accessories. This vibration machine has a custom recovery option that features 3 program settings and 7 training modes.
Specifications
Maximum User Weight: 330 lbs
Product Dimensions: 31" x 18" x 7.6"
Pros
Generates multi-directional vibrations
Hands-free remote
Noiseless operation
Multiple adjustable speeds
Easy to use
Cons
None
Price at the time of publication: $499.99
The Confidence Fitness Slim Full Body Vibration Trainer is a compact fitness device. It is great for low-impact easy exercise with fast results. You can use this machine for 10 minutes regularly to get the benefits of a 60-minute workout session. This machine has a user-friendly display console and its menu is simple to navigate through. This trainer makes even the most inexperienced gym individuals comfortable in training. It helps you reduce weight, improves fitness, increases flexibility, and builds muscle.
This device's vibrating plate produces a high frequency, causing a stretch reflex that makes muscles contract involuntarily. This plate is fitted with yoga straps to improve and amplify upper body and arm workouts. You can extend the straps in different positions to work on different muscle groups. The plate has wheels to move it around the house easily.
Specifications
Maximum User Weight: 300 lbs
Product Dimensions: 29" x 27.5" x 48"
Pros
Compact design
Easy to use
Recommended by physicians
Easy to assemble
Cons
Price at the time of publication: $299.99
The Hurtle Fitness Vibration Platform is an easy-to-store exercise equipment. This vibration platform stimulates your muscles while training. It boosts metabolism, improves circulation, and builds core strength. It is designed with dynamic oscillating motion technology that allows full-body vibration for fitness and strength training. Moreover, it comes with detachable handheld resistance bands for arm and upper body exercises.
Specifications
Maximum User Weight: 265 lbs
Product Dimensions: 26.8" x 15.5" x 5.5"
Pros
Easy to store
Portable
Lab-tested
Sturdy design
Non-slip platform
Cons
Price at the time of publication: $150.79
The LifePro Rhythm Vibration Plate Machine stimulates gentle and therapeutic vibrations to activate muscles throughout your body. It helps improve balance, circulation, blood flow, and oxygen delivery to the muscles. It also relieves chronic pain and accelerates recovery from recent injuries. It has built-in handles to help maintain balance and monitor heart rate. It also helps decrease stress.
The machine has inbuilt heart rate trackers in the handrails. These monitor the level of intensity as you work out every day. Moreover, the machine comes with 99 adjustable speed levels to give you a calm or heavy workout. The plate is user-friendly and easy to operate. In addition, it comes with free access to the LifePro workout library.
Specifications
Maximum User Weight: 330 lbs
Product Dimensions: 48" x 27.3" x 29"
Pros
Easy to operate
Safe
Sturdy design
Easy to assemble
Durable
Cons
None
Price at the time of publication: $359.99
This 3D Vibration Platform from Bluefin Fitness is equipped with 2 fitness motors. It has a huge anti-slip surface that ensures safety during workout sessions. The machine produces intense 3D vibrations with two independent motors. You can choose either the vibration or oscillation option or combine them for a 3D motion. The device has 180 levels + 5 Programmes that will help build stronger muscles.
It also comes with resistance cables for full-body workout options. You can track your workout, time, and intensity on the LCD screen. It has sweat-resistant remote control. This vibrating plate works great for toning and shaping your body. You can use it to burn fat, lose weight, increase muscle power, and improve your core strength. Additionally, the machine comes with Bluetooth speakers and a diet and nutrition guide.
Specifications
Maximum User Weight: 330 lbs
Product Dimensions: 17.7" x 30.5" x 5.9"
Pros
Noiseless operation
Ergonomic design
Easy to handle
Digital control
Cons
Price at the time of publication: $269.0
The Pinty 2000W Whole Body Vibration Platform is a gym equipment that you must have. It features a 1.5HP and 2000W motor that generates vibration throughout your body to burn fat and relieve chronic pain. It is suitable for all body sizes and shapes. This exercise machine comes with 10 preset programs and an easy-to-operate LED monitor that displays mode, time, speed, and BMI. It has a solid metal frame and vibration plate designed with non-toxic and non-slip premium ABS material. It offers durability and anti-static performance.
The built-in sound system of this device allows you to enjoy your favorite music while working out. This machine improves flexibility and blood circulation to promote overall fitness. It comes with 2 detachable resistance bands that allow you to indulge in upper body workouts in different positions.
Specifications
Maximum User Weight: 330 lbs
Product Dimensions: 26" x 23.6" x 46.5"
Pros
Adjustable rubber feet
Durable
Portable
Sturdy
Noiseless operation
Foam wrapped handrail for safety and comfort
Built-in timer
Easy to operate
Cons
None
Price at the time of publication: $259.99
The Powerfit Elite Vibration Plate is an all-in-one solution for effective workouts at home. This low-impact vibration platform is designed with multi-directional vibration technology that forces muscles to work harder. It produces vibrations at different frequency levels that help your body maintain stability. It has three standing positions for running, jogging, or walking.
It has an easy-to-use remote control and variable speed control from 1-99 that helps redefine your body. The resistance bands that come with the device create an at-home cardio gym for whole-body toning and strengthening. This oscillating machine helps tone, strengthen your body, and improves flexibility.
Specifications
XL Version
Maximum User Weight: 330 lbs
Product Dimensions: 24" x 15" x 4.7"
Standard Version
Maximum User Weight: 220 lbs
Product Dimensions: 21" x 15" x 4.5"
Pros
Easy to use
Compact design
Easy to store
Safe and convenient
Cons
Vibration rate is too slow
Price at the time of publication: $99.99
The Eilison FitMax 3D Vibration Plate is a fully-loaded exercise machine with a fitness tracker. This oscillating device has a unique acupressure plate surface that targets the pressure points on the feet. It helps relieve back pain, blood circulation, muscle and joint pain, stress, headache, insomnia, and anxiety. The strong vibration from the machine helps in the contraction of muscle fibers and can burn fat, boost balance, and tone muscle. It has Bluetooth speakers with a smart touch panel.
Specifications
Maximum User Weight: 350 lbs
Product Dimensions: 28.3" x 15.7" x 5.31"
Pros
Noiseless operation
Power outage protection
Overheat protection
Sturdy
Easy to assemble
Easy to use
Lifetime warranty
Cons
None
Price at the time of publication: $169.63
This portable whole-body vibration machine by Ideer Life is built with eco-friendly 100% new ABS material. The plate is odorless and non-toxic. This workout device is upgraded with a powerful motor to create high-frequency vibrations with super-quiet operation. It has speed levels from 1 to 99 for your comfort and offers 10 auto operating program modes for different workout routines.
This vibration platform comes with two resistance bands to work the upper body and arms. It also ensures high security and stability while you are working out. The portable remote controller aids easy vibration speed control and physical menu management. The LCD screen shows the time, speed, program, and mode. The device has four anti-slip feet to keep the plate steady during training sessions. It also has an in-built USB speaker.
Specifications
Maximum User Weight: 300 lbs
Product Dimensions: 20.4" x 13" x 4.7"
Pros
Compact design
Portable
Super quiet operation
Heavy duty frame
Easy to use
High stability
Ideal for sports training
Cons
None
Price at the time of publication: $129.99
The Wonder Maxi Store Vibration Platform is an ergonomically designed full-body exercise machine. It is made with durable ABS material and provides upper body, lower body, and core workouts. It has 99 levels of adjustable vibration speed that helps with weight loss, and improves muscle strength, flexibility, and circulation. Ten minutes of training on this vibration platform equals one hour in the gym. The machine also comes with resistance bands for upper body exercises. It has an LED screen that shows you the time and speed. You can control the speed settings with a remote control included in the package. This vibration machine also has a wheel on the left side that makes it portable.
Specifications
Maximum User Weight: 330 lbs
Product Dimensions: 25" x 13.75" x 5"
Pros
Portable
Ergonomic design
Easy to store
Easy to use
Cons
Price at the time of publication: $199.89
The Hurtle Standing Vibration Platform is a high-powered full-body training machine. This device uses dynamic oscillating motion technology for faster and effective results. It has adjustable time and speed settings to give you a customized workout option. The machine is equipped with a digital LCD display screen with touch button controls that makes menu navigation easy. Moreover, it features a rubber base footpad for comfort.
This exercise machine is lab-tested to show improvement in muscle strength and circulation. It tones the abs, burns fat, and helps in sports training. It has base wheels for easy transport and a simple electronic plug-in for power. This vibrating plate helps improve stamina, circulation, and general fitness. It also fights cellulite and increases bone density.
Specifications
Maximum User Weight: 264 lbs
Product Dimensions: 21.2" x 19.7" x 46"
Pros
Easy to use
Easy to assemble
Easy to store
Ideal for all body types
Perfect for sports training
Cons
Price at the time of publication: $198.26
The Vive Shake Plate is a full-body vibration platform for performing any workout. This exercise machine actively stretches and contracts the muscles that effectively improve balance, core strength, and flexibility. It effortlessly tones your abs, thighs, glutes, and arms. The machine comes with 180 adjustable speeds that are suitable for standing, seated, or floor workouts. The variable speeds are displayed on the bright LCD screen. This platform features five pre-programmed, ten-minute sessions. Its user-friendly remote control allows you to easily increase and decrease the speed. It comes with 2 resistance bands for added muscle activation during upper body workouts.
Specifications
Maximum User Weight: 400 lbs
Product Dimensions: 20" x 12" x 4"
Pros
Durable
Non-slip platform
User-friendly features
Removable resistance band
Compact design
Cons
None
Price at the time of publication: $129.99
Since a vibrating machine is used daily, it is important to buy one that is sturdy and durable. Here are a few points you need to consider while buying a full body vibrating machine.
How To Choose The Best Full Body Vibration Machine – A Buying Guide
There are full body vibrating plates and platforms. The plates don't come with handlebars and are a better option for those with a space crunch. Both machines have wheels for easy movement.
All vibration machines will have a variety of speed ranges to customize your workout. Opt for one with a large variety, so that you can amp up your workouts as you get used to the vibrations. If you are a beginner, it's best to start off slow.
Pick a vibrating machine with a display panel. It will show you important body and workout stats like speed, calories burned, mode, and time. Some display panels also keep track of your workouts and timings and help you build routines.
Almost all vibrating plates come with resistance bands. They help with workouts that build your upper body and arms. They also help with yoga and other exercises. You can also use them for support.
Make sure the machine you buy, whether a platform or a plate, has an anti-slip surface. Most vibrating machines have rubber-top surfaces to prevent any slipping or unwanted motion during workouts. They provide a firm grip, so you can perform additional exercises while standing on the machines.
Make sure the machine you buy is sturdy and firm. Read the reviews and description of the machine to get a better understanding of its lifetime. Most plates and platforms are made with high-quality solid steel frames and non-toxic ABS material, which also keeps the machine odorless.
Most vibrating machines use rubber or purity rubber as an anti-slip surface. This prevents any slipping or unwanted movements during your workout. Plates and platforms may also have rubber legs to secure the machine to the ground. This keeps the machine from shaking or moving during workouts. Also, make sure the machine has an auto shut-off option.
There are a lot of options in these machines. Look at all the possibilities and buy the one within your budget that has the features you need.
These are all the important points to consider while buying a full body vibration machine. But how does this vibration machine work?
How Do Full Body Vibration Machines Work?
Full body vibration machines use motors or plates to produce vibrations at high frequencies. Nowadays, most machines use dual motors that provide linear vibrations and lateral oscillations to help work your body. These vibrations and oscillations produce energy that activates the muscle fibers by contracting and relaxing muscles multiple times in a minute. This may make you feel as if you are exerting yourself.
Full body vibration machines improve muscle strength and help you lose those extra pounds. Read the next section to learn how to use these devices properly for best results.
How To Use A Full Body Vibration Machine?
Full body vibration machines are exercise or workout platforms. You can sit, stand, or lie down on these machines. This vibrating platform increases the intensity of every movement you perform on it. You can try strength-training exercises while it vibrates. The intensity of the vibrations makes your muscles expand and contract. You can perform ordinary exercises like squats while standing on a vibration platform. Most vibration platforms have adjustable intensity, meaning that you can set the frequency of the vibrations. Always begin your workouts at a lower intensity level. This gives you an opportunity to get used to the machine.
Full body vibration machines offer many benefits. Find them out in the following section.
What Are The Benefits Of Full Body Vibration Machines?
Full body vibration machines offer the following benefits:
Improve blood flow
Burn fat
Build muscles
Reduce cellulite
Improve overall health
Enhance general fitness
Tone major muscle groups
Promote better balance and flexibility
Improve bone density
Vibration machines have a wide range of variations. Let's take a look at them below.
Different Types Of Vibration Machines
1. Oscillation Vibration Machines: Oscillation vibration machines have the highest amplitude and offer greater muscle stimulation. These machines move in a see-saw motion, where one side moves up while the other moves down alternatively – and they mimic the movement of walking, jogging, or running. Since these machines have powerful movements, they are known to improve blood flow.
2. Linear Vibration Machines: In this case, the platform moves up and down. These machines are easier to stand on at high frequencies. Linear platforms are best for muscle relaxation and improved circulation. They may help a little in weight loss and strength building, though not very effectively. They may cause a buzzing or humming sensation in the head and may not be comfortable for all users.
3. Triplanar Vibration Machines: These machines stimulate vibration across 3 planes. This makes them move up and down and back and forth. These motions are generated with different motors at high frequencies. They are considered to be the most intense of all vibrating machines as they speed up the calorie burning process. They also improve bone density and aid in weight loss and muscle toning.
4. Dual Vibration Machines: These machines use both linear vibrations and oscillations to stimulate strong pulses. These can also work as vibration or oscillation machines, or both combined. They provide a wide variety of movements.
5. Sonic Vibration Machines: These machines use speakers to make the platform move up and down. They are considered to be the most therapeutic vibration machines as they are very gentle. These machines use sound waves to stimulate the energy flow in your cells.
If you are pregnant or have serious health issues like cardiovascular conditions, consult a doctor before using these machines.
Full body vibration machines can improve your overall health but they have their fair share of side effects too.
Side Effects Of Full Body Vibration Machines
Using full body vibration platforms too frequently can cause harmful effects on your spine. So, it is important to use these machines as a component of a holistic exercise program. Misuse of these machines can cause harmful long-term effects on your musculoskeletal, circulatory, and nervous systems.
Also, while these machines are useful for some people, they can prove to be harmful for the following individuals:
Who have a pacemaker
Pregnant women
Those with diabetes
Those with neurological conditions
Those with acute hernia
Those who have undergone hip or knee replacements
Those recovering from an operation
Those with acute thrombosis
Those with epilepsy
If you have any of the above health conditions, you must consult with your doctor before considering the use of a vibration machine. You should not use it more than 15-20 minutes and it is important to follow the directions properly as per the manufacturer's guidelines.
Why Trust StyleCraze?
Our product writer Aditi Naskar, who has a diploma in health and wellness, has compiled this list of the top full body vibration machines. She has used her knowledge to scan through the various options available in the market. She has also described the important features and specifications of each product and included a buying guide to assist you in making the right decision. These full body vibrators will help tone your muscles and alleviate soreness.
Frequently Asked Questions
Should you wear shoes while on a vibration plate?
It is not recommended to wear shoes on a vibration plate. Shoes do not allow you to completely feel the plate's vibrating surface. Shoes also hinder the transfer of vibrations from the plate to the body.
Does a vibration machine burn belly fat?
Vibration machines may help in burning belly fat if used three times a week for fifteen minutes. They are known for toning muscles and offering flexibility.
Do vibration machines help the lymphatic system?
Yes, full-body vibration machines can help with oxygen circulation and the lymphatic system. The vibrations prompt a good response in the lymph nodes and offer better immunity against diseases.
Is a full-body vibration machine good for your feet?
Yes, full-body vibration machines are good for your feet. They can reduce muscle soreness while enhancing flexibility.
Recommended Articles