10 Best Yoga Tops With Built-In Bras For Comfort In 2023
Relax your body with comfortable and supporting garments to perform intense yoga workouts.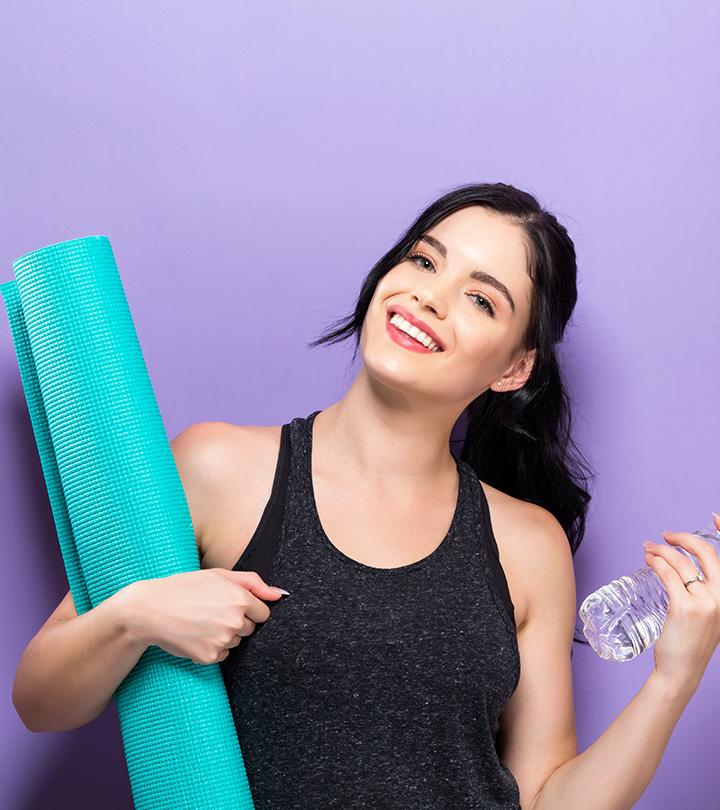 Wearing the best yoga tops with built-in bras can give you the comfort you have been looking for while working out. Yoga tops are something that speaks relaxation to you. The loose and comfortable material with the breathable knit is everyone's go-to tee when it comes to doing yoga or just reading a book all day. However, finding a bra that will not show from within the material and be strong support can be a task. "When looking for your new favorite yoga top, pay attention to: fit, material, and support. If it doesn't fit your body properly (meaning if it's too tight or not supportive enough), it will distract you from your practice. The material should be lightweight, moisture-wicking, and comfortable. Finally, support is key so you spend less time feeling uncomfortable or distracted and more time focusing on what matters most: your body and your practice," says Ashton August, a yoga instructor. Here are some yoga tees made with built-in bras. Go through these 10 highest-rated yoga tops with bras that are built-in, and choose your favorite one.
Why Choose Yoga Tops With Bras Built-In?
Some people who exercise regularly hate having to put on bulky clothing or watch their laundry bin pile up. To scale back on both, bras built-in offer convenience. They are also super supportive and comfortable without riding up constantly in the middle of your sessions. And as yoga is a low-impact activity that requires a lot of stretching, they keep you able to move freely without restriction. Now you won't just have fewer clothes to throw in the machine, but you can also improve your physical performance. This is because you won't need to keep adjusting multiple straps or deal with multiple layers. Needless to say, yoga tops with built-in bras are just as if not more stylish as regular ones!
10 Best Yoga Tops With Built-In Bras: Pose With No Limits
Icyzone's yoga shirt with a built-in bra is 90% polyester and 10% spandex which is lightweight and allows your skin to breathe. Offering a good stretch, this piece of trendy clothing moves along with you as you power through your asanas and gives you freedom of movement. The fabric also wicks away moisture to keep away sweat and makes for a great contender to even hot yoga sessions. With a strappy back, your shoulders have reduced pressure, and flatlock seams reduce chafing. Not only this sweat-wicking strappy yoga top comes with a removable built-in bra padding, but it is made of breathable mesh for extended comfort.
Pros
Available in 18 colors
Lightweight
Breathable
Moisture-wicking
Removable padding
Mesh inner lining
Cons
Might hold wrinkles and stains
Price at the time of publication: $24.99
Dragon Fit's supportive yoga tops have double straight straps that meet in a wide U-shape at the back so you can move freely. Ventilation panels are added to aid breathability and keep you fresh no matter how intense your session gets. Even though the fit is cropped, this yoga top with a built-in bra sits seamlessly under other tanks with its supportive design. Removable padding is convenient, while the elasticated hems in this seamless design yoga crop top with a built-in bra help minimize the irritation caused by friction or chafing.
Pros
Available in 21 colors
Soft and stretchable
Extra ventilation
Breathable
Seamless cropped fit
Reduced skin irritation
Removable padding
Cons
Some may find it to dig into skin under the armpits
Price at the time of publication: $21.98
RUNNING GIRL's yoga top with a built-in shelf bra has a flowy material to stay silky through all your poses. With a liner and under-bust strap, you can keep your bust well-supported and able to breathe. The scoop neckline combined with a strappy back gives a flattering look, and the tag-free stitching helps with comfort. As the fabric of this yoga top with a shelf bra is 4-way stretchable, it moves with you and wicks away moisture to keep you dry.
Pros
Breathable
Moisture-wicking
Inner lining
4-way stretch
Tag-free
Available in 9 colors
Cons
Some might find the fabric to be thin
Price at the time of publication: $23.99
COLO's women's yoga tops with built-in bras feature a composition of 86% polyester and 14% elastane. The cuff design offers a stylish look and guards against the straps slipping and interfering with your workout. Stretchable with a second-skin feeling, this yoga top with a bra wicks away sweat effortlessly. With the straps staying spread out on your back, you can move around comfortably with no digging in.
Pros
Stretchable
Moisture-wicking
Breathable
Lightweight
Secure straps
Soft and smooth
Cons
Might cause slight chafing
Price at the time of publication: $16.99
80% nylon and 20% spandex is used to make Lavento's built-in bra yoga tops have a 4-way stretch with a second-to-skin feeling. Oalka's yoga tops with built-in bras have a comfortable fit and its racerback design keeps pressure equally distributed between your shoulder blades to prevent backaches. With this four-way stretch shelf bra yoga top, you can enjoy a low-friction performance with ample coverage and high-impact support.
Pros
Available in 27 colors
4-way stretch fabric blend
Scoop neckline
Racerback design
Low-friction
Offers good support
Cons
Some may find the underband to roll up
Price at the time of publication: $22.99
Composed with 89.1% nylon and 10.9% spandex, Sphynx Cat's yoga top with built-in shelf bra has removable pads. The seamless stitching keeps the material super-soft against the skin with no irritation and chafing. Thick with a 4-way stretch and chafe-free seams, this wide range of yoga tops with shelf bras are made with soft and comfortable fabric that wicks away all moisture and won't shrink in the wash. With the racerback design, you can also keep your shoulders comfortable.
Pros
Available in 9 colors
Seamless stitching
Reduced skin irritation
Racerback design
Moisture-wicking
4-way stretch
Cons
Price at the time of publication: $19.89
FAFAIR's women's yoga tops with built-in bras are made of luxurious materials and pads that can be removed for ease. The inner layer has a mesh construction for breathability, while the racerback with a keyhole keeps you cool. Rounded curved hems and flatlock stitches maintain the fabric's sturdiness and prevent it from causing you any movement-related chafing. Soft against the skin with moisture-wicking ability, these yoga tops with support won't shrink when washed and are easy to layer.
Pros
Pack of 2 tops
Moisture-wicking
Breathable
Mesh inner layer
No chafing
Soft
Cons
Price at the time of publication: $21.99
Oalka's yoga tops with bras built-in use nylon and spandex blend to keep you performing your best. The open back of this durable yoga top combines the racerback design with a strappy look, which helps unburden the shoulder blades. The top stays in place with the scoop neckline and no chafing is experienced owing to the flatlock seam stitching. One of the most comfortable long yoga tops with built-in bras, this yoga-friendly top comes with a quick-drying option along with a moisture-wicking feature.
Pros
Scoop neckline
Strappy racerback design
Reduced chafing
Moisture-wicking
Quick-dry
Secure shoulder straps
Cons
Might not be ideal for large-chested women
Price at the time of publication: $6.99
Disbest's best yoga tops with built in-bras are lightweight, breathable, and moisture-wicking while also not accepting any stains. With the V-neckline, your chest is enhanced while the same design at the back keeps airflow constant. Medium-thick pads line these supportive yoga tops, which are soft and can also be removed if you prefer. As the look offered is quite classic, this top can be paired with almost anything from your wardrobe.
Pros
3 color options available
Lightweight
Breathable
Moisture-wicking
Stain-resistant
Medium-thick removable padding
Cons
Some may find the pads to shift easily
Price at the time of publication: $23.99
CRZ YOGA's tops use a soft fabric blend of 81% polyamide and 19% elastane to give you the second-skin experience. The brushed fabric stretches optimally and is smooth with ample breathability. With the built-in bra, even larger sizes can be accommodated, and the criss-cross back and secure and adjustable straps help reduce pressure and offer support. To keep you cool, the inner lining is composed of polyamide and elastane.
Pros
4-way stretch
Ultra-soft
Breathable
Straps reduce pressure
Offers light support
Available in 5 colors
Cons
Some may find it to be bulky
Price at the time of publication: $19.2
Now that we've looked at some of the best yoga tops with built-in bras, let's learn how you can choose the right ones for yourself.
How To Choose The Right Yoga Tops With Built-In Bras
When you're posing away in yoga class, your comfort is of the utmost importance and nothing affects this as much as the fabrics your clothes are made of. When you choose tops, look for fabric that is lightweight, breathable, and moisture-wicking. Polyester or nylon blended with spandex is the right choice as these materials perform well with sweat. They also dry quickly which means you have ease in terms of maintenance. Additionally, you can also look out for fabric that doesn't wrinkle, crinkle, or stain easily so as to expand the lifespan of your workout clothes.
As these yoga tops are right on your skin, they can cause irritation when they rub against it. This can lead to allergies or reactions especially when sweat is also involved. To prevent this, look for elasticated or rounded hems and flatlock seams. This causes the thread to be hidden away in the fabric and not lie against the skin, causing friction or chafing.
This refers to padding, underwires, and elastic underbands. Look for pads that are removable so that you can ditch them when you prefer. Underwires are great if you're looking for a lift but can poke the skin and leave behind marks. Underbands offer a good amount of support especially to larger sizes and they should be wide and covered with fabric to prevent skin irritation.
You can choose between a scoop and V-neckline. The former is round and sits well on the chest but might feel constricting on women with larger busts. V-necklines sit in such a way that they are flattering on your chest and also offer comfort.
Criss-cross straps and racerbacks help reduce the pressure caused by the straps between your shoulder blades and back muscles. Look for shoulder straps that are wide so that they stay put without slipping constantly between your workouts. Some people also prefer padded straps as they offer cushion and extend more comfort and support.
Depending on your preferences, you can choose between a long and regular tank or a cropped fit. The former is quite popular as it works like a tank top and the latter keeps you cool and gives a stylish look.
Why Trust StyleCraze?
Priyam Gupta, the author of this article, is a fashion enthusiast who loves keeping up with the latest fashion trends and bringing them to her readers. Understanding the pain points of her readers, she has extensively read through user reviews on reliable online platforms to curate this list of best yoga tops with in-built bras. This list of yoga tops is breathable, moisture-resistant and lightweight, making your yoga sessions fun and comfortable.
Recommended Articles