16 Best Drugstore Shampoos For Fine And Thinning Hair
Grab these nourishing shampoos to keep your locks healthy, strong, and beautiful.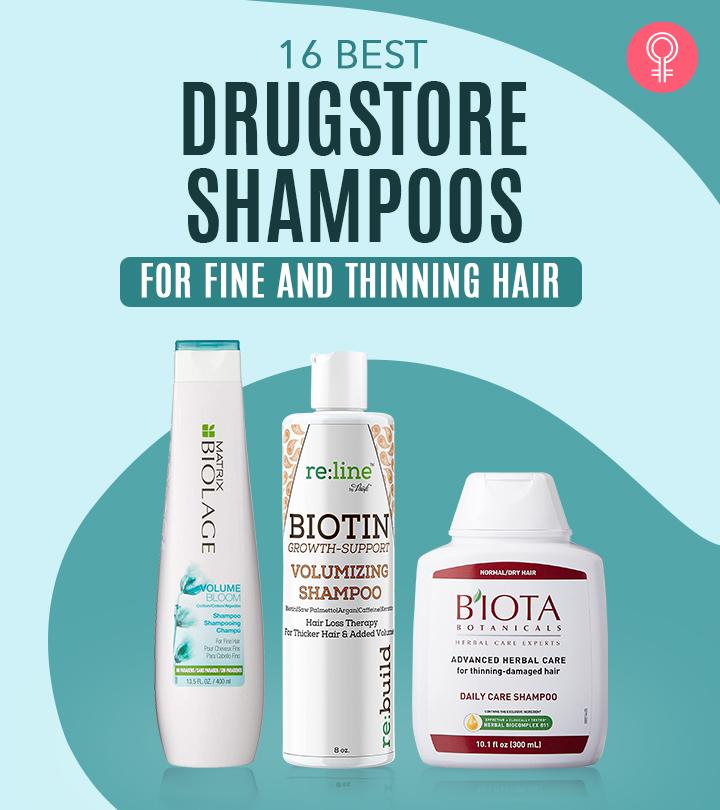 A regular shampoo may not be very beneficial for weak, thin hair shafts of fine hair. Ideally, you will need the best drugstore shampoo for fine hair that is specially formulated with the choicest ingredients to strengthen the roots. Such shampoos stimulate the circulation to the hair follicles, minimize hair fall, build hair growth, and keep the hair healthy. These shampoos also clean the scalp thoroughly without damaging the hair shafts.
Additionally, these shampoos are easily available in any drugstore. If you feel puzzled about finding the right product for your fine hair, worry not! In this article, we bring you the 16 best drugstore shampoos that will repair your fine hair. Scroll down to check them out!
Top Picks
16 Best Drugstore Shampoo For Fine And Thinning Hair
Pros
Improves hair elasticity
Non-GMO
Not tested on animals
Cons
Price at the time of publication: $25.98
Pros
Paraben-free
Sulfate-free
Sodium chloride-free
Hypoallergenic
Safe for sensitive scalp
Safe for colored hair
Cons
Price at the time of publication: $24.99
The Matrix Biolage Volumebloom Shampoo is inspired by the expanding cotton flower and plumps fine hair to give long-lasting and bouncy volume. The shampoo contains cotton flower extract and has a gentle formula that thoroughly cleanses the hair without stripping its natural oils. It claims to give 70% more volume to your hair with just one application. The shampoo is lightweight, paraben-free, and safe for color-treated hair.
Pros
Paraben-free
Lightweight
Gentle formula
Safe for colored hair
Adds shine to hair
Cons
None

Price at the time of publication: $21.0
The B'IOTA Botanicals Daily Care Shampoo is specifically formulated for thinning and damaged hair. The shampoo contains an exclusive, clinically tested Herbal Biocomplex B11 – a blend of essential fatty acids and natural minerals that nourish your scalp, strengthen the roots, make the hair more resilient, and prevent thinning. It promotes healthy hair growth with regular use and is safe for all types of hair.
Pros
Nourishing
Hypoallergenic
Safe for all hair types and textures
Cons
None
Price at the time of publication: $20.01
The OUAI Fine Hair Shampoo has a nourishing formula that cleanses hair and scalp gently, while adding volume and bounce to it.  It consists of keratin, biotin, and chia seed that strengthen and moisturize, breathing life into your flat hair. The hydrolyzed keratin repairs the hair fiber and infuses protein into it, thereby making it thicker and frizz-free. Biotin helps your hair to absorb essential nutrients to make them healthy and glowing while chia seeds provides nourishment and also adds volume. Moreover, it has the patented OUAI mercer street fragrance of rose with notes of jasmine, lemon, and white musk.
Also Recommended By: Cosmopolitan has also listed OUAI Fine Hair Shampoo in their top 10.[1]15 Best Shampoos for Fine Hair That'll Add Bounce, Body, and Volume. Cosmopolitan. https://www.cosmopolitan.com/style-beauty/beauty/g28829338/best-shampoo-for-fine-hair/
Pros
Paraben-free
Sulfate-free
Cruelty-free
Color-safe
Multipurpose formula
Cons
Price at the time of publication: $60.0
Pros
Strengthen and protect against split-end
Paraben-free
Gluten-free
Vegan
Color-safe
Suitable for all types of hair
Cons
None
Price at the time of publication: $35.28
The Get Back Gorgeous Thickening Shampoo is a volumizing shampoo that instantly plumps the hair shaft. It is formulated with lemon and horsetail extracts that reduce hair fall, enhance flexibility, and prevent hair breakage. This shampoo is developed with Color Guardian Complex, a blend of white tea antioxidants, to prevent premature graying due to environmental factors. The product is 100% vegan, cruelty-free, and formulated without sulfates and parabens.
Pros
Vegan
Cruelty-free
Sulfate-free
Paraben-free
Cons
Not for color-treated hair
Price at the time of publication: $19.95
Pros
24-hour lasting volume
Instant results
Pleasant scent
Cons
Price at the time of publication: $7.99
Pros
Sulfate-free
Unisex formula
Refreshing scent
Cons
Price at the time of publication: $24.99
John Frieda Volume Lift Weightless Shampoo features the air-silk technology that adds volume and fullness to your hair. The gentle, lightweight formula thoroughly cleanses the hair, leaving your hair soft and moisturized. It claims to enhance volume in a single use, giving you naturally bouncy hair instantly. Moreover, it is safe to be used on colored and chemically-treated hair.
Pros
Lightweight
Gentle
Color-safe
Paraben-free
Pleasant scent
Affordable
Cons
Price at the time of publication: $6.69
The Therapy-G Antioxidant Shampoo is formulated with a complex of essential vitamins, proteins, and botanical extracts to promote hair regrowth. The unique formula detoxifies, nourishes, volumizes, and moisturizes the hair to improve its overall texture. It inhibits DHT activity to strengthen the hair follicles and prevent hair fall. The shampoo works best for thinning, fine, and coarse hair and is safe for color-treated hair.
Pros
Gentle
Makes the hair softer
Safe for color-treated hair
Cons
May make the hair greasy
Contains SLS
Price at the time of publication: $56.0
Pros
Sulfate-free
Paraben-free
Color-safe
Dye-free
Lightweight
Cons
None
Price at the time of publication: $7.34
The Pura D'or Anti-Hair Thinning Shampoo is formulated with biotin and an herbal DHT blend to reduce hair thinning. The shampoo has a hydrating formula containing a blend of ingredients like nettle extract, biotin, pumpkin seed, and black cumin seed oil that strengthen your hair shaft, cleanse the scalp, reduce dryness, and improve hair manageability. It claims to give visible results in just eight weeks. The shampoo is vegan, free of harmful chemicals, and cruelty-free.
Pros
Vegan
Cruelty-free
Hydrating
Paraben-free
Gluten-free
SLS-free
Cons
Price at the time of publication: $29.99
The Pure Nature Argan Oil Deep Hydra Nourishing Shampoo restores the moisture level of dry, frizzy, and damaged hair. It contains Moroccan argan oil, vitamin E, collagen, and keratin protein that invigorate, hydrate, and deeply nourish your hair. This sulfate-free shampoo prevents hair loss, thickens the hair, and protects it from harmful UV rays. It does not contain harsh chemicals like parabens, gluten, and other compounds that can damage your hair and scalp.
Pros
Safe for color-treated hair
Protects hair from harmful UV rays
Sulfate-free
Paraben-free
Gluten-free
Cons
Price at the time of publication: $15.99
The Boldify Hair Boost Shampoo is a thickening shampoo that nourishes the hair and strengthens the strands. It contains a Vitamin Complex that keeps the scalp nourished, balanced, moisturized, and debris-free to promote healthy follicles, hair growth, and volume. The shampoo also contains aloe vera and rosemary extracts that reduce hair loss. It is cruelty-free and formulated as per GMP guidelines and without any harmful chemicals.
Pros
Paraben-free
Sulfate-free
Cruelty-free
Cons
None
Price at the time of publication: $19.94
Redken Volume Injection Shampoo adds body and lifts your fine, flat hair. The gentle formula cleanses the scalp and hair, adding weightless volume to your limp hair. The pH-balanced shampoo is formulated with filloxane and a bodifying complex that gives your flat hair an instant volume and root lift. In addition, it also gives the hair a soft and shiny texture.
Pros
Adds instant volume and root lift to the hair
pH-balanced formula
Pleasant scent
Lathers well
Cons
Price at the time of publication: $48
Why Trust StyleCraze?
Oyendrila Kanjilal, the author, is a hair care enthusiast who finds joy in trying out different products and formulations that promote hair health. She has gone through several reviews and a lot of customer feedback to choose the best drugstore shampoos for thin hair. These not only help nourish and strengthen your hair from the roots but also help protect them from environmental stressors!
Frequently Asked Questions
How do you keep fine hair healthy?
Follow these steps to keep your fine hair healthy-
• Invest in good volumizing and clarifying shampoos that are free from sulfates.
• Do not shampoo daily. This can strip away all the natural moisture and make your hair look limp. Wash your hair twice or thrice a week.
• Use a mild conditioner and apply it only at the ends of your hair.
• Limit heat styling and try to air dry your hair.
• Comb your hair daily with a soft bristle brush. This increases circulation and stimulates hair growth.
• Massage your scalp with hydrating oils like argan oil.
• Sleep on a silk pillow to avoid unnecessary friction and resultant hair loss.
• Trim your hair after every six weeks to prevent split ends.
Do thickening shampoos actually work to make your hair look better?
Yes. A thickening shampoo gives the illusion of thicker strands by reducing the space between the strands. On the downside, a thickening shampoo often gives temporary results.
What's the difference between thickening and volumizing shampoo?
A thickening shampoo reduces the gaps between strands by thickening the strands, whereas, a volumizing shampoo adds a three-dimensional lift to your hair from the scalp making your strands look fuller.
Do volumizing shampoos really work?
Yes. Volumizing shampoos work on the scalp and expand each hair fiber. They make your hair appear fuller and bouncier. But, some volumizing shampoos contain harmful chemicals like sulfates that dry out the tresses and weigh them down rather than lifting them. So, check the ingredient list before purchasing.
How often should you wash fine thinning hair?
Limit washing your hair to three days a week if you are experiencing thinning hair. This reduces the amount of hairfall. Dry your hair with a microfiber towel to avoid pulling out strands further.