12 Best Heel Cups And Pads To Buy In 2023
Top selection of heel cups and pads that support your heels and help alleviate pain.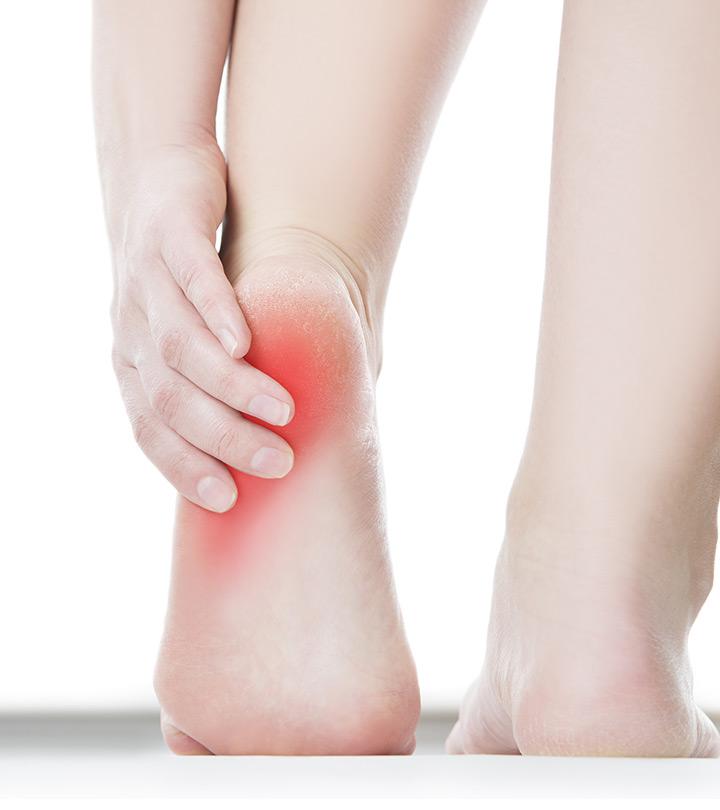 Most of us suffer from foot pain because of ill-fitting shoes that put a lot of strain on our heels while standing and walking. An ideal remedy to bid goodbye to this persistent pain is to use the best heel cups. Your heels help balance and in postural correction of the body. However, the thick band of tissue that connects the heel bone to the toes can get inflamed, causing foot pain. Heel cups and pads are a simple and easy fix for those who suffer from plantar fasciitis. They can help alleviate achy feet and also aid post-injury recovery and subsequent injury prevention. In this article, we have reviewed the 12 best heel cups. Read on!
Top 12 Heels Cups And Pads For Pain Relief
Heel That Pain Heel Seats is ideal for people with plantar fasciitis, heel spurs, heel inserts, bone spurs, flat feet, tendonitis, and other heel conditions. They apply therapeutic acupressure on the targeted areas and provide instant relief from pain. This product claims to deliver 100% pain relief within 8 days of regular use by realigning the plantar ligament into a healthy position. The best thing about this heel cup is that it provides 360-degree motion control. More importantly, its hybrid blend of gel offers a cushiony feel to your heels.
"I highly recommend the HTP Heel Seats for anyone looking for an effective and affordable solution for foot pain and discomfort associated with various foot conditions. These heel seats provide targeted support and cushioning to the heel area of the foot, which can alleviate pain and discomfort and improve overall foot function without invasive treatments." says Dr. Christopher R. Sforzo.
Pros
Clinically proven
Fits into most shoes easily
Available in 4 sizes
Cons
None
Price at the time of publication: $29.95
The heel protectors from Dr. Pedi help get relief from blisters and cracked feet. They are made from a silicone gel cushion that relieves heel spurs and Achilles tendonitis by ensuring impact reduction in each step. They are also supportive while walking, running, or standing throughout the day and can be worn while sleeping. The flexibility of the ergonomic design makes them more comfortable and convenient to wear. The cups are highly elastic and can be worn under your socks and hosiery or over them. These heel cups are easy to clean and wash as well.
Pros
Ergonomic design
Quick-drying
Breathable
Lightweight
High elasticity
BPA-free
Latex-free
Excellent for cracked heels
Easy to clean
Comfortable
Cons
Price at the time of publication: $8.99
The Ballotte Premium Grade Silicone Heel Protectors are equipped with hit-and-absorb foot technology that minimizes shock and impact. They prevent your feet from sliding away from your shoes while walking. The T-shaped design is made with supportive materials including polyurethane, silicone, leather, and gel. These heel cups hug the contours of your shoes, making the shoes feel lighter on your feet. The inserts prevent blisters and help you break into a new pair of shoes effortlessly. This doctor-developed medical-grade product offers relief from foot pain. These heel protectors are reusable and suitable for every shoe size. They are available in transparent, black, and nude colors.
Pros
Durable
Flexible design
Invisible finish
Shock-absorbing design
Chafing-free
Easy to clean
Reusable
Cons
The adhesive may ruin the shoes.
Price at the time of publication: $13.9
The Ballotte Heel Grips are designed with the brand's GentleFoamTM cushion that features a 0.3" bubble structure. These butterfly-shaped inserts with anatomical design align perfectly with the contours of your heels. The strong adhesive backings help you stick them securely inside your shoes. Each insert comes with side and back protectors that prevent excessive rubbing of your heel against the shoe surface. These doctor-developed heel pads add volume to your shoes, absorb excess shock, and prevent blisters. They are soft and made with a breathable outer fabric layer, ensuring optimum comfort. These inserts are designed to fit all kinds of shoes and heels and are even suitable for men's shoes.
Pros
Easy to put on
Breathable fabric
Strong adhesive backing
Reusable
Unisex
Cons
Price at the time of publication: $11.55
These gel heel cups provide support to your heels and ankles. They cushion your heels while walking, running, and standing and absorb the shock to relieve the tension and pressure on your heels. This gel heel inserts product is the perfect pick for people who are on their feet all day or who have heel spurs, bone spurs, and plantar fasciitis.
Pros
Comfortable for long wear
Can be worn with or without socks
Available in 2 sizes
Cons
Price at the time of publication: $9.99
Tuli's Cheetah Heel Cup is a 2-part heel support product. It is a combination of a heel cup and a sleeve that provides remarkable shock absorption and pain reduction while ensuring 100% comfort. This product is ideal for gymnasts and dancers who want to protect their heels from possible wounds. It also provides immediate relief from heel pain by cushioning the targeted pain area. These are the best heel inserts with cushion support.
Pros
Elevates the heel bone
Stays in place
Supports your feet while walking
Delivers noticeable results in just one use
Cons
Price at the time of publication: $25.24
The KidSole's Gel Sport Traction Heel Cup/Pad is the perfect solution for active kids experiencing heel sensitivity due to conditions like severs disease and plantar fasciitis. With a sport grip design and maximum grip provided by a revolutionary traction layer, this heel pad stays in place during movement and play. KidSole's heel cup/pad fits US Toddlers (0-3) to US Teen (7.5-9), so everyone can get the comfort and friction prevention they need without slipping or sliding.
Pros
Amazing support
Easy to use
Comfortable to wear
Value for money
Pain relief
Cons
None
Price at the time of publication: $24.99
Dr. Scholl's Comfort Heel Cushion absorbs shock and relieves discomfort instantly. Its tapered design is built with massaging gel technology to provide cushioning to your heel. It can be transferred easily from shoe to shoe. This product is ideal for relieving heel sensitivity. "As an orthopedic surgeon, I know many patients suffering from conditions such as plantar fasciitis or Achilles tendonitis who have found relief using heel cushions like these. They are an affordable and non-invasive way to provide added support and cushioning to the feet, making a significant difference in overall foot comfort," says Dr. Christopher R. Sforzo.
Pros
Very comfortable
Reasonably priced
Durable
Cons
Price at the time of publication: $6.47
Relieve heel pain and discomfort with the Armstrong Amerika Gel Heel Cups. These soft gel cups relieve sore feet, heels, and provide relief from bone spurs, plantar fasciitis, edema, and sprains. They are durable and make you feel comfortable while walking, playing sports, and running. These gel pads won't slip in your shoes or boots and fit perfectly with all types of men's and women's footwear. They reduce the impact on joints and muscles while providing you the ideal cushioning to go about your day.
Pros
Lightweight
Fits all shoe types
Comfortable for long wear
Silicone gel
Cons
Price at the time of publication: $19.95
The Zalik Heel Protectors feature a breathable design and venting holes to help keep your feet dry and comfortable all day long. They are made with durable and flexible SEBS material, making them non-toxic and reusable. For further relief and comfort, the heel cups are designed with shock-absorbing anti-skid technology that provides reliable heel and arch support. Get relief from pain and increase your stability without having to worry about any uncomfortable side effects with these heel cups.
Pros
Easy to use
Soft
Comfortable to wear
Value for money
Durable
Cons
None
Price at the time of publication: $9.99
The patented design of these heel pads absorbs 94.7% of the impact of shock produced while walking. They protect your feet from the force exerted on them while walking or running. They disperse the pain quickly by distributing the pressure across the feet. Their extra cushioning provides comfortable bedding for your heels, ensuring the prevention of injuries and fatigue prevention. These heel pads provide relief from a number of common heel conditions like Achilles tendonitis, plantar fasciitis, and heel spurs. Heel Defender Foot Orthotics is the best shoe pads for heels.
Pros
Provide lasting comfort
Versatile fit
Durable material
Cons
Price at the time of publication: $34.99
This soft and lightweight polymer gel heel cup is designed to provide outrageous comfort to your heel during high-impact activities like running, jumping, and exercising. It is built to provide pressure relief at your heels. Its flexible edges allow it to fit seamlessly into any shoe. The best thing about this product is that the dual-density cushioning adds extra support and stability to your heel. It is the best heel cup for heel pain.
Pros
Durable
Very flexible
Stays in place
Cons
The texture is a bit slimy.
Price at the time of publication: $11.99
Most heel cups and pads may look quite similar, but they all have a ton of different features that may or may not work for your heels. Here are some important features to consider before purchasing a heel cup.
Features To Look For In A Heel Cup
Not all heel cups offer the same comfort or support. Some common features to look out for in terms of comfort are cushioning and material. It must have adequate thickness to provide stability, which will not be possible if it is very thin.
Look for a heel cup that can easily mold to your heel. A few products are meant to fit most shoes, and these come with soft, flexible, and elastic edges.
A heel cup is of no use if it moves around inside your shoe. Hence, look for a product that supports your heel with every step. Some heel cups feature a waffle traction design on the bottom that adds stability and grip to the cup.
Why Trust StyleCraze?
Aditi Naskar has a health and wellness diploma, making her an expert in finding the right products for pain relief. She has explored hundreds of reviews online to curate this list of the top-rated heel cups. Additionally, she consulted with physiotherapists and physicians to verify the authenticity of these products.
Frequently Asked Questions
What are heel cups used for?
Heel cups provide balance improvement, aid fatigue prevention, and pain reduction at the heels, making them perfect for plantar fasciitis or bursitis relief.
Do plantar fasciitis heel cups work?
Yes, by wearing heel cups, you can reduce the tension from your ankles and get relief from the painful symptoms of plantar fasciitis. They will also prevent bone spurs caused by plantar fasciitis.
Do heel cups help flat feet?
Yes, heel cups can help flat feet by providing the correct balance and support to the feet.
How long do heel cups last?
Heel cups can last for around 6 months, depending on the frequency of use.
Can you run wearing heel cups?
Yes, wearing a heel cup will reduce your foot pain and help you perform better on your legs while standing, walking, and running.
How long should you wear heel cups?
You can wear heel cups all day long when walking or just going about your daily activities.
Recommended articles