10 Best Heel Cups And Pads To Buy In 2021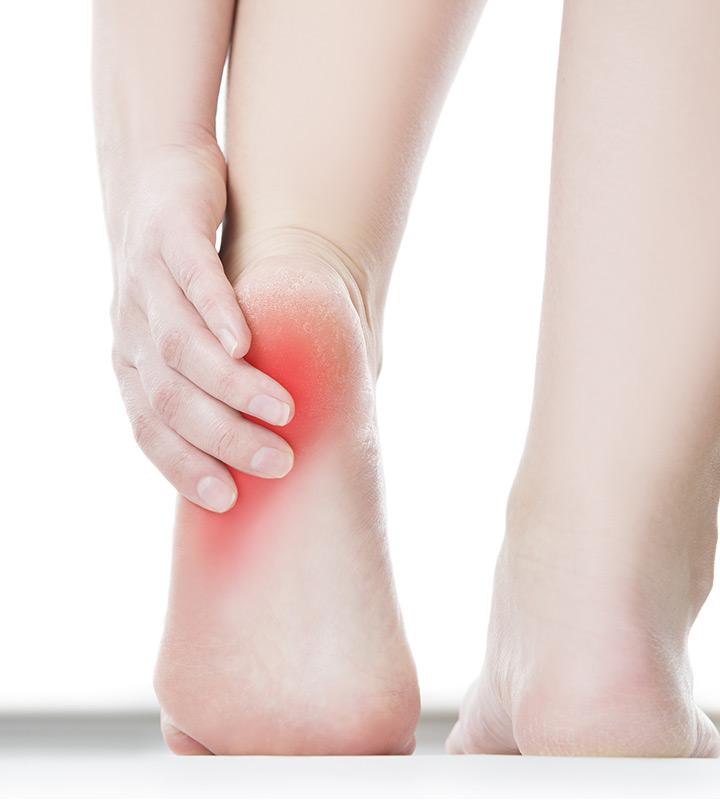 Whether you are walking or resting, your heels take the full force of your body weight and enable you to stand with perfect balance. Sometimes, improper bodyweight balance or prolonged periods of walking or standing can cause intense pain in your heels. If you are experiencing this predicament, there is a simple and quick fix for it – heel cups. Most people who have plantar fasciitis use heels cups and pads to subdue the pain. We have compiled a list of 10 top-rated heel cups and pads on the market right now to help you out. Check it out!
Top 10 Heels Cups And Pads For Pain Relief
Heel That Pain Heel Seats is ideal for people with plantar fasciitis, heel spurs, heel inserts, bone spurs, flat feet, tendonitis, and other heel conditions. They apply therapeutic acupressure on the targeted areas and reduce pain instantly. This product claims to deliver 100% pain relief within 8 days of regular use by realigning the plantar ligament into a healthy position. The best thing about this heel cup is that it provides 360-degree motion control. More importantly, its hybrid blend of gel offers a cushiony feel to your heels.
Pros
Clinically proven
Fits into most shoes easily
Available in 4 sizes
Cons
None
Tuli's Gel Heel Cup is designed especially for people with heel bursitis, Achilles tendonitis, and shin splints. It is a multi-layer heel pad that absorbs the shock produced while walking, running, or standing. It is a soft and lightweight product that fits seamlessly into most shoes. The waffle construction underneath the cup supports your feet for maximum balance.
Pros
Ideal for adults and kids
High-quality
Available in various sizes
Cons
None
These gel heel cups provide support to your heels and ankles. They cushion your heels while walking, running, and standing and absorb the shock to reduce the tension and pressure on your heels. This gel heel inserts product is the perfect pick for people who are on their feet all day or who have heel spurs, bone spurs, and plantar fasciitis.
Pros
Comfortable for long wear
Can be worn with or without socks
Available in 2 sizes
Cons
Tuli's Cheetah Heel Cup is a 2-part heel support product. It is a combination of a heel cup and a sleeve that absorbs shock and relieves pain while providing 100% comfort. This product is ideal for gymnasts and dancers who want to protect their heels from possible wounds. It also provides immediate relief from heel pain by cushioning the targeted pain area. These are the best heel inserts with cushion support.
Pros
Elevates the heel bone
Stays in place
Supports your feet while walking
Delivers noticeable results in just one use
Cons
This plastic heel cup is designed to provide extra support to your heel when you wear shoes. It is lightweight, very thin, and fits perfectly around your heel. It can also be worn under a sock. This product can be of great help to athletes and walkers as it effectively relieves tension on the feet.
Pros
Easy to carry
Fits snugly inside shoes and socks
Low maintenance
Cons
Dr. Scholl's Comfort Heel Cushion absorbs shock and relieves discomfort instantly. Its tapered design is built with massaging gel technology to provide cushioning to your heel. It can be transferred easily from shoe to shoe. This product is ideal for relieving heel sensitivity.
Pros
Very comfortable
Reasonably priced
Durable
Cons
The SMATIS Heel Protectors are specially designed to relieve heel pain and discomfort from bone spurs, stress fractures, and sprains. These fabric protectors are embedded with gel pads that offer instant relief to perform all your daily activities comfortably. The premium fabric is breathable, quick-drying, and adjustable. Moreover, they claim to absorb 90% of the impact while you are walking and come in a unisex size of US 5-11.
Pros
Breathable
Comfortable
Reusable
One-year warranty
Cons
Some may find the cushioning to be thin
Fitting issues
The patented design of these heel pads absorbs 94.7% of the shock produced while walking. They protect your feet from the force exerted on them while walking or running. They disperse the pain quickly by distributing the pressure across the feet. Their extra cushioning provides comfortable bedding for your heels. These heel pads provide relief from a number of common heel conditions like Achilles tendonitis, plantar fasciitis, and heel spurs. Heel Defender Foot Orthotics is the best shoe pads for heels.
Pros
Provide lasting comfort
Versatile fit
Durable material
Cons
This lightweight polymer gel heel cup is designed to provide outrageous comfort to your heel during high-impact activities like running, jumping, and exercising. It is built to relieve imbalanced pressure applied on your heel. Its flexible edges allow it to fit into any shoe effortlessly. The best thing about this product is that the dual-density cushioning adds extra stability to your heel. It is the best heel cups for heel pain.
Pros
Durable
Very flexible
Stays in place
Cons
The texture is a bit slimy.
Most heel cups and pads may look quite similar, but they all have a ton of different features that may or may not work for your heels. Here are some important features to consider before purchasing a heel cup.
Features To Look For In A Heel Cup
Not all heel cups offer the same comfort or support. Some common features to look out for in terms of comfort are cushioning and material.
Look for a heel cup that can easily mold to your heel. A few products are meant to fit most shoes, and these come with soft, flexible, and elastic edges.
A heel cup is of no use if it moves around inside your shoe. Hence, look for a product that supports your heel with every step. Some heel cups feature a waffle design on the bottom that adds stability and grip to the cup
Get yourself a pair of heel cups and wave goodbye to heel pain forever! Click on your favorite product from the list, try it out, and let us know how it worked for you by leaving a comment below.
Recommended articles