21 Best Body Washes For Beautiful And Smooth Skin – 2023
Handpicked skin care products to make your skin glow like never before!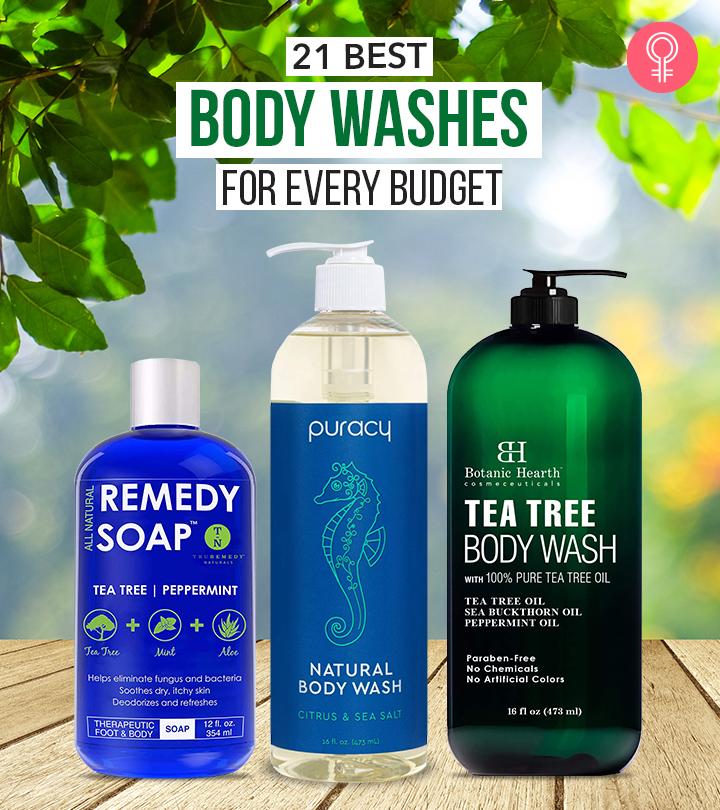 If you are on the lookout for the best body wash ever, you are definitely in the right place. A good body wash can transform your skin from dull, dry, and damaged to smooth, silky soft, and youthful. One formulated with the right ingredients can penetrate, moisturize, and exfoliate your skin and make it smooth and soft. This is why we have curated a list of the 21 most effective body washes that are worth trying.
21 Best Body Washes For Every Budget – 2023
This body wash from Dove cleanses the body of dirt and oils while providing deep moisturization and long-lasting softness. Themild, pH-balanced formula contains a Moisture Renew Blend, which is a combination of plant-based and skin natural moisturizers. This blend gets absorbed into the top layers of the skin and provides intense nourishment and hydration. It is gentle on the microbiome or protective layer of the skin. The creamy rich texture leaves the skin feeling baby-soft. Check out this video to understand a tester's experience of using this product.
Pros
Smells good
Suitable for sensitive skin
Lathers well
Sulfate-free
Gentle
Cruelty-free
Dermatologist-recommended
Cons
Price at the time of publication: $9.97
The OGX Body Wash is an extra creamy formula that has restorative properties and provides ultra-moisturization to the skin. It is infused with coconut oil, vanilla bean extract, and tier essence, which restore moisture to very dry skin. This fast-absorbing formula is a rich, creamy blend of tropical ingredients. It invigorates the senses and nourishes and hydrates the skin.
Pros
Nice fragrance
Sulfate-free
Paraben-free
Cons
Price at the time of publication: $5.99
The natural and organic formula of the PiperWai Body Wash is the ultimate pick for anyone looking for a rich and moisturizing body cleanser. It is infused with the ultra-hydrating moringa oil, which is rich in omega fatty acids, antioxidants, and essential nutrients. It has a calming effect and improves your overall complexion. Furthermore, the anti-inflammatory blend of chamomile and ginger essential oils soothe dry and irritated skin.
Pros
Non-drying formula
Mild fragrance
Paraben-free
Sulfate-free
Vegan
Cruelty-free
Ideal for sensitive skin
Cons
None

Price at the time of publication: $34
The REMEDY SOAP body wash is specially formulated to soothe skin infections and body odor. It eliminates ringworms, candida, athlete's foot, jock itch, and other skin irritations caused by sweating and bacteria.
This body wash is enriched with 100% botanical ingredients, including omega 3,6,7, and 9, vitamins E and C, aloe vera, tea tree oil, eucalyptus oil, and other essential oils. It soothes stubborn skin conditions and relieves dryness, flaking, itching, redness, and rashes. Peppermint balances natural oils and unclogs pores. It deodorizes the skin with a fresh fragrance and protects you from acne, blemishes, and eczema caused by dirty, clogged pores. Check out the reviewer's experience of using the REMEDY SOAP Tea Tree | Pepper mint in this video.
Pros
All natural ingredients
Non-drying
Paraben-free
Preservative-free
Petroleum-free
Sulfate-free
Silicone-free
Dye-free
Synthetic fragrance-free
Cons
Price at the time of publication: $14.99
The word "JASON" means healer in Greek, which reflects through the product. The JASON Invigorating Rosewater Body Wash gently cleanses and nourishes the skin. This luxurious gentle, biodegradable formula is infused with provitamin B5 and vitamin E, which are rich in nutrients. Rose water and calendula extracts make the skin smooth and soft. Calendula soothes the skin after exposure to environmental aggressors, and rose water rejuvenates and revitalizes the skin.
Pros
Gentle
Paraben-free
Sulfate-free
Petrolatum-free
Artificial color-free
Phthalate-free
Cruelty-free
Cons
Price at the time of publication: $12.99
The puracyNatural Body Wash is a 99.3% plant-based shower gel that nourishes, hydrates, and moisturizes the skin. Coco glycinate, a coconut-based surfactant, gives a rich, foamy lather.
It is enriched with fruit and vegetable extracts like orange peels, bergamot, lemons, mint leaf, tea tree oil, lavender, and grapefruit. Pink Himalayan sea salt naturally exfoliates, purifies, and helps in balancing the skin's natural oil content. The pH-balanced suits all skin types and does not irritate or dry out the skin as it is allergen-free. It is a fast-rinsing product that leaves the skin feeling clean, soft, and smooth.
Pros
Vegan
Hypoallergenic
Cocamidopropyl betaine- free
Sulfate-free
Salicylate-free
Paraben-free
Petroleum-free
Cruelty-free
Perfume-free
Dye-free
Cons
Price at the time of publication: $11.99
The Botanic Hearth Tea Tree Body Wash is infused with 100% pure tea tree oil to eliminate eczema, body odor, ringworms, athlete's foot, jock itch, and other skin problems. This foot and body wash promotes healthy skin and soothes itching. It contains potent beneficial ingredients that nourish and condition the skin. The premium botanical ingredients are made using traditional European techniques. This body wash washes away all impurities and prevents the growth of any fungal or bacterial infections.
Pros
Contains natural ingredients
Paraben-free
Chemical-free
No artificial colors
Cruelty-free
Cons
Price at the time of publication: $16.94
This body wash from Curél Skincare is a soap-free formula enriched with olive and jojoba oils that provide ultra-hydration to the skin. It is specially formulated for itchy and dry skin to control flare-ups and inflammation. The rich lather relieves skin irritation, gently cleanses damaged skin, and soothes eczema without drying or tightening your skin. The non-irritating formula is clinically proven to stop the itch before it starts.
Pros
Dermatologist recommended
Soap-free
National Eczema Association-approved
Non-irritating
Cons
Price at the time of publication: $40.77
MRS. MEYER'S body wash is infused with the soothing fragrance of lavender. The plant-derived, aroma therapeutic formula cleanses the skin, leaving it refreshed, smooth, and supple. It is enriched with essential oils, flaxseed oil, aloe vera, olive extracts, glycerin, and chamomile. These scented botanical extracts hydrate, soothe, nourish, and refresh the skin.
Pros
Dermatologist-recommended
Gentle
Cruelty-free
Paraben-free
Phthalate-free
MEA-free
DEA-free
Artificial color-free
Cons
Price at the time of publication: $18.29
The NIVEA Body Wash is enriched with essential skin lipids, vitamins, and plant oils. It cleanses the skin gently without causing any dryness. The creamy texture makes the skin amazingly soft and nourishes it. The fast-absorbing formula has a sweet floral fragrance, which is invigorating to the senses. This product can also be used for shaving.
Pros
Gentle
Paraben-free
Micro plastic particles-free
Value for money
Smells good
Cons
Price at the time of publication: $4.99
The Dial Hydrating Body Wash provides lightweight hydration to the skin. It is infused with the fragrance of lavender and jasmine, which helps in the skin renewal and feeling refreshed. It is formulated to cleanse dirt and bacteria without being greasy or sticky. The moisture balance technology forms a rich lather, leaving your skin hydrated and silky smooth. It is created with moisturizing conditioners for an indulgent shower experience.
Pros
Gentle
Paraben-free
Phthalate-free
Silicone-free
Cons
Price at the time of publication: $5.97
The New York Biology Tea Tree Body & Foot Wash is specially formulated for jock itch, athlete's foot, ringworms, eczema, body odor, and other skin diseases. It soothes irritation and itching to promote healthy feet and skin. The concentrated tea tree oil, peppermint oil, and eucalyptus oil offer quick relief from nail fungus, bacteria, and other irritants. This body wash relieves skin dryness, redness, and rashes, cleanses dirt and impurities, and moisturizes the skin.
Pros
Clinically tested
Alcohol-free
Paraben-free
Sulfate-free
Cruelty-free
Cons
Price at the time of publication: $16.95
The bliss Lemon & Sage Soapy Suds Body Wash forms a silky foamy lather that cleanses dirt, oil, and other impurities. It infused with glycerin and aloe vera extracts for a spa-like experience. The formula soothes the skin and provides hydration to balance the moisture content. It is enhanced with an iconic lemon and sage scent and leaves you feeling blissfully energized. The invigorating body wash makes your skin soft, supple, and smooth.
Pros
Vegan
Cruelty-free
Paraben-free
Phthalate-free
SLS-free
SLES-free
Cons
Price at the time of publication: $17.99
The VANICREAM Gentle Body Wash is especially suitable for those with sensitive skin. This soap-free, mild cleanser is pH-balanced and removes oils and dirt from the skin's surface without stripping it of its natural oils or drying it out. It leaves the skin feeling supple, soft, and clean. This dermatologist-tested formula has no harsh chemicals and lathers well in hard and soft water.
Pros
Dermatologist-recommended
Dye-free
Fragrance-free
Lanolin-free
Paraben-free
Formaldehyde-free
Sulfate-free
Soap-free
Gluten-free
Oil-free
Cons
Price at the time of publication: $10.99
The MAJESTIC PURE Body Wash & Foot Soap is infused with tea tree oil that soothes the skin, relieves irritation, and eliminates body odor. It is specially formulated for flaky, dry skin and is great for daily use. This body wash contains shea butter that nourishes and moisturizes the skin. It has botanical extracts and skin conditioners that cleanse the body of impurities. This body wash is also ideal for treating athlete's foot.
Pros
All natural ingredients
Paraben-free
Artificial color-free
Cruelty-free
Cons
Price at the time of publication: $16.99
This moisturizing body wash from Renpure contains vitamin E and coconut milk, which moisturize and refresh the body. The plant-based and mild formula effectively removes oils, impurities, and dirt from the skin's surface. It does not strip the skin of its natural essential oils and keeps it hydrated.
The gentle cleanser has a heavenly coconut fragrance. It is infused with argan oil, tea tree oil, and shea butter that nourish the skin. This body wash also contains coconut milk that replenishes the skin and locks in moisture to make it soft and supple. Finally, vitamin E being rich in antioxidants helps in brightening your skin and keeping it glowing.
Pros
Sulfate-free
Paraben-free
Dye-free
Gluten-free
Phthalate-free
Propylene glycol-free
Cons
Contains SLS and artificial fragrance.
The CREMO Body Wash is a lightweight formula with a beautiful blend of blue cedarwood, citrus zest, and aromatic cypress. The concentrate forms a rich lather that cleanses and moisturizes the skin without feeling sticky. The fresh scents are layered just like a perfume and evolve as you shower. The body wash can be used in all seasons and is enriched with shea butter and marula oil, which prevent dry, flaky skin and refresh the skin.
Pros
Lightweight
Non-sticky
Smells good
Cons
Price at the time of publication: $17.98
The Softsoap Coconut Butter Scrub is an exfoliating body wash that is infused with coconut extracts and jojoba butter. It cleanses the skin of dirt, impurities, and excess oil and helps it retain its natural moisture. The rejuvenating scents of coconut and jojoba leave you smelling good and help in relaxing and feeling refreshed. The paraben-free formula is pH-balanced and can be used daily to make your skin clean, soft, and well-conditioned.
Pros
Amazing smell
Long-lasting
Paraben-free
Dermatologist-tested
Cons
Price at the time of publication: $5.88
Dr. Teal's Body Wash is powered with pure Epsom salt, which detoxifies the skin and revitalizes it.  Epsom salt is also known to relieve aches and pains in tired muscles. It removes harmful toxins from the body and increases its natural level of energy. The combination of ginger, clay, and natural essential oils energizes the body and hydrates and conditions the skin. Other ingredients like shea butter, aloe vera, and vitamin E nourish and moisturize the skin. The soft bubble bath experience makes the skin soft and supple.
Pros
Smells good
Long-lasting
Detoxifying
Cons
Price at the time of publication: $9.86
Method Pure Peace Body Wash comprises the goodness of peony, rose water, and pink sea salt, which leaves your skin feeling moisturized and nourished for long hours. It is a liquid body soap that has a gel-based purifying formula. It is free from parabens and other harsh chemicals. Its pure peace scent blends the fragrance of rose water and sweet peonies, thus smelling like a no-stress zone.
Pros
Gentle on the skin
Biodegradable formula
Cruelty-free
No parabens
No phthalates
Purely plant-based
Pleasing fragrance
Cons
None
Price at the time of publication: $23.94
The Tea Tree Oil Body Wash from Natural Riches is infused with a magical combination of jojoba, coconut, rosemary, olive, peppermint, and eucalyptus oils, aloe vera, oregano, and tea tree oil. The formula is powered by vitamins A, B1, B2, C, D, and E. These ingredients soothe, hydrate, and nourish inflamed and itchy skin and leave it clean and refreshed. This body wash fights body odor, yeast infection, jock itch, skin irritation, athlete's foot, body acne, ringworms, versicolor, and other skin problems. It is ideal for athletes as it reduces sweat-induced burning and itching.
Pros
Gentle
Smells good
Sulfate-free
Preservative-free
Cruelty-free
Cons
Price at the time of publication: $7.99
Using a quality body wash is one of the best ways to make sure that your skin stays clean and hydrated. But, the market is flooded with variety of body wash brands, making it challenging to select the best one. Given below are a few factors to keep in mind while selecting the best body wasdhes for beautiful skin.
Things To Consider While Choosing The Best Body Washes
Select a body wash that contains nourishing and moisturizing ingredients like vitamin E, shea butter, coconut oil, and cocoa butter These ingredients all help to soften the skin. Other ingredients like sweet almond oil helps balance the pH of the skin. You must avoid using body washes that contain sulfates, parabens, soap, dye, artificial fragrances, silicones, preservatives, petroleum, artificial colors, cocamidopropyl betaine, and other harmful chemicals. You can conduct a patch test to avoid any potential allergic reactions.
Choose body washes according to your skin type. If you have sensitive skin, look for low-foam body washes containing moisturizers such as glycerin, sunflower seed oil, lauryl glucoside, and oatmeal. For dry skin, avoid using body washes that contain rough microbeads and dry ingredients, instead use body washes that contain soybean oil, sunflower oil, oatmeal, shea butter, and honey.
For acne-prone skin, opt for body washes that contain salicylic acid and glycolic acid as they gently exfoliate the skin. For mature skin types, choose body washes that contain dermatologically tested ingredients like salicylic, lactic, vitamin B, and niacinamide that have proven efficacy in soothing and exfoliating skin effectively. If you are a swimmer, look for products that remove chlorine from the skin. Additionally, it needs to have a natural scent that eliminates the chlorine smell from the body.
Body washes are used to get rid of sweat, natural body oils, dirt, and germs. The natural oil that has been removed should be replaced by additional moisture. It prevents the skin from drying out and flaking. So, choose body washes with moisture-locking ingredients and free from non-drying ingredients. Look for mild formulas that are hypoallergenic, lightweight, and easy to wash off after a shower.
Why Trust StyleCraze?
Shiboli Chakraborti, the author of this article, is a certified skin care coach who loves to write comprehensive beauty articles to help her readers find the best products for their skin. She browsed various trusted online platforms and checked user feedback to curate this list of the best body washes. These recommended formulas provide moisturization, make your skin soft and nourished, and protect the skin's natural barrier.
Frequently Asked Questions
Is a bar soap better than a body wash?
Yes, a body wash is more effective than a regular bar soap as provides the skin with nourishment, hydration, deep cleansing, and remedial treatments.
Does a body wash kill bacteria?
Most body washes contain ingredients like alcohol or chlorine that kill bacteria. In fact, there are body washes specially marked as an antibacterial that you can purchase easily.
Should I use a body wash every day?
Yes, you can use a body wash daily, especially if it does not contain harmful chemicals.
Is a natural body wash good?
A natural body wash is always the best bet since it is made of natural products and plant-based surfactants. It usually does not contain sulfates, parabens, and other harmful chemicals. It is also good for the environment, since it comes in biodegradable or recycled packaging.
Is it OK to use a body wash as a hand soap?
Yes, it is, since both are for the skin.
Recommended Articles: