15 Best Foundations For Large Pores – Top Picks Of 2023
Conceal any big, visible pores and make your skin look flawless and radiant!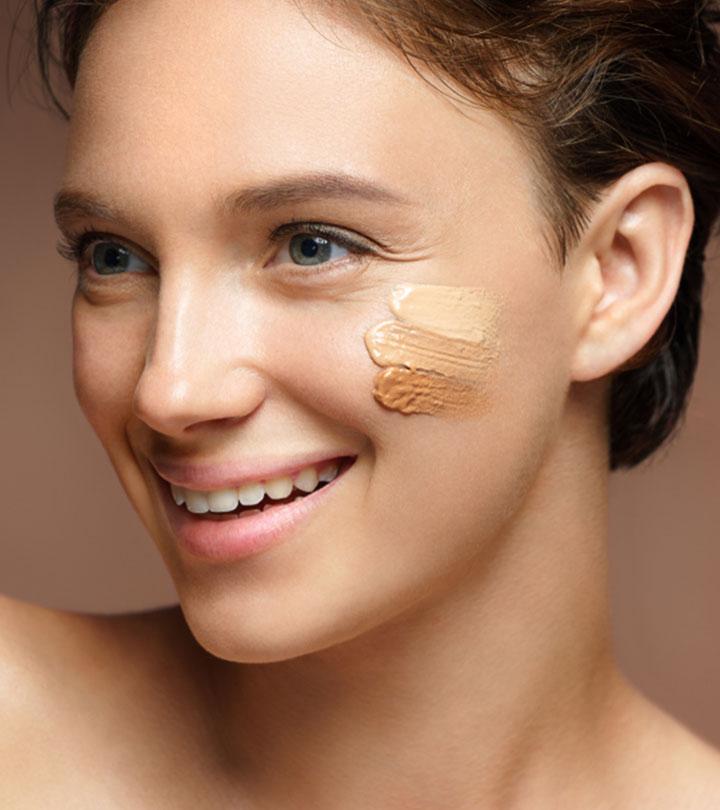 A foundation helps to hide your pores and provides flawless skin. But it is not that simple to achieve flawless skin when you have large pores on your skin. This is why you need the best foundation for large pores to hide all visible pores and create a smooth canvas for makeup application. The right foundation can even minimize the actual size and appearance of the pore, thereby improving the skin's quality. However, numerous foundations are available in the market that claim to seamlessly cover the large pores and conceal them without any skin irritation. How do you find the right one? Well, our review team has put together a list of the 15 best foundations that work like magic on large pores. Scroll down and check them out!
Top 15 Best Foundations for Large Pores to Disappear Off Skin – 2023
The Estee Lauder Double Wear Foundation is designed to look natural and flawless. With its 15-hour staying power, the foundation stays fresh and lasts through non-stop activity, humidity, and heat. If you wear makeup all day, a single layer of this foundation will remain intact throughout the day without any touch-ups. In addition to this, its oil-free formula prevents the pores from clogging.
Pros
Doesn't change color
Feels lightweight on the skin
Semi-matte finish
Fragrance-free
Smudge-proof
Multiple shades
Cons
May not suit sensitive skin
Price at the time of publication: $29.0
If makeup is an essential part of your ensemble and if you have large pores, pick the Clinique Even Better Foundation that smoothes the skin's texture and protects it from harmful UV rays. With the broad spectrum SPF 15, this correcting foundation improves skin texture, gives clarity, and diminishes visible age spots. The foundation has an oil-free formula that prevents clogged pores or breakouts. It impressively works on the skin texture for long hours and enhances skin tone within 4-6 weeks.
Pros
Dermatologist-developed
Full-coverage
Long-wear
Easy-to-apply
Smudge-resistant
Feels natural and lightweight
Cons
Some may not like the odor of the product
Price at the time of publication: $22.0
Heavy coverage liquid foundations may cause blemishes and clogged pores, but with the Maybelline New York Smooth Foundation, things are opposite. This dewy and non-comedogenic foundation not only smoothes the skin's texture but also leaves a dewy and luminous finish on the skin, making it look even and sparkling. This foundation range is available in 24 unique shades. Ideal for normal to dry skin, the foundation seamlessly blends with the skin and covers the pores instantly with its medium coverage.
Pros
Hydrating
Dermatologist-tested
All-day wear
Matte finish
SPF 18
Allergy-tested
Cons
Some may find the consistency watery.
Price at the time of publication: $3.42
Give your face instant uplift with the Dermablend Smooth Liquid Camo Foundation, specially designed for light skin tones with neutral undertones. This creamy texture of the foundation beautifully blends with the skin and provides an even-toned and natural finish. Moreover, the foundation is allergy tested, non-comedogenic, and tested on sensitive skin to confirm suitability. This multi-functional foundation provides buildable coverage and protects the skin from harmful UV rays with its broad spectrum SPF 25.
Pros
Dermatologist-tested
Easy-to-apply
16-hour long-wear
24-hour hydration
Doesn't look cakey
High-performance pigments
Cons
Quantity of the product is less.
Price at the time of publication: $38.0
The IT Cosmetics Your Skin But Better Foundation + Skincare is a buildable formula suitable for all skin types. It offers medium coverage that reduces the appearance of pores and blurs imperfections. This medium coverage foundation smoothes the skin, even tones, and improves its texture, revealing radiant and natural skin. Moreover, it gently exfoliates the skin and moisturizes it.
Pros
Ideal for all skin types
Buildable formula
Multiple benefits
Makes skin smooth
Improves skin texture
Available in 40 shades
Natural finish
Cons
Might feel heavy
Not long-lasting
The layer of bareMinerals Original SPF 15 Foundation quickly evens out the skin tone while covering the blemishes and large pores. Ideal for light skin, this foundation quickly blends with the skin and offers sheer and lasting coverage. With its mineral-based SPF 15, the foundation also protects the skin against sun damage. It creates an instant protective layer that prevents the skin from absorbing the rays. This skin-improving loose powder features buildable coverage that lasts all day long without causing breakouts or clogging pores.
Pros
Effortless application
No cakiness
Natural glow
Richly-pigmented
Sensitive skin-friendly
Cons
Price at the time of publication: $20.2
Excessive use of makeup products can cause clogged pores, but when you have a foundation filled with the benefits of Aloe vera, there's nothing to worry about. The BaeBlu LUX LIQUID Foundation is organic and is free from artificial colors, gluten, fragrances, and preservatives. Additionally, its natural and botanical anti-aging formula provides anti-aging benefits and a youthful glow. Its creamy texture easily blends with the skin and blots excess oil on the skin without making it look cakey. Additionally, it feels light on the skin and impressively covers blemishes, scars, dark circles, and sunspots.
Pros
Cruelty-free and vegan
Ideal for all skin types
Comes in eco-friendly packaging
Balances dry spots
Nourishing ingredients
16 color-adjusting shades
Cons
Price at the time of publication: $30.45
If your pores are getting bigger with each passing day, pick the bareMinerals Matte Foundation that protects the skin from environmental damage, promotes cell generation, and minimizes pores. Its weightless formula and satin-finish provide even-toned skin and flawless coverage that remains intact for hours. Its SPF 15 protects the skin from sun damage and also improves the texture of the skin. Additionally, the foundation is free from waxes, talc, oils, preservatives and thus works for all skin types.
Pros
Easy-to-apply
Anti-aging benefits
Blends perfectly
8-10 hour wear
Smudge-proof
Cons
Bottle is too small for the price offered
Price at the time of publication: $23.35
The Palladio Powder Finish Foundation is the perfect way to start the new year. This lightweight and airy foundation gives you the soft and smooth look you deserve. The pure, plant-based ingredients make it suitable for all skin types. It contains vitamins A and E that brighten your complexion. Not only will it give your skin a premium matte finish, but the nourishing chamomile and aloe vera extracts will help your skin regain its freshness. The formula also caters to fine lines and wrinkles effortlessly.
Pros
Cruelty-free
Paraben-free
Long-wear
Easy-to-apply
Medium-coverage
Matte finish
Cons
Price at the time of publication: $9.99
The Palladio Powder Finish Foundation is made with natural ingredients to reduce fine lines and large pores. Vitamins A and E in the formula make your skin look bright and refreshed, while ginkgo extract helps maintain firmness and shape. Cucumber, aloe, and chamomile extracts moisturize the skin. The foundation comes in 8 different shades to soothe and complements your skin tone effortlessly. This foundation is a must-have for any beauty routine.
Pros
Cruelty-free
Gluten-free
Paraben-free
Vegan
Long-lasting
Cons
None
Price at the time of publication: $9.99
What's not to love about the Colorescience Bronzing Perfector that effortlessly removes dark spots, reduces redness, and evens skin tone in a single application? Apart from toning the skin tone, the primer provides benefits of a full spectrum SPF and a natural sun-kissed tint with a radiant glow. So, if you are looking for a multi-use primer that covers your skin imperfections, provides skin benefits, and leaves your skin with a radiant bronzing effect, this one is a great pick.
Pros
Water-resistant
SPF 20
Dermatologist approved
Easy-to-apply
Doesn't settle in lines and wrinkles
Cons
Not fragrance and paraben-free.
Price at the time of publication: $49.0
The  Cover FX Makeup Foundation is both lightweight and durable. This hydrating foundation is perfect for those who struggle to create a cushion-like effect on their skin. It is made with 1% salicylic acid to prevent and heal blemishes. It's a 2-in-1 primer-foundation that helps you achieve flawless makeup effortlessly. The foundation contains no toxic chemicals that could harm the skin.
Pros
Cruelty-free
Paraben-free
Fragrance-free
Sensitive skin-friendly
Long-lasting
Cons
Might be too oily for some people
Price at the time of publication: $13
The Mac Studio Fix Fluid Foundation is known to impress users beyond certainty. Formulated with SPF 15, the foundation has excellent protective tendencies to keep your skin away from sun damage. Additionally, its long-wearing formula builds and blends easily with the skin while minimizing the appearance of dark spots and pores. It controls excess oil production and stays true to color throughout the day. For a mild matte finish and even-toned skin, this is a great foundation to try.
Pros
Non-drying
Suitable for all skin types
Doesn't streak or cake
Moisturizing
Oil-free
Natural-looking
Cons
Price at the time of publication: $33.34
The NARS Soft Matte Complete Foundation helps create a smooth, even surface for flawless makeup application. It helps improve the appearance of blemishes, controls shine, minimizes enlarged pores, and protects the skin from free radicals and pollution. This foundation is formulated with natural ingredients such as vitamins A and E that soothes and makes your skin healthier. It's a must-pick for someone looking for even-toned skin all day.
Pros
Suitable for all skin types
Vegan
Lightweight
Cruelty-free
Paraben-free
Sulfate-free
Oil-free
Fragrance-free
Cons
None
Price at the time of publication: $39.99
Wrong products can worsen your pores instead of covering them. Thankfully, the Fenty Beauty Soft Matte Longwear Foundation delivers just what's expected out of it. The foundation is formulated with ingredients that provide an instant lift to the skin while diffusing the pores. It leaves the skin smooth and gives an even-toned look with a single layer. Additionally, it easily blends with the skin and offers medium to full coverage for hiding small flaws. As its name suggests, the product is also long-lasting and remains intact without touch-ups throughout the day.
Pros
Plenty of shades
Shine-free finish
Oil-free formula
Climate-adaptive technology
Resistant to sweat and humidity
Light-as-air texture
Cons
Price at the time of publication: $47.37
After browsing the 15 best foundations for large pores, if you are still unable to decide which one is the best for you, go through the below-given buying guide that'll help you make a decision.
How To Minimize Or Tighten Large Pores Fast and Easy
It is not always necessary to minimize the pores as the pores allow your skin to breathe. However, if the large pores remain open for a longer period, it may lead to clogging and breakouts. Thus, here are ways to minimize or tighten large pores.
Always use the right type of foundation for your skin
The type of foundation you use on your skin plays a vital role in minimizing or clogging the pores. If you use a liquid foundation on oily skin, it may settle in the pores and clog them rather than reducing the size of the pores. Thus, choose a foundation based on your skin type.
Apply your foundation correctly
Don't apply too many layers of foundation on your skin as it can lead to pore-clogging. Use a lightweight foundation and apply little product on your skin. Blend well with a brush to cover the pores.
It is important to clean the skin before applying any makeup on it. Also, for minimizing the appearance of pores, you need to clean the skin regularly. Wash the face twice a day and, if required, also exfoliate the skin with a gentle scrub to remove dirt from your pores.
Gel-based cleaners are the best for tightening large pores. Oil-based cleaners can cause the pores to clog while the harsh cleaners may cause breakouts. Thus, choose a gel-based mild cleanser for your large pores.
Sun damage is one of the leading causes of large pores, and using a high SPF sunscreen protects the skin from harmful UV rays. Thus, always wear sunscreen, especially when stepping out of the house to protect the pores from clogging.
Exfoliating the skin with gentle scrubs removes dirt and dead skin cells. Make sure that you use a mild scrub that prevents irritation and cleans the skin gently.
Carry out spot treatment using clay mask
Clay masks unclog the pores and remove the excess oil from them without drying out the skin. Thus, whenever you have large pores, use the clay mask spot treatment and remove the build-up that makes your pores look bigger.
Have a healthy and balanced diet
Lifestyle and diet play a significant role when it comes to skin care. One of the leading causes of large pores is an unhealthy lifestyle and diet. Thus, while taking care of your skin externally, also eat a balanced and healthy diet to improve it from within.
Harsh tools can irritate the pores, which can result in large, stretched pores. Thus, always use mild, clean, and hygienic tools while dealing with pores.
Tips For Choosing The Best Foundation For Large Pores
Here are a few tips for choosing the best foundation for large pores:
Stay away from harmful formulas. Formulas that consist of parabens, chemicals, talc, and other such ingredients that can irritate the skin are not recommended. Use foundations with skin-friendly ingredients and lightweight oil-free formula.
Look for foundations with built-in primer as a primer effortlessly for covers and soothes the pores. A primer won't clog the pores and will provide an even-toned and flawless-looking glow.
Invest in a mineral-based foundation that nourishes the skin and prevents it from drying out.
Buy the right foundation according to the type of your skin. For dry skin, pick a mineral-based foundation and for oily skin, pick a powder-based foundation, and choose an oil-free, mattifying liquid foundation for dry skin.
Stay away from greasy and creamy formulas as these foundations may clog the pores and irritate the skin further.
Which Foundations Should I Avoid if I Have Large Pores?
If you have large pores, avoid using overly creamy, streaky, and greasy liquid foundations that can clog the pores. These foundations clog the pores and cause breakouts. Also, avoid using highly mattifying and shimmery foundations.
Why Trust StyleCraze?
Chaitra Krishnan, the author, lives and breathes makeup. She is passionate about the latest makeup trends and knows how hard it is to find the right foundation that hides your large pores. So she has gone through user feedback from reliable online forums to compile a list of the best foundations. These shortlisted foundations minimize the appearance of the pores, giving you a smooth and flawless look.
Frequently Asked Questions
Can I opt to permanently close my open pores?
Yes. There are some foundations available in the market that closes the open pores permanently. However, this happens when you use the product regularly.
Can ice shrink my pores?
Yes. Ice can temporarily shrink and tighten the pores. However, if you are looking for a long-lasting solution, ice is not recommended.
Do my pores get larger with age?
Yes. The production of collagen breaks, and the skin loses its elasticity as you grow old. This causes the skin to sag and stretch, resulting in loosened pores. Also, the miniscule skin cells can make the pores look bigger.
Does drinking water tighten my pores?
Drinking enough water is extremely important to hydrate and nourish your skin. However, drinking water will not directly tighten the pores.
Does airbrush make up large cover pores?
Airbrush foundations provide sheer to full coverage and look almost undetected on the skin. However, this makeup can sometimes settle or sit in your pores and creases. This may result in clogged pores.
Why does the foundation make my pores look bigger?
Some foundations have a greasy and creamy formula that sits or settles in the pores rather than covering them. This causes the pores to look bigger. Wearing too much mattifying foundation can also lead to bigger pores.
How do you reduce large pores?
To reduce large pores, maintain a healthy skincare regime, avoid creamy and oily makeup products, exfoliate the skin, moisturize your skin, wear sunscreen, and use makeup products that don't clog the pores.
Will large pores ever go away?
Large pores do go away when you maintain a healthy skincare regime. However, for quick results, you can use high-end natural skincare and makeup to hide large pores.
Why do my pores look so huge?
There are factors like sun damage, over-washing, hormonal changes, wrong or too much makeup products etc. that can make the pores look bigger.
What kind of foundation is best for large pores?
Lightweight, oil-free, natural, and chemical-free foundations are good for large pores. Make sure that the foundations are not too mattifying or illuminating.
Is liquid or powder foundation better for large pores?
A powder-based foundation consists of oil-absorbing properties and doesn't clog the pores. On the other hand, liquid foundations may settle into the pores and result in clogging. So if your skin is dry, a liquid foundation is good for you, and if you have oily skin, a powder foundation is the better choice.
What is the best foundation for large pores and acne scars?
As mentioned above, the type of foundation you should use depends on your skin type. However, always choose a foundation that covers the pores and doesn't clog them. The lightweight, non-greasy, and SPF-formulated foundations are excellent for large pores and scars.
How do you cover large pores with foundation?
To cover pores with a foundation, clean your skin (you can even exfoliate), apply a moisturizer or hydrating serum, apply a mattifying oil-free foundation primer on your skin and blend the foundation using a brush to cover the large pores.
Before choosing a foundation, consider factors like formula, coverage, ingredients, and type of the foundation to cover the pores without damaging your skin. The above mentioned foundations for large pores are surely effective and value for money. Try these perfect foundations for large pores and see the difference.
Recommended Articles