10 Best Foundations For Olive Skin Tone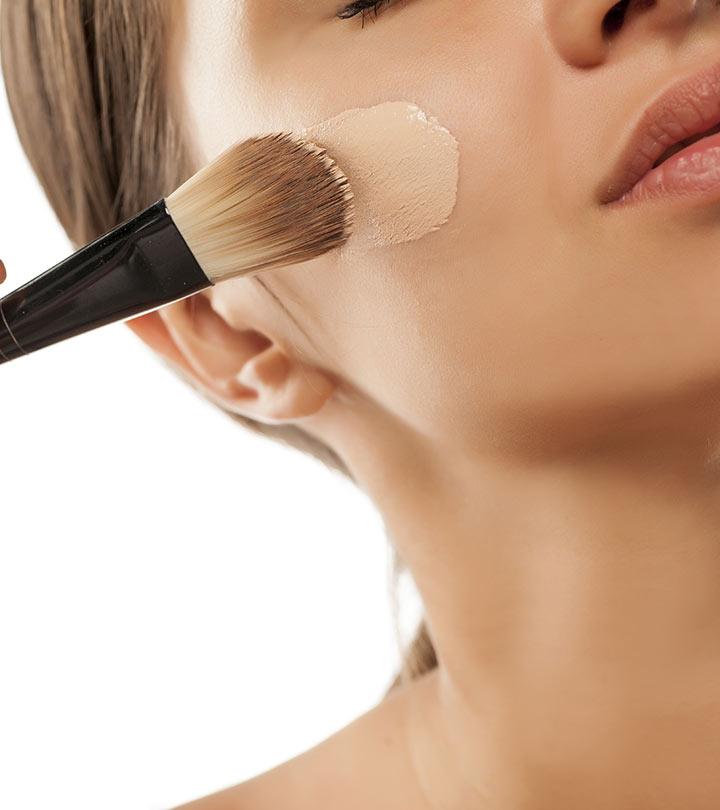 Olive skin tone has always been a hot favorite in the beauty world. Many women have even begun self-tanning to achieve that shade of skin tone. So if you have been naturally blessed with an olive skin tone, you're in luck. Unfortunately, finding perfectly fit foundation and makeup for olive skin tone can be challenging. Everyone has different undertones, and among the shelves of porcelains, beiges, and ivories, picking a foundation that will match your skin can be confusing.
We have put together a list of foundations that have been specially curated to suit olive skin. They give good coverage and will evenly blend into your skin, making it look natural and glowy.
How To Choose The Best Foundation For Olive Skin Tones
You can tell you have an olive skin tone if you feel that most foundations look yellow or orange on your skin. You might also find that pastel shades don't suit you or that both gold and silver jewellery looks great on you.
olive skin tone foundation tends to go well with makeup products that have neutral and warm undertones. So look for that when deciding which foundation to go for. If you pick the wrong shade, you might end up looking too ashy or orange. Before buying a product, always sample a little bit of it on your inner arm or cheek to check that the shade matches your face.
What Color Foundation Is Best For Olive Skin 
For olive-skinned women, olive skin tone foundation shades that range between the tan and medium categories generally fit well. Ensure to check that the foundation you chose matches your skin's undertones.
Top 10 Best Foundations For Olive Skin Tone
Here's a foundation that has been loved by makeup moguls all over the world. If you have ever watched makeup tutorials on YouTube or Instagram, then chances are you are already familiar with this foundation. It is lightweight and has a 15-hour staying power. It can withstand heat, humidity, and non-stop activity, so if you have a long day ahead, then this semi-matt and oil-free olive foundation is the one for you!
Pros:
Lightweight
15-hour withstanding power
Cons:
Heavier than most other foundations 
This award-winning foundation can conceal all blemishes. It is super hydrating and long-lasting. It has a unique formula that seamlessly evens out the skin, making you look fresh-faced and flawless. It is the perfect blend of matt and glossy and is suitable for day or night use. For undetectable and no make-up coverage, add this foundation to your beauty regimen.
Pros:
Blends easily
Suitable for day and night use
Cons:
This lightweight, full coverage, and the highly pigmented foundation is a favorite among beauty bloggers all over the world. Its creamy liquid texture glides on seamlessly onto the face delivering a matt coverage that can last an entire day! What's more, is that the brand refuses to test on animals and is acknowledged by PETA as a cruelty-free brand. This is the best foundation shade for olive skin.
Pros:
Cruelty-free makeup
Highly pigmented
Cons:
Does begin to transfer if used for a long period of time
If your skin is prone to drying out and looking lifeless, then this foundation is the one for you. It conceals, brightens, and hydrates your skin, leaving it looking luminous and smooth. It is infused with the goodness of vitamin C that helps brighten your skin. It has a glowing, naturally radiant finish and is buildable so you can apply as many layers as you want to without worrying about it looking cakey, uneven, or streaky.
Pros:
Buildable foundation
Does not clog the pores
Cons:
Does not give full coverage
[ Read – How To Use NARS Sheer Glow Foundation ]
For a perfected look that lasts all day, turn to this perfecting foundation. It is extra moisturizing and lightweight. While most other brands create foundations that cater to pink undertones, this foundation has been designed with warmer and more neutral undertones, making it the ideal foundation for all the olive-skinned beauties out there. Its velvety texture will not weigh down on your skin and can hence be used for a prolonged period.
Pros:
Has a velvety texture to it
Caters to skin tones that have neutral undertones
Cons:
For a silky, lightweight coverage that can last for hours and won't weigh your skin down, try this foundation out. Its long-lasting formula will deliver a flawless matt finish to your skin regardless of its type. It hydrates your skin but does not clog your pores. It provides excellent coverage and can easily cover up all blemishes, leaving you looking photoshoot ready. Available in 12 gorgeous shades that have undertones ranging from warm to cool, you're guaranteed to find a shade that will perfectly fit your complexion.
Pros:
Wide range of shades
Long lasting formula
Cons:
Begins to transfer if used for a long period of time
This water-based foundation delivers undetectable coverage to your skin and keeps it fresh and hydrated through the long dreary hours of the day. Free from harmful parabens, this foundation is safe on your skin and also prevents sun damage. The golden cast in this foundation will give you a great fake post-holiday complexion. This is the best foundation for medium skin tone
Pros:
Water-based foundation
Protects skin against UV ray damage
Cons:
Achieving that "I woke up as this' look only got easier with this iconic foundation. Tried and trusted by celebrities all over the world, this medium to full coverage foundation delivers a top-notch seamless finish. Concealing your pores and blemishes is not just what this foundation does. It also brightens, hydrates, and nourishes the skin. This best foundation for light olive skin is Formulated with coconut water, alpine rose, and hyaluronic acid, this foundation does it all from pampering to concealing and brightening.
Pros:
Conceals pores and blemishes
Hydrates skin
Cons:
Provides only medium coverage
[ Read – Too Faced Born This Way Foundation Review ]
If you're one of those people that like to hit the snooze button on your alarm regularly, then you need a foundation that is effective, functional, and easy to apply. Belloccio's foundation does this and more! This revolutionary water-based foundation will leave your skin looking airbrushed and won't clog up your pores. It won't streak or look cakey and blends easily into your skin.
Pros:
Easy to blend
Does not streak
Cons:
This brand is one we're all familiar with, and their products speak for themselves. This super versatile foundation provides great coverage and absorbs into the pores without clogging them. It sits well on the face and feels lightweight and is breathable. It comes with SPF so you can comfortably wear it during the hot summer months as well. one among the best foundation color for olive skin.
Pros:
Absorbs into the pores
Lightweight and breathable
Does not dry your skin out
Not cakey or streaky
Cons:
[ Read – MAC Studio Fix Fluid Foundation Review ]
Finding the perfect foundation for your olive skin tone may be confusing, but investing in any of these 10 best-selling foundations is a decision you won't regret. Let us know what you thought of them in the comments below.
Recommended Articles