10 Best High-End Foundations For Natural And Flawless Makeup
High coverage and premium formulations that feel as light as a second skin.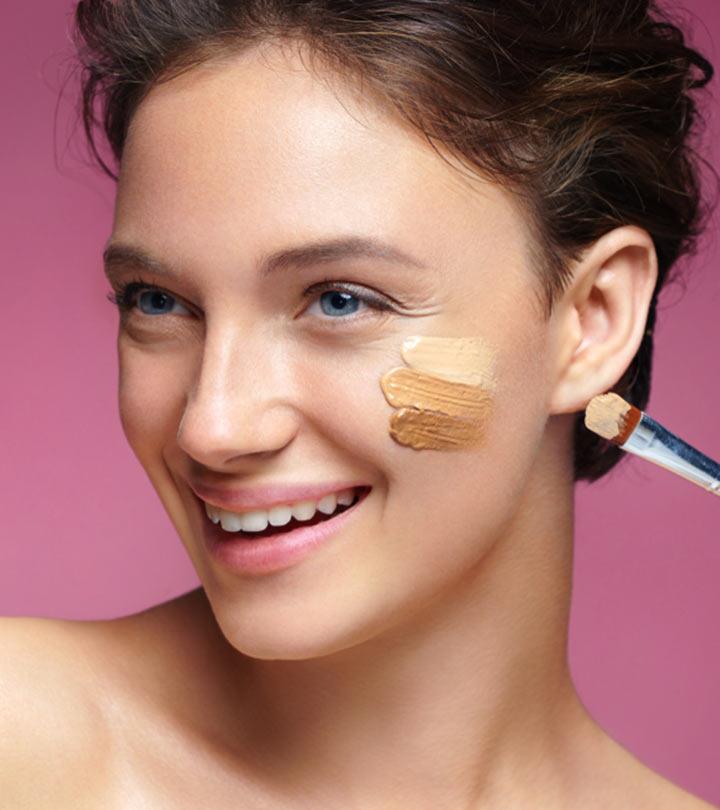 You may be hesitant to invest in the best luxury foundations, but it can be a smart decision as these products last longer and give satisfactory results. High-end foundations may be costlier than regular foundations, but they are also substantially improved. A better quality foundation comes with more pigments, active waterproofing ingredients, and emollients. They also have more antioxidants to elevate the overall quality of the product and give finesse to your makeup regime. However, the foundation is an art that can take time to master. Using too little may look inelegant, and using too much may make you look like a caked clown. Maintaining the perfect balance is essential to achieve that flawless, natural look.
So, how do you get that perfect model look that makes you look like you have just stepped out of a fashion magazine cover? To help you choose, we have curated a list of top-notch luxury foundations. Check them out!
10 Best Luxury (High-End) Foundations Of 2023 For Unblemished Skin
Have you been craving for that smooth, flawless finish for your skin that just seems to evade you? This full-coverage high-end foundation comes in a liquid form and has a semi-matte finish that'll do the job. It has a long-lasting formula of 15 hours, even through heat and humidity, and gives your skin a flawless and natural coverage. It feels lightweight and comfortable on the skin and doesn't change color, smudge, or stain your clothes. For a look that lasts through the day, do try out this luxurious and creamy foundation.
Pros
Semi-matte
Lightweight
Oil-free
Smudge-free
Fragrance-free
Cons
Some may find its texture gloppy and thick
Price at the time of publication: $29.0
Considered the holy grail of foundations, this high-end foundation for combination skin offers full-coverage and is ideal for a tan skin tone. This dewy high-end foundation comes with a mineral sunscreen with SPF 30 and provides all-day protection from the sun's harmful UV rays, and is proven to help repair the skin barrier. This all-day hydrating foundation has a natural, flawless finish that's never cakey. Made with high-performance pigments, it can be used as a cream foundation or a full-coverage concealer. Just warm the foundation between your fingers and apply it over the desired area for coverage that lasts up to 16 hours and covers uneven skin tone, scars, bruising, and hyperpigmentation. Don't forget to finish it off with setting powder. 
Pros
Fragrance-free
Allergy-tested
Paraben-free
Non-comedogenic
Non-acnegenic
Suitable for sensitive skin
Dermatologist-created
Humidity-resistant
Cons
May not work well on oily skin
Price at the time of publication: $40
Has the state of your skin left you near to tears just before your big night out? This high-end foundation for acne scars offers full-coverage, gives a natural makeup finish, and is ideal for medium skin tones. The formula is lightweight, breathable, and gives your skin a flawless, natural glow. If this wasn't all, it is also waterproof, transfer-proof, smudge-proof, and crease-proof. It contains hyaluronic acid, which hydrates the skin like a tinted moisturizer. This lightweight, high-end foundation is available in 7 shades for every skin tone and contours to the skin for comfortable, long-lasting coverage for a gorgeous glow. 
Pros
Lightweight
Vegan formula
Cruelty-free
Waterproof
Transfer-proof
Smudge-proof
Crease-proof
Long wearing
Full coverage
Cons
Some may find the color too light
Price at the time of publication: $29.95
If the state of your skin has been the bane of your life, fret no more! This cruelty-free high-end foundation is a weightless, liquid foundation designed to create the feel of a second skin with no heaviness or caking. This breathable formula blends into your skin seamlessly to conceal an uneven skin tone and minimize the appearance of large pores. This longwear liquid foundation is waterproof, sweatproof, and transfer-resistant with a matte finish that lasts up to 24 hours. It is available in a variety of shades for all skin tones. 
Pros
Weightless
Vegan
Cruelty-free
Waterproof
Sweatproof
Transfer-resistant
Matte finish
Cons
May dry the skin in some cases
Price at the time of publication: $38
Who wouldn't like a foundation with the added advantage of sunscreen? This high-end full-coverage foundation is long-lasting and has a skin fusion texture, with SPF 20. It gives a natural look to your skin and offers light but even coverage. You don't need to use a lot, and it provides a smooth and dreamiest finish without giving that cracked mask by settling into fine lines and wrinkles. It is super light and doesn't give an overly chalky or greasy look. 
Pros
Long lasting
Sunscreen SPF 20
Great coverage
Minimal amount required
Cons
Some may find its texture a bit watery
Price at the time of publication: $39.9
If you have always envied those models with their flawless skin, we might have just the answer for you! This high end-foundation for sensitive skin has medium coverage and gives a natural, poreless, and smooth finish to your skin. This foundation can be applied using a sponge, brush, or fingertips. It contains a blend of anti-aging antioxidants like vitamin A and E. It is also infused with olive leaf extract, lemon fruit extract, and papaya fruit extract to help soothe, nourish, and rejuvenate your delicate skin. The lightweight formula helps to keep your skin healthy, youthful, and radiant. It's suitable for all skin types, and the best part is that it goes well with sensitive skin.
Pros
Oil-free
Paraben-free
Fragrance-free
Natural and smooth finish
Cons
Some may find the consistency watered-down
Price at the time of publication: $34
If flawless skin seemed a distant dream, we might make it a reality! This good high-end foundation is 100% vegan and is entirely free of animal-derived ingredients. It's highly effective in covering any blemishes, redness, dark circles, discoloration, or other skin imperfections. A little bit goes a long way with this foundation as very little is required at a time, and it goes on quickly and doesn't feel like it's clogging your skin. The best part is that it's long-lasting, so you don't have to end up reapplying it every couple of hours. This foundation has a fine texture and consistency and is not chalky, runny, or light as other foundations and is definitely worth the cost.
Pros
100% vegan
Cruelty-free
Easy application
Long staying
Cons
People with sensitive skin should avoid it
Price at the time of publication: $32.98
A great matte high-end foundation, this one is a must-have beauty essential. It provides all the wear and coverage without compromising on comfort or breathability. It gives your skin flawless full-coverage up to 15 hours of wear as it is sweat, humidity, water, and transfer-resistant. The color that comes from coated pigments glides on, stays true all day, and doesn't oxidize. It beautifully evens out your skin tone and camouflages large pores and imperfections. This foundation controls oil immediately on application and throughout the day, giving your skin a matte finish that is never dull, flat, or cakey. Its weightless, feather-light texture makes it feel like a second skin, and its skin-fusion technology provides long wear with very comfortable, breathable ease. What are you waiting for? 
Pros
Medium to full color
Long wear
Matte finish
Weightless texture
Cons
Some find it doesn't stay on the face, especially the nose
Price at the time of publication: $44.8
This product glides on seamlessly, giving your skin a natural finish, and is considered one of the best high-end foundations. It has long-lasting wear throughout the day and creates a smooth, radiant, and flawless complexion. Feather-light and oil-free formula with micro-fil technology provides buildable coverage from sheer to medium. The foundation is excellent for camouflaging blemishes and skin imperfections and forms an ideal base for your makeup. Suitable for all skin types, this high-end foundation is definitely worth a try.
Pros
Oil-free
Lightweight
Natural finish
Long lasting wear
Suitable for all skin types
Cons
Can look cakey if overdone
Price at the time of publication: $68
This high-end foundation offers you an unprecedented sensory experience with its new generation texture and soft and ultra-fine fluid texture. Although exceptionally delicate and light, it goes on to your face like a second skin. It does wonders if your skin needs a little extra hydration and leaves your skin moist without ever drying it out. This lightweight foundation glides onto your face smoothly and offers excellent coverage. Do try it out if you want to look perfectly made up without looking made up.
Pros
Hydrating
Lightweight
Very fine texture
Great coverage
Cons
Contains BHT, a preservative that may not be suitable for all skin types
Price at the time of publication: $69.59
Now that you have been through our review of the top 10 high-end foundations, let us give you a few pointers on what to look for while picking one for yourself to achieve that perfect makeup look with smooth and flawless skin.
How To Choose A High-End Foundation
Always pick a foundation that is suitable for your skin type. For red pigmentation or shiny skin, a creme-to-powder foundation works excellent. Liquid or cream-based foundations work well on normal to dry skin, while stick foundations are a good option for normal to oily skin. If you have acne-prone skin or sensitive skin, always use an oil-free foundation.
As we are all aware, the sun's harmful rays can be damaging to the skin. It can cause dark spots, wrinkles, and fine lines. Hence, be careful that the product you choose contains SPF to prevent premature skin aging and dullness.
Hydrate your skin thoroughly before applying any foundation. This prevents your skin from looking too dry and flaky. Always use a face oil or heavy moisturizer below your foundation. Also, apply your base makeup in the proper order – color correction, foundation, and, last of all, concealer.
This might seem like a no-brainer, but you might be surprised how many people forget this crucial point. Choose a shade of foundation that is as close to your skin tone as possible. If you do not get that, you can choose a shade warmer than your skin.
Applying the right foundation is essential when you want to achieve a flawless makeup look. There are many high-end foundations that elevate your look while taking care of your skin. Long-lasting and effective, these foundations provide natural coverage and make your skin flawless. They don't change color, or smudge and you can wear these foundations without worrying about their texture. These foundations are mostly lightweight and don't feel greasy on the skin. However, while purchasing the right high-end foundation for yourself, it is important to check whether the foundation has been dermatologist-tested or not. Moreover, some of these foundations can also be applied as concealers. Steer clear of products that don't cover your face scars, acne, or unnecessary marks.
Why Trust StyleCraze?
Chaitra Krishnan, the author, enjoys makeup and has the lowdown on the luxurious foundations you should have in your vanity. Her guide has all the deets about a high-end foundation and how it will help you achieve the best results. She compiled a comprehensive and detailed list of the top products after surveying every product specification and user feedback. These formulas contain rich pigments, active waterproofing ingredients, and emollients that help keep it smooth and long-lasting.
Frequently Asked Questions
Can we use the foundation regularly?
Yes, you can wear foundation daily if you use a high-quality product from a reputable brand.
Does wearing a foundation age your skin?
No, while foundation does not directly age your skin, certain ingredients in foundation and skin care products can irritate the skin and cause allergic reactions.
How long does the foundation last?
A foundation usually lasts six months to a year.
Can we reuse the foundation?
Yes, you can reuse a foundation.
Are high-end foundations good?
Yes, high-end foundations are good because they are made with good-quality ingredients, leaving your skin looking smooth and natural.
Recommended Articles
The following two tabs change content below.